When we read about content marketing successes, we so often hear stories from glamorous industries with substantial budgets, but YNAB is not one of these stories. In fact, it couldn't be farther from that reality. It is however, a success story of David vs Goliath proportions, building a thriving community of users in a highly competitive field using quality content and direct relationship building.
YNAB, otherwise known as You Need A Budget, is a software startup that delivers exactly what its name accuses – budgeting software for the financially ignorant. Full disclosure, I'm an avid YNAB user and a gradually less ignorant budgeter, but the lessons on how they built a strong community shows how powerful focusing on content can be.
Competitive Landscape
When viewing YNAB's main competitor, Mint.com, their mission would seem doomed from the start. Their business models are different with Mint.com as a free service and YNAB charging $45 per year. So how did YNAB take on such a large challenge? Let's examine some of the effective content strategies that they have used with great success.
Step 1: Using Content To Attract & Onboard
Budgeting isn't easy and setting up a brand new budget is a tedious process, particularly for a target audience of people who have not been successful in the past. As a result, quality content for user attraction and onboarding is a must. YNAB met this problem by not only developing thoughtful content for their audience, but also delivering this content through every possible channel to maximize their reach. These are the channels that have worked particularly well for YNAB:
Blog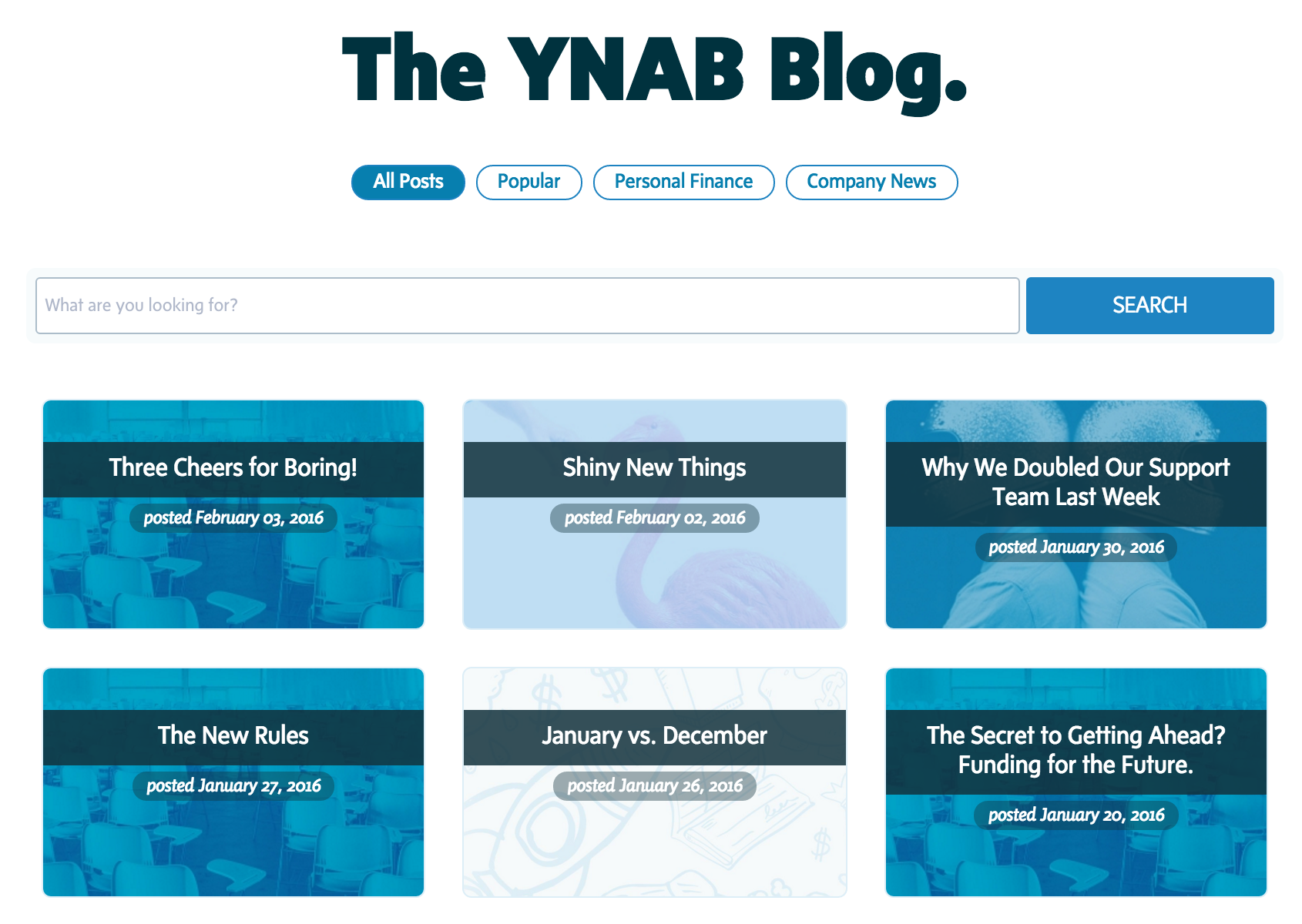 The first and most obvious place to start is their blog. Organized into 4 simple categories – All Posts, Popular, Personal Finance, Company News – it focuses on what it calls the "Four Rules" of budgeting. By shaping its content strategy to evangelize these rules, the blog educates about budgeting on a broad scale while constantly reinforcing the value prop of the product. The result is a comprehensive personal finance portal. Most importantly, though, the blog is written in a very human and understanding tone, helping guide people rather than intimidate or talk at them.
Resource Center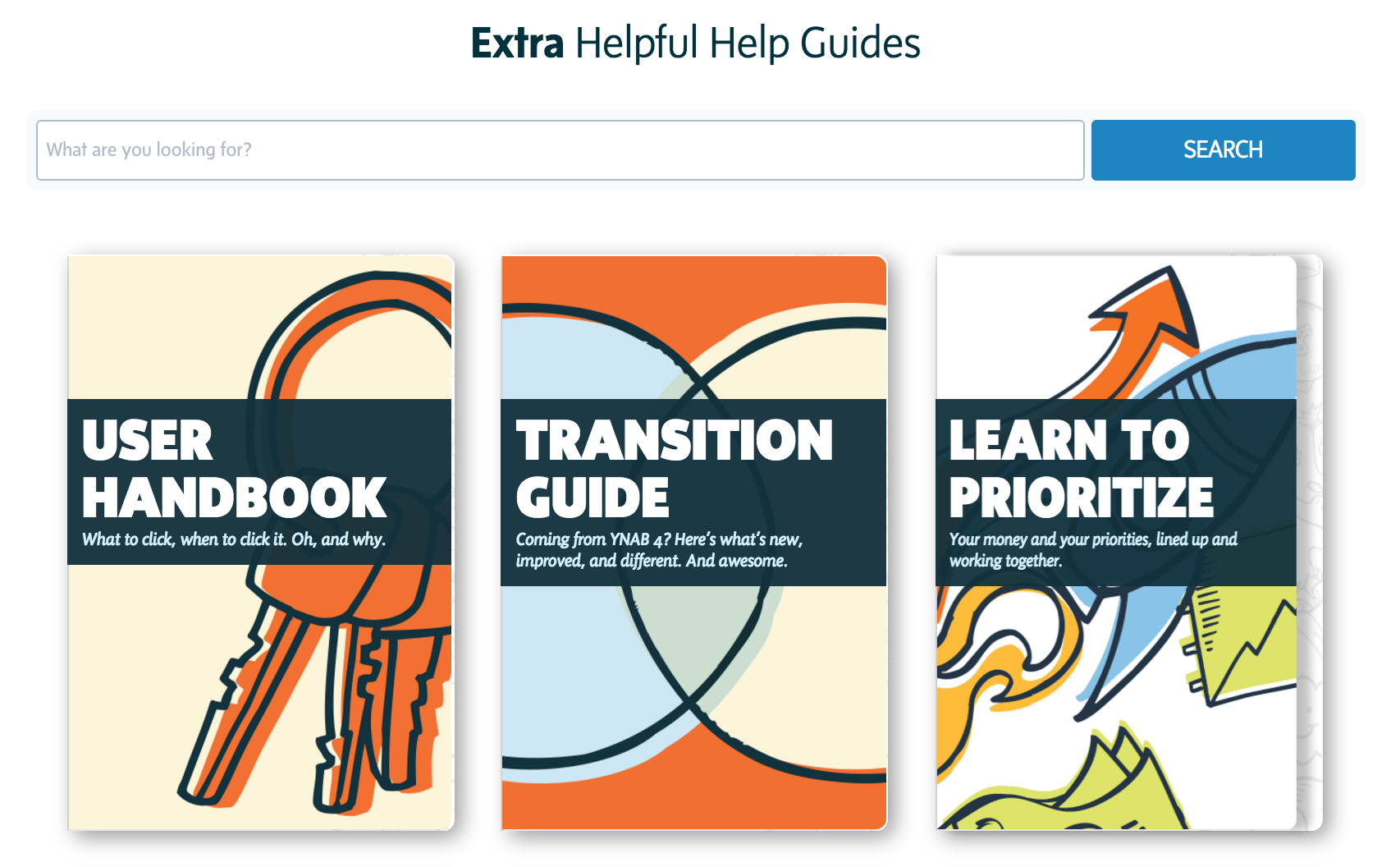 To take blog learnings further, YNAB created a visually impressive Resource Center that builds each of the most common budgeting concerns into long form content (5000+ words per post) thoroughly answer each of the problems and tying the uses back to their product.
While a blog and resource center aren't exactly groundbreaking initiatives, the next layer of YNAB's content is where it gets impressive.
Interactive Classes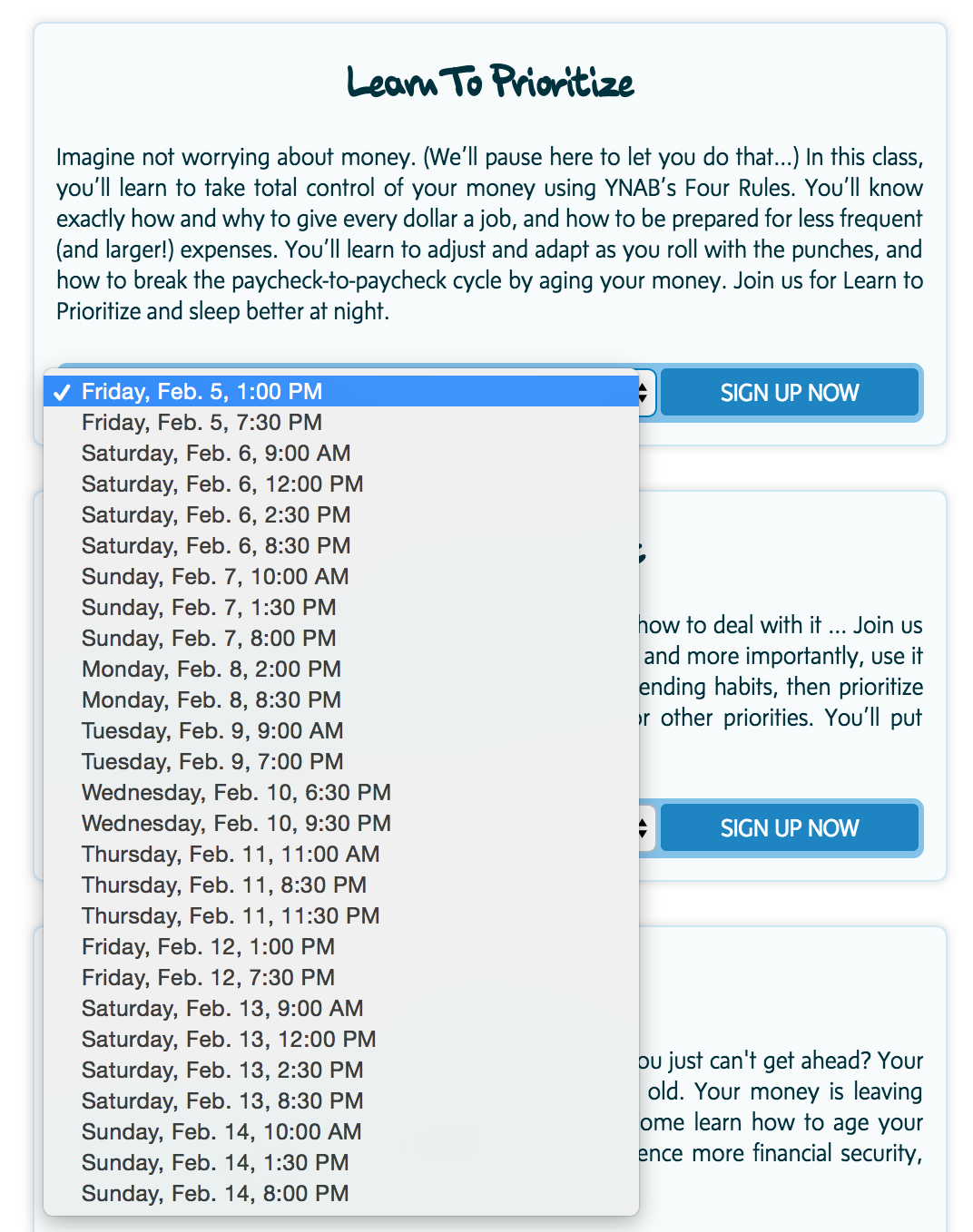 Like a webinar strategy on steroids, YNAB runs multiple daily classes every day which help to put a very human face on the product, something its competitors struggle to do. These classes deal with the largest issues facing their audience and double as a valuable onboarding tool to using the product. What makes the classes most special, however, is the personal feel they introduce to each user. Each class is taught by the same core group of teachers, who are very publicly presented.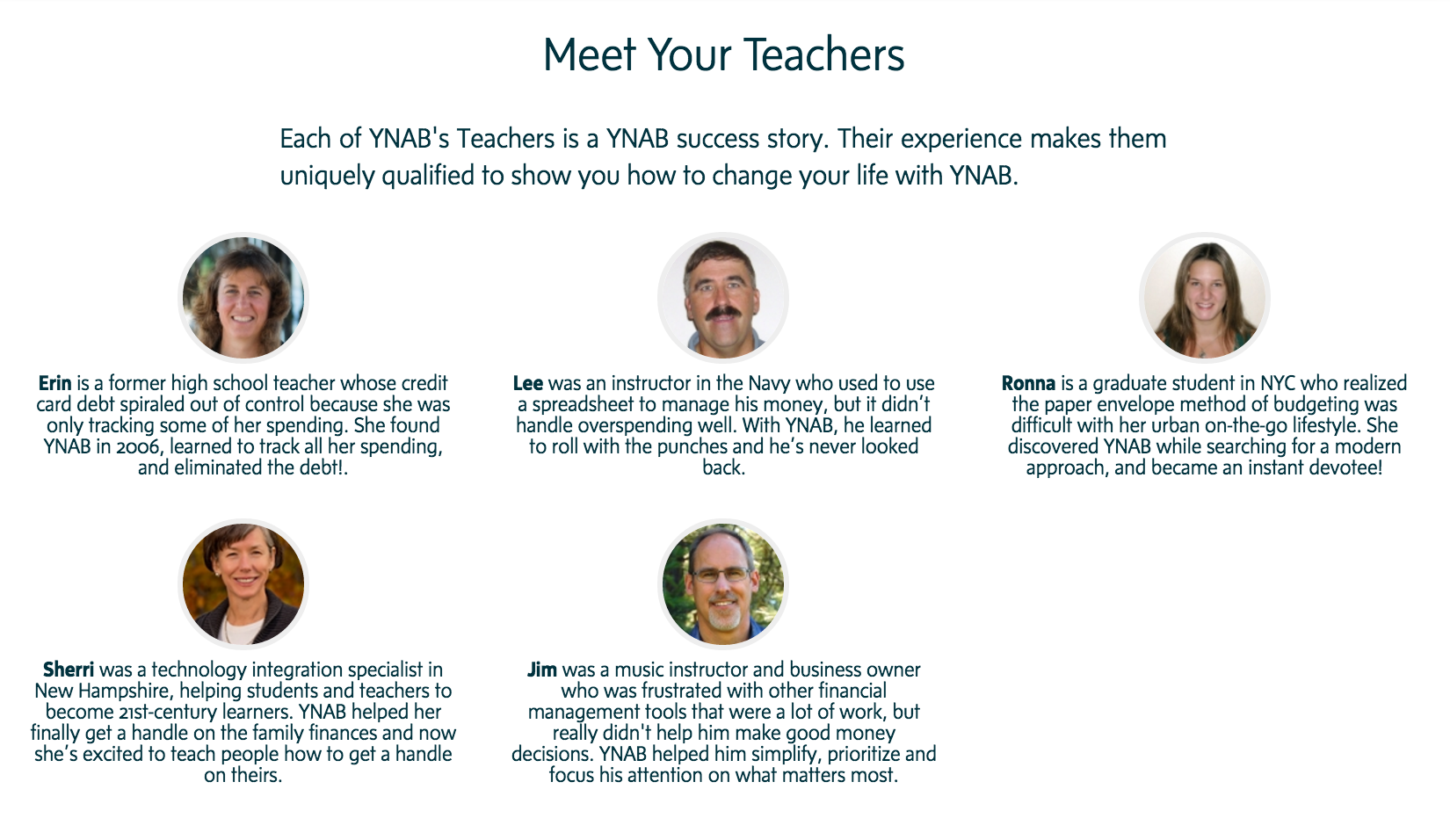 By building familiarity, they create a powerful relationship building tool in their classes. Which leads to the next thing they do:
A Very Human YouTube Channel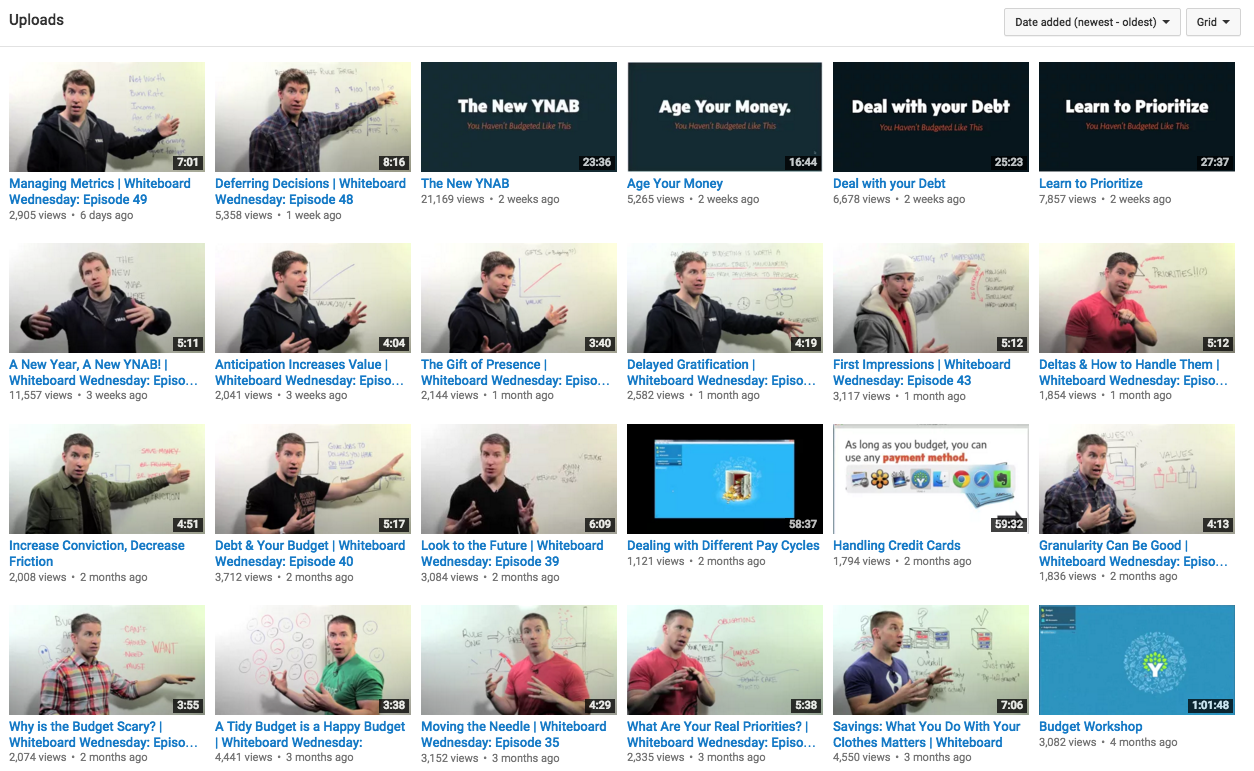 YNAB has clearly taken lessons from the Khan Academy with its YouTube Channel. With weekly whiteboard lessons uploaded from its founder, the channel delivers a giant volume of content, with links back to the site. These videos accomplish what the classes cannot – dealing with specific and individual use cases. Dealing with topics as simple as "What is Net Worth?", but going into the weeds with things such as "Dealing with Different Pay Cycles", the YNAB YouTube channel becomes an evergreen source of information that helps to build inbound links as well as nurturing existing users.
Weekly Podcast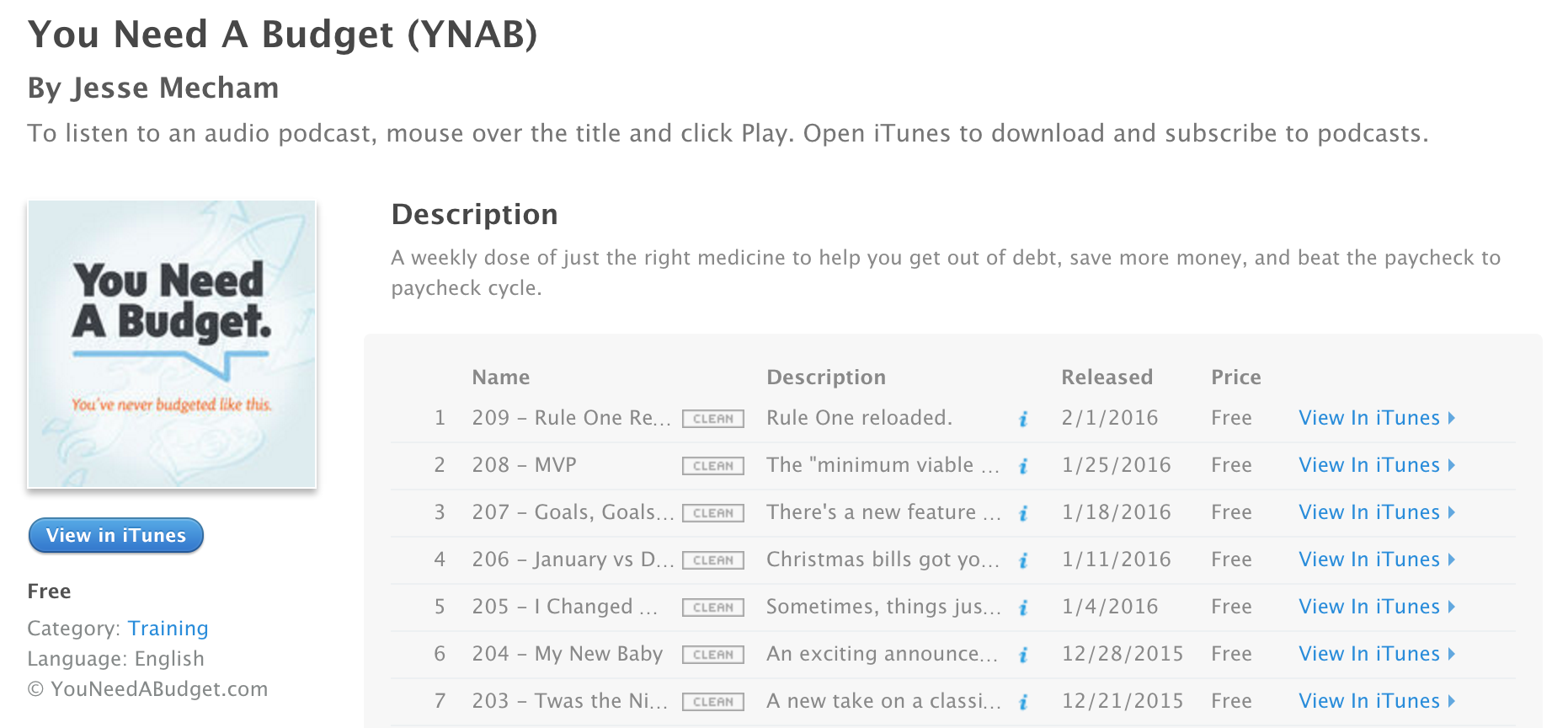 Adding even more content, YNAB's founder delivers a weekly podcast to capture users who don't watch videos on YouTube. A much more personal format than the videos, these podcasts further humanize the product and provide as much opportunity for consumption as possible. These podcasts also serve to deal with timely issues such as "Christmas bills got you down? Make next Christmas better!", which can be valuable churn reduction methods.
Content Summary
YNAB has created content for virtually every channel possible and has nicely integrated education and onboarding for new users. Much of the content can be repurposed, and YNAB has recognized this and created a hugely impressive knowledge base without extending beyond their own internal knowledge.
All of this content is followed closely by calls to action, discount offers for attending classes, and trial opportunities throughout. Which leads us into the second part of their content strategy that brings good content marketing to great content marketing.
Step 2: Building and Nurturing a Community
It might surprise you to learn that there are some die-hard budget fans out there and this is certainly true of YNAB. These 'YNABers' take their budgets, and the 'Four Rules of Budgeting' that YNAB evangelizes, very, very seriously. So seriously, in fact, that any changes to the product need to be handled with the utmost of care. This is an area where YNAB shines and an opportunity they have found to connect with their audience.
Engaging with Online Communities
Joining the ranks of thousands of other communities, YNAB has developed a strong community on reddit, with over 21,000 users regularly voting and debating points about the YNAB product and budgeting in general.

Understanding the need for engaging with the community, YNAB's founder and other representatives of the company regularly engage in the conversation. The effectiveness of this was demonstrated recently as YNAB made a radical change to its business model, which caused ripples throughout its user base. Moving from a one-off cost for an offline program to a cloud-based monthly option, existing users talked at length about whether they would remain customers. YNAB's closeness with the community allowed them to speak directly to the users where these conversations were happening.
In addition to engaging in the online communities, YNAB decided to tackle the new business model change head on, with a truly exhaustive 6,000 word transition guide post and a series of posts to address the 'why' behind the change. These posts demonstrate how close YNAB keeps to the community and their needs. If they were not engaged, there could have been a tremendous backlash against their business change, resulting in a very damaging loss of revenue.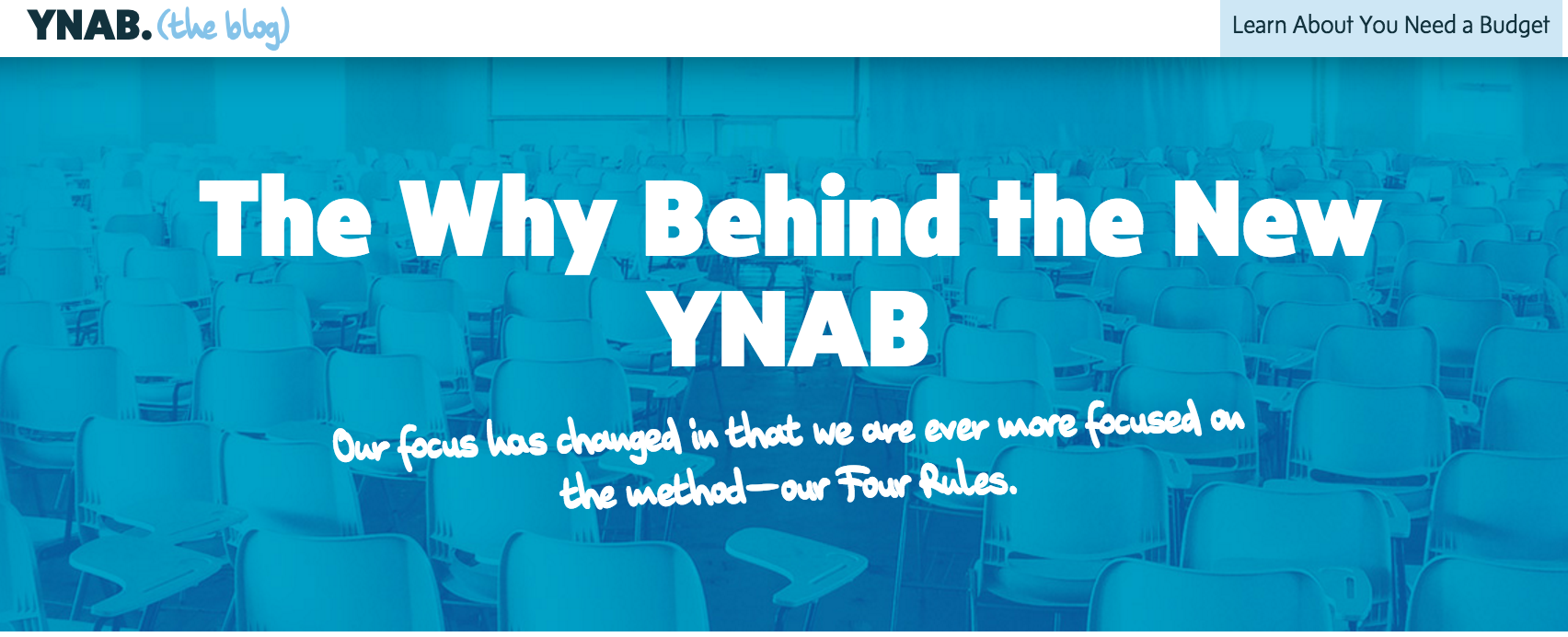 Summary
Whether you're operating in as competitive a landscape or creating a whole new one, the lesson is the same – quality content attracts and retains. There is no shortcut for good content, but there are efficiencies to be found by repurposing it throughout your various marketing channels. No matter how dry your content may appear, it matters to your audience and you should talk about it with that same level of enthusiasm. There is no industry that cannot create meaningful, interesting content.
It's equally important to recognize that content is as valuable for retention as it is for acquisition. Content created for your existing customer base does have an ROI – reduction in churn.
Above all else, however, you should create content that delivers true value to your audience and speaks with your own voice as much as possible. Even when you're competing against a Goliath, you can win when you focus on your content.
Liam Moroney is the Demand Generation Manager at NewsCred.
Want to create your own killer content marketing strategy?
Check out NewsCred's Ultimate Guide to Building a Content Strategy.

Originally published on Feb 8, 2016 2:48 PM