Traditional advertising is dying.
Last week, WPP, the world's largest advertising holding company, announced a steep slowdown in revenue, forecasting a mere zero to one percent growth this year. Its stock plummeted. Other agency holding companies' stocks followed. They all blamed the stunted growth on consumer packaged goods (CPG) giants, like P&G and Unilever, drastically reducing their ad spending.
According to the Wall Street Journal: "Already, the world's largest advertising companies have been coping with marketing clients reviewing their agency contracts to reduce costs, questions about the effectiveness and quality of digital advertising, digital ad fraud, and demands for assurances that ads won't run alongside inappropriate content. The pressures in the industry have been exacerbated by a breakdown in trust between marketers and agencies…There is also heightened competition from clients creating in-house marketing and digital buying groups and from media companies creating bespoke brand content."
It's clear that the marketing and advertising world is going through massive changes. But they're not just due to some CPG companies that are belt-tightening. These are systematic shifts away from traditional advertising.
Marketers are realizing that digital ad spends simply aren't working. The lack of transparency on ad platforms means that brands can't be sure whether their ads actually performed well. (Did they appear on reputable websites? Are the metrics trustworthy? Are real people or bots viewing the ads?)
Plus, most consumers are rejecting traditional advertising. They're done with intrusive ads that take over their screens and follow them around the internet.
The fallout is starting to hit agencies hard.
For the past five years, I've seen this coming. Marketers annually spend more than $80 billion in digital ads – and most don't work. The music has to stop at some point, and it's finally happening.
That money will shift to marketing that works.
Think about it: Where do we, as consumers, spend our time and attention? No surprise: We spend it with content that's meaningful to us. We seek out and share content that inspires, entertains, solves our problems, and teaches us something new.

This may sound like a pithy quote, but I believe it: Marketers need to stop interrupting what people are interested in, and start being what they're interested in.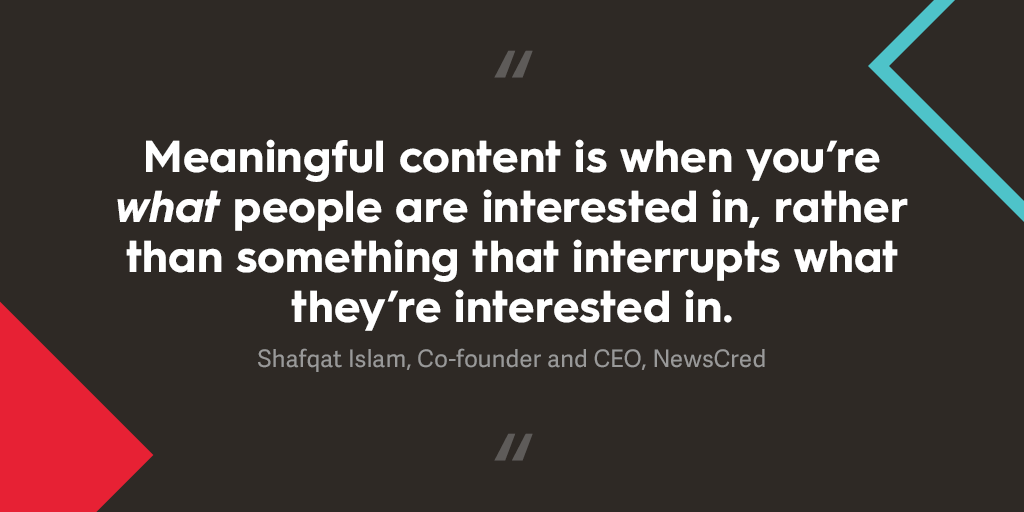 To do so, we need to think about our end consumers and create content that matters to them. Then, we need to be relentless about proving that it worked, not through vague metrics like frequency and reach, but through real people voting with the most precious resources they have: time, attention, and hard-earned dollars.
It's important to note that content marketing isn't effective if not done well. Exceptional content drives business results. Overly promotional, sloppy, boring, and inauthentic content won't help marketers achieve their goals. If marketers can't invest in creating quality content that personally connects with users, then they'd be better off just running ads.
Take a look at P&G, which reduced digital ad spending by $140 million last quarter. Sales didn't drop. That's because P&G cut the digital ads that were either fraudulent or ineffective.
At the same time, P&G is garnering headlines and positive consumer sentiment for its content initiatives. P&G brand Always recently resurrected its acclaimed #LikeAGirl campaign, which encourages young women to embrace the possibility of failure to grow, gain confidence, and become stronger.
Old Spice, another P&G brand, is getting attention for the two-hour "invisible film" it created to promote its Invisible Spray deodorant.
So while the news of reduced ad spends sounds damning for agencies, it's actually not. They can potentially transform themselves and survive by refocusing on creating ambitious and measurably performant content.
But there's no denying that plummeting ad spends signify the death of traditional, interruptive, intrusive, difficult-to-measure advertising – both offline and online.
Shafqat Islam is CEO and Co-founder of NewsCred.
Originally published on Aug 29, 2017 1:49 PM, updated Sep 14, 2017