If you haven't heard the name Casey Neistat by now, chances are you've at least seen his face – falling over and over again in various bike lanes across New York City. That's the video that went viral (it now has almost 13.5 million views on YouTube) and put him on the mainstream map – solidifying his star social media filmmaker status. "It made me feel like I had a really loud voice," he told crowds at TEDx. "And all I used was my iPhone."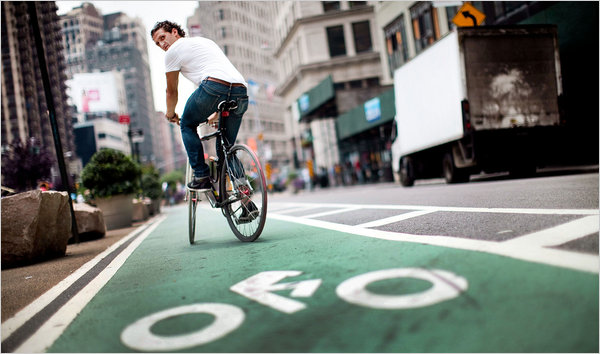 via nytimes.com
Now the 33-year-old is the go-to choice for megabrands like Nike and Mercedes-Benz, looking to bring new audiences and edge to their video ads. But what about Neistat and his work is so compelling?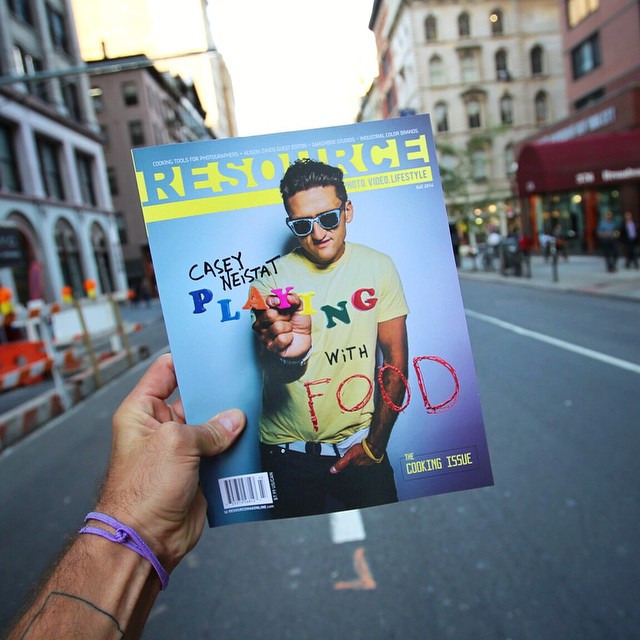 via instagram.com
Neistat has managed to retain a child-like quality within his work that lend him universal appeal – a wide-eyed wonder for the world and a completely unpretentious, what-you-see-is-what-you-get vision and voice.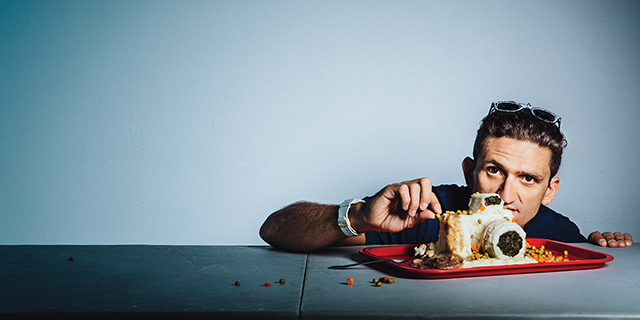 Case in point: Neistat's "Make It Count" video for Nike was famously shot over the span of 10 days by Casey and fellow filmmaker friend Max Joseph. The pair took the entire budget and used it to travel the world until it literally ran out, filming everything along the way. Upon return, Joseph edited and pieced together the footage into something amazing, narrating the story with on-brand quotes from inspiring individuals ranging from Helen Keller and Gandhi to Mae West and the Roosevelts, that, according to Neistat, "are universal ideas about what it means to make life count."
Meanwhile, he's so damn genuine about it all. We all know that authenticity is crucial to successful content, and Neistat has it in his veins. What's more, it's not just that he stays true to himself and his vision in everything he does – it's that his vision is so completely unique.
It's that kind of combination – realness, raw talent, and something to say – that speaks volumes to audiences.
So much so that Mercedes-Benz wanted in on the action as well. In an attempt to appeal to a younger audience the automobile brand reached out to Neistat for something new and completely different, which is exactly what they got. Car commercials are usually pretty clear cut, following a standard formula of voiceover, spec close-ups, country roads, handsome faces behind the wheel, and a 360 degree view of the car to top it all off. It works, but it's always the same, no matter the make. But that's just not Neistat's style, and style's something he's got in spades.
When he set out to work for Mercedes, he did it his way, complete with a four-part (the fourth being the actual ad) behind-the-scenes making-of series that collectively has millions of views on YouTube – in addition to the 772k the actual commercial has garnered as of this post. One of our favorite things about Neistat is that he's so willing to share everything that goes into his creative process, making it that much easier for other brands and individuals to follow in his footsteps, even when it comes to something as huge as an ad for Mercedes.
It also helps that he has an insane work ethic. Neistat's got a rep of being great to work with and relentlessly driven; the man's got "Do More" and "Work Harder" tattooed on his left arm, as well as the more recent, "Always be closing."  Whether or not the ink's actually a necessary reminder, judging by his prolific output, he definitely seems to follow those mantras rigorously in his daily and professional life.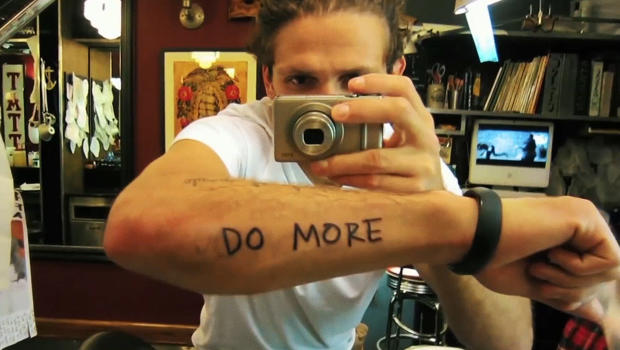 via fastcompany.com
Neistat has been getting viral attention since before the internet-as-we-now-know-it existed. Back in 2003 Neistat made a little movie about his iPod dying on him after just a year and a half of use. After Apple refused to fix it, he retaliated with a video of himself stenciling the truth all over the brand's neon and black silhouette ads. Despite the fact that it was uploaded to the Internet three years before the launch of YouTube, it went totally viral, raking in over a million views within a week – just around the same time that Apple conveniently announced an update to their battery replacement policy.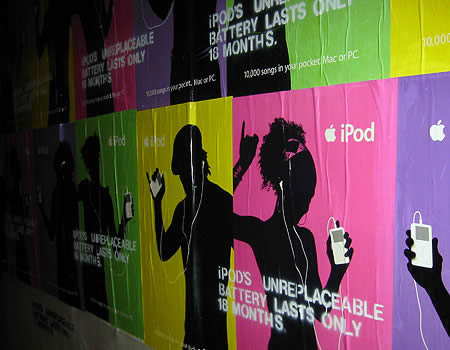 via rachelleb.com
His refusal to accept the status quo, along with his cool and unique style, are exciting enough to catch the attention of a younger crowd. Teens are obsessed with him on social, and smart brands know that those teens are their future customers. They're watching Neistat's every move across social platforms, which means if you're working with him, you're bound to be getting all kinds of priceless exposure.
After all, Neistat kills it on social media. He sees beyond Facebook, preferring image and video-based platforms like YouTube, Instagram, and most recently, Snapchat. "The question is, when am I not on Snapchat?" jokes one teenage girl in Neistat's "Snapchat Murders Facebook" video. For the record, the platform has a 100 million active monthly users as of this August, with 400 million snaps being shared per day. Seventy-one percent of users are under the age of 25, and while most of us might have trouble understanding the words coming out of these teens' mouths, Neistat gets it.
"No one has yet to figure out video on mobile," he says. No one except him, that is. "It's never been about sharing a moving image. It's about giving people an easy way to tell a story, because the stories disappear. There's a sense of urgency fueling an almost compulsive need to post more."
In an amazing example of their influential power, Neistat had fellow social media star Jerome Jarre send a Snap to his one million followers, inviting them to meet in Union Square at a certain time for some Snapchat shenanigans. In the video, Jarre says he hopes 20 people make it out; instead, the stunt fills the park with bubbly and excited teens, only too happy to chat and giggle on camera while sharing valuable insights into their social media habits. For brands looking to get involved, which include everyone from Taco Bell to NPR, that's some pretty handy – and potentially very lucrative – information.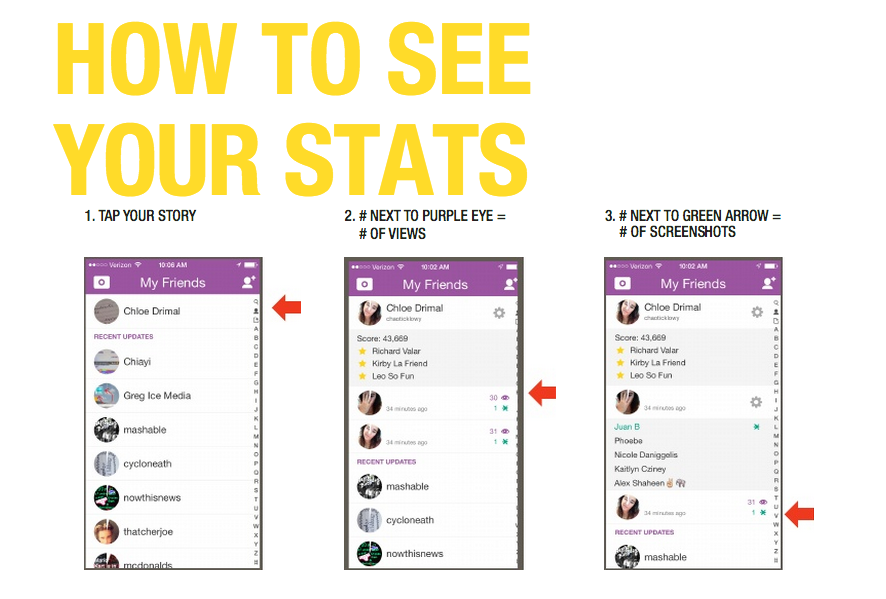 via www.scribd.com
As are platform-specific metrics like Snap "scores" that reveal the number of people who have seen a "Story" – as well as how many have chosen to screenshot a certain Snap. Storytelling is at the heart of the platform, after all, which makes it such a useful tool for brands. It's exactly the network's ephemeral nature that makes it so good at commanding attention as well as monitoring where that attention goes. "Every piece of content a user views is triggered by pressing and holding the screen, meaning they consciously choose to engage with content," reads Snapchat's pitch deck. "When people share, recipients pay attention, knowing all Snaps will eventually disappear." That's the kind of active engagement marketers dream about – and with media partnerships on the horizon, it's just the beginning.
"When you watch TV, you're 50 percent watching and 50 percent doing something else," Neistat told the New York Times recently. "When you're watching a Snapchat story, you're 100% watching." He also reiterated the future promise of the platform: "Social needs to be more like real-life interactions," he said. "Everything you say on Facebook is in the public record for all of eternity, and I don't think younger people want that; it scares them. When you send your friend a Snap, it's a dopey face and then it just goes away." Neistat even created a Snapchat guide for the Grey Lady:
Snapchat savvy aside, Neistat's a true artist, even when he's doing advertorial.
"I have 60-plus videos on YouTube and over 30 million views. Of those 60, only three or four are branded videos," he told AdWeek last year.
"I built that audience by telling stories the way I like to tell them. If you want me to emulate that for your brand, I need to do it the same way. Lending my voice to something is not me endorsing a product as much as it is me sharing my perspective on it. That's at the heart of everything I make."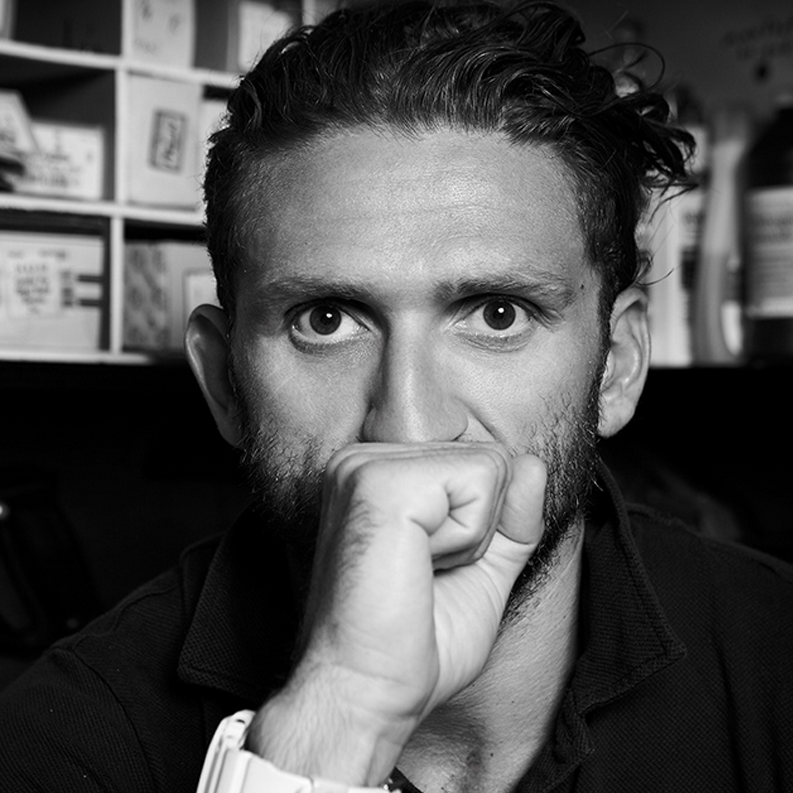 via twitter.com
He's a filmmaker first and foremost, but Neistat actually loves what he does and he does it because of some deep, passionate need to create. The best part is that viewers get to taste that drive in almost everything he produces.
"When I look back at my career, I see all of these tangents," he tells National Geographic (he's an advisor for their Expedition Granted project). "And the tangents that have always yielded success were the tangents where there was no established path, no defined route for me to take, but I went down it anyways."
Look into any of the greats – master artists, authors, any kind of creatives throughout history – and you'll hear something along those very lines. It's a kind of expressive freedom that's particularly rare, and it makes Neistat all the more extraordinary as a modern day digital storyteller. Every project is a discovery that starts with an open-ended idea and every journey leads to  just the right result. What's more authentic than that? Brands and companies large and small take note: trust your creatives and try to give them as much freedom as possible in their pursuits. What they come back with may very well amaze you.
Anastasia Dyakovskaya is a writer, editor and creative consultant from New York City. When she's not writing for NewsCred, she's developing copy and editorial for brands and tech startups. When she's not working, she's likely behind the camera or planning her next adventure. Follow her @worldinquestion and www.worldinquestion.com. 
Originally published on Jan 20, 2015 12:15 PM