There is no question that a woman's accomplishments in the classroom, boardroom, and home are all beyond what most people realize.
However, there somehow continues to be a gap between what women have accomplished and how they are recognized.
Women in the United States earn 60% of undergraduate degrees and 60% of master's degrees. They hold 52% of all professional-level jobs and contribute $7.6 trillion to the gross domestic product. Forty-two percent of women are the sole or primary breadwinners for their families.
Yet, fewer than 5% of Fortune 500 companies have a female CEO. And less than 17% of Fortune 500 board members are women.
There's a clear disparity between women in the workplace and women in leadership roles. And we've made little progress in the last decade.
On International Women's Day, the Women of NewsCred hosted a panel to discuss this issue.
"We're recognizing and acknowledging the women that got us here, but also responding to a global call for change to improve upon the work already done," said Nabilah Irshad, NewsCred's Senior Counsel and the event organizer, in her opening remarks. "Female empowerment and gender equality are basic human principles."
NewsCred's CEO and Co-founder, Shafqat Islam, echoed that sentiment.
"As a man, as a father, as a husband, I don't think this is just a women's issue. It's an issue for women, for men, for leaders at companies. It's all of our obligations and responsibilities to spend time on this," said Islam.
Female leadership is a mere 5% at tech companies, according to Islam – and that's a problem.
"It is absolutely not a pipeline issue," Islam said. "If you look at young girls, 70% are interested in science, technology, computers. Somewhere along the lines, we are failing them."
The event, hosted at NewsCred's New York office, featured a panel discussion including:
Christina Cranley, Chief Revenue Officer at Fast Company
Adrian Granzella Larssen, Editor-in-Chief of The Muse
Callie Schweitzer, Managing Editor of Thrive Global
Nancy Gill, Leadership Development Consultant and Executive Coach
Mary Gail Pezzimenti, a Content Strategist formerly of The Huffington Post.
Jane Qin Mederios, NewsCred's VP of Editorial, Customer Success, moderated the discussion.

In an open and candid conversation, the panel tackled those issues and discussed key career challenges ranging from fostering a culture of diversity to asking for a raise. Here's a look at the highlights:
On Achieving a 50/50 Gender Balance
This year, the United Nations' theme for International Women's Day was "Women in the Changing World of Work: Planet 50-50 by 2030." But it's clear there's a lot to be done before the world achieves true gender equality.
"What progress will we still need to get to 50-50 in the next 10 to 15 years?" asked Mederios.
Getting women into leadership positions is key, according to Gill.
"I think it's terrific that firms are looking to get to 50-50 but the real test is how many women go into leadership positions," she said." I really believe that leaders in organizations can make things happen."
At the National Football League, where Gill was Senior Vice President of Human Resources, there's a rule that hiring managers must consider a diverse slate of candidates for head coach jobs.
"Now there's a 'Rooney rule' for the executive suite," said Gill. "For every executive at the NFL, there must be women on the interview slate. It has resulted in some amazing hires in the C-suite."
Female leadership doesn't apply to only companies – women make up 50.8 percent of the U.S. population but are underrepresented in the U.S. government.
"When we talk about things like the gender wage gap and paid parental leave – those issues can be affected by the top, but that's not going to change when just 19% of the House and 21% of the Senate are women," said Larssen. "There are not women in the room making change at a systemic level. Until we change that, I don't think we'll see 50-50 by 2030."
Encouraging female friends and peers to run for office, and supporting organizations like She Should Run and Running Start can help start to close this gap.
Parents can also make a huge impact, according to Cranley, a single mother of three.
"I have two boys and they have a single mother who works full time and a very strong grandmother," she said. "And I don't know if they see a gender difference as much as previous generations. We need to be committed to raising our boys to think how special women are."
On Fostering Diversity
Before women can reach upper management, they need to first get hired at companies. When it comes to creating a diverse, inclusive workplace – not just among genders, but also across racial, ethnic, and socioeconomic spectrums – our panelists agreed that everyone in the company plays a key role.
Especially leadership.
"It is leadership that makes all the difference," said Gill. "You don't have to have all the answers. You have to engage in the conversation and start to think about how do I make this company different?"
But employees, regardless of level, have power, too.
Larssen noted that especially when it comes to hiring, managers are so focused on immediately filling roles that they don't always stop to think about whether they're evaluating the most diverse pool.
"It's often people on the hiring committee who are not managers or leadership who were stopping us and bringing other people to the table and making sure we were having those conversations," she says. "It was not managers or leaders who founded our diversity and inclusion group. Having people raise their hands to make things happen is really important, as well."
Cranley agree, and noted that whether it's men or women hiring for a team, it's critical that each person is very, very different.
Or, as Larssen simply put it: "If you're in a room with people who look just like you, add someone else."
On Unconscious Bias
Just as important as fostering diversity is making sure everyone feels safe in the workplace.
Managers have a duty to call out and educate people about unconscious biases and microaggressions that make others feel uncomfortable.
"As a manager, you're a coach, and it's your responsibility to hold a mirror up to that behavior," said Pezzimenti. "If you see something going on, you can tell someone what to do. But unless they actually see what it is and digest what they've done or said, you're not going to get anywhere."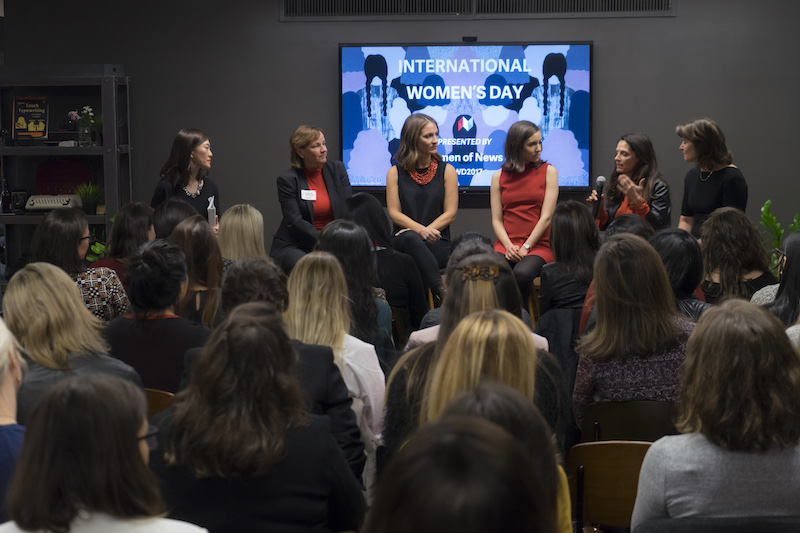 On Harnessing Fear
One theme that surfaced several times was around fear: Fear that as a woman, you're not qualified for a job. Or you're afraid of failure. Or that everyone around you is questioning your abilities.
Each panelist had experienced fear and naysayers in her career. And each one found ways to not only overcome it, but thrive.
Pezzimenti spoke about spending her 20s in public relations and nonprofits, and then moving into the magazine world at Conde Nast. Once there, she was tapped to become a Managing Editor – despite never setting foot in a magazine.
"I was terrified," she said. "But I pushed through it and never looked back.
"I've had job after job where I'd never done it before. Harnessing that fear and turning it into a positive thing is the most important thing. Fear can hold you back. It can naysay you. The most important thing is that if something excites you, if it really makes you nervous and fearful, then do that. Grab onto it and try it. You will cross through a really important barrier and continue to do that in your career."
Cranley agreed.
"I feel like I'm fearful every day, and I feel like I have major insecurities when I'm sitting across the table from people. But I know that whether it's men or women, they have insecurities, too," she said. "You have to lean in to it and say, 'How am I going to harness this for something that is good?' Because if you work hard and are well-intentioned and you live your career and your vital purpose, then you'll get ahead. I've found that some of the best jobs I had were the FIO – figure it out – jobs.
Gill shared a story about how one day at the NFL, she was worked up and overwhelmed. She called a female friend for support, and that friend told her to write two words on a Post-it note with a Sharpie:
"'Care less.' Not care less about your job. But care less about this fear you have. I put it on my computer where everyone could see it, and I really felt that I did my best work from that day forward."
On Asking for a Raise
There's no denying that there's a large and persistent pay gap between men and women.
"The World Economic Forum predicts the gender wage gap won't entirely close until 2186," said Mederios. "We know there's a wage gap. How do we find out the information even in our own organization? How do we ask for a raise?"
Cranley shared two recent stories about successful ways direct reports asked her for a raise.
The first was when she worked at an agency that didn't promote anyone until they had been there for one year. A new role opened up, and a young man who'd been on her team for six months came to her. He said that he knew he hadn't been there for a year, but he couldn't wait that long.
"I was really taken aback. But he had a full PowerPoint presentation that talked about himself and his background and what he studied and why that mattered to the new role. He talked about all the things he'd done since he'd come on board and what that meant to what he could bring to that role," Cranley said. "It was so well-done there was no way we could've said no."
In her second example, she mentioned how she met with each of her team members when she started at Fast Company. One woman told her that she wasn't currently managing anyone, but at her last job she oversaw a team. Her goal was to manage people.
"She came to me with what looked like a resume, and she went through every point as to why she felt she should be in management. There wasn't a role in management, but as soon as one became available, I gave it to her because she knew what she wanted and she demonstrated it," Cranley said.
"The moral of the story is make it really easy to say yes," said Larssen. "Your boss probably isn't the one making the decision. He or she has to go to the department head, or their boss, or to HR. Make it really easy for those conversations to go well."
In addition, Cranley said, you have to ask for it.
"You can't sit back and think you're going to deserve that promotion by putting your head down and doing work," she said. "You have to ask for it and have a clear vision. Be your best advocate. It's all about you getting to where you want to be."
Pezzimenti offered her advice, from a manager's perspective.
"Don't go into your boss' office and put a problem into her lap," she said. "Don't say, 'I've been working here for years and doing this, and what are you going to do about it?' Your boss probably has 99 other things on her mind. If you go in with optimism, confidence, and positivity, you're doing that work for them. Your approach will show that you're worthy of it."
Schweitzer also noted that keeping a document of weekly wins and owning a number can go a long way in making a case for a raise or promotion.
On Career Advancement and Mentorship
So what will it take for more women to move into leadership? And how can women help each other get there?
The panelists agreed that women can support and empower each other at every stage in their careers. (And that goes for mentoring men, and men supporting women, as well.)
"Once you become a manager or leader, it's no longer about managing yourself and your own work – that's irrelevant," said Schweitzer. "It's about enabling other people to do great work. Whether you're a leader or a team of 1 or 100, it's empowering others at every level. And I truly believe in reverse mentorship. At every level, you have that opportunity and responsibility."
Larssen noted that among people who are trying to move up in their careers, there's a lot of heads down focus to get everything done.
"Part of moving up in your organization or another organization is who you know, it's networking," she said.
A year ago, Larssen was on a panel and another panelist told a story that stuck with her:
"A woman was rattling off to her boss all the things she was working on, and her boss asked, 'Who are you having lunch with?' And the woman said, 'I don't have time for lunch.' And the boss told her, 'You need to make time in your schedule as part of your job to have lunch and coffee with people in all levels of the organization. You need to build trust as part of your job.'"
Mentorship, the panelists believed, does not have to be a formal process. It begins with taking taking time to have that lunch or coffee with people and building relationships with them.
"I mentor a lot of people," said Pezzimenti. "If you've ever worked on my team, I'm your mentor for life. Call me, text me. It can be a five minute conversation. Loosening up the structure around mentoring and ensuring there's that ongoing conversation every day is really important."
"I agree that we overthink and over-structure things," said Gill. "I think people need to be open to being a mentor. Just being able to ask for advice can start a relationship."
In those meetings, it's the mentor's job to make sure they're challenging mentees.
"I have a strong belief that mentors should be wildly optimistic," said Pezzimenti. "You should make someone walk away from you feeling like they have superpowers. And make them feel they are there teaching you something. I get something out of every single person I mentor. And that makes the relationship feel very good."
Cranley agreed: "I haven't had any formal mentors, but I've been mentored by many people in my career who have offered advice and guidance. And that's your job when people ask for 15 minutes – try to find it. If they have the courage to ask, you should find the time. You'll learn something from them and they'll learn something from you."
Heather Eng is NewsCred's Managing Editor.
Find more relevant content in these topics
Thank you for subscribing!
Our best content will now come straight to your inbox.