There are few moments in my personal life that will surpass the joy, excitement, and happiness felt when my husband and I found out that we are expecting our first child this summer. Hopeful and optimistic visions of our growing family flooded into our minds and the coming weeks were filled with celebrations, planning, and dreaming.
Then suddenly, a few weeks into pregnancy, reality sets in as to the adventure you are about to embark upon and the endless emails, mailers, and catalogs begin to appear reminding you of everything you need to decide, learn about, and ultimately purchase. Overwhelming would be an understatement. You change from a blissful newly pregnant state to something more likely to resemble this: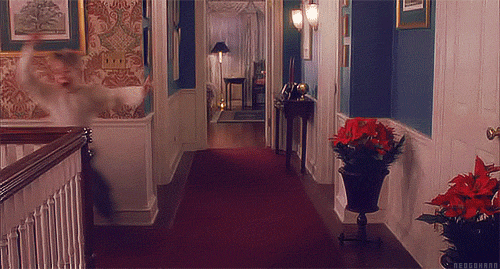 Friends and family members continue to remind me that billions of people have successfully raised children before having access to books, apps, and Google. But in an era of information overload, it's hard to not tackle a situation filled with questions, worries, and unknowns and not try to empower your own experience with knowledge. While I think I have started to crack the code on how to find useful information, it baffles and shocks me as to how many brands and companies are missing the boat by not embracing content marketing to better serve their audience. 
There is no lack of coverage about how with an abundance of data and a culture of personal oversharing, brands know more about their audience today than ever before. In fact, The New York Times scared us all when they explained how Target can know that you are pregnant before you do in their popular 2012 article.
And expectant parents are a retailer's dream. Not only are they shopping frequently and spending more than ever before (conservative estimates say that you can spend over $20,000 by your baby's first birthday, including healthcare costs), but they are willing to spend more and can often spend irrationally. This all reminds me of wedding costs and how quickly checks are written for big-ticket items that at any other moment in your life would be absurd to splurge on. While I didn't spend $500K on a wedding dress like some people did (you're welcome, Mom + Dad), you do spend an incredible amount of money for a very specific (and short) moment in time. But that is just it, a wedding is a once-in-a-lifetime moment and then your life – and spending behaviors – move on. However, when pregnant, you are actually establishing spending behaviors and brand loyalty that continue as you raise your child over the subsequent decades. The customer lifetime value of expectant parents cannot be underestimated. 
As The New York Times points out, marketers shouldn't wait until the baby is born to try to reach parents with relevant product offerings. At that point, they have probably already made up their minds or are just too sleep deprived and exhausted to worry about anything you are saying. Starting early in the pregnancy will yield the highest likelihood for establishing brand preferences and building loyalty over time. At a moment when expectant parents are not only willing, but expecting, to hear from brands with information about their products and services, companies have an opportunity to truly build a relationship with their audience. Those who will succeed will be the ones who recognize the importance of a content strategy and actually deliver messages and information to parents that they need and will grow to depend on.
For brands who are looking to tap into this booming market (according to Statista, the baby care market will swell to $66.8 billion by 2017) creating compelling content isn't a nice to have, it is a mandatory.  Here are my recommendations on how to create content that will not only capture your audience's attention but keep their loyalty over time: 
Produce Content that is Relevant 
Sensitivity to exactly where you are in your pregnancy and what matters most at that time is incredibly high. The phases of pregnancy move quickly – one day you're caring most about what vitamins you should be taking, next sleepless nights, and the following worrying about which car seat is the safest. When I received an email from a well-known brand linking to a story about how to get my toddler to eat their vegetables, I couldn't have been more turned off. They had completely ignored the data they had that I was 12 weeks pregnant at the time and toddlers were the least of my worries (for now)!  Similarly, it couldn't have been further off when I received back to back emails from The Bump first trying to help me get pregnant (umm, already did that but thanks) and then helping to coach me through labor. Confusing much?!

There is a specific progression of what parents think about as your pregnancy moves along and brands have the duty of understanding what moms (and dads) really want to hear about.  Huggies Mommy Answers has proven to be a go-to resource that always delivers content at the moment that I need it. They have nicely organized their site to reflect the different topics that could be relevant at different times, as in Pregnancy, Celebration + Planning, First Weeks Home, etc.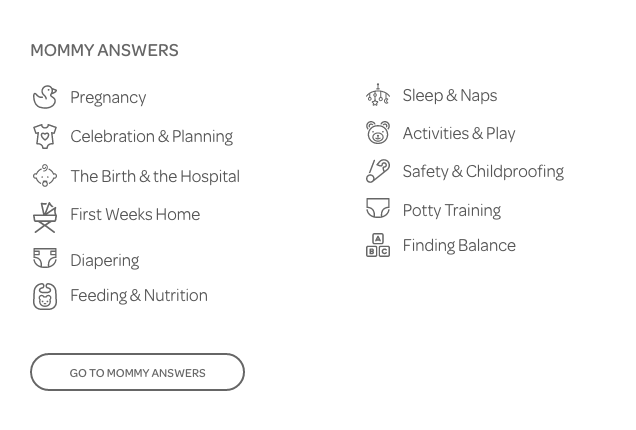 Huggies has also perfected the way that they send relevant emails to their audience with content that matters the most. I received the below email last week from Huggies at the very moment I was conjuring up my daily excuse of being too tired to workout. Their informative post about the benefits of exercise while pregnancy was exactly what I needed to push me to the gym that day.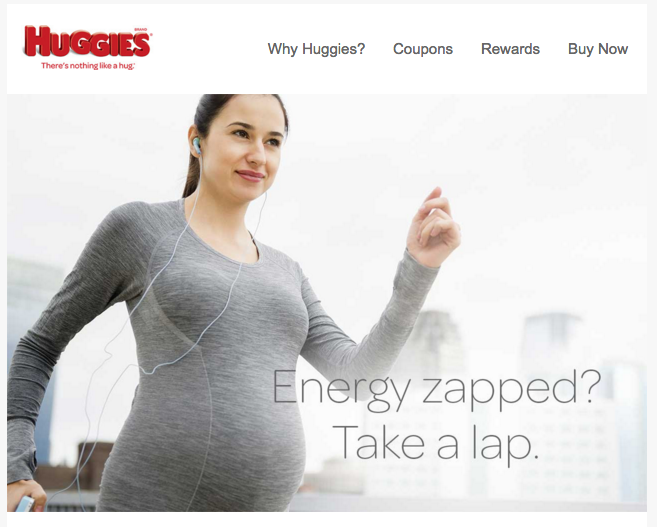 Know Your Audience's Timeline
Delivering content that is timely has never been more important than during a phase in your life when you count everything in weeks and days. Pregnant women can tell you how far along they are at the drop of a hat – why not take that knowledge and provide content that actually relates to the moment in time.  Giggle, the popular baby and children's retailer, has fully embraced the power of content and has organized it in the most simple and intuitive way possible. Their blog, Giggle Gab, has content categorization so that the reader can choose what phase matters most to them.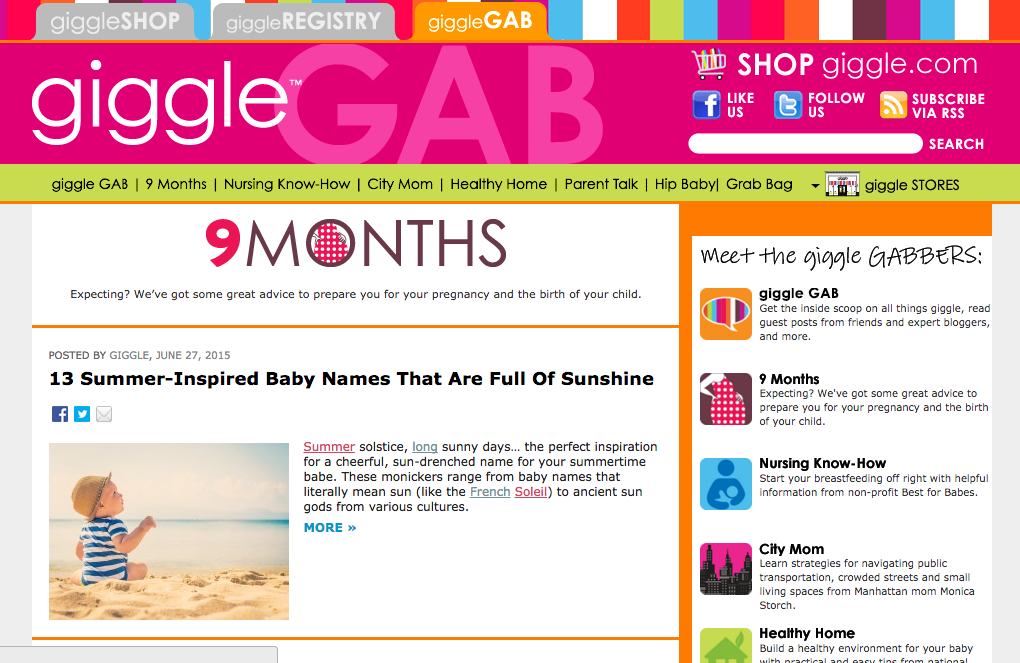 Giggle also has a resource library specifically geared towards expectant mothers on their actual shop site. This library is organized by trimester and easily accessible from the footer of the site. Giggle has intentionally maintained this content on the shopping portion of their site. As people continue to visit to find articles timed for their trimester of pregnancy, they will likely also browse products, build their registry, and continue to engage as a consumer with the brand.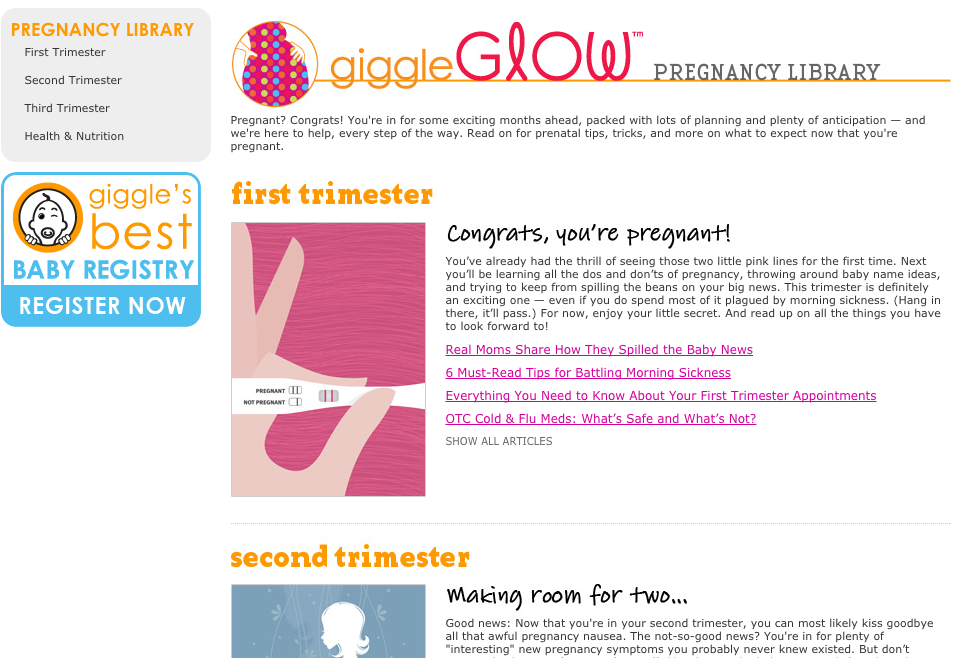 Build a Sense of Community 
Pregnancy can have incredibly isolating and lonely moments. For the first third of your pregnancy, most people don't even know you are expecting. And there after, asking questions of those who have braved this new world before you is a delicate balance of not being too annoying and also being respectful of how busy their schedules are. Hence, pregnant women are always in search of finding communities to join filled with women just like them. Brands who enable the development of these communities are taking advantage of this opportunity. 
The Honest Company, famously started by Jessica Alba and making headlines lately for their rumored upcoming IPO, has been one of the fastest growing lifestyle brands in the baby space. Not only are their products revered by many moms, but their site is incredibly user friendly and they have mastered content marketing with their incredibly informative and approachable blog, Honestly. Further building on the value of their content on site, The Honest Company has built an incredibly strong community on social media networks, predominantly Facebook, where moms (and moms-to-be) follow the brand as a badge of honor.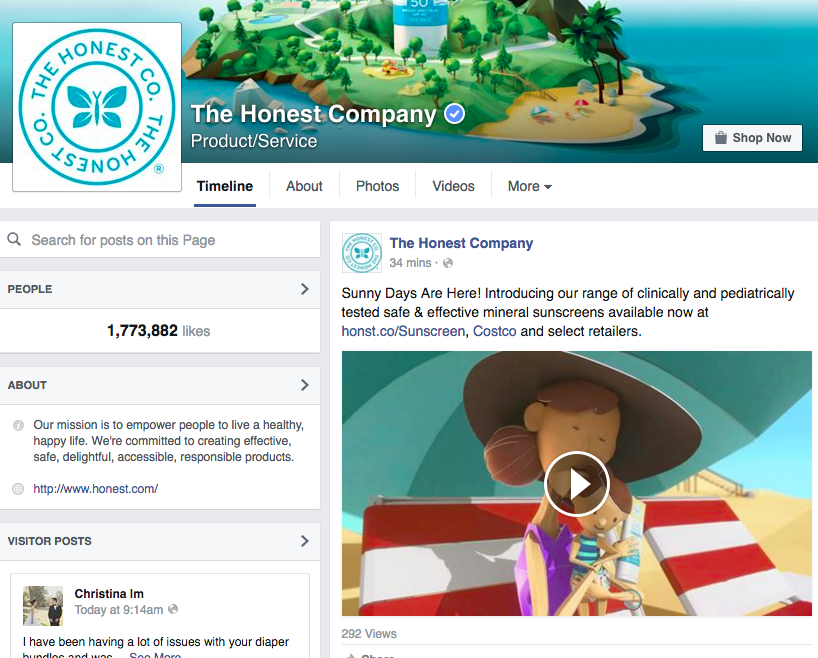 Use All Customer Touchpoints
After recently purchasing some ridiculously cute clothes for our baby from popular designer, Rosie Pope, I was surprised and delighted to get home and find content in the most unexpected of places.  I was already a fan of the brand and find their Facebook, Instagram, and blog to be not only fun to follow but informative. Just as I was about to cut off the price tag, I noticed that Rosie Pope had very cleverly found a way to incorporate a content tip on the back of the tag. The lesson learned: take advantage of every touchpoint you have with a customer to add more utility and value to the user experience.  Understanding what moms do, how they behave, and what channels are most effective for reaching them will ultimately make the customer content experience most impactful.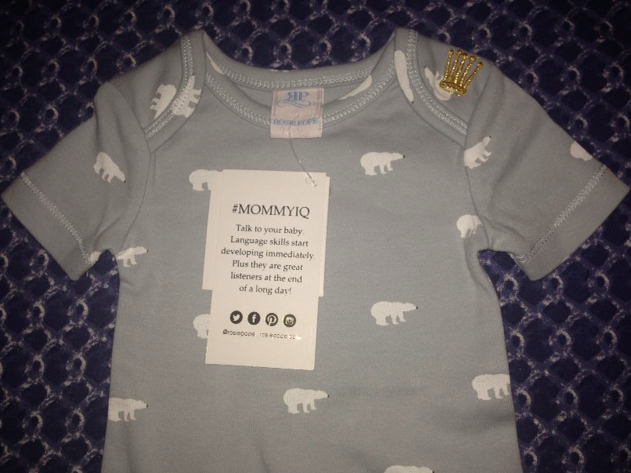 Offer Real Solutions – Don't Just Sell Product
It's incredibly tempting for companies to incorporate the benefits of their own product into their content. However, those who have been most successful at content marketing are the brands that realize that adding value and utility to the content you produce often means not even discussing your own product or category. One brand who has masterfully found the appropriate balance is Johnson's. Most people associate the brand with bath time and care items for babies, however their site offers solutions to so much more about raising a healthy and happy baby. Even in posts that are focussed on bathing, mentions of their products are in the context of how to use them and what are best techniques for babies. However, even more remarkable are the number of posts that focus on topics like "preparing your nursery" or "playtime with your baby" where there is absolutely no opportunity for Johnson's product mention.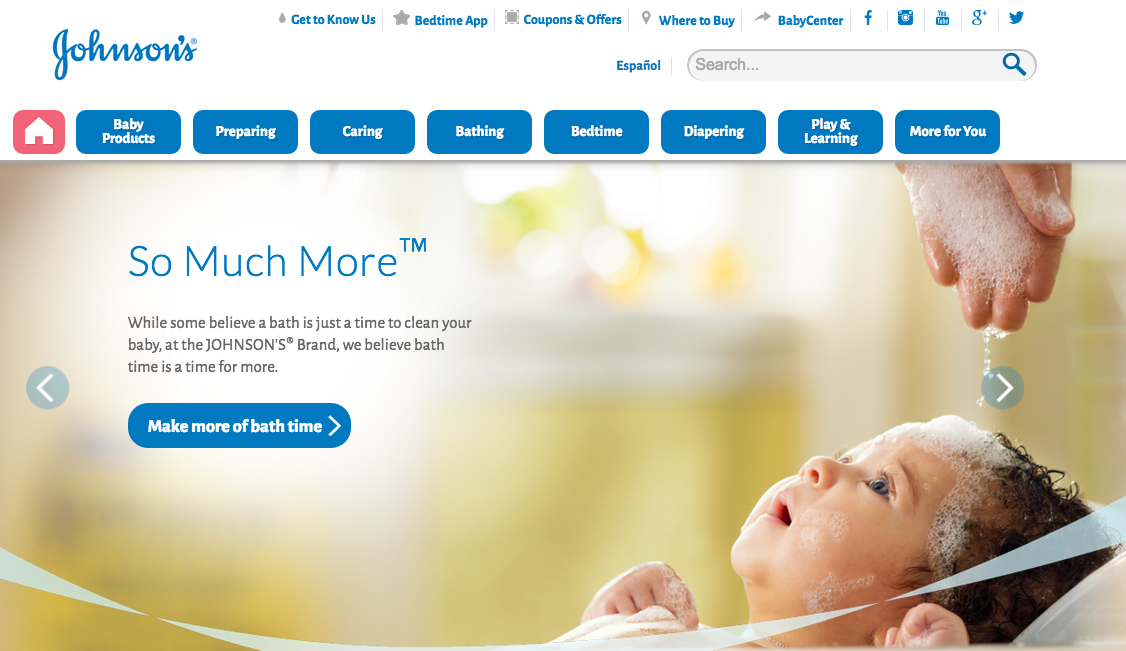 Speak My Language 
At the end of the day, everyone wants to be spoken to using language that they use everyday. Expectant moms are no different. If there were ever a time when being real about what is going on is not only appreciated, but expected, it is during pregnancy. Reading articles that seem to completely miss the mark on how you are actually feeling, what you are worried about, and what questions you have can be completely off-putting. Brands that can remain authentic and realistic will inherently become more relatable and will capture the attention of their audience. Kudos to Scary Mommy for always delivering relevant content that answers my questions and feels like I'm speaking to a friend. An email I received a few weeks ago really resonated as I had just said this headline verbatim to my husband a few hours earlier. Their writers clearly understand the voice of their audience and speak in it whenever possible.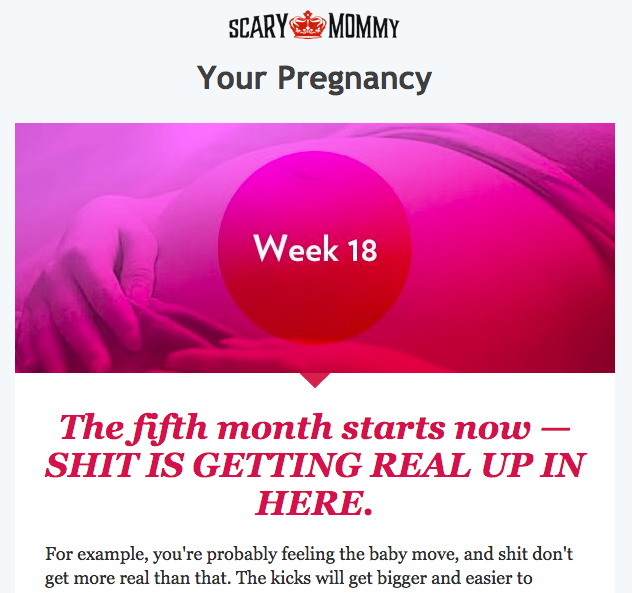 Companies should realize and recognize the incredible potential that content can offer to their marketing campaigns. Whether you are an expectant mother, a parent to four children, or someone who hopes to never be near baby in your life, the power and impact that content marketing can have on your audience should never be underestimated. Specifically looking at the expecting parent segment, the growth and spending power that consumers have during this life stage is incredibly powerful and important to address.
Dayna Sargen is the Brand Marketing Director at NewsCred. 
Originally published on Apr 15, 2016 10:00 AM, updated Dec 1, 2016