NewsCred's roundup of the content marketing, technology, and business stories that caught our eye this week.  

Image via MarketingLand
Google is debuting Accelerated Mobile Pages (AMPs) on search results pages. Instead of clicking from a search results page to another webpage, which might load slowly or not offer relevant information, Google's AMP viewer allows users to swipe through multiple results from different publishers, without leaving the original search page. The company will link to the AMP version of a web page any time a valid AMP is available. This framework will offer a new type of user experience and dramatically increase AMP traffic overall.
Fashion retailers are using interactive videos to drive purchases. Ted Baker, for example, recently launched a three-minute shoppable film on its website, with Selfridges and Nordstrom. While watching, viewers can click a "plus" icon to save various pieces of clothing worn by characters. Those items are then displayed on the page below the video, where users can opt to purchase them. Diesel, Matches Fashion, and Burberry are also experimenting with the format.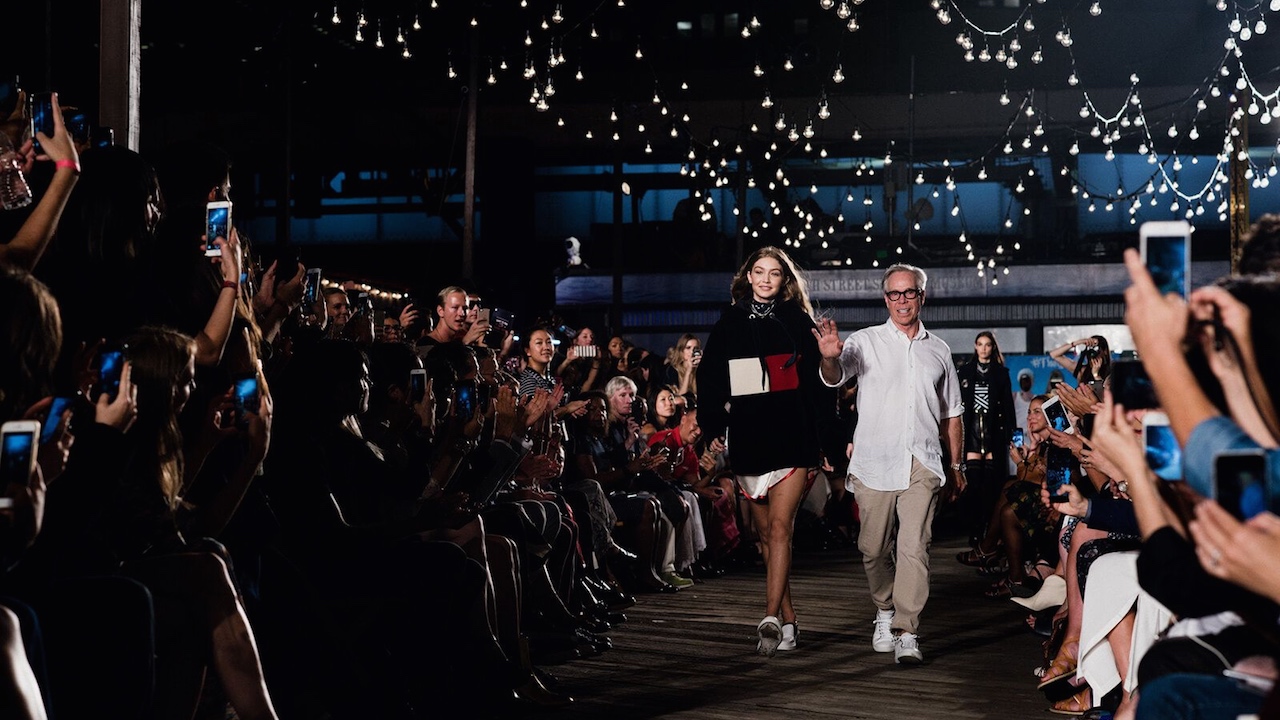 Image via Glossy 
Tommy Hilfiger is looking to push sales of its Tommy x Gigi collection by utilizing Facebook Messenger's first "fashion bot" to provide a guided shopping experience through the new collection using artificial intelligence. To use the chatbot, users can click the "message" button on Tommy Hilfiger's Facebook page, or scan a QR code on mobile. The bot provides information about the collection and asks prompts to narrow down what the consumer is looking for. Users can also ask the bot questions as the Tommy Hilfiger team programmed it with 7,000 responses.
To better understand how people use smartphones, Google surveyed 1,000 users several times a day for one week. With more than 14,000 results received, Google now has a trove of data detailing how consumers seek information, purchase, and watch video on mobile. One example: 92% of respondents who did research on their phone made a purchase within a day and 76% of those searching for something nearby visited a related business within a day.
In an edited transcript, Twitter's CEO, Jeff Dorsey highlights Twitter's focus to make it the best place to follow live news and events, including NFL games and other sports playing right inside the app. The company hopes to shift the current widespread perception of Twitter being a social network that will forever lag behind Facebook.
Plus, the latest from NewsCred:

Rafsanjani, Gimlet Creative's Creative Director, shares her insights on the fledgling branded podcast market, the value podcasts can bring companies, and her experience and learnings creating a series with the eBay.
How can you integrate storytelling into your content marketing strategy? These are just a handful of ideas.
Alexa Biale, our Brand Marketing Manager, shares how we use content marketing to drive our business.
These five SEO "secrets" that you may not have thought of can help get your content ranking sooner than you might think.

Here's what some of our favorite speakers had to say about how their companies are creating great content and staying ahead of the pack in the content marketing space.
In Part 1 of this two-part webinar series, on September 21, Liam Moroney, Demand Generation Manager at NewsCred, will address the ideal setup for your website and Google Analytics that will result in cleaner data and make it easier to access that data in a reportable way.
Thank you for subscribing!
Our best content will now come straight to your inbox.