Since the holidays are often a time for reflection, the NewsCred editorial team has taken a look back on our content in 2014 – what worked, what didn't, and what we learned. I learned so much this year, as an editor and a marketer – and what is good content marketing, if not sharing our knowledge?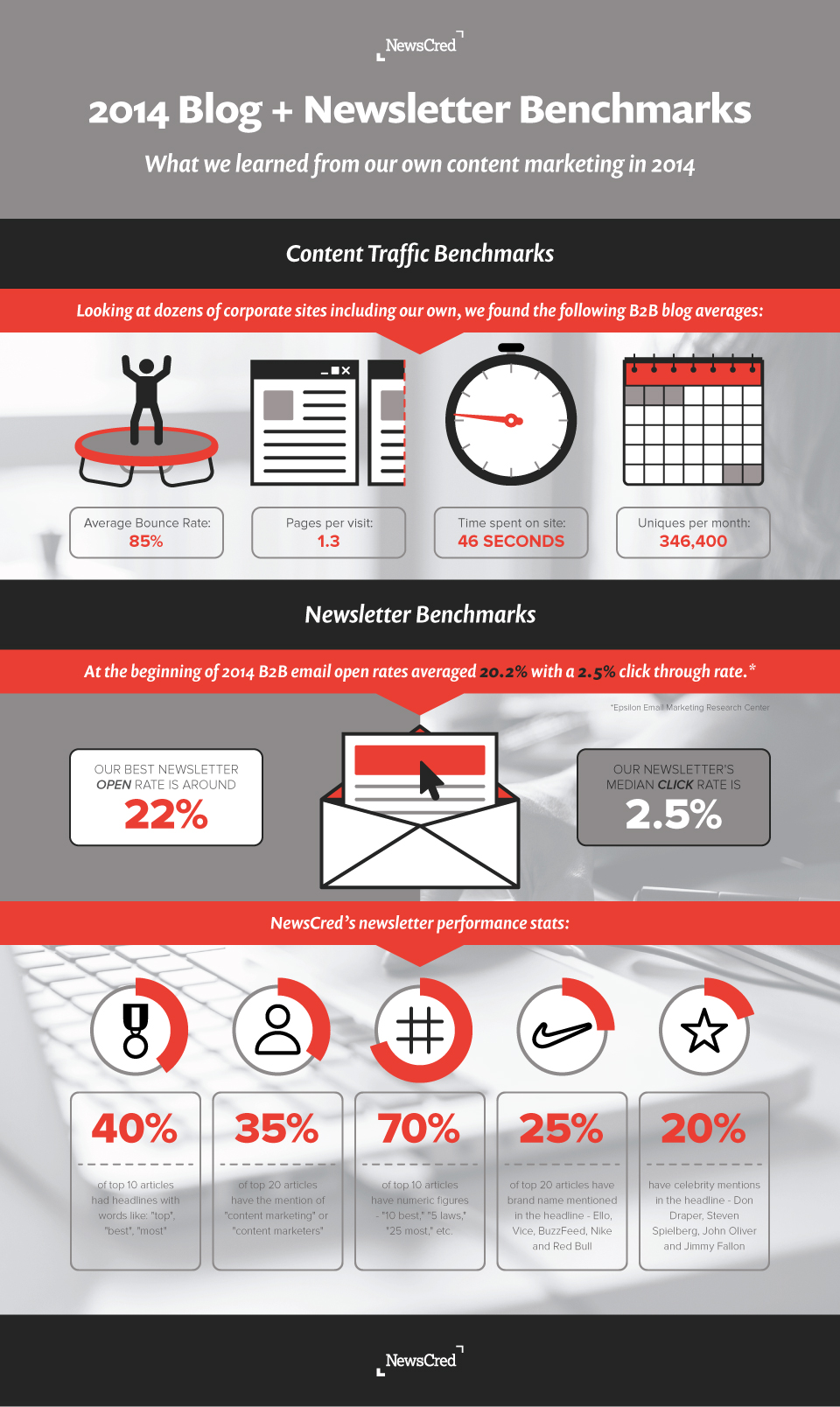 Blog Content Benchmarks & Analytics
Looking at dozens of B2B sites including our own, we found the following averages for traffic benchmarks:
Bounce rate: 85%
Pages per visit: 1.3
Visit duration: 46 seconds
346,400 unique pageviews per month
Then we looked at our highest performing content based on traffic in 2014. But first, some candid background information: prior to joining NewsCred in February (when we were still very much a startup), our blog was publishing one piece of original content per week alongside five pieces of licensed content (once a day Monday through Friday). We also had no full-time social media person, and were publishing on average about 10 tweets a day to about 3,000 followers. Shortly after I joined, I took over the blog and we made a plan to quickly scale our content. We started publishing new original content every weekday, while continuing to publish licensed content daily. We started publishing regularly and more frequently across social channels, using strategic ad spend to promote high-performing content. For April (when we started our content strategy) and May, our traffic increased over 50% compared to the previous period, and increased another 60% over the next two months. We knew we were on the right track, but wanted to grow faster. We thought strategically about our content buckets, our buyer personas, and how we could scale creation by hiring more freelancers and developing content partnerships. It took a lot of time and hard work, but in the end we came up with a strategy we knew we could sustain.
To this day, our continued growth is based on constant iteration, examination, and self-reflection. We ask ourselves why some content performs well while other content flops, and how we can reproduce those successes while avoiding future failures. Since we put our first strategy in place, our sessions have grown over 130% to date. Below are our top 10 articles of 2014 by traffic, and I'll explain how we got here.
Top 10 NewsCred Articles By Traffic In 2014:
1) Millennials Are Not Impressed With Your Content Marketing – Wow. This article alone made up over 5% of our traffic to the blog in 2014. A review of Yahoo!'s research partnered with the "Mckayla is not impressed" meme took us to blog glory this year with a topic that really resonated with our audience.
2) 14 Tools To Help You Add Images For Your Social Media Posts – This was a piece of licensed content from our friends at Buffer. Licensed is a great option for scaling content creation, especially when you have a 1.5 person content team, as we like to say we do (the .5 is our Social Strategist, Alexa, who helps with content). This blog post proves that helpful + sharable = successful content.
3) The Top Content Marketing Agencies In the US – This was published in 2013 but has performed so well in SEO ranking that we keep getting hits from it. Sometimes creating a piece of research, or "big rock content," can pay dividends well into the future.
4) The Top 25 Most Influential Content Marketing Brands of 2014 – As we'll break down in our newsletter data later on, titles with numbers and lists always perform – the same goes for our second best performing piece of content on this list.
5) 56 Reasons Why Content Marketing Works 2014 Edition – This was a retread of a content marketing hit from 2013 (see number 6). We updated the deck with new data, put it on SlideShare and in the blog and crossed our fingers for a repeat performance. Despite being on our site for less time, this one managed to outrank its previous incantation in traffic.
6) 50 Stats You Need To Know About Content Marketing – People love this deck, and despite being published in 2013 the hits keep coming!
7) The 10 Best Marketing Blogs and Newsletters – Useful, simple, and great for SEO. Lists with numbers FTW.
8) Encouraging Dreamers, Inspiring Warriors, and Empowering Parents: How LinkedIn, Nike, and Apple Tell Engaging Stories – A tweet from some guy named Jeff Weiner sent traffic soaring on this post long after it was published.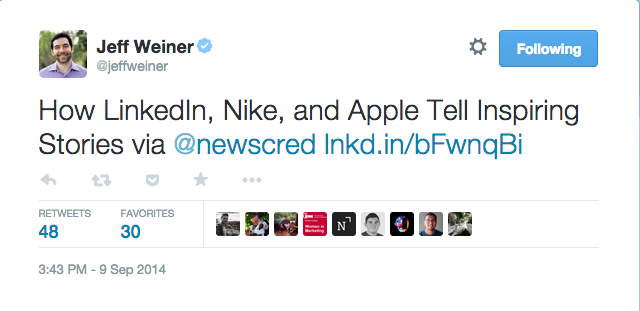 9) 5 Ways To Know If Your Content Idea Will Work (Infographic) – Part of scaling our content strategy included making content partnerships with Column Five and Visual.ly – brands we work with whose content aligns with ours but might help us reach new audiences. Fortunately for us, this post was a huge hit! Thanks Column Five! We've also promoted this piece of content every single week on social since it was published. It was so successful there was no reason to pull it from our line up.
10) 5 Luxury Brands Winning With Content Marketing – Another post from 2013 that kept winning with the power of SEO.
Big takeaway: Seventy percent of our top 10 articles have a number in the headline. Numbers in headlines help you audience do a little mental calculation about what they will get out of clicking this headline and approximately how easy it will be to digest.
Another useful distribution tactic I should mention is our use of SlideShare. It's become an amazing way to expand our audience and increase brand awareness. This year, the aforementioned "56 Reasons Why Content Marketing Works" deck recieved over 20,670 views, with the original "50 Stats" deck from 2013 at nearly 278,000 views. Our "Power of Visual Storytelling" project with Getty racked up nearly 30,000 views as well.
Now let's look at a huge piece of our distribution strategy – our the NewsCred Newsletter!
Newsletter Benchmarks & Analytics
At the beginning of 2014 B2B email open rates averaged 20.2% with a 2.5% click through rate according to Epsilon Email Marketing Research Center.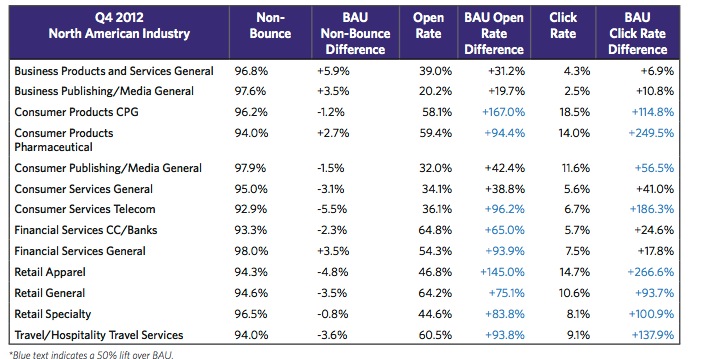 Our newsletter goes to over 50,000 subscribers four times a week. Our best open rates are around 22%, and our average click rate is 2.5%, so we're right on the money. About halfway through 2014 we had scaled our content creation to the point where we could start publishing more newsletters, and increased our email cadence from once a week to four times a week. We also reminded our blog and social audiences to sign up for the newsletter, growing our overall subscriber base.
Of our best performing newsletter articles, the top 10 were:
1) The 10 Best Infographics to Inspire Content Marketers – We compiled a list of amazing infographics from across the web to highlight their value in content marketing – easy peasy, and a huge hit!
2) 5 Laws of Content Marketing (Infographic) – We originally created this infographic for an ad in AdAge based on the biggest takeaways from our #ThinkContent summit. Our audience took these laws to heart!
3) If Don Draper Tweeted: 27 Copywriting Formulas That Will Drive Clicks and Engagement on Social Media – Another hit from Buffer that was a piece of our licensed content strategy.
4) The Top 25 Most Influential Content Marketing Brands of 2014 – Also on top ten traffic list!
5) The 10 Most Influential B2C Marketers of 2014 – Lists and numbers, lists and numbers, lists and numbers – you get the picture.
6) What The Hell is Ello and Why Should Brands Care? – This buzzworthy topic led to lots of email opens.
7) Content Marketers Have No Idea What They're Doing – I wrote this post after actually LOL'ing at Altimeter Groups report that marketers considered themselves "mature" when it came to content marketing strategy, yet most had no actual content marketing strategy in place. #FacePalm It led to some great conversations on Twitter, including a potential partnership. Honesty, authenticity, and a twinge of snark go a long way.
8) How to Get Millennials To Love Your Content: VICE's Magic Formula – A recap from our #ThinkContent session with VICE CCO Eddie Moretti. You guys sure love your millennials!
9) Brands Stay Cool With the ALS Ice Bucket Challenge – Was there a topic more viral than this? We even made our own video!
10) Should We Exterminate Banner Ads? – Short answer, yes! Apparently ya'll agree.
What do these top articles have in common? We identified some trends:
Top two highest performing newsletter blog posts are infographics – the power of visual storytelling in action!
40% of top 10 articles had headlines with words like: "top," "best," "most."
35% of top 20 articles have the mention of "content marketing" or "content marketers."
70% of top 10 articles have numbers in the headline.
25% of top 20 articles have brand name mentioned in the headline – Ello, Vice, BuzzFeed, Nike, and Red Bull.
20% have celebrity mentions in the headline – Don Draper, Steven Spielberg, John Oliver and Jimmy Fallon.
100% of these articles were published between June and December.
What changed? In April I became a full-time editor for the NewsCred blog – the first person with an editorial and publishing background to do so. In August we solidified our content strategy, and in October we pivoted that plan to be more consistent and focused, based on our past successes. The takeaway? Hire an editor to run your content marketing (a real one) and make a plan for how you will create, edit, publish, and distribute your content. If that plan isn't giving you the results you want, make changes and move forward.
So what did we learn?
Make a plan, but that doesn't mean your work is done. Your content strategy should be constantly evolving.
Got a great piece of content? Update it and do it again! Chances are your audience will still love it – if not more.
10 Reasons You Should Use Numbers In Your Headlines could have been the title of this post.
Pulling data like this makes you a better editor and content marketer. Familiarize yourself with your analytics and what benchmarks are important, and track constantly! If something isn't growing fast enough you can act in real time to tweak your strategy.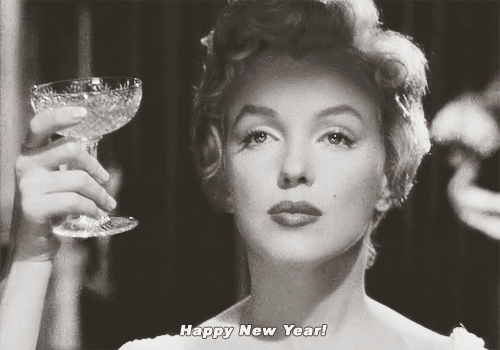 Happy New Year Y'all! Wishing you great content strategy in 2015! Got any tips on what you learned in Content Marketing in 2014? Tell us on Twitter!
Amber van Natten is Managing Editor at NewsCred.
Originally published on Dec 19, 2014 12:15 PM, updated Feb 10, 2016