Even if you've been blissfully unplugged for the past week or so (and chances are, you haven't), you've probably heard by now of a little thing called Ello. The nascent social network, which launched in March of this year, seemed to have exploded overnight, on the heels of a relatively small but significant Facebook exodus.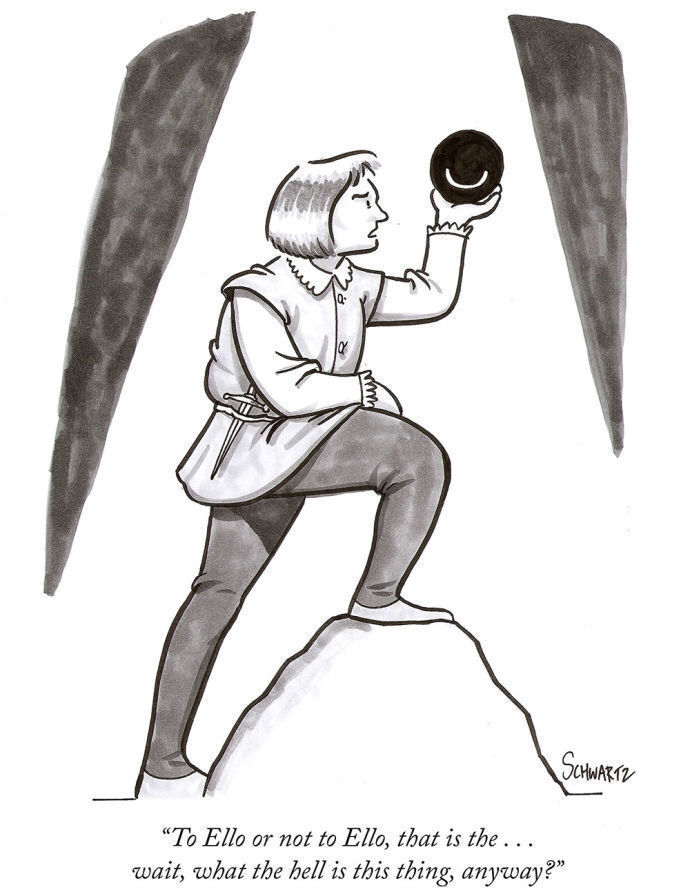 The mega-platform recently instated a rule that forces people to use their full legal names on their profiles. As a result, certain members of the LGBT community – including drag queens and trans people whose identities are rooted in names they've given themselves – decided enough was enough. And Ello? Well, Ello welcomed them with open arms.
The new kid in town, which had about 90 users at the start of August, has since reached peak invite request rates of 40-50,000 per hour, according to founder Paul Budnitz. The demographic quickly expanded to all manner of artists and creative types, and has now caught the eyes of brands (and bots) as well.
With 1.3 billion users, Facebook's not going anywhere anytime soon. But, the people have spoken and they want an alternative. Ello is definitely that.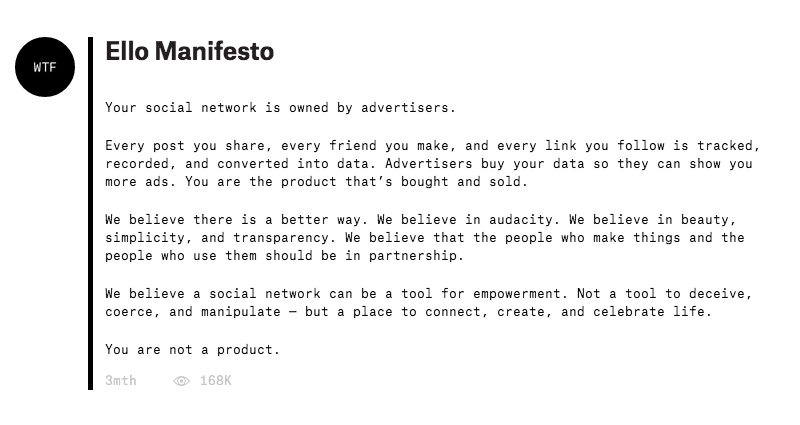 How Is It Different?
While it might initially come off as the hipster-looking love child of Tumblr and Twitter, there's more to be said about baby Ello. For one thing, it's ad-free. It also promises to never sell user data. As it turns out, that's a combination that's appealing to a whole lot of people.
Ello's creed:

 So… No Data Whatsoever?
There is, but it's not for you. Ello plainly states that they do collect certain user information like location, language, referring website and time spent logged in. But that's about it, and the info is strictly for internal use, the platform promising never to sell anything to third parties.
Even then, users who wish to do so can remain anonymous. The site explains: "After a great deal of research and internal debate, we decided to use a special anonymized version of Google Analytics to collect visitor data. If that is something you are uncomfortable with, we also offer the option to opt-out."
On top of that, user IP addresses are stripped and also anonymized, making it almost impossible to trace data back to any one specific user. Pair that with the platform's openly opposing stance on ads and advertisers, and it's no surprise that most sources are warning brands to stay far away for the time being.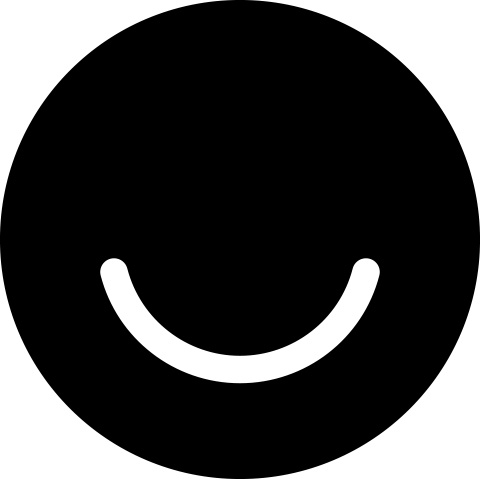 Why Should I Care?
Don't let that deter you. Brands can still have a presence on Ello, and a powerful one. You just have to think a little different. After all, founder Paul Budnitz quickly created a separate account for his bike business – not to mention the fact that publications like The Wall Street Journal and the Guardian are on there, too. So why shouldn't you be?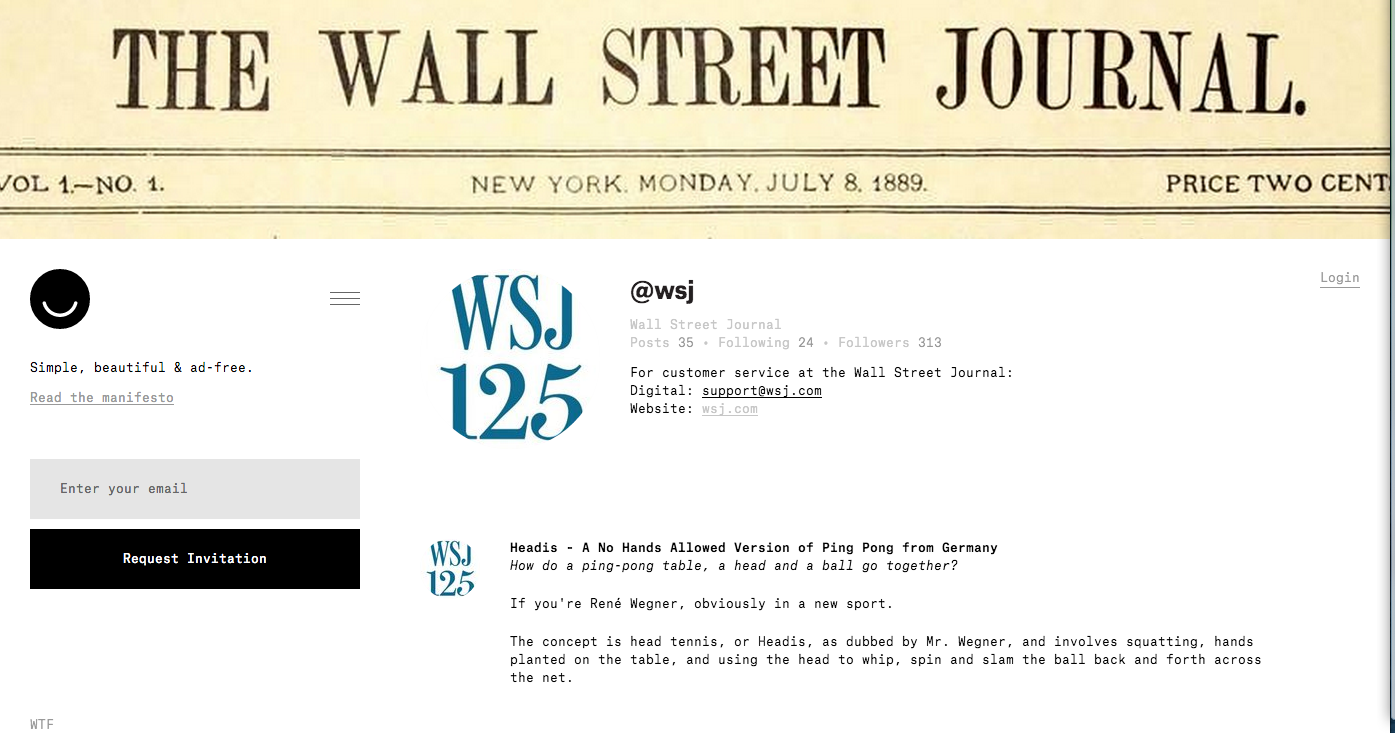 Users are hoping for something refreshing in this platform, so traditional or promotional messaging of any kind is sure to be a huge turn-off. That's why Ello's actually great for content marketing. "Ello's minimal design puts emphasis on high-quality content, and makes it easy to connect with the people you really care about," reads the welcome message – and it's true. The layout and design is very minimal and image-focused, allowing for a healthy dose of creativity, even in the name of – dare we say it – marketing.
For inspiration, check out the way Netflix has risen to the occasion as one of the first brands to get active on Ello. The platform is perfect for experimenting with visuals, and that's just what Netflix has done: given their graphic design team free reign. The result? Fun, shareable pics and teasers, engaging and informing viewers of newly released content and original programming, getting them excited for what's to come.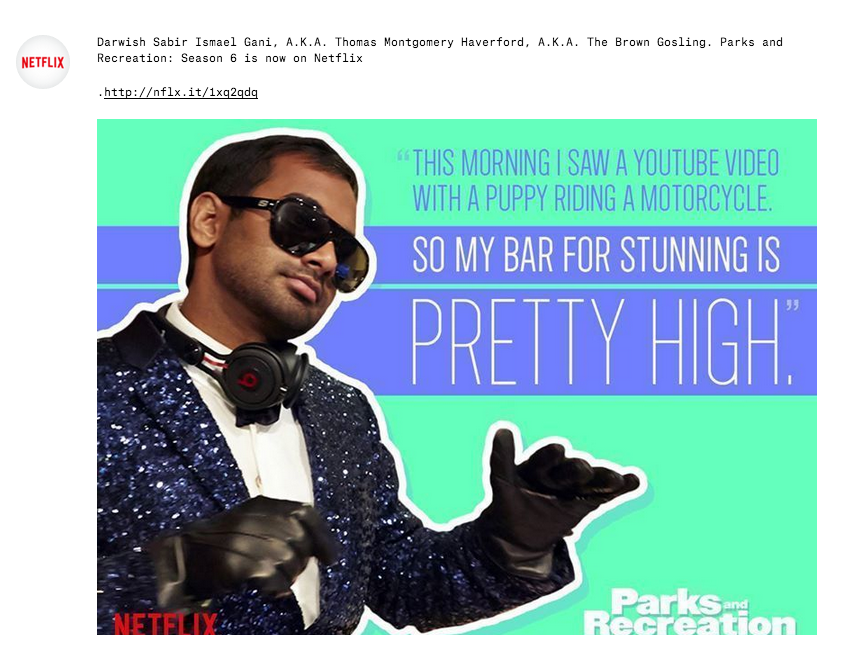 How to Do It Right
The best material is going to be the kind that is inspirational, interesting, and educational, regardless of who's behind it. As a brand, it's important to tread carefully. Develop a likeable personification of your company, and try to leave most mention of the brand itself to your handle name and maybe a line or two in your "About" section. If you have the ability to use your product in creating meaningful content, then of course, by all means, go for it.
Budnitz Bicycles does this almost exclusively, publishing editorial-level photography with what is essentially beautiful written advertorial copy for the brand post after post. This is interspersed with typical engagement-driving text like, "If you could ride Model No. 5 anywhere in the world, what city would you choose?" and even straight-on product shots.
Ello might be "ad-free," but there's definitely room for exploration. If you create something beautiful, people will respond accordingly. And if you create something, well, lesser so, then on Ello, users won't have to see or be bothered by you at all.
Where Do I Sign Up?
Not so fast. To keep servers from crashing from an influx of users, the site is still invite-only. Ello hasn't released any concrete numbers, but with so many people clamoring to join, unless you have a friend who saves you one of his or her five invites, you might be in for a bit of a wait (unless you feel like snagging one on eBay).
The site's still in beta, so there's no better time to experiment. Start slowly, test the waters, use common sense and see what works and what doesn't. Once you're in, make sure to secure your brand name before someone else does, even if you're not planning to post right away. It'll give you a chance to start browsing and observing the ways in which other companies and individuals are navigating this new and exciting landscape, and it's a good idea to claim your title before Internet trolls do. And they will. After all, we're pretty sure this isn't actually Domino's: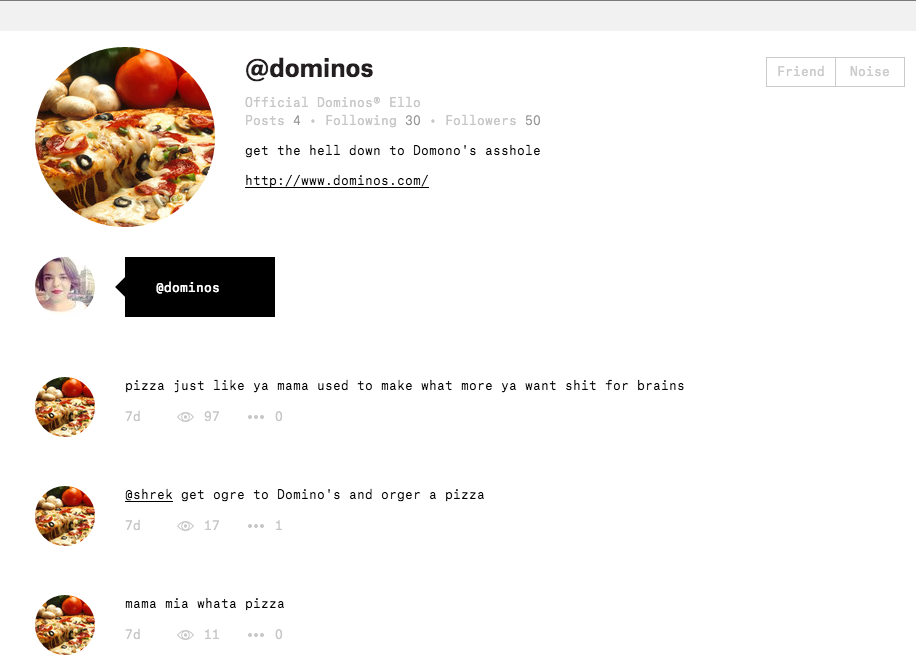 Anastasia Dyakovskaya is a writer, editor and creative consultant from New York City. When she's not writing for NewsCred, she's developing copy and editorial for brands and tech startups. When she's not working, she's likely behind the camera or planning her next adventure. Follow her @worldinquestion
Originally published on Oct 7, 2014 11:15 AM, updated Sep 16, 2016