This wrap-up of our London #ThinkContent event comes to you from NewsCred's London-based European team. Click here to see videos of all the presentations referenced below.
Why #contentmarketing is important: buyers engage w/ 11.4 pieces of content before making a purchase @newscred #ThinkContent pic.twitter.com/2Ya3u6nxjy

— Lindsay Trombley (@LindsayTrombley) November 22, 2016
Some of Britain's best content marketers gathered together last week for #ThinkContent 2016 London, hosted under the low-vaulted ceiling of a large room in Central London, not far from Barbican. The space, filled to capacity and lit by warm red lighting, was transfused with rapt attention as self-confessed 'marketing provocateur' and Head of Innovation at Zenith, Tom Goodwin, delivered a keynote speech on the future of media. Behind his head on the centre stage backdrop, an embossed #ThinkContent logo took the place of pride – framing the context of the day's coming talks – and in front of Tom sat a captivated, seemingly entranced and entirely immobile audience.
Or so it might appear to the casual observer.
Yet, as Tom spoke – impassionately and eloquently explaining the now ubiquitous, intimate relationship we all hold with our cellphones – the silent group of over 300 from 128 companies were actually incredibly active. All one had to do was open their own beloved mobile device to see the flood of commentary rolling in under the #ThinkContent hashtag, with tweets, posts and 'grams popping up at a rate of one new tweet from an actual attendee every minute and 20 seconds. Across the run of presentations by 11 speakers, roughly one-fifth of the audience used Twitter to communicate a takeaway piece of information from #ThinkContent 2016, each person tweeting an average of four times across the course of the entire event.
What's more, this outpouring of social commentary reveals an interesting and unprecedented digital footprint into the core pain points keeping content marketers up at night.
At NewsCred, we dived into the details of more than 230 tweets event attendees sent out to their combined total audience of 122,980 followers (not even counting the reach of retweets) to reveal the key interests and challenges facing these marketers in their working lives.
"Content should not be viewed as a cost. If developed well it provides an asset to engage clients for years to come" @newscred #ThinkContent pic.twitter.com/HLDBBoVSBf

— Julia Surry (@JuliaSurry) November 22, 2016
Having reviewed nearly 10 A4 pages worth of tweets, NewsCred aggregated their essence, assigning each post a series of keywords that could be sliced and diced to better understand overarching thematic concepts, broader general areas of interest, and specific individual topics in which attendees took interest.
At the highest level, the audience engaged with the concept of content over the concept of marketing – with nearly 55 percent of the audience's tweets getting into the essence of defining exceptional content – whilst the remaining 45 percent voicing an interest in the systems that enable more effective delivery and impact of the message instead.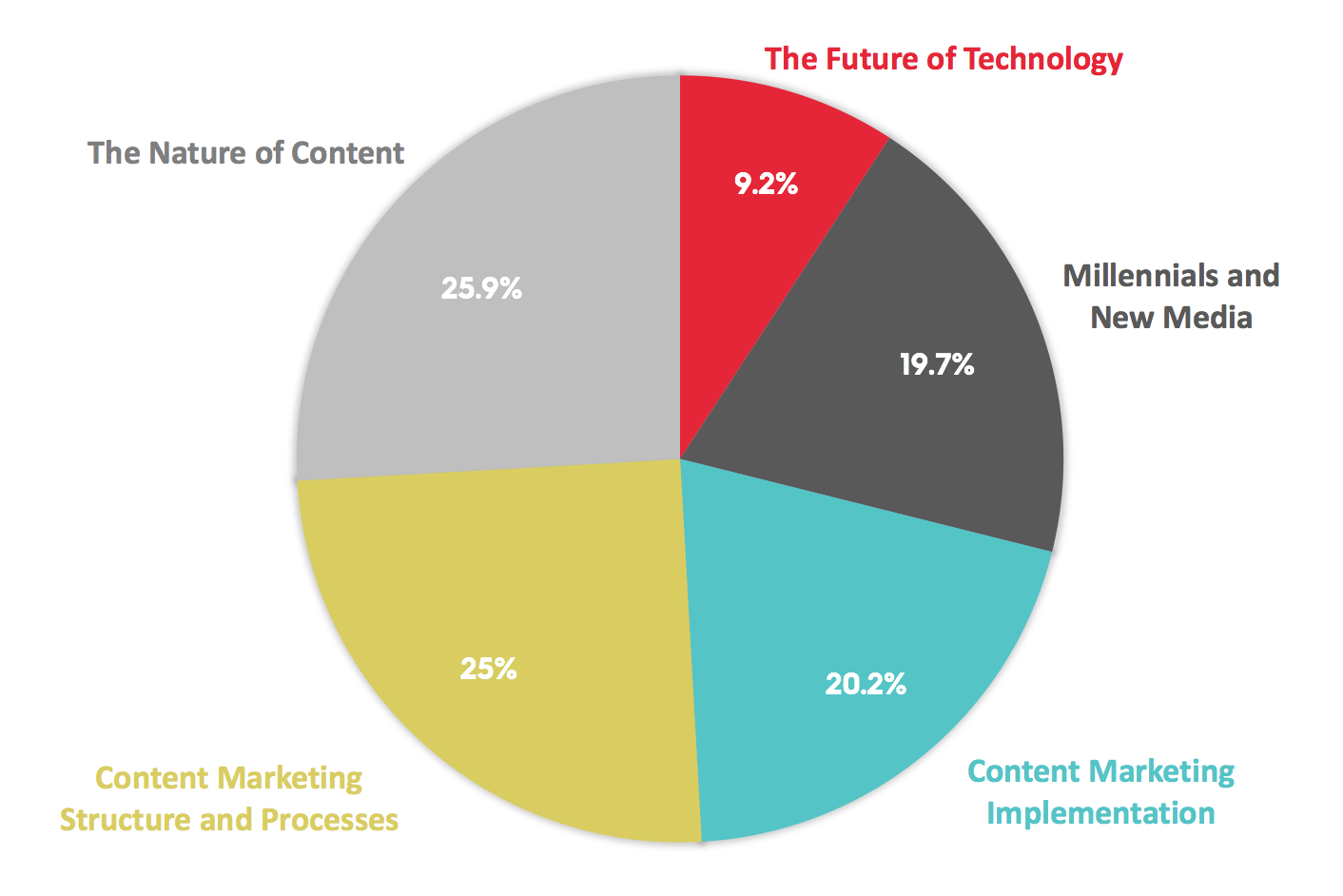 Diving down a layer, the picture became more crystalline; the most popular aggregate topic on Twitter being on the nature of defining quality content, a theme running across many of the day's presentations, including: "The Quest for the Holy Grail of Content," by NewsCred's Global Head of Strategy Alex Cheeseman; "Why Employer Branding is Your Best Secret Weapon," by Hannah West, Global Head of Employer Brand and Attraction, AXA; and the phenomenally fast-paced "How to Build an Owned Media Empire with EPIC Content Marketing," by Jason Miller, Global Content Marketing Lead, LinkedIn. "Using New Approaches to Content to Steward a Brand that Never Stands Still," by Jo Moore, Worldwide Executive Brand Director, Lenovo, drove this message further home with many imaginative and humorous examples taken from Lenovo's award-winning video content campaigns.
Following strongly behind the area of content excellence – with 25% and 20% of the share of tweets respectively – were online discussions on the practicalities associated with implementing a business' content marketing strategy, and the structures and processes needed to be put in place to ensure such implementation is successful and scaleable. This fascinating and multifaceted subject matter was championed by Schneider Electric's VP Content, Giuseppe Caltabiano, in his talk, "Going Global: Mastering a Cross-Regional Content Marketing Strategy," as well as Head of Digital Marketing at Virgin Media Gill Worby's presentation, "Selling Content Internally: Achieving Executive Buy-In."
Repurpose, repurpose and then repurpose some more #content #ThinkContent @JasonMillerCA

— Silvia Cambie (@silviacambie) November 22, 2016
The last remaining third of the Twitter-wide conversation centered on the future, new technologies, and disruption of old ways of thinking (9.2%), but also looking toward Millennials and Generation Z and how fresh and youthful new audiences are reshaping the old boundaries between businesses and publishing outfits (19.7%).
Tom Goodwin's superb talk, "The Future of Media and the Impact on Content," led the charge on these fronts, with the highest volume of Twitter conversations occurring at 11:16 a.m., ten minutes into his presentation. Close behind with the second highest volume of tweets by minute was The British Library's Graham MacFadyen, Head of Digital and Marketing Operations, in the fireside chat, "Managing Content at The British Library," which tackled a related thread with its discussion on the intricacies of customer behaviour and segmentation.
Amazing speaker @newscred #ThinkContent event in London: @HussainsHouse "Make content that will change lives, we need it now more than ever" pic.twitter.com/iGa2qioKNP

— Julia Surry (@JuliaSurry) November 22, 2016
And yet, perhaps the highlight of many attendees' days was the incredibly powerful talk, "Hussain's House: Using Content to Connect with Millennials" by Hussain Manawer, a YouTuber, poet, mental health spokesperson, campaigner, and future astronaut.
He alone received the greatest breadth of praise from the highest number of individual Twitter handles using #ThinkContent, his poems "Hello my name is Hussain, my problem is I care too much" and "The Playground" leaving ripples in the minds of many attendees who left the day inspired by the powerful words he chooses to use to tell the story of mental health issues facing today's younger generations.
Hussain's story is a heart-touching example of the power of content marketing – of hundreds of people inspired by content of value right in front of their eyes and then, collectively, undertaking action because of it.
All the presentations from #ThinkContent 2016 London can be found in video format here.
Jamie Maddison is a Senior Editorial Strategist from NewsCred's London-based European team.
Originally published on Nov 28, 2016 4:08 PM