Immediately following September 11, 2001, businesses in downtown Manhattan were suffering. People didn't want to visit New York City – most especially the neighborhoods affected directly by terrorism. Lower Manhattan needed an economic push to get it back to where it was before the attack. In December of that year, Craig Hatkoff, Robert De Niro, and Jane Rosenthal decided to do something about it. They wanted to ensure the long-term success of businesses in Lower Manhattan and establish New York City as a filmmaking destination. Thus, the three created the incredibly successful Tribeca Film Festival.
The first festival kicked off in May of 2002 with the premiere of "Star Wars: Episode 2, Attack of the Clones," various panel discussions, and screenings of documentaries and short films. Over the past 14 years, the festival has screened more than 1,400 films from over 80 countries and hosted four million attendees. Most notably, they are well on their way to reaching their initial goal of sparking economic growth and bringing investment back to New York City. It is estimated to have raised over $750 million for NYC.
NewsCred co-founder Shafqat Islam sat down with Craig Hatkoff for a fireside chat at NewsCred's 2016 #ThinkContent Summit to discuss the history of the festival, principles of storytelling, and how these learnings and principles can help today's content marketer. They also talked about how the Festival is now investing in branded content and giving marketers a chance to show off their storytelling capabilities.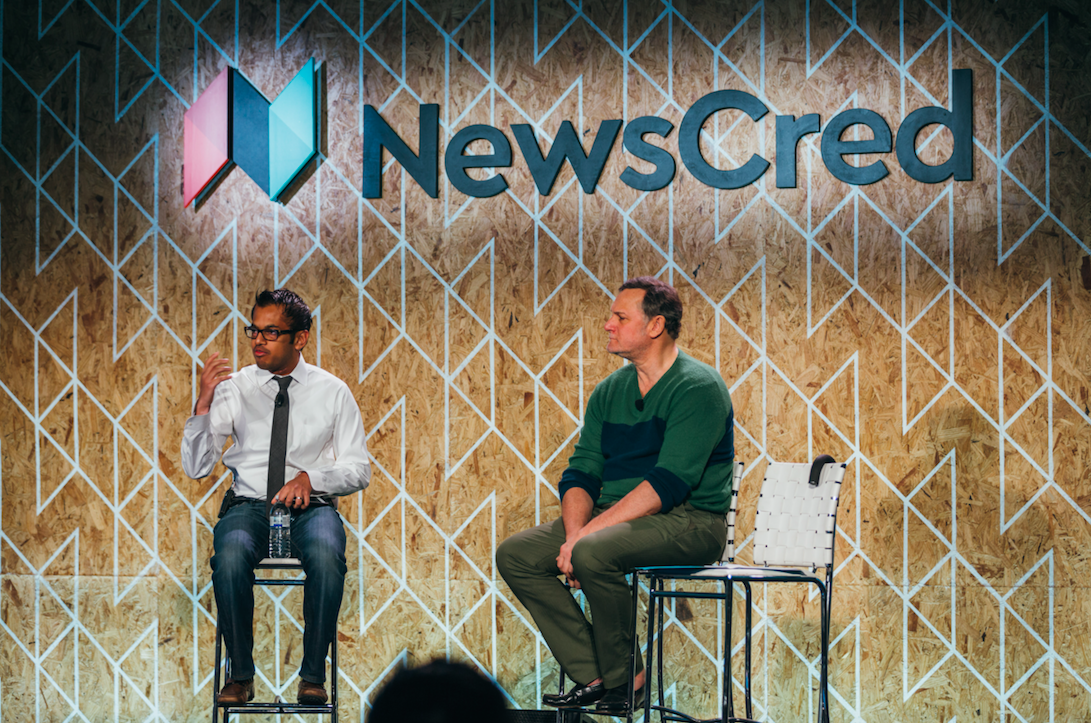 Storytelling: How to resonate with audiences and make an impact
For content marketers, storytelling is everything. Hatkoff believes that in order to do it right, your story has to have a distinct beginning, middle, and an end. Narratives must help us organize our experiences and make sense of our surroundings. This is especially true today, when there are so many contradictions and so much confusion in the world.
Aside from organizing experiences, content also must resonate with your audience by confirming their own experiences and identity. For example, Hatkoff and Islam chatted about a BuzzFeed article called, "The 21 Absolute Worst Things for Left-Handed People." Hatkoff commented that as a leftie, he could relate to that piece. Islam noted that the number one reason people share content is because of their identity. The power of content reflecting and representing the experiences of the reader cannot be underestimated. Marketers should strive to find opportunities to truly connect via authentic and relatable content for their audience.
Storytelling isn't only in the hands of people with a lot of money and power these days. Hatkoff said that now is the time of empowerment, and individuals are finding ways to change the world. It's up to marketers to figure out how to team up with these individuals and empower them with the resources to tell their stories. When marketers create these stories, they have to ensure that they work on every medium. That may include Vine, Snapchat, Facebook, YouTube and more.
One medium that's changing the game of storytelling is virtual reality, which is an immersive experience. In 2016, Virtual Arcade premiered at the Tribeca Film Festival, giving audience members the chance to watch movies wearing a 360-headset. According to Hatkoff, virtual reality is in its infancy. Right now, storytellers are figuring out how to scale virtual reality for a wider audience. Once virtual reality is fully developed, it's going to change filmmaking and storytelling. This is because, Hatkoff pointed out, every time you add another layer of sensory perception, there is more retention of stories. Audiences will remember the stories they watch and hear and experience much better.
The rise of branded content, even in traditional settings
Hatkoff, Rosenthall, and De Niro don't shy away from branded content. In fact, at the 2016 Tribeca Film Festival, they held their first ever branded content awards called Tribeca X. There were eight entrants in total, but Samsung took the prize for its five-minute short film "Hearing Colors." It centered on a young man who becomes colorblind, and asks doctors to put an antenna in the back of his head that lets him hear colors.
Hatkoff said that branded content is a disruption of the film industry. Though people within the business are hesitant to let it in, branded content creators are also putting out great stories. Islam said that eventually, it's not inconceivable that a piece of branded content could win the Grammys, Oscars, or another big award.
Honoring and learning from disruptors
Another way that the Tribeca Film Festival disrupts tradition is by holding the Disruptive Innovation Awards. It's hosted with partner Clayton M. Christensen, a Harvard Business School professor who wrote "The Innovator's Dilemma" and introduced the idea of disruptive innovation. Awards are given to individuals who are disrupting politics, technology, healthcare, education, religion, philanthropy, sports, economics, fashion, and spirituality.
Honorees for this past festival included Nate Parker, an activist and the filmmaker behind "The Birth of a Nation," Hamdi Ulukaya, the founder and CEO of Chobani, and Scott Harrison, CEO and founder of charity: water.
Brands have to partner with individuals like the ones who won the Disruptive Innovation Awards in order to be taken seriously by millennials. Hatkoff said that this demographic asks brands what they're doing for the world and how they give back to it. This "giving back" attitude must be reflected in storytelling. Going forward, the role of content is going to be to help people organize their lives, as well as do something to make the world a better place.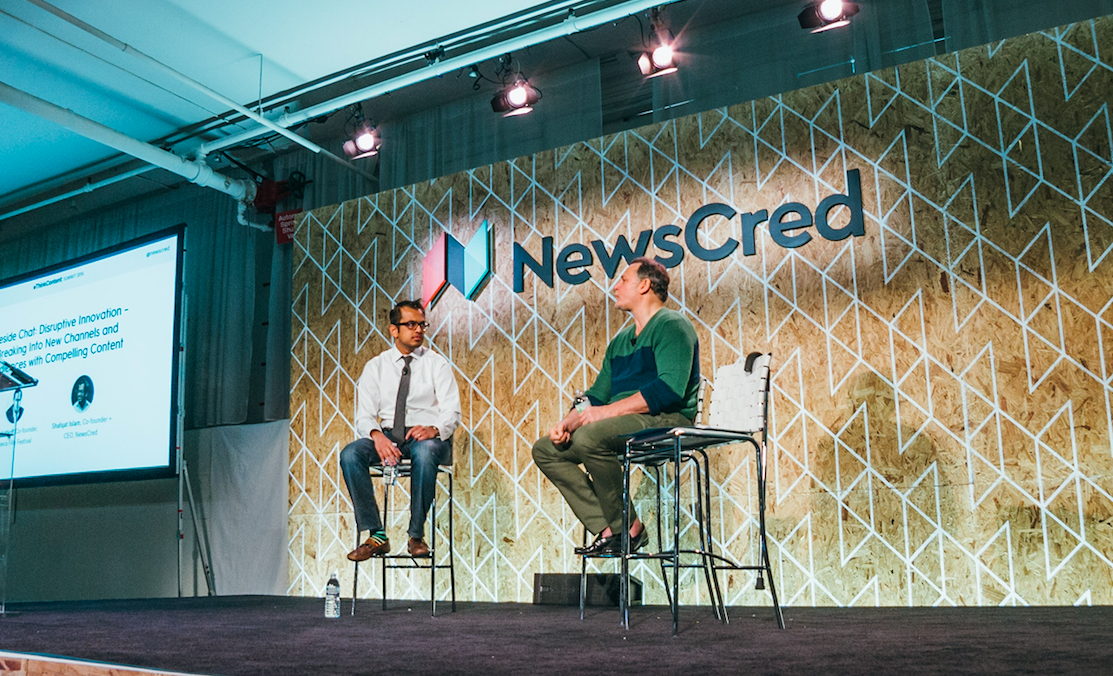 Key lessons from Craig Hatkoff
Storytelling is how you connect with audiences. Your story has to confirm people's identity, as well as help them organize their experiences.
Branded content isn't going anywhere. In fact, it's going to disrupt different industries and continue to make an impact on people's lives.
Storytelling is becoming more of an immersive experience through virtual reality. This is good for storytellers, because audiences will remember the stories more easily.
Individuals now have the influence and can have a huge impact on the world. It's not just big, powerful entities making real changes now.
Millennials want their brands to give back, and make a difference on this planet. One way brands can do this is to team up with individuals ushering in this change.
How can this impact your content marketing strategy? 
Even branded stories need to follow the beginning, middle, and end formula. Make sure your narrative flows and adheres to simple storytelling principles.
Your stories have to work on all different platforms and screens. You can't just post one version of it for YouTube, for example, and expect Vine users to migrate over to YouTube to watch it. You need to tweak your content for the audience's consumption convenience.
Create content for specific audiences. Give people content that will confirm their beliefs and identity. Don't try to cater to everyone; choose which demographics you're targeting, and then determine what truths will apply to them and cause them to hit the "share" and "like" buttons.
Invest in immersive storytelling experiences. In 2016, people want to be able to experience content, and not just watch, hear, or read it. Whether you're looking into virtual reality technology or creating projects with 3-D filmmakers, you should figure out ways to make your storytelling more memorable with immersive experiences.
Find the disruptors in your industry and team up with them for projects. This may include activists, bloggers, vloggers, Snapchat stars, and people with large Instagram followings. If these individuals appeal to your audience, you should pursue them.
If you're trying to target millennials, make sure you not only collaborate with their favorite individuals, but show that you're contributing something good to the world as well. They want to feel like they're making a difference by purchasing from you.
For more on the Tribeca Film Festival, storytelling, and catering to millennials, watch the full video of this session of Craig Hatkoff and Shafqat Islam at NewsCred's 2016 Think Content Summit.
Kylie Ora Lobell is a freelance journalist for NewsCred. 
Thank you for subscribing!
Our best content will now come straight to your inbox.