NewsCred is no stranger to the amazingness that is Virgin Group. In the past, we've covered the excellent branding and cutting edge innovation behind Virgin Atlantic Airways, and earlier this summer we were lucky enough to interview and welcome Doug Carrillo – VP of Sales and Marketing for the conglomerate's newest venture, Virgin Hotels – to our Content Marketing Summit. Now, and just in time for summer, it's only natural to turn our attention to the impressive content and marketing coming from yet another branch of the megabrand: Virgin Holidays.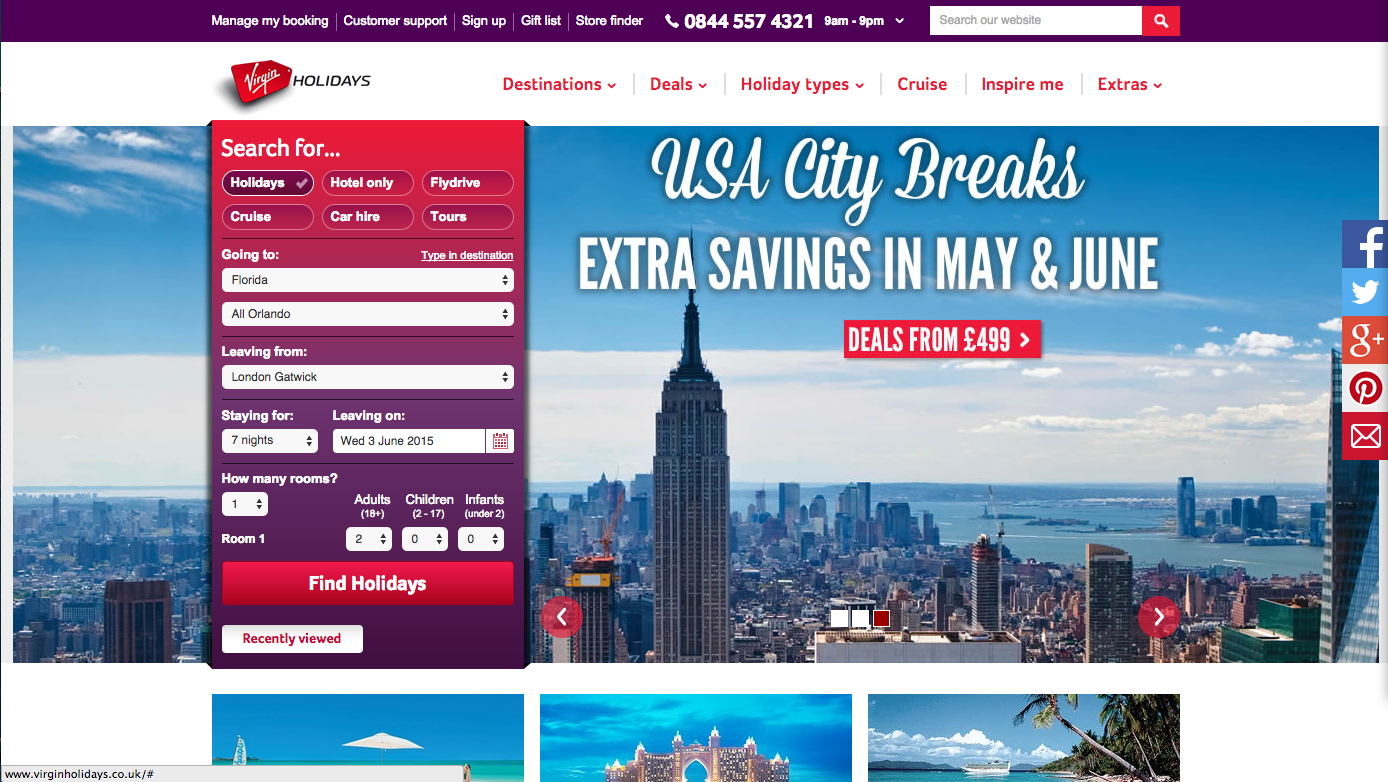 Winner of last year's consumer-voted best holiday website on Travolution, Virgin Holidays has been a fan favourite since its launch in 1985. Besides last year's honour, they've won every other industry award of note in the UK as well – due in no small part to their continuous commitment to digital innovation and putting their customers first. The magic, though, is in the experience, and the kind that Virgin Holidays provides begins well before the trip itself, and lasts far longer than a tan.
Virtual reality
Always known to take advantage of the latest technologies, last December Virgin Holidays introduced an exciting new tool for customers to use in-store. Using the relatively simple but forward-thinking Google Cardboard platform, Virgin-branded masks playing visual footage of destinations like Miami and Mexico's Riviera Maya were brought in to give potential buyers a taste of what they might see and experience on vacation before actually booking their trips.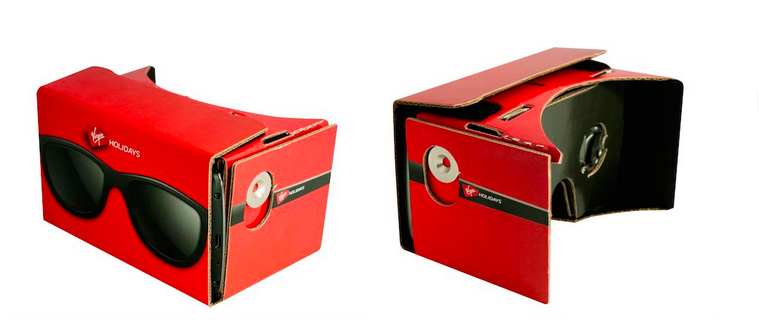 via virgin.com
The addition was not only a fun and unique way of providing a first-hand glimpse of all that awaits one on holiday, but also a genius method of persuading people to stay in store a while longer – leading to an serious spike in sales. Lee Haslett, Director of Sales Trading, said: "We are thrilled that we will be able to inspire our customers to choose their next holiday by going beyond brochure pages and giving them an immersive experience like no one else," and it's true. Seeing as high wait times are one of the biggest reasons that would-be customers leave to seek out other options, the devices were the perfect distraction to keep people in queue.
Introduced in 50 Virgin Holidays stores in January, the project couldn't have come at a more opportune time. The peak of winter happens to be the biggest sales period in the travel sector, during which nearly half of the brand's sales come from physical stores.
Try on a holiday
A corresponding initiative saw a "Try on a Holiday" booth tour the UK, giving would-be travellers the chance to experience a feel – along with a taste, smell, and sound – of other destinations like Cancun, Barbados, and Orlando's Walt Disney World as well. Senses were stimulated in every way imaginable, from the scent of coconut sunscreen wafting through the air and Caribbean music playing in the background, to specially warmed air flowing through the enclosure along with actual sand beneath visitors' toes.
And that's just the Barbados experience. Within the Cancun area, delighted fans found sounds of a Mariachi band, the smell of lime tequila, and samples of chili chocolate, while in yet another space, families were offered a glimpse of the magic of Walt Disney World's Main Street – complete with songs from favourite films, sweeties for the kids, and even Micky and Minnie Mouse ears to pose for photos with. In short, just the right bits and pieces to get people excited for the real thing.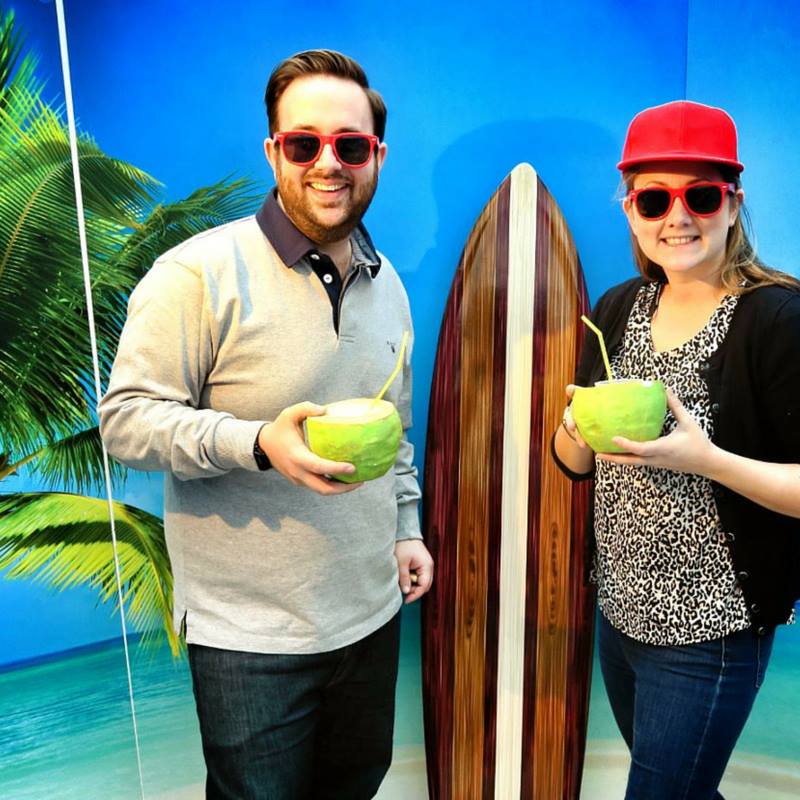 via facebook.com/virginholidays
To spread the experience even further than its select shopping locations, the 'Try on that holiday feeling" campaign took to social as well, encouraging participants to share their hashtagged selfies for a chance to win Virgin Experience Vouchers. The final touch? A redeemable, giveaway luggage tag for customers to use for a same-day booking at any Virgin store in hopes of winning £5,000 to use however they'd like. Our guess would be on a holiday.
Holiday hypnosis
Last year, Virgin reported a 32% increase in web traffic on the first day of work after Christmas. It's comes as small surprise that as soon as one holiday's done, we're looking forward to the next – and dreading getting back to the grind. Virgin recognized this and debuted "Flaunt It" during the winter months, a cheerful, fun, and light-hearted campaign stretching across engaging TV, outdoor, and online spots, as well as a little something known as "hypno-pods."
Creative came up with a brilliant experience to drive away winter blues: get hypnotized and feel as if you've just come off of an amazing two-week vacation. While 20-minutes with celebrity hypnotist and author Paul McKenna might not have been quite the same as the feeling of sand beneath one's toes, the sessions (which took place at Kent's Bluewater Shopping Centre) were nevertheless a hit with those lucky enough to have experienced it – and at least an object of curiosity to those who didn't. Virgin goes the extra mile to make sure they leave a fun, memorable impression on their customers, so that when it comes time to book the next holiday, it's likely they'll be thinking of that red and white logo before anything else.
Unleash your mojo
With so many great things coming their way, Virgin customers are only too happy to give back. As part of the greater and long-running "Unleash Your Mojo" campaign, which debuted in 2013 to stimulate that "invisible force, the electricity inside you."  The latest effort is a social one, encouraging the brand's audience to "Show us Your #holidaymojo," in hopes of winning a free dream vacation.
Taking advantage of user-generated content and putting Virgin customers front and centre of their own holiday story as well as the brand's, the effort succeeded in sparking relevant conversation across multiple platforms while getting people even more excited about their travel plans – past, present, and future.
Speaking of which, plans for this year include further expansion – only natural for Virgin – into a luxury program to meet rising demand. Currently being called Premium Plus, the effort seeks to make luxury more accessible for Virgin customers, and also includes plans for a Virgin Village of villas. Sound forward thinking? That's because it is. And we too look forward to seeing the kind of content and new experiences the brand has in store with this new venture.
Originally published on Aug 6, 2015 10:14 AM, updated Dec 2, 2016