It's no surprise that marketers love acronyms. In fact, I think every industry has it's own set of acronyms that usually evoke an eye roll when dropped in a business meeting. So it's only fitting that we shorten user generated content, better known as, UGC. UGC is defined as any form of content such as blogs, wikis, forums, posts, chats, tweets, podcasts, images, and video created by users
User generated content started becoming popular in 2005 and has grown exponentially over the last decade. More and more brands are using UGC to relate to and reach their audience. Thanks to new digital applications and technology, consumers are empowered more than ever before to share and contribute.
Audience produced content can be extremely powerful for brands. It makes perfect sense – customers trust the voice of other customers more than the voice of a brand. User generated content is cost effective too and can strengthen your brand's community. Ultimately, brands that connect, win. If you're looking to "up" your UGC game, here are some ways to create more content by leveraging your audience. Oh, and not to be a Debbie Downer, but before you do anything you may want to consult with your legal team or representative to ensure you're not breaking the law by collecting or using the content your audience creates.
1. Leverage big data and consumer trends
No longer are marketers making decisions blindly. Assumptions are a thing of the past, use customer insights, websites, social and search analytics, and surveys to understand your audience's behavior. This information can help you answer the five W's so you can determine who is sharing and engaging with your content, what they are sharing, where they are sharing or receiving your content, why they are motivated to repost, Tweet, and share; and lastly, that one H, how they are interacting, tagging, and posting. Answering the above will help you distribute and create content customers love and connect with.
2. Make the campaign personal
People connect with people, not things. If you make your campaign relatable people are more likely to share and engage. It's too easy to become consumed with your brand's story. Take a step back and understand what types of stories will resonate with your target audience. What type of emotion are you trying to create? Do you want people to laugh? Cry? If you can create a personal emotional connection, you've created trust. Deliver on your promises and your user generated content will create itself and not only will you see conversion, you'll feel good about your relationship with your customers.
Girls send over a billion emojis every day but do emojis represent them? Always' #LikeAGirl campaign targets young women and empowers them to be unstoppable. Always doesn't sell the sexiest product. However, they provide their audience with a platform to share their stories, question social stereotypes, and maintain confidence after puberty made possible through support from Always.
A recent study shows that after watching the video, 76 percent of girls ages 16-24 no longer see the phrase "like a girl" as an insult, and two out of three men who watched said they would stop or think twice before using "like a girl" as an insult.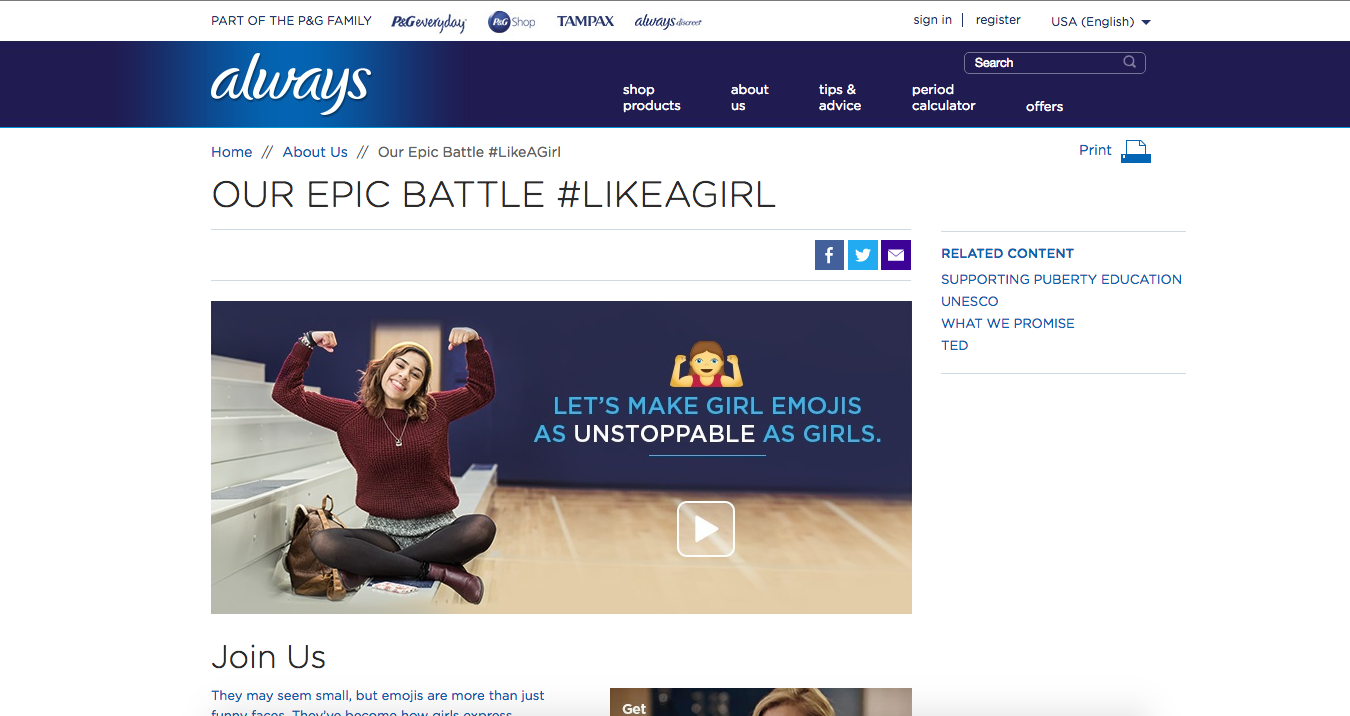 3. Don't ignore your influencers – get their help!
Digital influencers typically boast large followings that can become potential customers and brand loyalists. Influencer marketing isn't necessarily the best tactic for every brand but when used mindfully, these influencers can drive awareness and boost engagement.
When tapping into your influencer network be sure to understand that most of the time you'll need to put budget against this type of engagement. Selecting influencers can also be tricky so ensure audience alignment. Will the influencer's audience relate to your brand? Are their followers the right demographic?
Also consider selecting influencers who use the same channels. If you're planning to hire a YouTube sensation who's obviously keen to video content but your brand is more active on Twitter, maybe you should go back to the drawing board. Obviously, do your homework. Don't be easily swayed by numbers and the quality of content. While these things are important, you want to ensure the influencer is appropriate for your campaign and can get behind your brand and the product you are selling. Their engagement will come across more genuine.
The North Face promotes an adventure filled lifestyle and advocates for enthusiasts who have that passion. By promoting adventurers on their social channels The North Face increases their exposure while promoting their brand. Simply Measured has stated that The North Face has driven almost 4 million total engagements on Instagram in 2015 — compared to about 155,000 on Facebook. The North Face's top posts in 2015 have been UGC content from either fans or North Face "team members".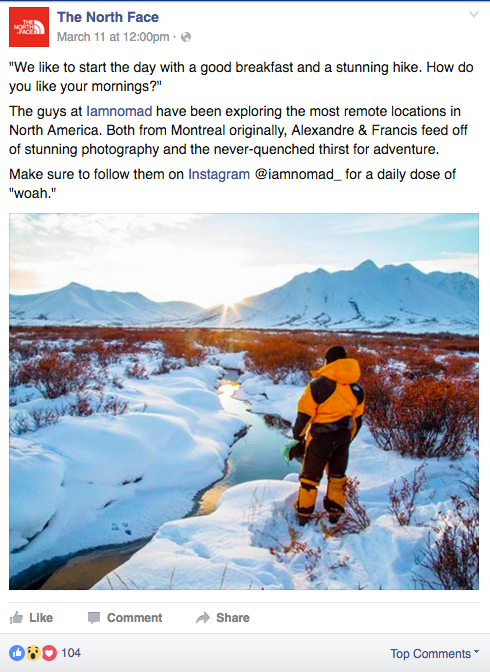 4. #hashtagsFTW
What more can I say? You won't want to implement a UGC campaign and not include a hashtag. That would be a major #fail. However, this hashtag shouldn't be the name of your brand or product. Make it something your audience is more inclined to use. Look at your existing community to determine if there is hashtag being organically used.
Once you settle on a hashtag, promote it, use it, share it, display it in your storefront, at your events, on your communications! Shout it from the mountaintops! Customers will catch on.
Coca-Cola's "Share a Coke" campaign launched in the U.S. (after demoing in Australia) and achieved tremendous success. The campaign saw a 2% increase in soft-drink sales increasing Coke consumption from 1.7 to 1.8 billion servings per day. #ShareACoke was the number one global trending topic on social media resulting in 500,000 photos shared while increasing Coca-Cola's Facebook followers by 25 million as a result of the campaign.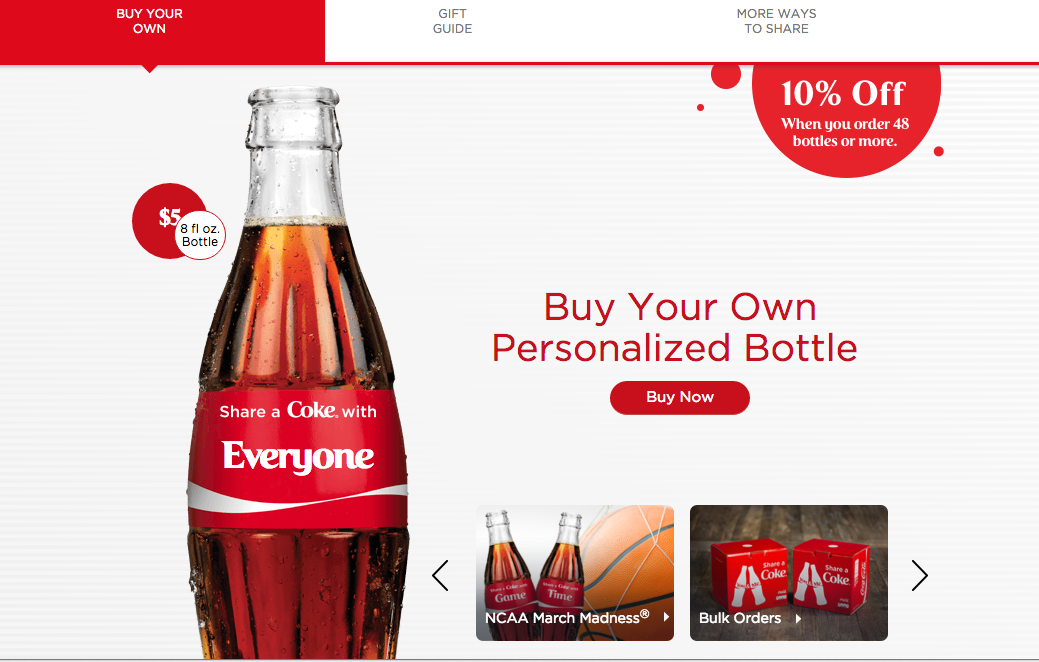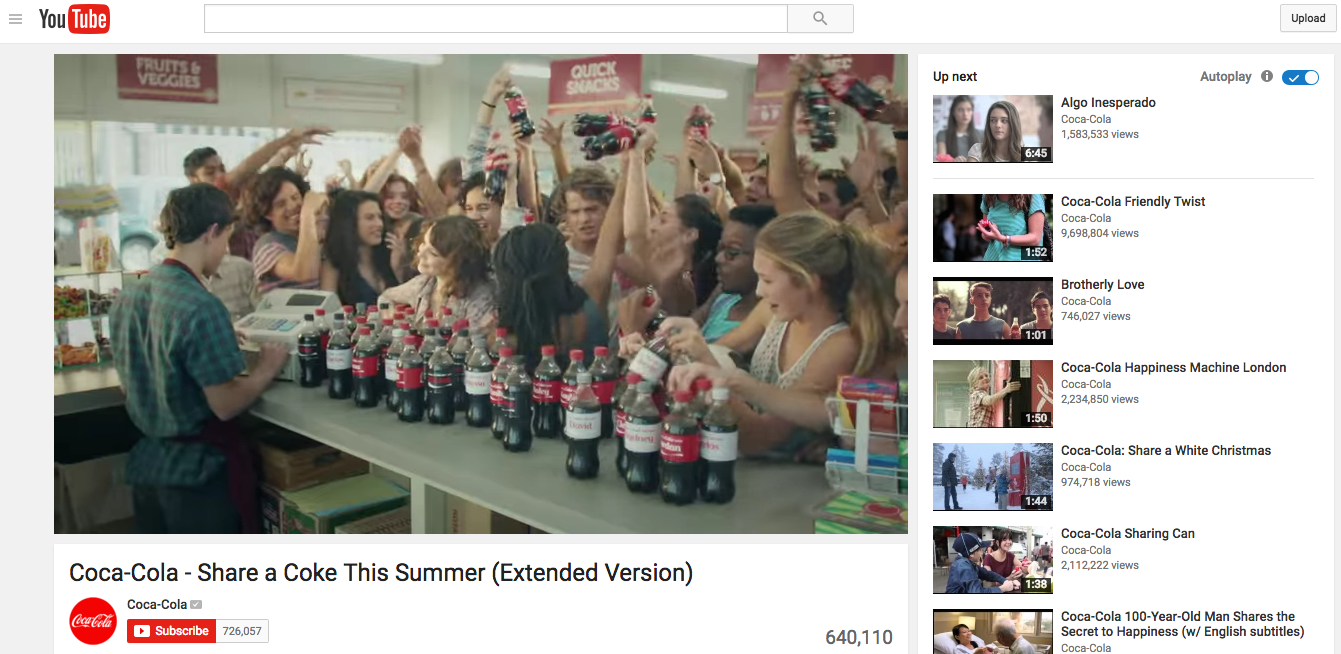 5. Speaking of events…
What better way to promote your brand than in an environment you can control? Events bring online experiences offline, while encouraging attendees share these offline experiences, online – it works both ways. Consider creating "Instagram-able" moments that your attendees can't help but snap and post. Program content that your audience must share because it's just too brilliant.
Ready your team to engage with these posts, comments, and shares during the event. People love social dialogue so encourage it and don't forget to put your hashtag to work.
Speaking from experience, NewsCred's annual #ThinkContent Summit strives to create an experience that encourages attendees to engage online during the event. At last year's conference, we created moments our audience wanted to organically share. We also activated an on-site NewsRoom responsible for engaging with our audience and those tuning in via live stream. We trended #1 nationally on Twitter all day, generated 60 million impressions, and over 8 thousand posts.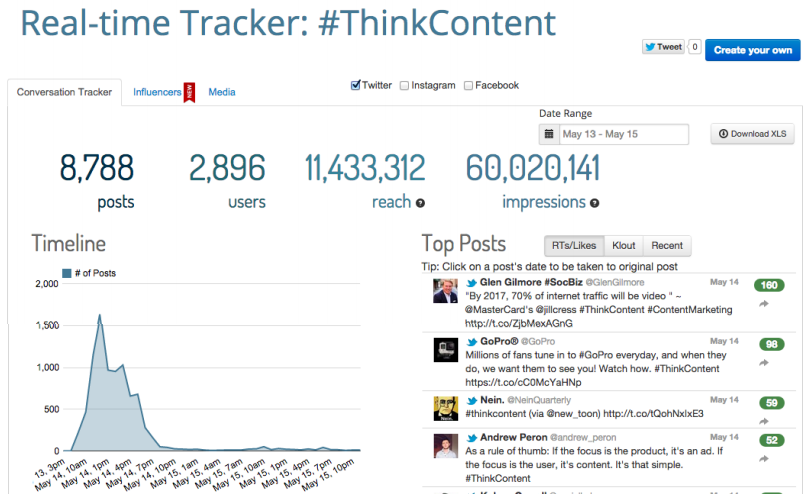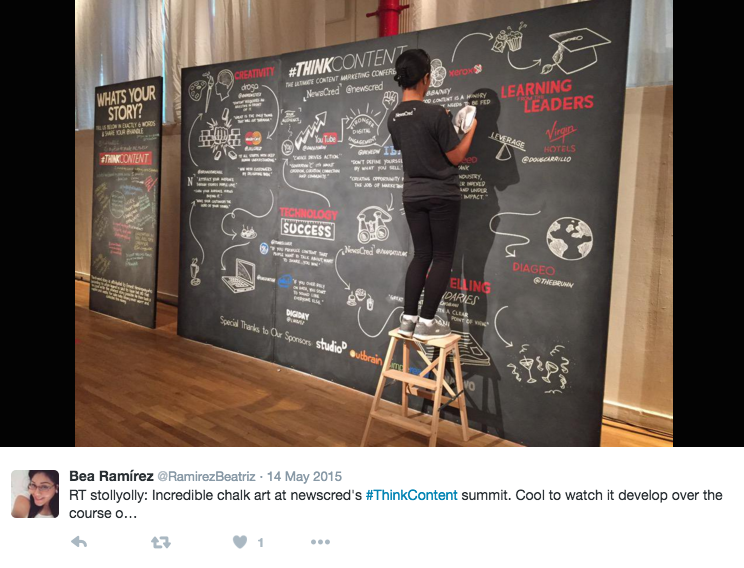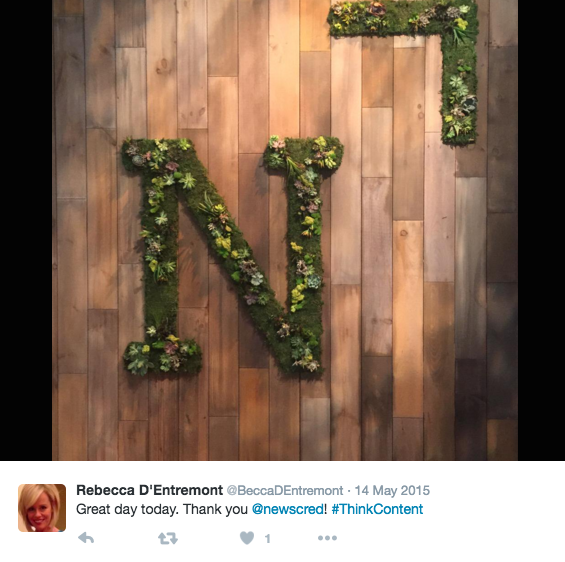 6. Reward UGC interaction
Sometimes your UGC campaign needs a little push despite most engagement being authentic. To encourage interaction consider launching a contest that aligns with a fun element of your brand. Look at what your audience is currently sharing – it may spark ideas.
In addition to running contests consider offering incentives to those who engage with your campaign or brand. Social currency is becoming more popular. Instead of buying products consumers and loyalists are asked to tweet, upload, and share instead of paying.
Honda and National Geographic teamed up and asked their followers to capture amazing photos from their world travels. Fans had to upload a photo to Instagram using the hashtag #WanderlustContest for a chance to win a trip to Yosemite National Park with a renowned National Geographic photographer. The campaign ran from June to July of 2015 and resulted in hundreds of entries all of which were impressive.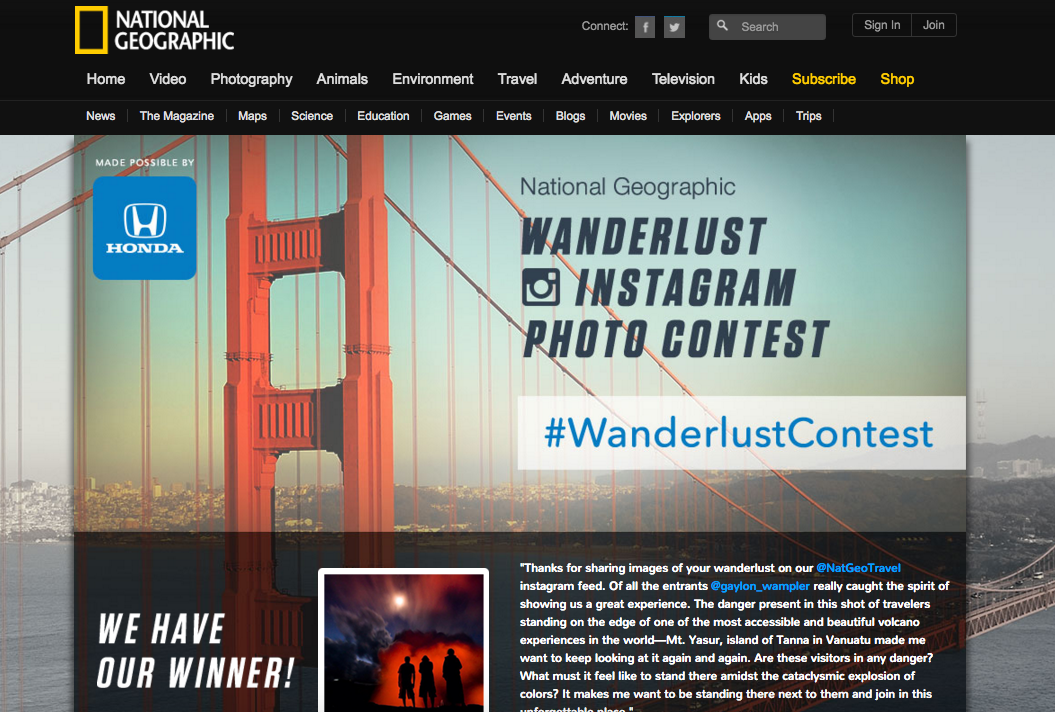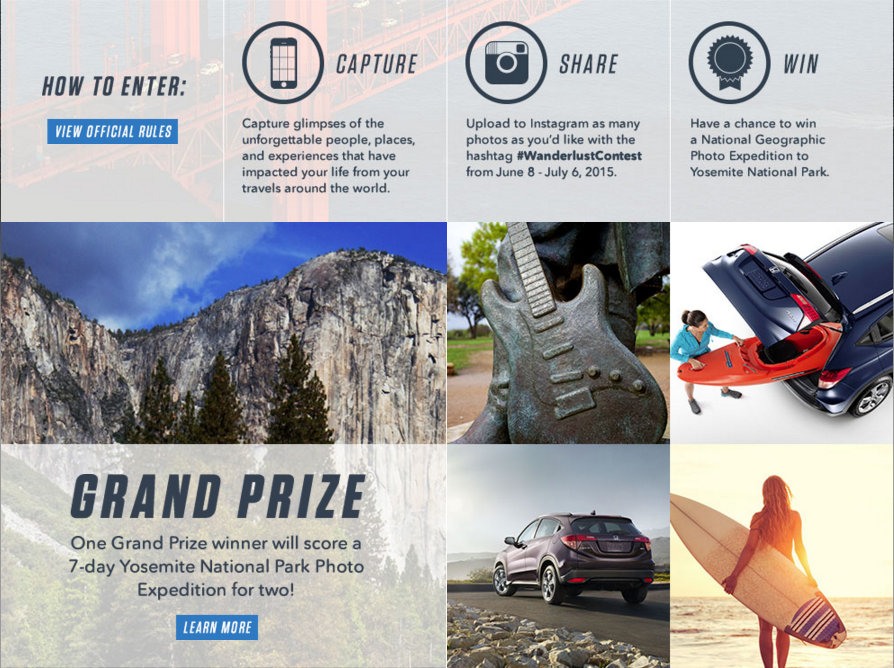 7. Publicly recognize your customers
If your customers are active on social, featuring them could make their day! Incorporate your most engaged customers' photos on your Instagram or website and call them out. This engagement will work two ways – your loyal customers will get the social recognition they desire and help your brand attract new content because of the existing gallery of user images.
It's not just about photos, consider reposting customer reviews or stories. Share these positive experiences with the rest of your audience. Be honest with yourself though, if your product is a great product this approach will work but could also go in a negative direction if your product or service isn't the strongest.
ASOS launched #AsSeenOnMe, an online catalogue featuring their customers as the models. Customers are encouraged to show-off their ASOS looks by sharing photos. When you click on the user image you are directed to buy the product. ASOS wins by generating direct ROI and customers win because they get to share their style with an audience of fashionistas.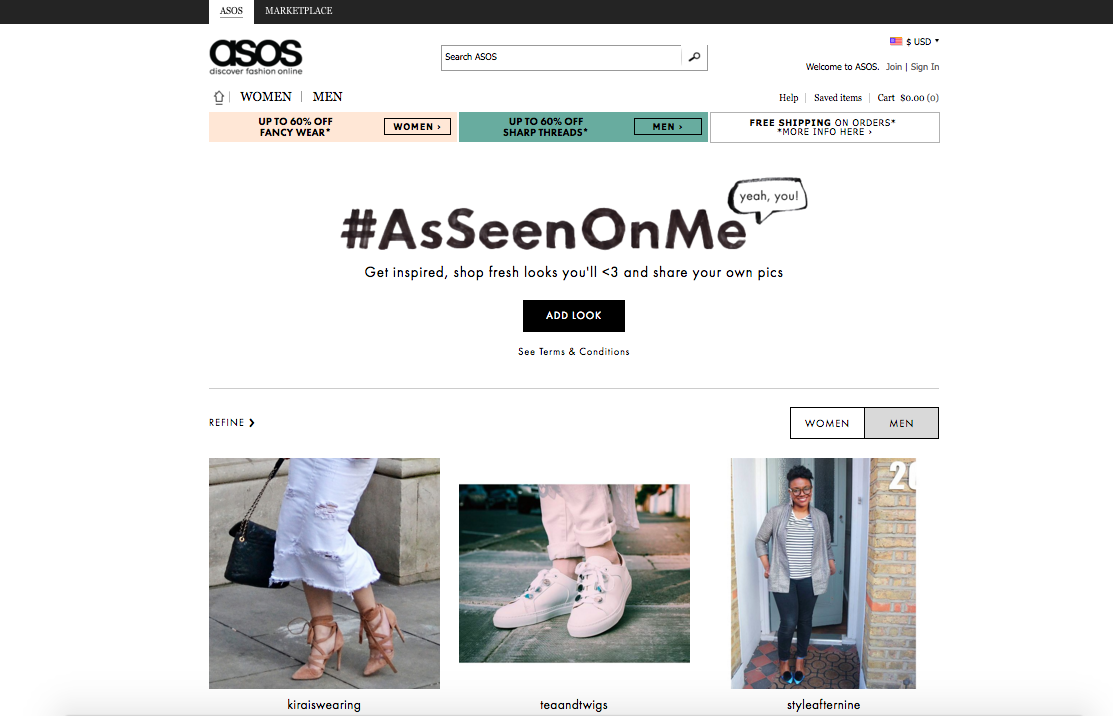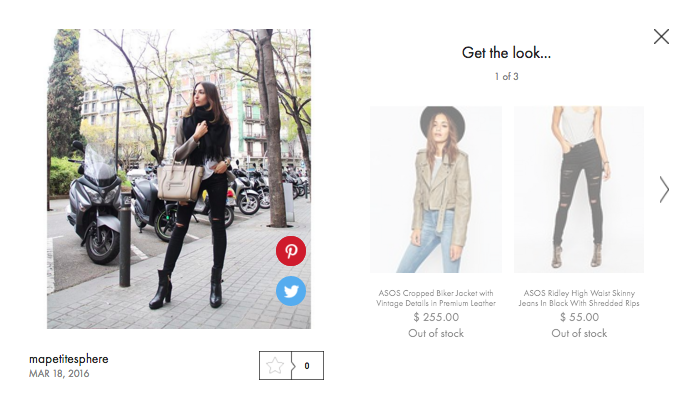 8. Consider guest posts and takeovers
Guest posts can increase engagement not only with your brand's social channels but your blog, website, and newsletter. Remember, customers trust the voice of other customers more than the voice of a brand. Takeovers can also show-off another side of your brand. Guests will retweet and share, helping you gain additional exposure and scale your UCG campaign organically.
Guest posts and takeovers can feature loyal customers or enthusiasts but don't forget about leveraging your employees. Employees are your biggest brand advocates and have lives and networks outside of their jobs. Ask your colleagues to create content for your brand. Whether that's asking them to write blog posts or take photos for your social channels.
9. Encourage your audience to interact with you
The way we communicate has drastically changed over the last decade. Thanks to the internet, brands can now engage in two-way dialogue with consumers. Leverage this ability and create content that is positive, fun, or informational. Ask questions at the bottom of your blog posts. Direct comments to forums or social channels. Create and promote product surveys.
Remember the conversation doesn't always have to be business focused – it can be fun and for no other reason than to get your audience talking and participating.
Frito-Lay asked their customers to invent their own potato chip flavors and then allowed fans to vote on their favorite to determine a winner. Their "Do Us A Flavor" campaign, while also a contest, resulted in 3.8 million submissions. It was a massive campaign that gave customers the ability to be creative and win an awesome prize of $1 million dollars but also helped Lay's create a new product that would be popular with their audience ultimately generating revenue for the brand.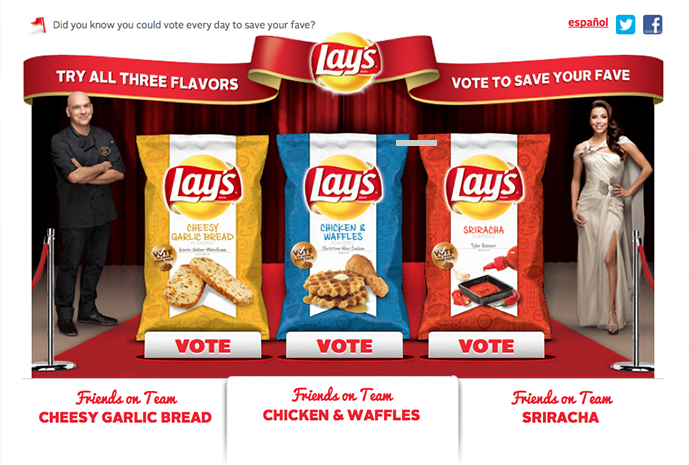 10. Market during social and current events
Majority of trending topics are related to social, political, or current events. Engaging with these topics can help you scale your UGC campaign but can be challenging to implement. Consider supporting issues that align with your brand or service. Stay authentic and keep your campaign positive. Last thing you want is for your campaign to take a turn for the worst. The goal of tying your campaign to a social, political, or current events is to relate to your audience more so than promoting your brand. Be very selective when and where you engage and fully think through the various situations and your audience's reaction.
In conclusion, user-generated content works and if you do it right you can see major returns for your brand. UGC can be a creative way to connect with your audience, cost-effective, and help you increase brand awareness in an organic and authentic way. User-generated content can be the most effective content for your brand so get going! You have a creative, ready to engage, audience out there waiting!
Melissa Blazejewski is a B2B Event Manager for NewsCred. 
Originally published on Mar 22, 2016 6:11 PM