The content marketing space is still young, and that's one of the reasons it's so exciting.
While evaluating brands for the NewsCred Top 50, we learned about a few that, while early in their journeys, have potential to become content marketing powerhouses.
Here's a look at those up-and-coming brands and why we're betting on them in 2018.
Toyota
If you've recently seen a Toyota commercial, chances are, it's made you cry.
There's the "Good Odds" ad that premiered at the Super Bowl and has been running during the Winter Olympics. It tells the incredible story of skier Lauren Woolstencroft, who was born without legs below her knees and became an eight-time Paralympic gold medalist. Or, you may have seen "Thin Ice," where ice skater Ashley Wagner shares the poignant message that "sometimes, the harder we fall, the stronger we rise."
They're part of a new campaign, "Start Your Impossible," that celebrates Toyota's recent rebranding from an automaker to a mobility company. A new microsite, mobilityforall.com, showcases Toyota technology that helps people overcome physical challenges. Other sections of the site highlight Olympians and Paralympians (Toyota is a partner in the Games), as well as the "Impossible Stories" of many athletes.
The topic is truly worthy, and the subjects captivating – which is why we'd love to see Toyota further invest in storytelling. Right now, the features on the site are very short and Toyota hasn't maximized them on social. Yet, positive, inclusive stories about world-class athletes who've faced down major obstacles is content people want to consume. We're hoping Toyota will capitalize on its efforts with more robust content marketing this year.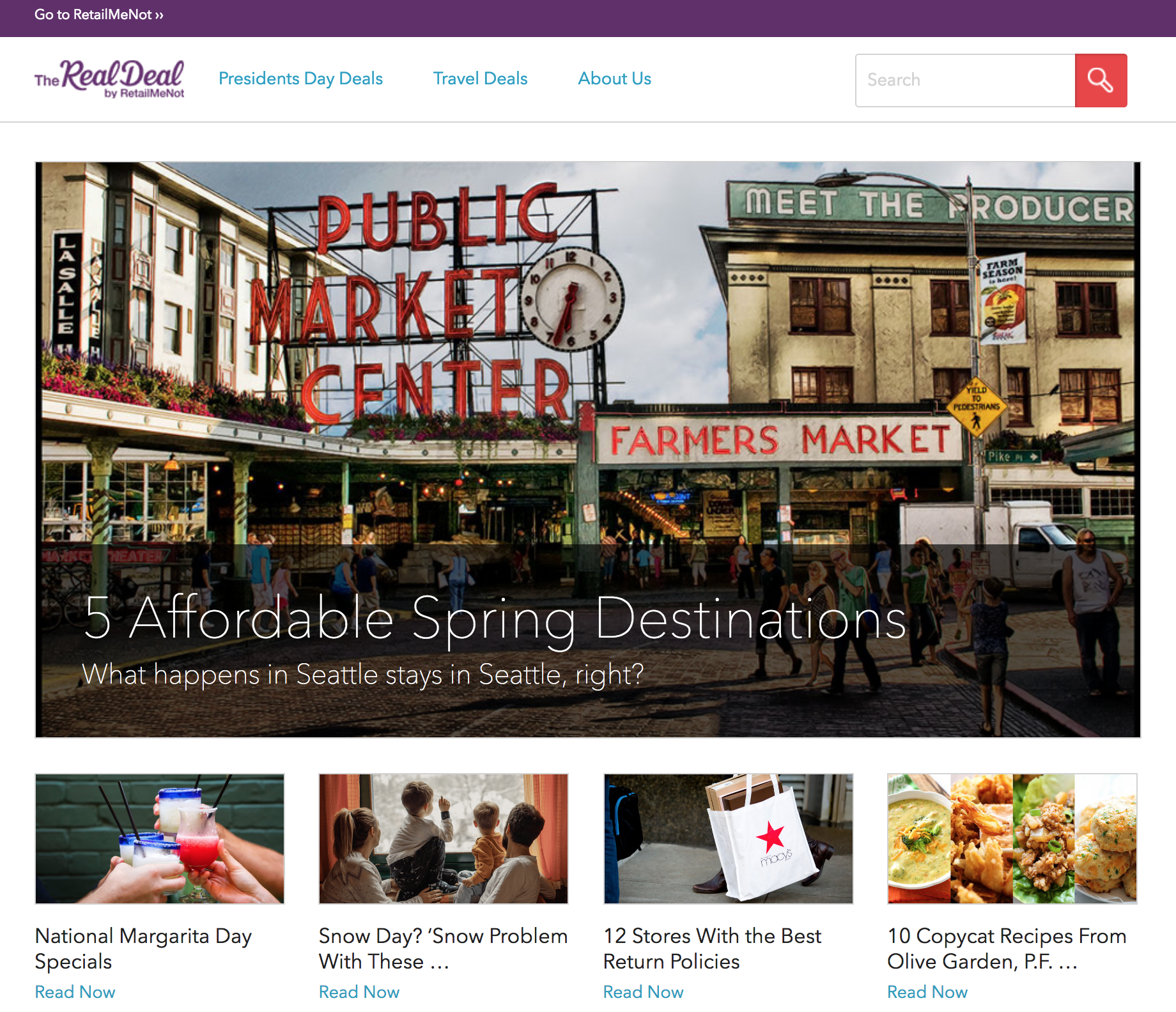 RetailMeNot
RetailMeNot has made a name for itself in the shopping space, with more than 45 million people downloading its app and nearly 10 million subscribing to its newsletter to get the latest tips on what to buy and how to save.
Last year, RetailMeNot overhauled its content strategy with the goal of becoming the authority on shopping and saving. The RealDeal, RetailMeNot's blog, is updated frequently with timely and seasonal roundups (like "20 Valentine's Day Gift Ideas for Him Under $50"), evergreen service content ("12 Stores With the Best Return Policies"), interactive quizzes ("Quiz: Which Candy Heart Saying Are You?"), and sponsored posts from partners like Blue Apron. RetailMeNot actively promotes blog content on Facebook, where it has more than 2.5 million followers, and Twitter, where it has more than 208,000 followers.
RetailMeNot is already seeing significant returns. Blog traffic is up 112 percent year-over-year, with organic traffic growing 67 percent. Blog content is RetailMeNot's highest-performing and most cost-efficient content on social, with the lowest cost per click. Blog sales have increased 800 percent year-over-year. In addition, content marketing has improved cross-functional collaboration among teams that have rallied behind a common vision.
"Our goal is to be a valuable and engaging brand for our consumers looking for shopping and savings advice and we know that digital content plays an integral role in that relationship," says Marissa Tarleton, CMO of RetailMeNot. "We have built up our investment in video, influencers, and our blog as examples of these and we have seen tremendous response from consumers. Moving forward, content will be a continued area of investment as we hone our ability to become an important part of our consumer's shopping journey."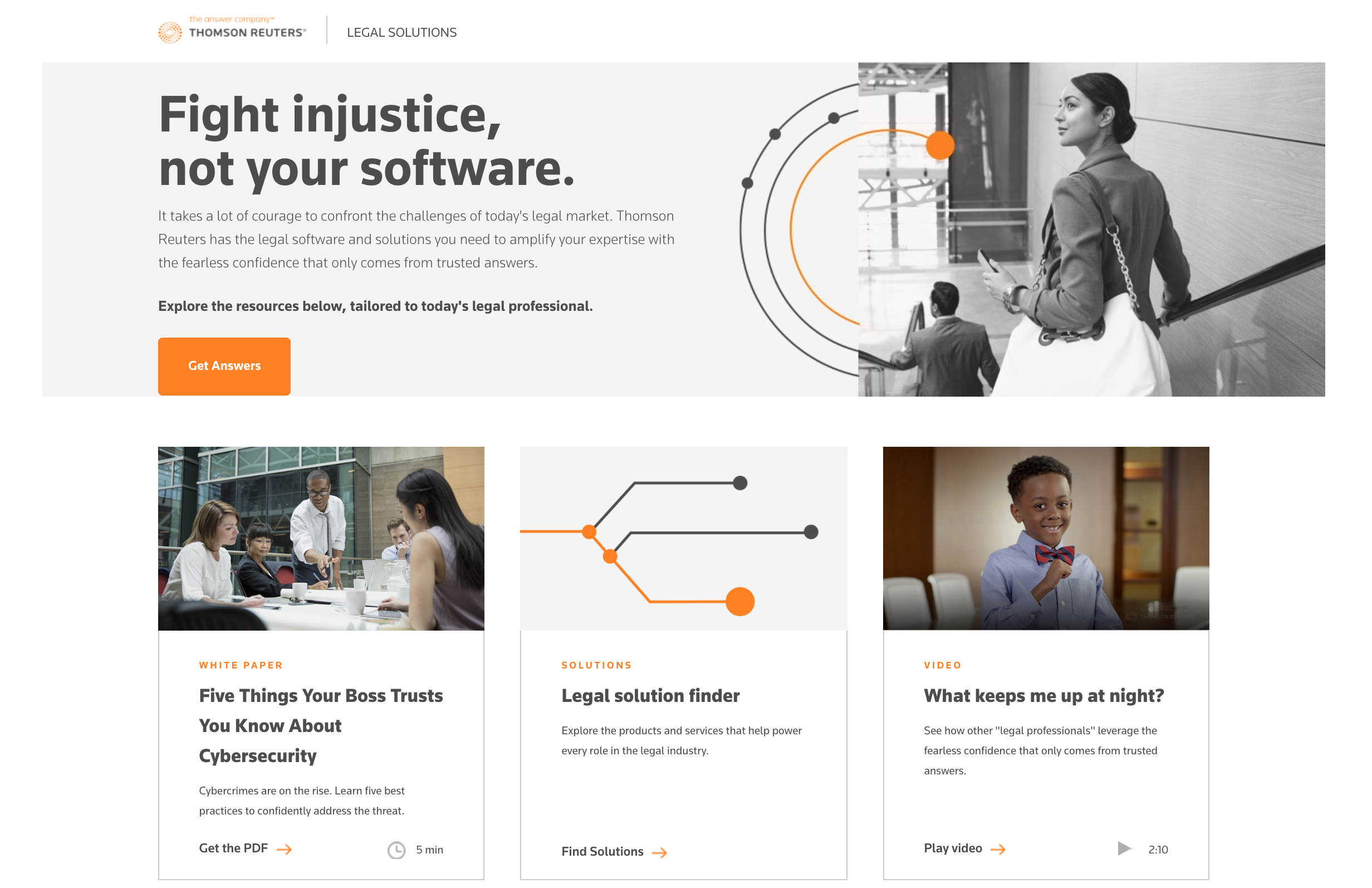 Thomson Reuters, Legal
Recently, we've seen departments outside of marketing use content marketing to achieve major business goals. Take Bloomberg Diversity & Inclusion, a NewsCred Top 50 winner that's leveraging content marketing to hire and retain diverse employees and build a culture of inclusiveness.
We love use cases like that. And that's why we were excited to hear about Thomson Reuters.
Thomson Reuters' legal division made a business case to launch a content marketing program. Despite naysayers and skeptics, the Legal Solutions content hub went live in 2017. It has a clean, editorial layout, with content ranging from whitepapers to videos to profiles. Thomson Reuters' legal team is seeing results too, with content overperforming social media, whitepaper download, and video view benchmarks.
We're hoping to hear more about Thomson Reuters' success this year.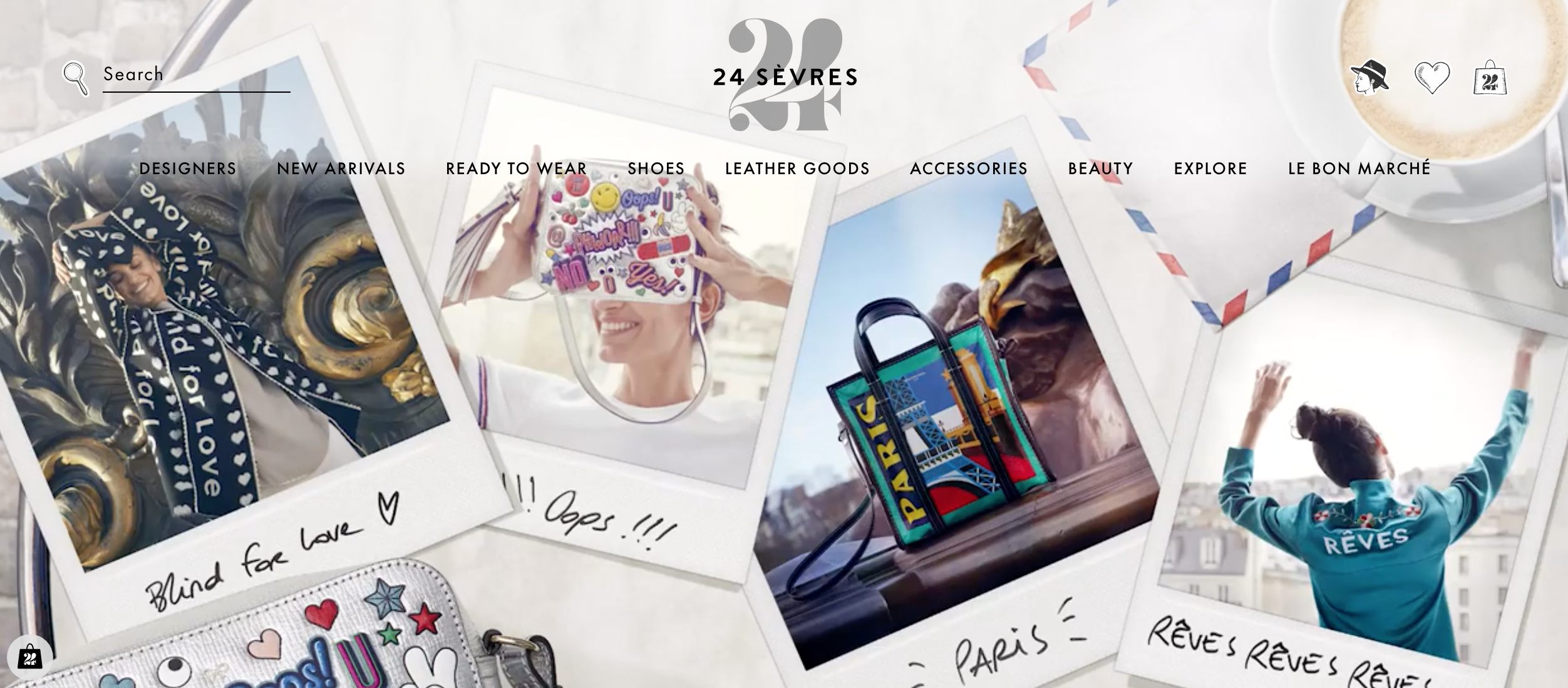 LVMH's 24 Sèvres
In June 2017, luxury fashion house conglomerate LVMH launched 24 Sèvres, a digital shopping experience created to introduce millennials and Gen Z to its brands, including Christian Dior, Fendi, and Givenchy.
It's a major step forward in the luxury space, which has been slow to embrace e-commerce and the digital-first mindset.
24 Sèvres has a fun, whimsical aesthetic with large, vibrant images and playful motion graphics. It cultivates a strong presence on many digital channels, including Instagram, where it has 32,900 followers, and an iOS app.
It remains to see what the results will be, but we're buoyed by the strong start. As a next step, we'd love to see LVMH use content, rather than promotions, to better tell its brand story and architect the customer journey in an engaging, omnichannel experience.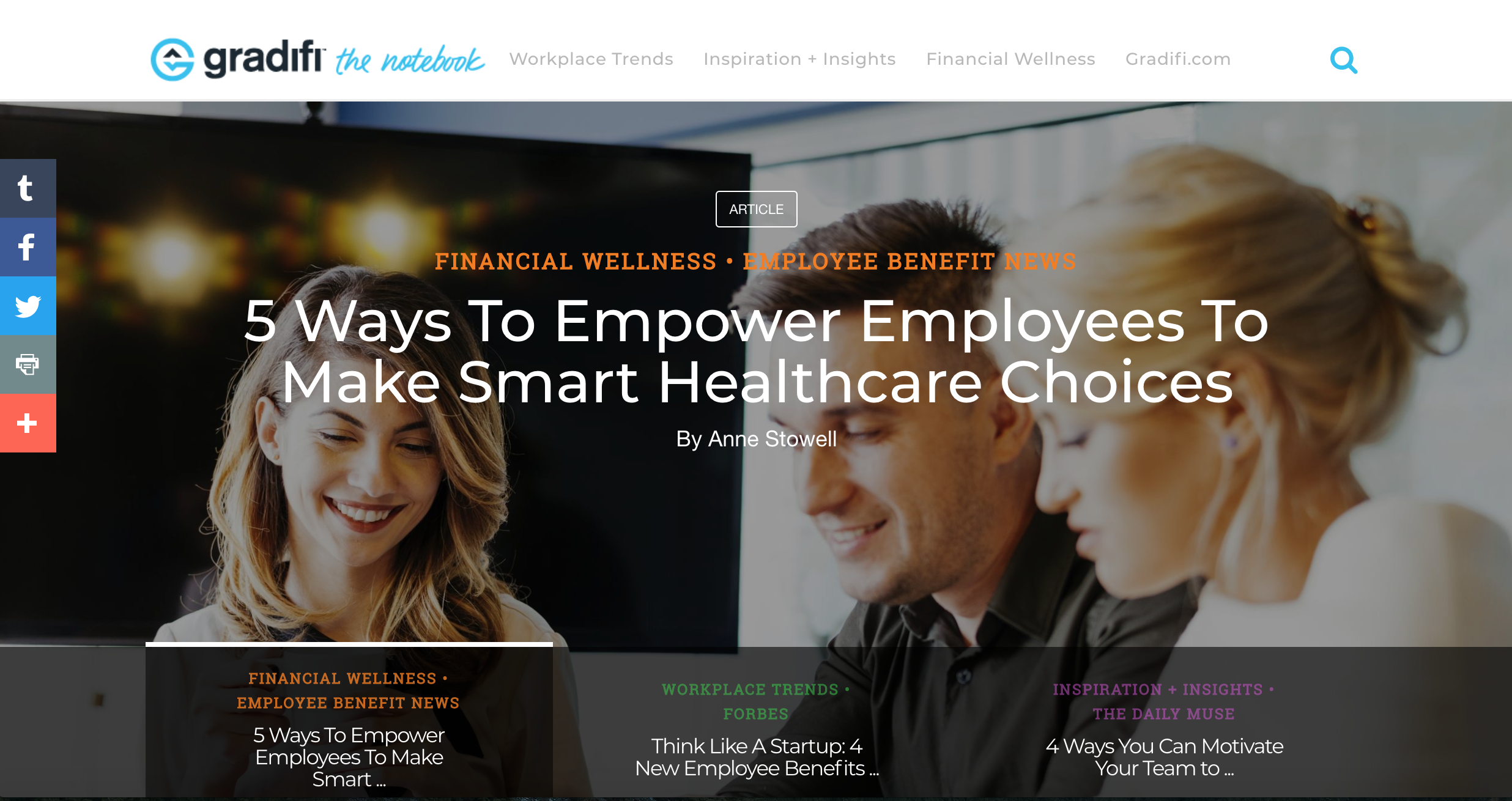 Gradifi
First Republic Bank is a two-time NewsCred Top 50 winner, so it's not surprising that Gradifi, a First Republic company, is an up-and-coming content marketing brand.
Founded in 2014, Gradifi is a financial company that enables employers to help pay down their employees' student loan debt. Because it's a new company with a relatively unknown offering, Gradifi turned to content marketing to build its brand and, eventually, convert people to clients.
Gradifi's content hub, The Notebook, launched in July 2017. It's geared toward HR professionals with strategically curated licensed content that aligns with three pillars: Workplace Trends, Inspiration + Insights, and Financial Wellness. A prominent newsletter signup sits on the hub's homepage and channel pages and asks readers which topics they'd most like to read. Gathering this data helps Gradifi learn about its audience and provide them with the content they seek.
The company has also made the foray into infographics, with efforts like "The Lasting Impact of Student Debt," which illustrates the long-term detriments loans can have on someone's finances.
Gradifi's content marketing program has a strong foundation. We're looking forward to seeing where it goes in 2018.
Heather Eng is NewsCred's Executive Editor. Amy Solomon is NewsCred's Vice President of Retail Solutions.
Originally published on Feb 22, 2018 8:50 PM, updated Oct 8, 2018