Today's consumer is accustomed to having access to the information they need at any moment and being connected to others no matter location. The impact that this hyper-connectivity has had on various industries and consumers is immeasurable and has been one of the most transformative innovations in recent years. One industry that has felt the impact of this connectedness is healthcare. Patients around the world are connected to each other and can find communities to support them no matter what crisis, treatment or therapies they are undergoing. While the patients have benefited greatly from this new sense of communities, the corporations that provide the vital drugs and care that people need have never felt further away. 
61% of patients look unfavorably on the brands they depend on for their medications (Patient View, 2015) 
9 in 10 Americans believe pharmaceutical and drug companies are generally dishonest (Harris Interactive, 2013)
Only 23% of people claim to have confidence in the US healthcare system (Gallup, 2014)
To regain trust, the best pharmaceutical and healthcare companies are turning to content marketing.  Today's consumer constantly searches for information online and those searching for healthcare information are no different.  72% of internet users say they looked online in the past year for health information, and 65% of people claim the internet is the first source they turn to for health and wellness information. Pharmaceutical and healthcare companies have a huge opportunity to be the go-to-source of information people around the world are searching for.
Traditionally, pharmaceutical and healthcare companies have shied away from embracing digital media because of the many restrictions and risks involved for their business. However, Ray Chepseiuk, Commissioner at the Pharmaceutical Advertising Advisory Board, said "digital media, even though it has some risks involved, is a tremendous opportunity for pharmaceutical companies to reach out to newer target audiences and help build that trust by providing useful information that helps them."
The companies that have embraced content marketing have found great success in establishing trust with their customer base.  We reviewed various health and pharmaceutical brands to find out who's doing content marketing right. We found that the pharmaceutical and healthcare companies that are succeeding in content marketing are using their digital presence to:
Create an emotional connection with their consumers
Build communities for their consumers
Make it easy to access clear health and wellness information
Let's take a deeper look at brands that are doing it right.
Sharing Mayo Clinic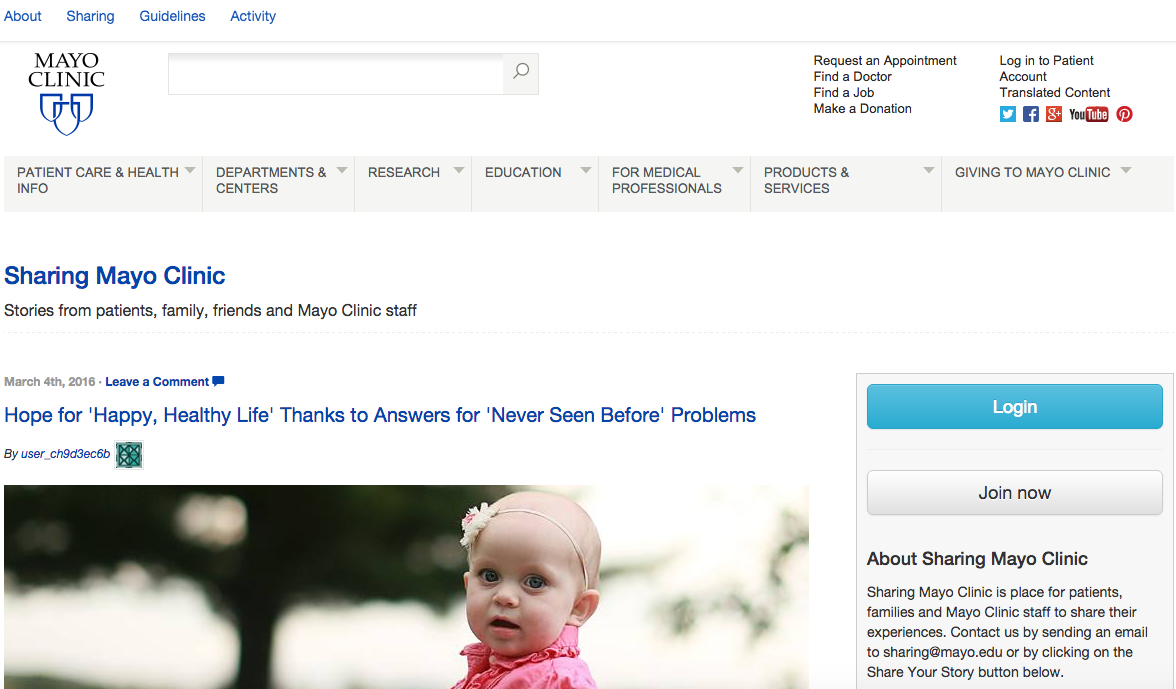 According to a recent study by Kantar Media, 47% of patients reported that reading stories online from fellow patients made them feel positive about their own treatments and outcomes. The Mayo Clinic's Sharing blog has tapped into that exact sentiment to provide stories that emotionally resonate with their community. The site is an online destination for patients, doctors and families to go to for hope, inspiration and comfort. 
Sharing's goal is clearly stated on their website, and similar to Get Old, is clearly customer focused.  "Each year, more than 500,000 unique patients from every U.S. state and nearly 150 countries come to the Mayo Clinic for diagnosis and treatment. These patients and their families and friends, and 50,000 employees and students are part of a global Mayo Clinic community. The goal for the Sharing Mayo Clinic blog is to provide a virtual place for this community to connect and share their experiences." 
The site is centered around the Mayo Clinic community, which is woven together with stories from patients, families, friends and mayo clinic staff members. Topics include:
Physicians and researchers telling stories about their research
Patient communities sharing their experiences
Physician specialists discussing patient care, innovations, and new treatments
Students of Mayo Clinic Research Center sharing their perspectives
Other Mayo Clinic professionals discussing the future of healthcare and wellness
"Sharing The Mayo Clinic" is built to ease the struggles of patients by creating an emotionally receptive space where they can share their experience and help others. The Mayo Clinic builds community by sharing the stories of real patients and connecting their experiences with millions across the Internet to inspire, comfort and provide solidarity. The blog is a wealth of information that is both educational and inspirational for people suffering from disease.
 Keeping their content relevant and relatable is am important component to Sharing's success. By leveraging user generated content where appropriate, the site is able to reach reader's at an entirely different level and engage on a personal and relatable level. Readers know that they are connecting with other real people's stories which instantly makes the content more emotional and therefor more authentic. These authentic stories are then brought to life through multiple platforms including video.  Using video to further connect with patients allows readers to see the faces and hear the voices of the real people behind the stories. Some videos also feature hospital staff, introducing patients to clinic locations across the country. This approach gives the clinic a community feel where friendly faces are waiting to get to know and help other patients. 
Oscar Blog by Oscar Health Insurance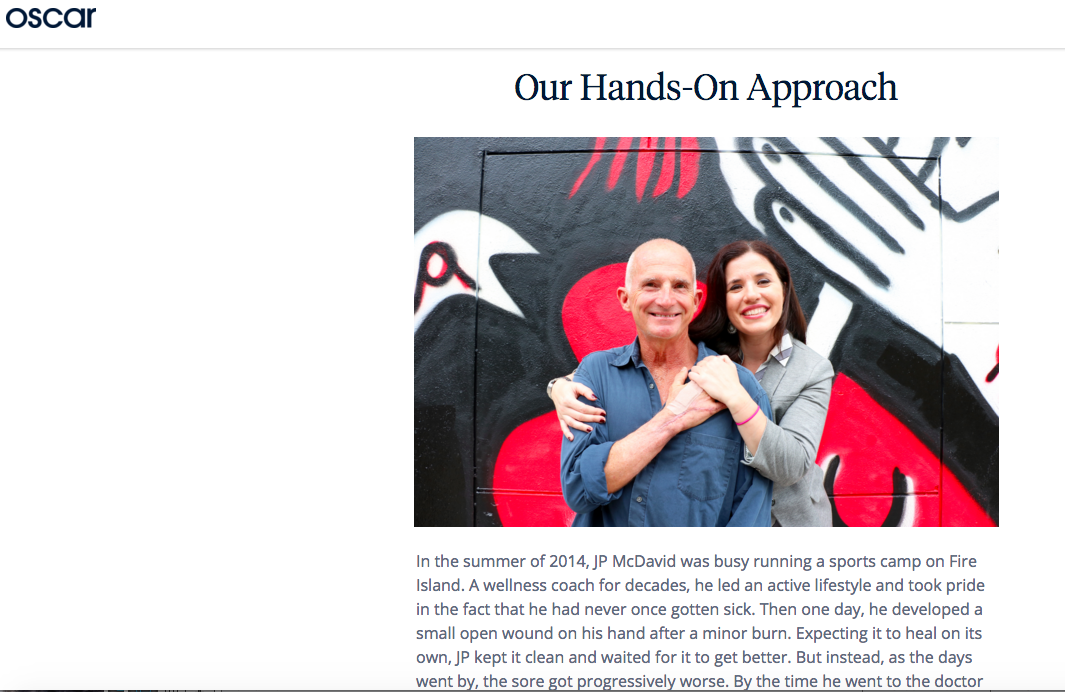 Oscar's company mission statement "to serve as an insurer that guides customers through the health-care system's awful complexities," is inherent in everything Oscar does with their blog being no exception. The Oscar blog was designed with this mission statement in mind and the site mirrors its corporate mission with simple design, clean lines and accessible graphics.  The blog features three content pillars:
Oscar RX
We are Oscar
Product Features
Oscar's blog connects to digital natives through its design and intuitive platform. The blog deliberately mirrors Oscar's corporate aspirations to simplify the complexity of healthcare. Oscar builds community by making customers the hero in all of their content. Through patient and doctor profiles and testimony, they foster community on both their blog and social channels. Through OscarRx, the blog provides easy to understand health and wellness information for any reader. Their articles are holistic in approach and feature practical tips for busy, young professionals to stay healthy.
Shreya Kumar is Sales and Strategy Associate at NewsCred. 
Originally published on Mar 9, 2016 11:00 AM