As marketers, we're on the frontlines of an ever-changing industry, constantly reading up on the latest trends, news, and more. That's why we're kicking off our weekly marketing round-up, giving you the week's biggest stories and helping you stay on top of all the latest trends. Think of this as "the Skimm of marketing," because, let's be honest, ain't nobody got time to read everything all the time.
Here are the most important marketing stories this week: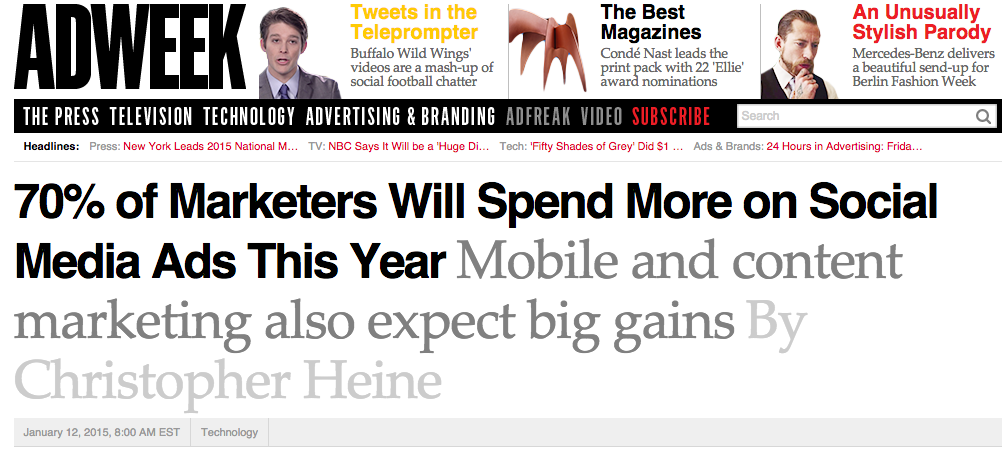 70% of Marketers Will Spend More on Social Media Ads This Year 
This number comes from Salesforce's survey of 5,000 marketers late last year, and the findings are pretty impressive. Not only will marketers increase their paid social spend, 70% of the marketers plan to increase their budget for organic (read: content marketing!) as well.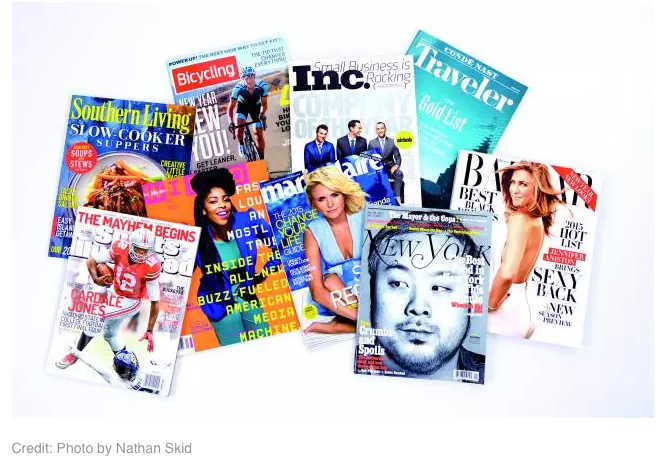 Ad Age's 2014 Magazine A-List: See All The Winners
This year's list "recognizes magazines for their traditional achievement in 2014 — print ad pages, subscriptions, newsstand sales" but "honors titles that excelled online." This year, the top three magazines are Vice, New York, and Conde Nast Traveler. 
6 Buzz Phrases Marketers Should Take Seriously in 2015
Even though we're less than one month into 2015, already new marketing lingo has begun to emerge. Natasha Smith from DMNews believes marketers should take these six new phrases seriously in 2015: attention metrics, dark social, viewability, conscious capitalism, internet of things, and big data.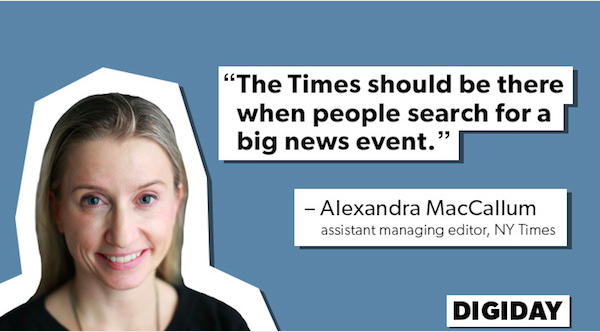 Inside the NY Times' Audience Development Strategy 
Digiday spoke with Alexandra MacCallum, an assistant managing editor for The New York Times, about The Times' audience development strategy, which isn't about "chasing clicks." MacCullum said, "We do have a lot to catch up on, but with engagement, it's a little uncharted territory…The Times has had the luxury of readers coming direct for many many years. As readers move from search to social, we haven't been as in front of them."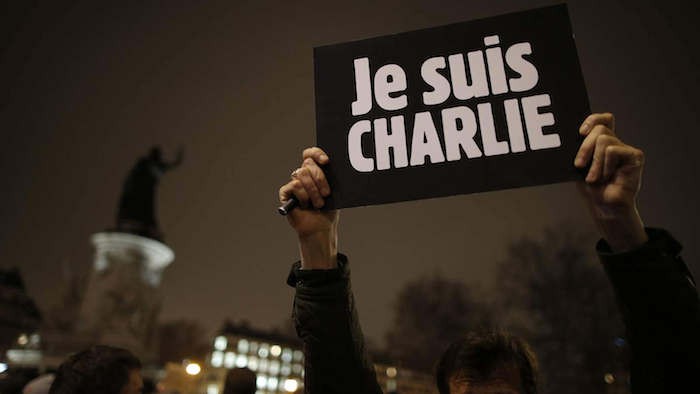 Reported.ly Puts It's Social-first Journalism Model to Work Covering the Charlie Hedbo Attacks
Reported.ly, First Look Media's newest venture, which covers the news almost entirely through social media, had its first big test with the Charlie Hebdo attacks. This article is a first hand look at how the story unfolded. "It started with three European-based members of the Reported.ly team, who caught early tweets mentioning reports of a shooting…Using those [tweets] they were able to locate journalists and witnesses providing information from the scene."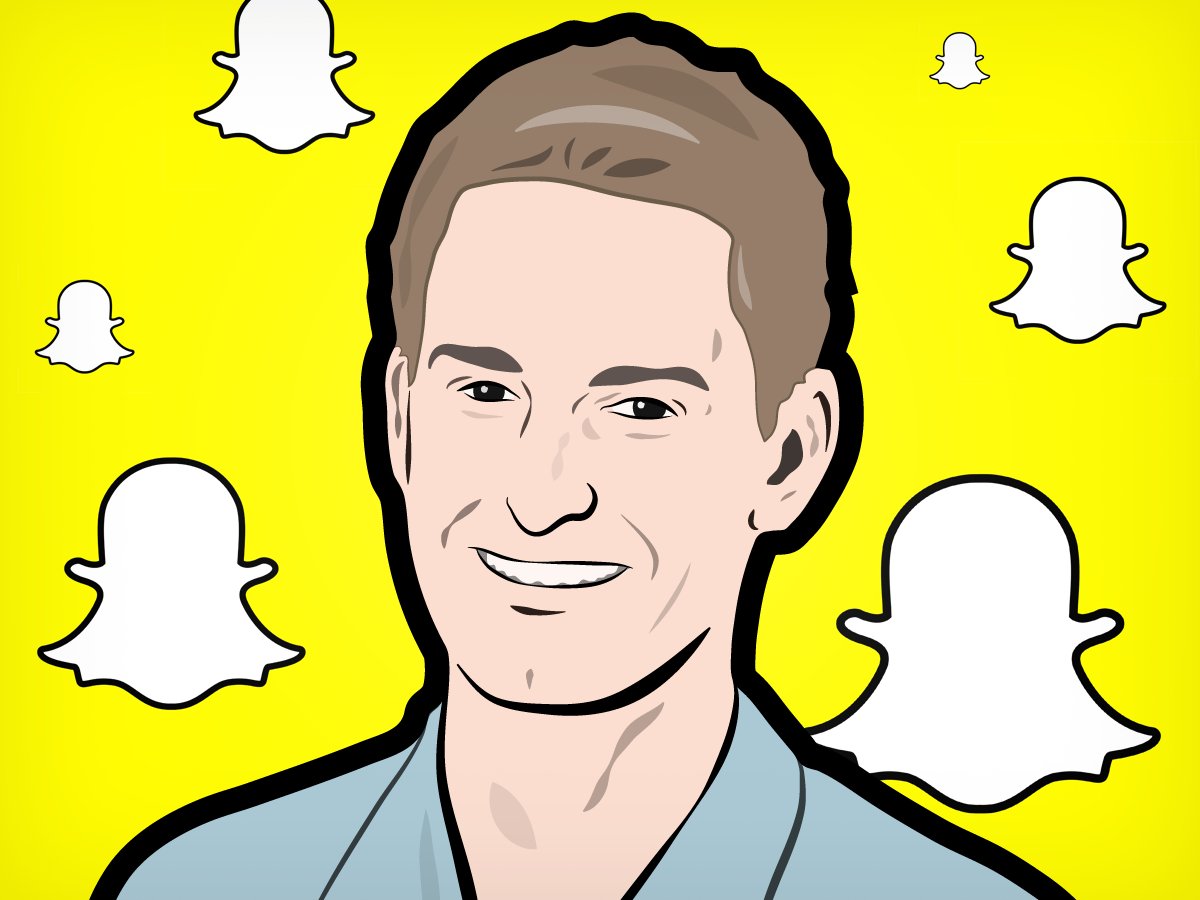 Snapchat Wants Brands to Spend $750,000 on Disappearing Ads 
The never-ending debate continues about how brands can reach teens via ads — and Snapchat has put a major price tag on this desirable group.  Snapchat is charging $750,000 a day to advertise on its platform and is claiming its rates are competitive. The reason? "Teens are notoriously difficult for advertisers to reach and Snapchat's user base skews much younger than its competitors." However, Snapchat has limited reporting capabilities, which means brands aren't able to know what type of teens are viewing their ads.
Why Content Marketing ROI Tools are Flawed and What to Use
Andrew Martin, who runs the North American division of the digital marketing agency, Metia, contributed the article to EContent, "Why Content Marketing ROI Tools are Flawed and What to Use." While Martin does not recommend any specific tools, he suggests that marketers need to take three steps before deciding to invest anything into a new measurement tool:
Rethink your definition of success
Understand meaningful connection and engagement vs. visibility with customers
Investigate the measurement tools before you commit — choose the right tool for the job
Content Marketing Goes Global
Erik Krell wrote a brief article on the importance of content marketing translation and why automated technology doesn't cut it. "One of the biggest translation pitfalls that should be avoided is neglecting quality. In a rush to get content translated quickly and cost-effectively, some organizations neglect the quality and accuracy of the content [that] they're delivering," said Nataly Kelly, VP of marketing translation technology company, Smartling.
Inside Bloomberg LP's Big Data Play
Bloomberg launched its flagship ad product, BMATCH, "which helps advertisers find their target audience and then bakes information about them into their media plan." The article cites one Bloomberg client who, "wanted information about its customers' interests. Bloomberg identified its own visitors who also were core customers of the marketer. Then, by tracking their journeys on Bloomberg's media properties, Bloomberg could see which subjects they tend to read more about…and could even to quantify their interest."
Originally published on Jan 16, 2015 4:28 PM