In anticipation of our Content Marketing Summit, we're hosting a Twitter chat on September 4th from 2:00pm to 3:00pm EST. The topic will be "Creating Content People Love" and you can join the conversation using the hashtag #ThinkContent and hear directly from Content Marketing experts!
The Host:
NewsCred, @newscred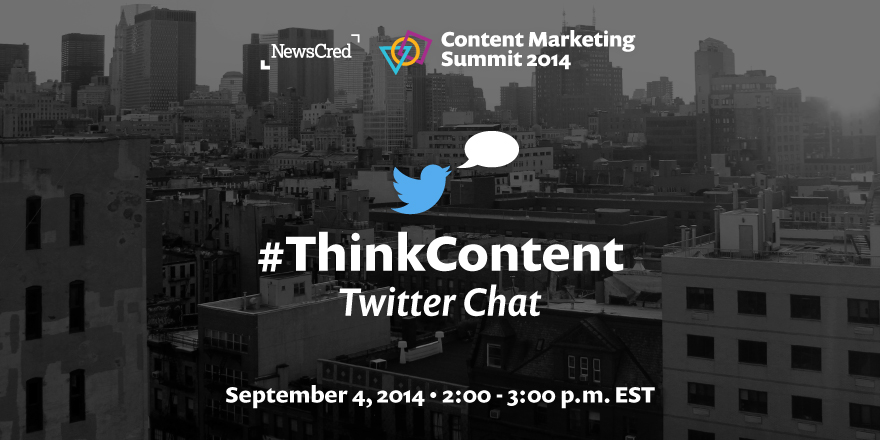 The Panelists:
Shafqat Islam, Co-founder and CEO of NewsCred, @shafqatislam
Tim Washer, Executive Producer, Rich Media Marketing, Cisco, @timwasher
Gurdeep Dhillon, Global Vice President of Audience Marketing and Content Strategy, SAP, @gurdeepd
John Bell, VP Enterprise Digital Marketing, Travelers, @jbell99
David Lang, Chief Content Officer, Mindshare, @davidlangMSE
Dan Greenberg, Co-founder and CEO, Sharethrough, @dgreenberg
Michael Brenner, Head of Strategy, NewsCred, @BrennerMichael
Jonathan Hunt, VP Marketing, Vox, @jonathan_h
Stephanie Losee, Managing Editor, Dell @slosee
How to Participate:
There are a few ways to participate in the chat in real time:
Go to https://twitter.com/ and type the hashtag #ThinkContent into the search bar. Make sure you click "All" on the results page to see all tweets. Note that if you participate directly on Twitter, you will have to manually refresh the page to see the stream of new questions and responses.
Go to http://twubs.com/ThinkContent and login with your Twitter account. Twubs acts as a chat room and automatically refreshes the real-time feed for you. It also automatically adds the #ThinkContent hashtag to each response.
Go to https://hootsuite.com/ and login with your Twitter account. Set up a new stream to follow #ThinkContent.
How it Works: 
@NewsCred will tweet questions using the format Q1, Q2, etc, and participants are encouraged to answer the questions with the same formula of A1, A2, A3, and so on. Over the course of one hour, participants respond to the questions posed by the host, and are encouraged to ask relevant questions of their own as the conversation dictates. Note in order for participants to see your post, you must always use the hashtag #ThinkContent.
We can't wait to see you there!
Want to know more about Twitter chats? Check out our blog post here.
Originally published on Sep 2, 2014 7:58 PM