If we can coin the term "Extreme Marketing" here and now, we would cite Red Bull as perhaps the best example between Red Bull Records, sports team ownership, a music academy, and now even a competitive gaming arm with Red Bull Battle Grounds. Considering how chaotic those moving parts must be, we were incredibly lucky to welcome Head of Brand Marketing Ian Trombetta and Red Bull Media House Head of Monetization Greg Jacobs to close out the 2014 NewsCred Content Marketing Summit.
There are, of course, many ways to go about building loyal audiences, and Red Bull operates on one simple principle: Giving wings to people and ideas with the aim of being the most relevant and inspiring brand in the world.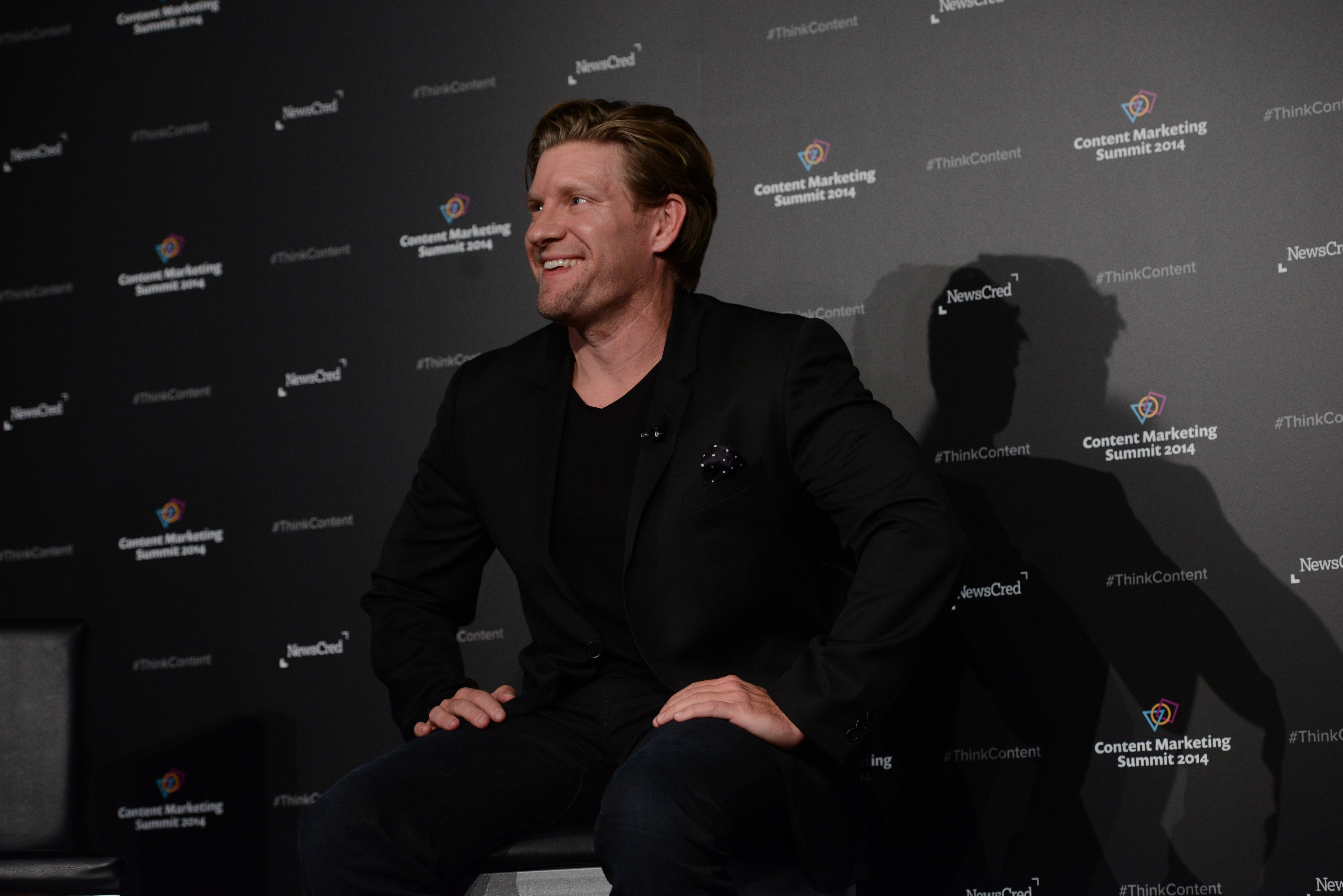 Red Bull's Ian Trombetta
Where do they begin? By looking for people in need of energy. Red Bull channels its stories through 600 athletes, musicians, and artists worldwide. They sit down and find ways to build value using their network of athletes and opinion leaders and building relevant content around their stories.
Turns out that's something people like, and it's the kind of approach that's helped the brand build so much credibility, developing a reputation for never half-assing a single thing they do. Take social: Red Bull's on nine platforms with over 400 accounts and 72 million fans and followers across networks. The brand has four million subscribers on YouTube alone, and is due to break one billion views by November.
That kind of success doesn't just happen by accident. Every step that Red Bull takes is meticulously thought out and full of purpose, and it's also laced with that special blend of analytics and real-life relationships. When the team decided to embark on serialized videos, for instance, they started with asking potential participants things like how they could help progress their sport and learning more about the kind of web series that they'd actually want to be a part of.
Not every stone needs to be in place before you begin, and you don't have to know everything from the get-go. More often than not, things are going to change as a project moves forward regardless, so opening up a conversation with key players can be a very useful tactic.
That, and paying attention to data. Very early on, the team asked themselves, how long should these videos be? The answer was easy to find. By looking at their content's average viewing times, they were able to quickly plan around those and move on.
More than anything, though, Red Bull has mastered the art of experience, creating the kind of everlasting moments that stay with fans forever. Opportunities like the chance to perform in front of 100,000 people or witness the live thrill of a brand new extreme sport. According to Red Bull, their brand is all about experiences. They're what "turn consumers into brand lovers." And the more, the merrier; the Red Bull team is constantly trying to reach new people and they aren't the least bit hesitant to try new things in doing so – but never at the expense of the brand.
With 300 Red Bull title events taking place in the US every year, that kind of focus is pretty impressive, and even more so when you start to think about just how much goes on behind the scenes at any given moment. The team maintains that consistency by enforcing really strict brand guidelines and saying "no" a lot, even to partners.
Considering the fact that they seem to constantly be expanding, there must be some 'Yes' in there as well. Founder Dietrich Mateschitz did instill his vision, after all, of establishing a global media network which covers all individual segments, such as print, TV, mobile, music and new media.
No project or event has gone more above and beyond this objective than Felix Baumgartner's October 14, 2012 now world-renowned free fall from the edge of the stratosphere. He fell from 128,000 feet at a rate of 833 miles per hour, breaking the speed of sound and – and this here's the point – proving to the world and, most of all, to himself that he could.
The livestream of the Red Bull Stratos mission received 9.5 million concurrent viewers, the largest concurrent number in history, and used eight percent of the entire global Internet bandwidth on the day of the jump. The broadcast also earned Red Bull Media House a National Sports Emmy.
Something that huge is inherently authentic; you don't jump from space to sell a product, you do it because you really want to do it. For Red Bull, that's the number one key: Be as authentic as you can.
Their  advice? Know your brand. "Can you write three to four clear characteristics? Can your employees? Can your consumers?" Ask yourself these questions, and reevaluate periodically. When it comes to picking projects, even a brand like Red Bull starts small. If Red Bull feels comfortable with a community and the community feels comfortable with Red Bull and it can be scaled, they scale.
In closing, Red Bull revealed their "five key rules to live by." Here they are:
Be relevant and authentic.
Surprise and innovate.
Be consistent and always on.
Be the story that others share.
Inspire.
Anastasia Dyakovskaya is a writer, editor and creative consultant from New York City. When she's not writing for NewsCred, she's developing copy and editorial for brands and tech startups. When she's not working, she's likely behind the camera or planning her next adventure. Follow her @worldinquestion.
Photos by Getty Images
Originally published on Oct 8, 2014 11:15 AM