Over 160 marketers gathered in San Francisco to hear from industry experts at our first stop on the NewsCred #ThinkContent Tour.
The main theme of the day was the importance of storytelling, content personalization, and hyper relevancy in every brand's content marketing strategy. Here are some of the best talking points from the event.
"The power of storytelling never goes away – it makes you want to engage more with the brand." – Cenk Bulbul, Head of Strategy & Insights, Ads Marketing, YouTube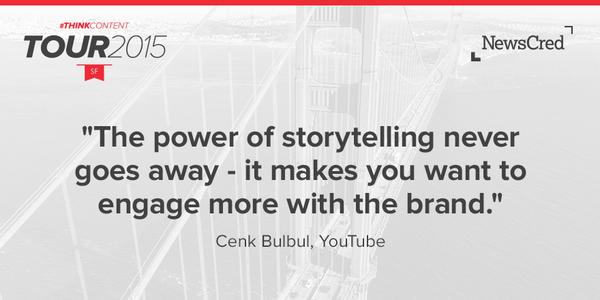 Cenk Bulbul of YouTube discussed the value of brands creating "unskippable" content through compelling storytelling. Above all, this means word of mouth recommendations become even more important, with three out of four people admitting that if they love a brand, they tend to tell everyone about it.
"With millennials, you have to be more authentic. They can read the sell." – Hamilton Brown 
One of the highlights of the day was the "Speaking to Millennials: Why It Matters + Strategies for Success" panel with an all-star list of speakers, including:
Hamilton Brown, Senior Brand Director & Managing Director, Taco Bell
Eric Toda, Head of Global Social Marketing, Airbnb
DJ Capobianco, Research, Twitter
Eric Oldrin, Creative Shop Lead, Instagram
Sarah Frier, Reporter, Bloomberg
The resounding sentiment was that millennials do not want to be typecast, and brands need to encourage their audience to "storyMAKE not storytell." Eric Toda of Airbnb encouraged brands to truly listen to their audience and give millennials control rather than dictating how they should interact with content.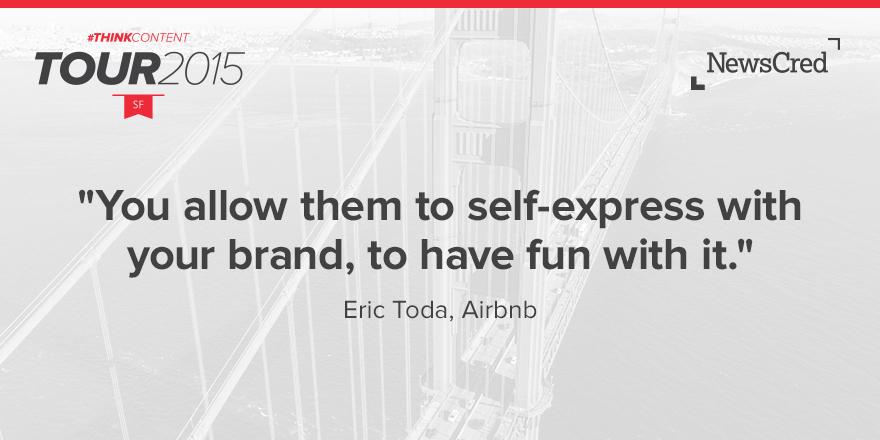 While allowing millennials to self-express is easier said than done, each of the speakers admitted to overcoming lots of challenges to get to the powerhouse marketing stage. As one speaker noted, "Perfection wastes time so experiment and fail fast" to in order to build authenticity and trust among difficult-to-reach audiences.
"2016 is the year of amplification and personalization" – Jason Miller, Senior Manager, Global Content Marketing Solutions, LinkedIn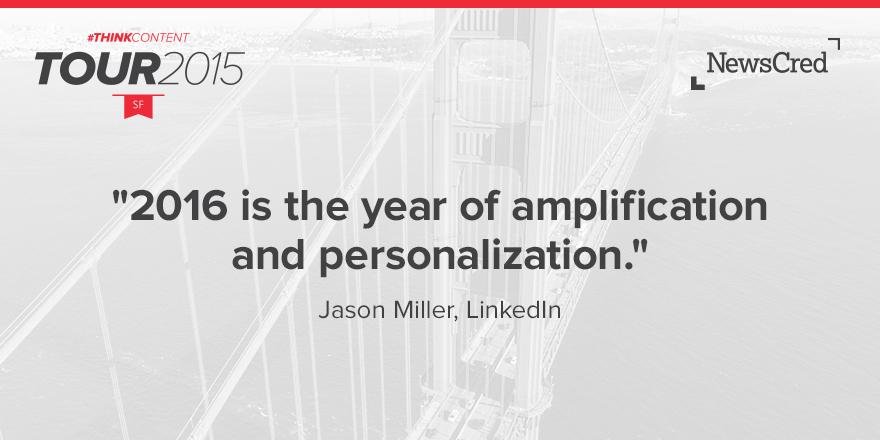 LinkedIn's Jason Miller echoed the sentiments of the social media panel, giving an energetic presentation about real-time marketing and amplifying content. The main takeaway was that marketers don't need more content, they need to create relevant content that actually resonates with their audience. The best part? Marketers should "repurpose content like a leftover turkey." Now that's a trend we can get behind!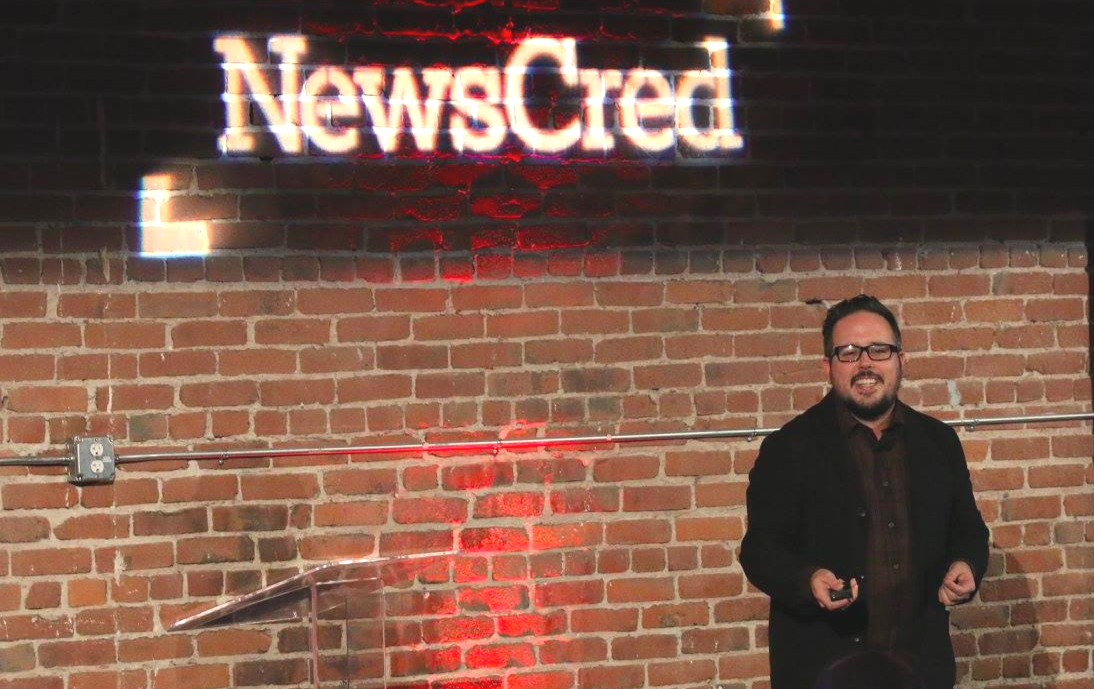 Jason Miller, LinkedIn
"You have to be the facilitator." – Kelly McGinnis, SVP & Chief Communications Officer, Levi Strauss & Co.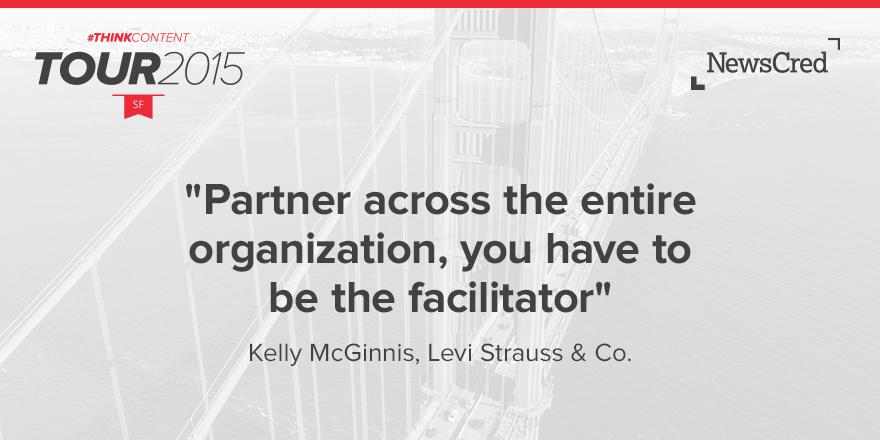 Of course, creating content is one thing, but creating a culture of content within your organization is another. Kelly McGinnis of Levi Strauss & Co. explained that storytelling starts from within your own company, and to successfully sell your message you need to do it internally first.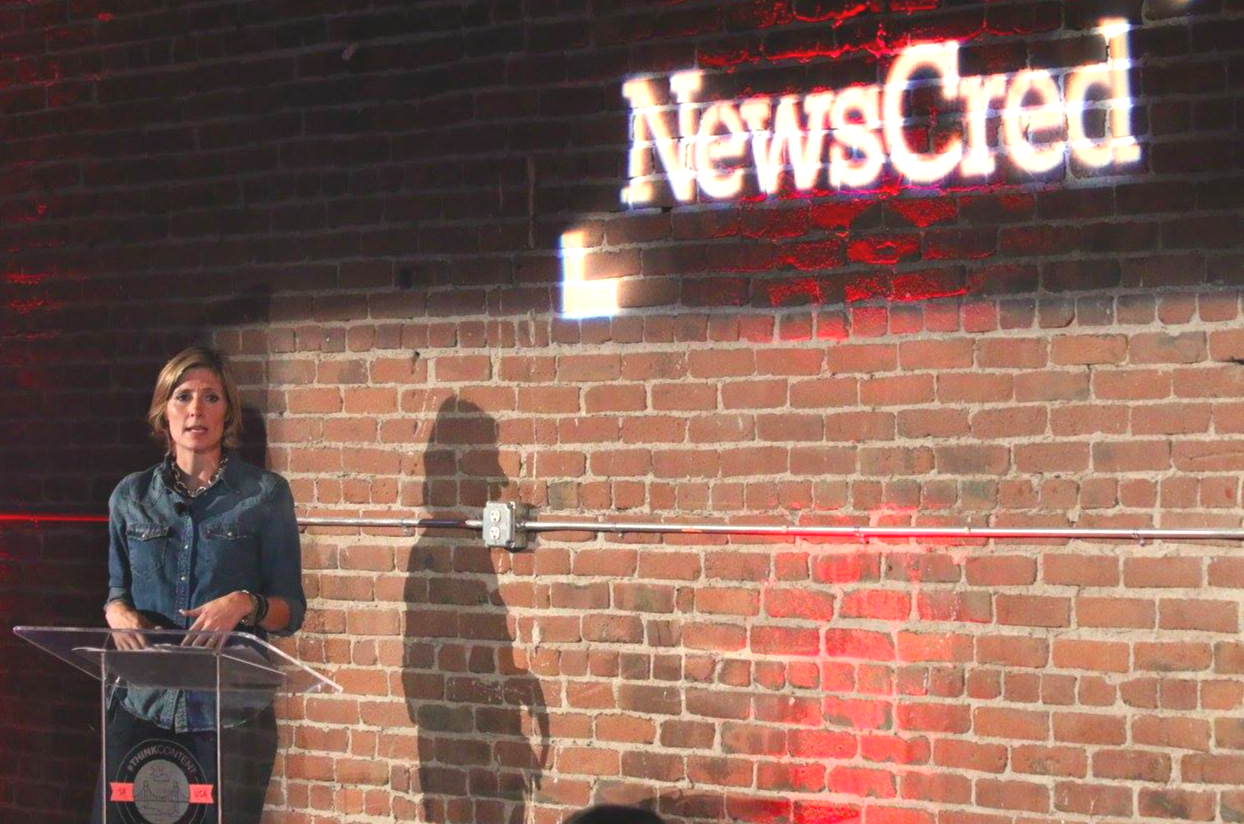 Kelly McGinnis, Levi Strauss & Co
"Content velocity is the one KPI that we will be measured against at some point." – Peter Krmpotic, Senior Product Manager, Adobe 
In addition to getting internal buy-in, you need to have data to back your content creation and distribution strategy. That's what Adobe's Peter Krmpotic touched on in his talk about merging content with metrics. The content that tends to have the most velocity? Personalized, relevant, and compelling content.
"We need to stop interrupting what people are interested in an be what people are interested in." – Liz Bedor, Content Marketing Strategist, NewsCred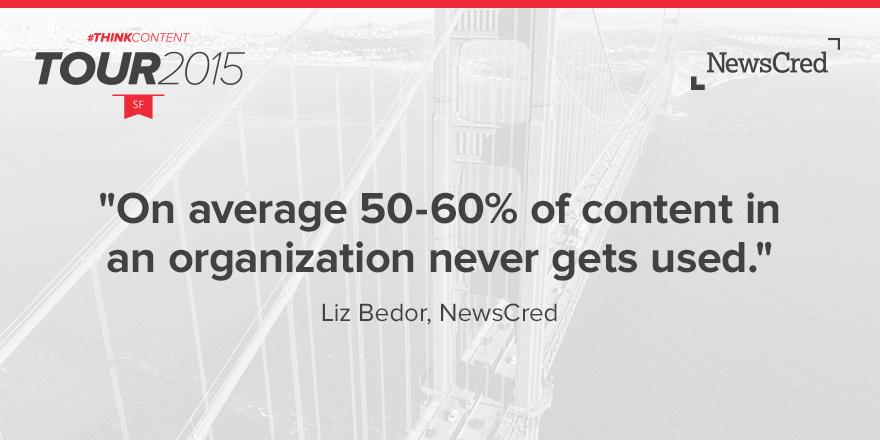 Similar to the panel discussion, NewsCred's own Content Marketing Strategist Liz Bedor described content marketing as the intersection between brand purpose and what customers want. Only when these two ideas are merged is when great marketing can be produced – this includes reusing evergreen content.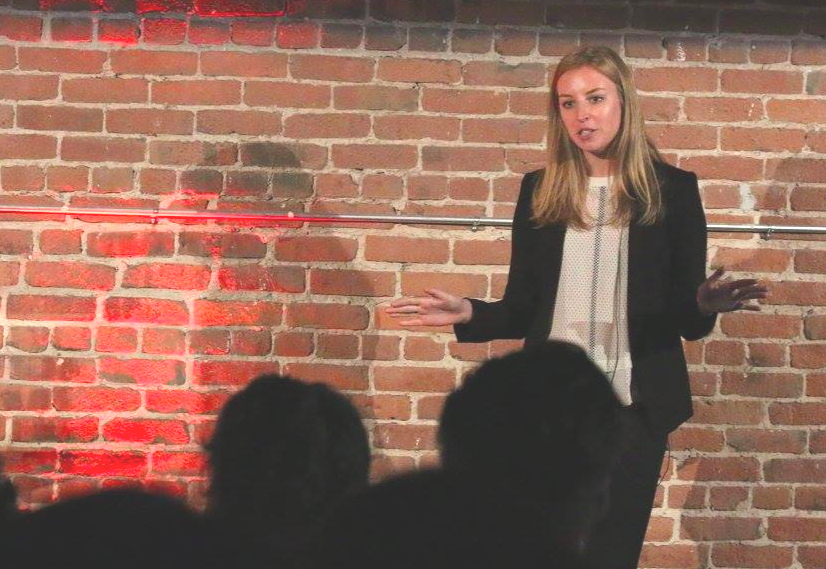 Liz Bedor, NewsCred
"Sell the story of why you exist, not just your product." – Shafqat Islam, CEO and Co-Founder, NewsCred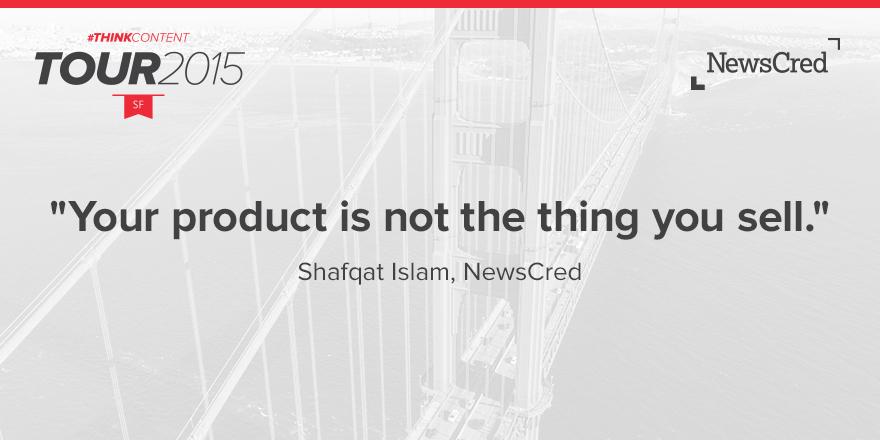 NewsCred CEO Shafqat Islam's presentation was all about the distinction – or lack thereof – between marketing and product during. Using GoPro as an example, Islam discussed how selling the story of why your brand exists, not the product itself, is how modern marketers succeed. There has been a fundamental shift between focusing on the "why" and not the "what" that has been particularly impactful among the world's best brands.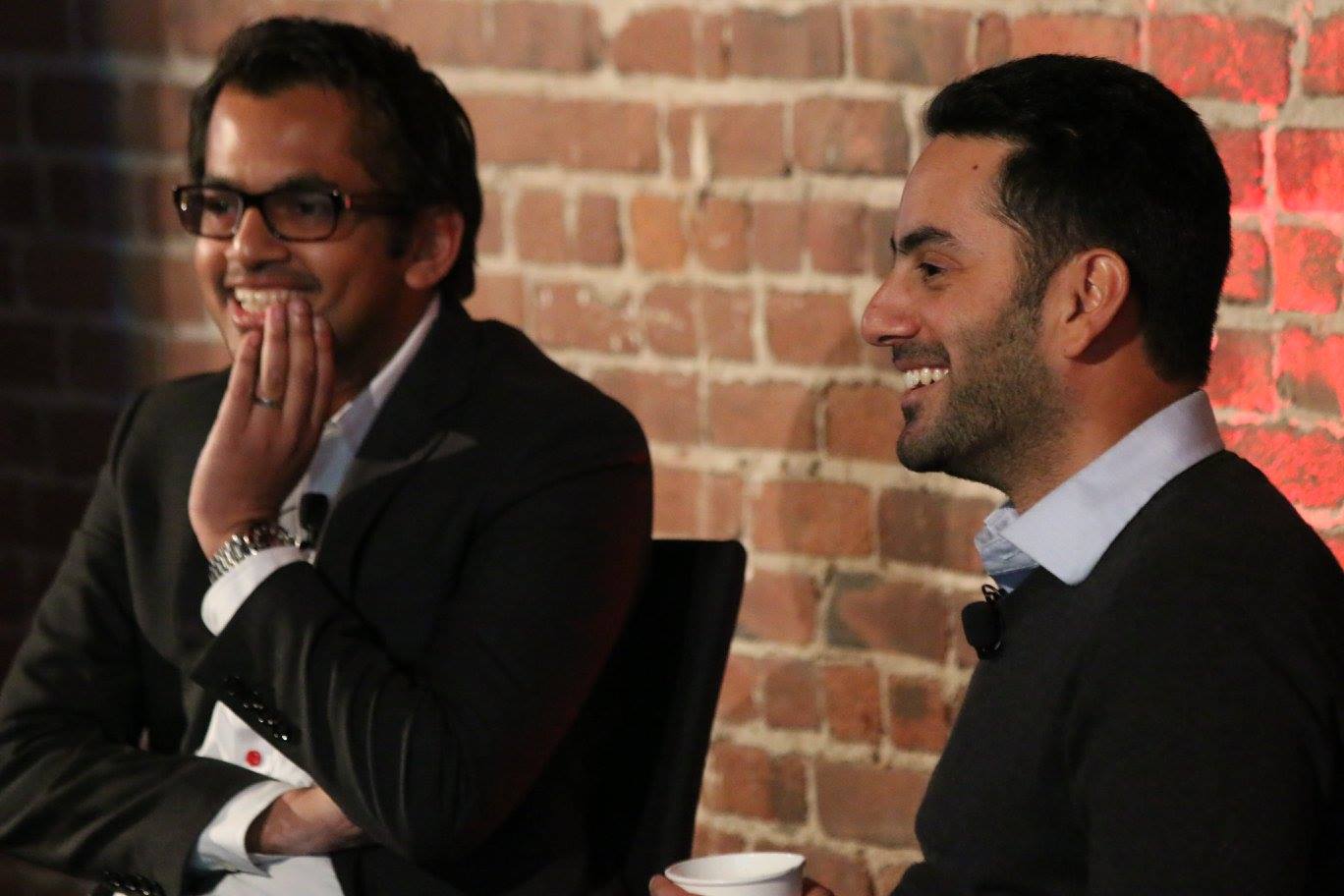 Shafqat Islam, NewsCred, and Shiv Singh, Visa
"The Visa brand is build upon acceptance." – Shiv Singh, SVP Global Head of Digital & Marketing Transformation, Visa 
We ended the day with a fireside chat between Shiv Singh, SVP Glboal Head of Digital & Marketing Transformation at Visa and Shafqat Islam. As one the fourth-most recognized brand in the world, Singh gave great insights on how content defines brand engagement, and how sticking to your brand's values needs to be the driving force behind content creation. For example, the Visa brand is build upon acceptance, and that is communicated in their content throughout the globe.
Conclusion
We all want better marketing, and now we're armed with some strategies thanks to the amazing speakers at #ThinkContent San Francisco.
FOMO? We still have one more stop on the #ThinkContent Tour. Learn more about our future #ThinkContent stops and check out a Storify and decks from Liz Bedor and Jason Miller below. Full video from our SF event can be watched here.
Originally published on Oct 12, 2015 5:12 PM