A look back
In 2008, NewsCred was founded as a news syndication platform. Huddled around the desks of a co-working space, we were small and scrappy. Since then, we've become the industry's leading content marketing platform. Last year, we closed a $42 million Series D, raising our total funding to nearly $90 million. Our list of customers now includes big brands like Pepsi, HP, and Visa. Needless to say, we've come a long, long way.
Despite nearly a decade of growth and maturity, most of our brand elements remained the same. Admitting the need to address this was the first step towards creating a flexible visual system that didn't yield the dark, dull, flat assets of the past. In the fall, the marketing team kicked off development of NewsCred Insights and the timing was perfect to redefine who we truly are as a company and begin the rebranding process.
After a candid self-analysis, we determined that our brand balances the juxtaposition between two sides of who we are. On one hand, we are incredibly bold, revolutionary, and irreverent. This is what sets us apart from the rest and has led us to a position of leadership. On the other hand, we are compassionate, authentic, and genuine. This is what draws people to us, makes people want to work with and for us, and what will make us succeed. The goal for our new visual identity: to convey the convergence of both sides in order to unify them. We declared our brand pillars and promised that all future output should ladder up to the following:
Irrationally optimistic: sees opportunity where others don't
Rule breaker:

constantly pushing boundaries towards excellence

Compassionate: always putting other people first
Against mediocrity:

looking to reinvent the status quo
New frame of mind
Our previous logo consisted of a slab serif typeface and two frames at opposite corners. Both the type and frames represented who we were at the time. The type was a nod to typewriters and felt editorial and the frames meant we were "framing content" for our clients using licensed content from renowned publishers. Since a pivot in 2012, NewsCred's offerings have expanded to include both licensed and original content, software to manage it, and strategy services to keep customers on the right path. As a result, the slab serif and frames no longer spoke to our offerings.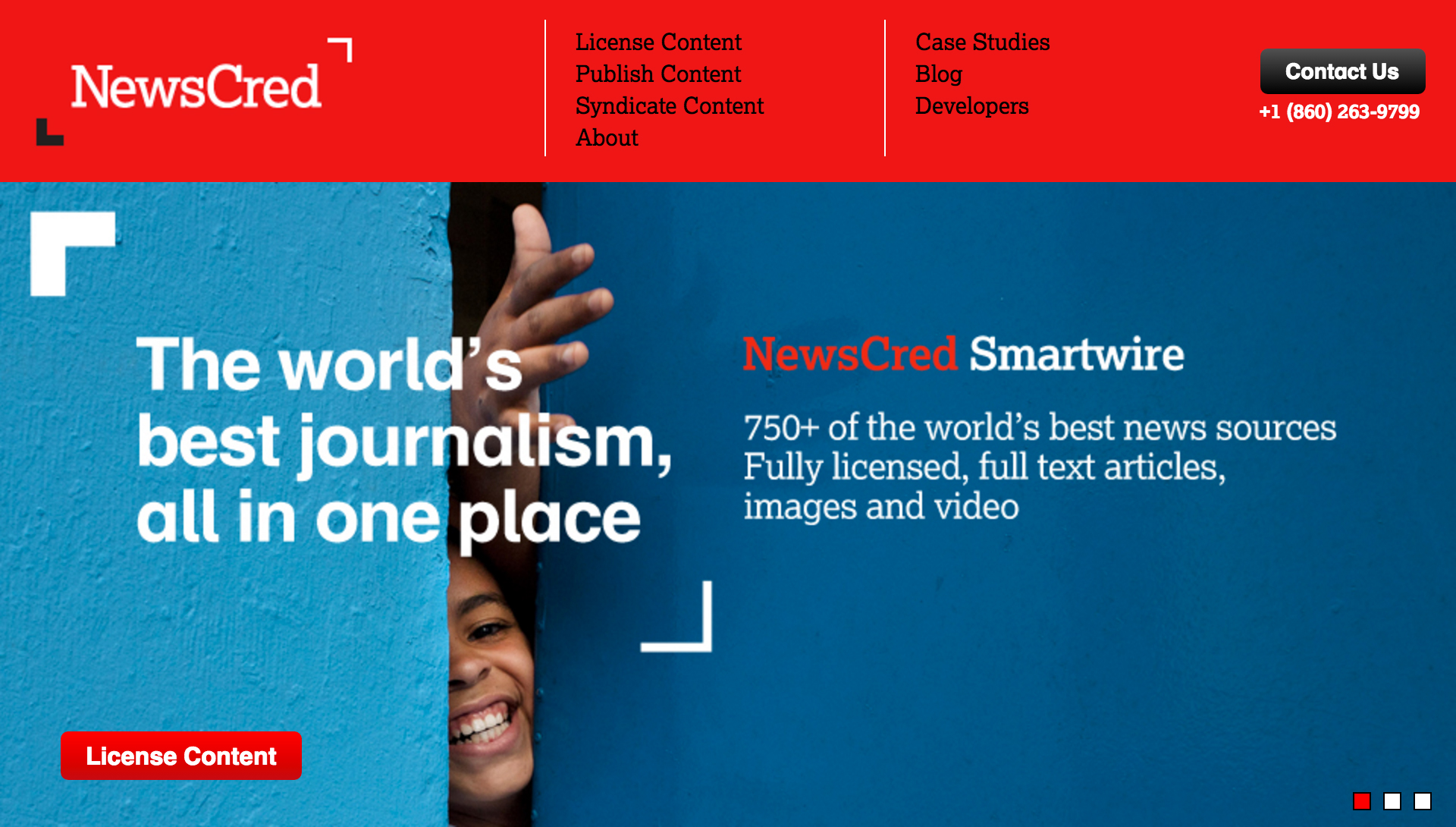 Our homepage from 2012 – woof.
A more palatable palette
NewsCred has utilized red and dark gray since its inception. These colors were frequently used in 20th century political propaganda posters since the combination exudes strength, power, energy, and passion. This palette represented the revolutionary nature of what we were doing at that time – disrupting the news industry by allowing and empowering customers to select what content they wanted to consume. It was more or less a "f*** you" to the conventional methods of content consumption.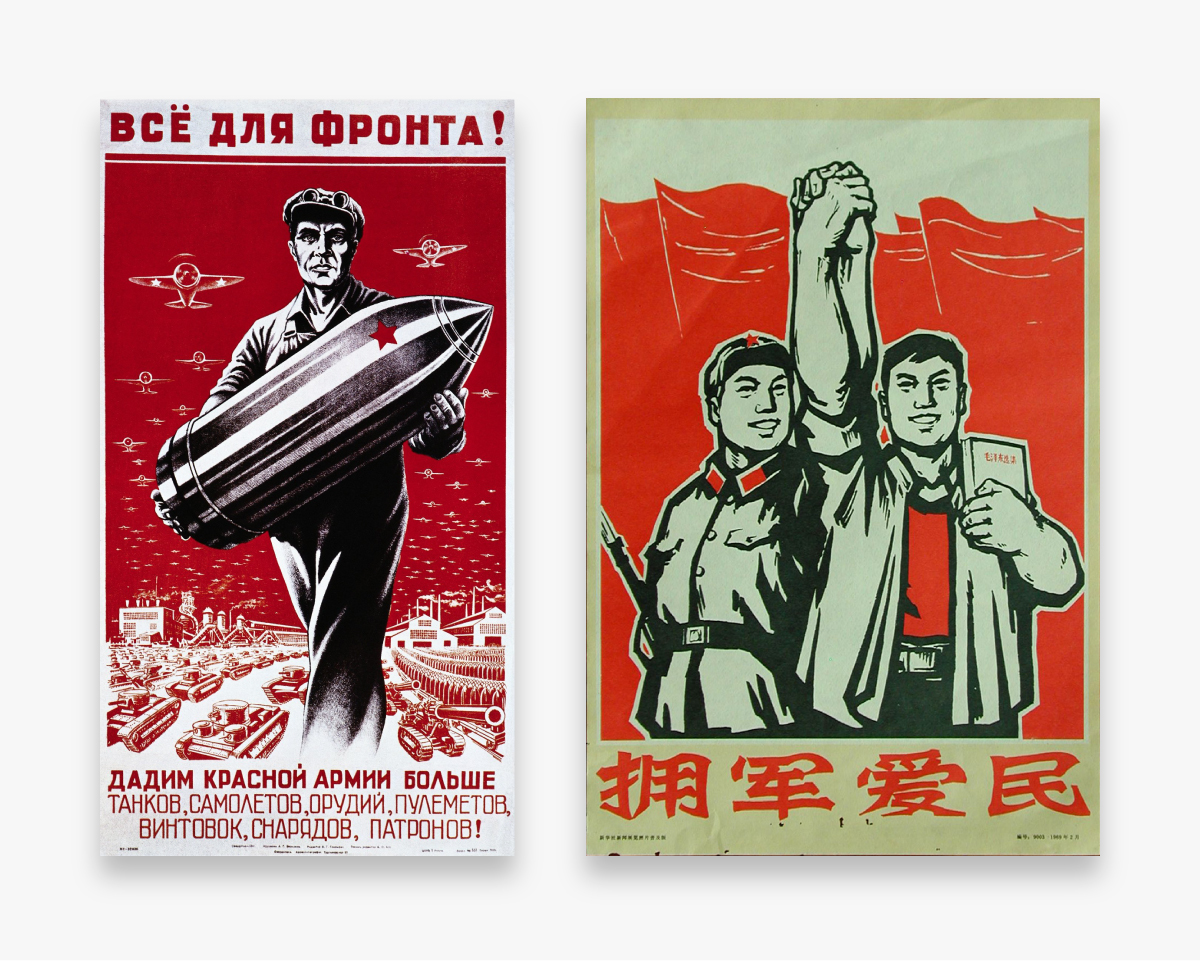 20th century propaganda posters:
http://www.theguardian.com/world/gallery/2014/jun/09/soviet-propaganda-art-posters-in-pictures
/
http://www.theeastisred.com/posters.htm
Despite our updated offerings, the same sentiment still applies to our mission. One walk through our office is all it takes to feel the revolutionary and ambitious spirit of the people. For this reason, the team decided to embrace red and dark gray for the re-brand. Not only do we have a lot of brand equity in these colors, but we also feel they differentiate us well from our competitors. Since red can be a bit intense, we looked into adding some softer values to balance out the palette. It was also very important to have alternative colors for our software, since red is generally reserved for error states – not ideal. We landed on a blue and yellow to round out the NewsCred spectrum.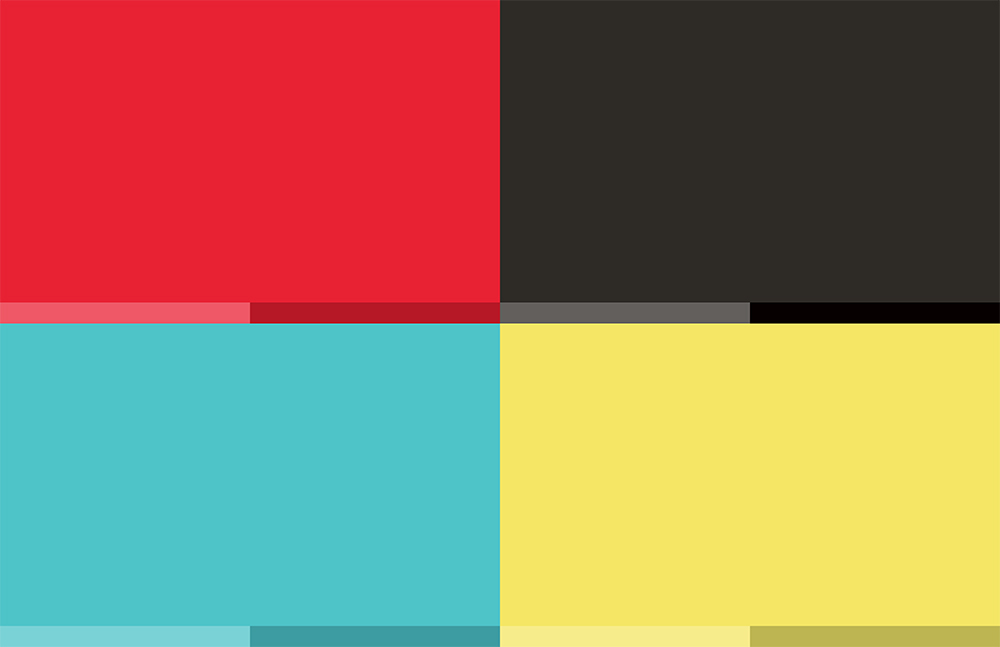 Our updated color palette
Making our mark
Before starting the logo redesign process, we knew we wanted the flexibility of having both a mark and word mark element – something we did not have in the old logo. The end goal was to have a mark that would work well on its own – as a simple symbol that could be used as a favicon and in social channels.
When the designers first thought about the mark element, the burning question was, "how can we represent all that we do in a single visual?" Finding an answer to this question was extremely challenging since our offering is much more complex than a B2C product like clothing, soap, or food. Rather than design a mark that tried to do too much, we decided it made more sense to keep the mark simple by abstractly representing what we do in an "N." After lots of iteration, we landed on a symbol consisting of three connected "planes" – each representing a NewsCred offering: content, software, and strategy. The overlap treatment drives home the idea of convergence – both of NewsCred's personality traits, but more importantly of brands and storytelling – with NewsCred as the connecting piece.
 In addition, the upwards inflection at the end of the mark implies growth and optimism, while the angles convey sharpness and confidence, and still reflect the revolutionary feel from days past.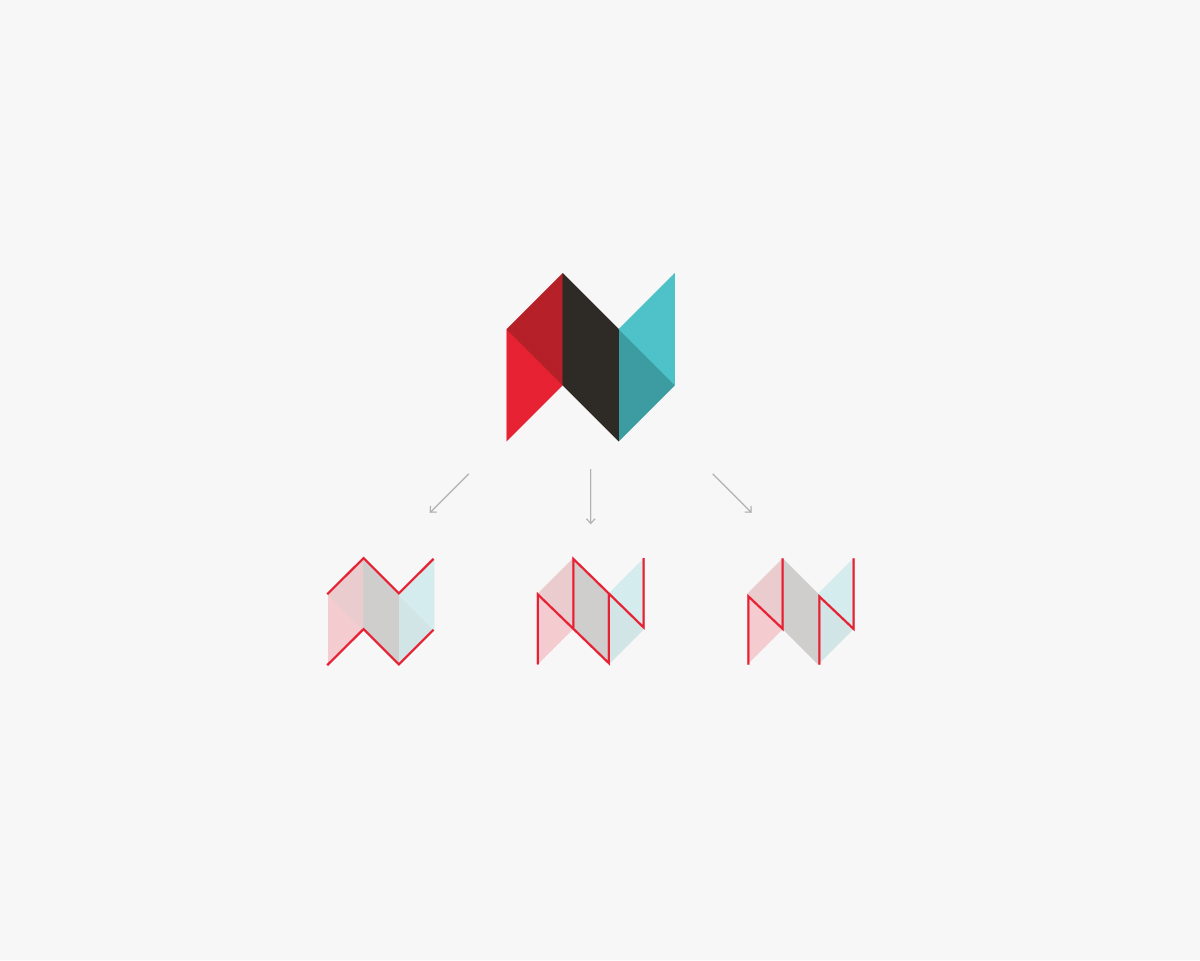 Hidden Ns within the final logo's mark element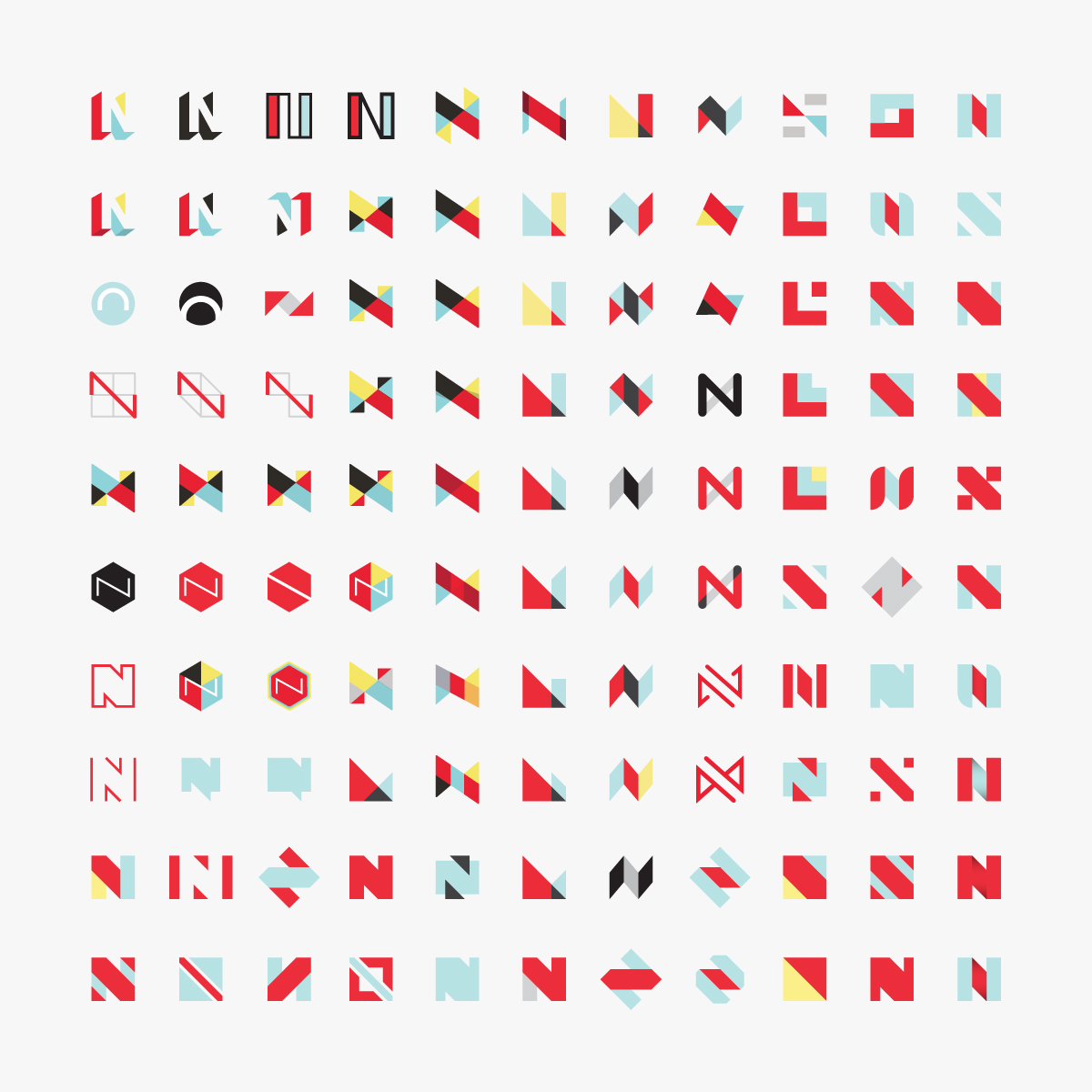 Initial mark explorations
For the word mark element, we wanted to utilize a sans-serif typeface instead of Lexia, the slab serif we were using previously. This would help modernize our brand, better represent us as a tech company, and represent the spirit of our people by feeling more approachable. Scanning more typefaces than I care to divulge, we became obsessed with finding a typeface that complemented the angles of mark without feeling too severe. We eventually narrowed the finalists to 23 faces and put them to vote. In the end, Cera's angles and balance of approachability with severity won us over.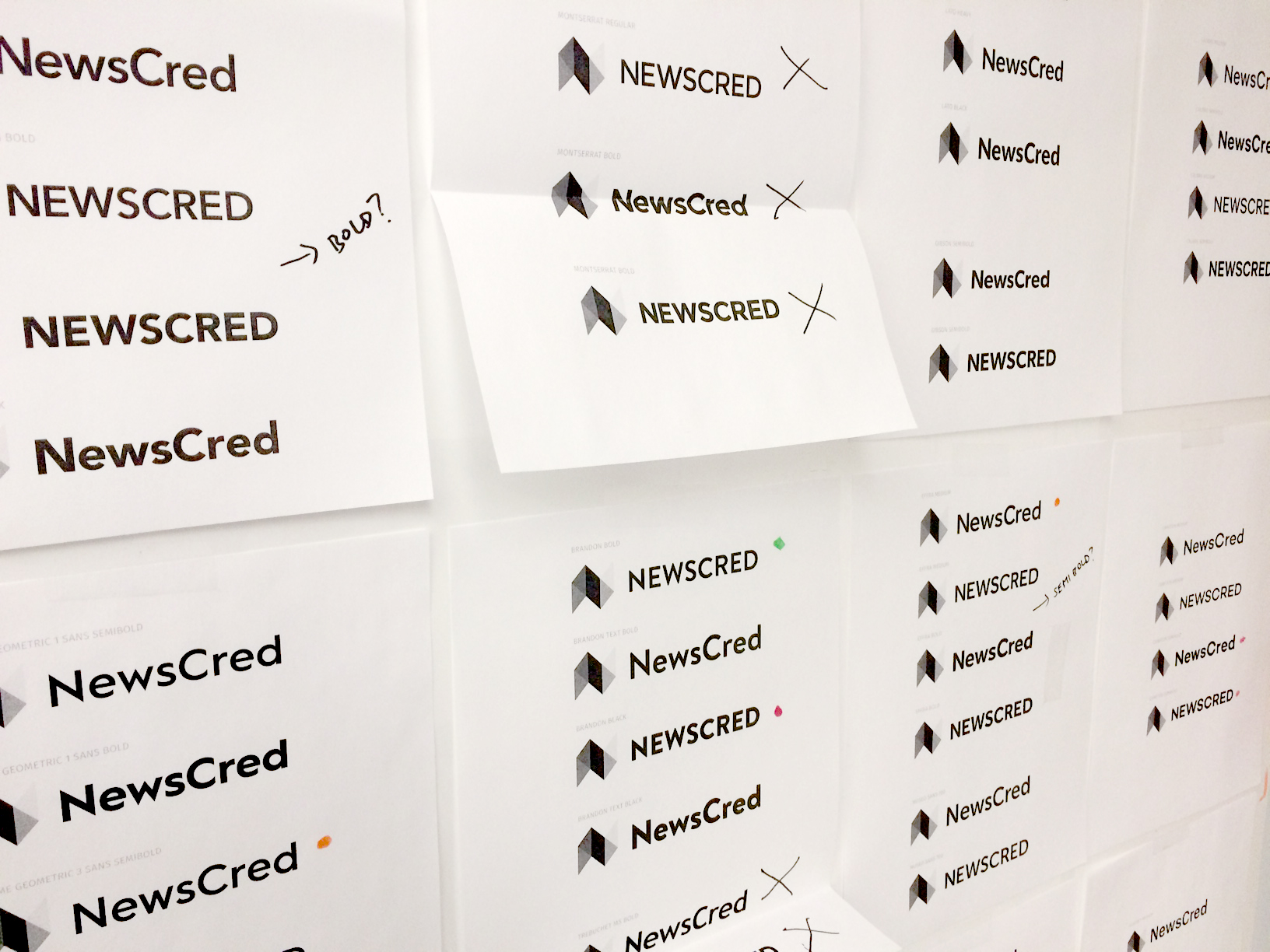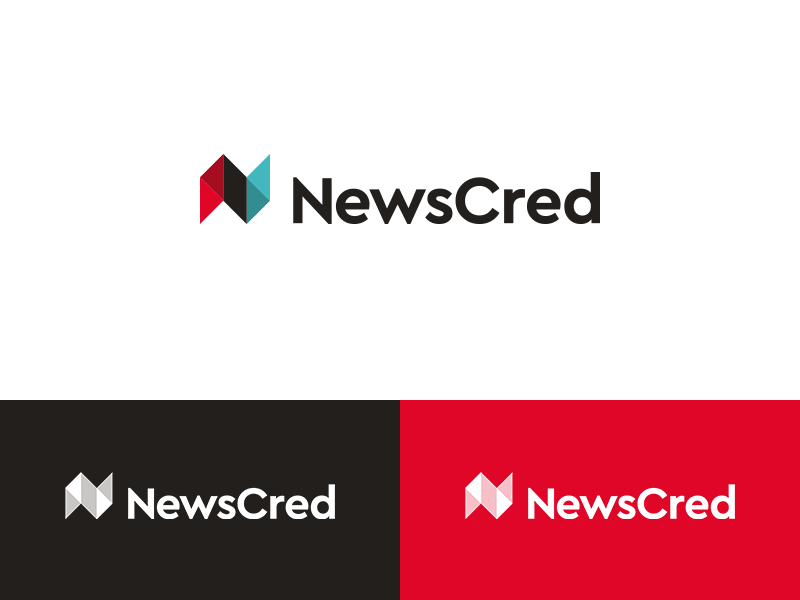 Our new logo
Look and feel
Recalling rebranding efforts from Gap, Tropicana, and more recently, Airbnb, Verizon, and Uber, it's not hard to see that the public reacts very strongly to new logos. What's unfortunate, however, is how quickly logos are judged without context. A logo is merely one facet of a brand and should never be judged on its own. What's most important is the full brand identity – how the logo works within a visual system. Forming an opinion about a brand's logo without understanding its role in the bigger picture is like judging the flavor of a single pepperoni before experiencing how it tastes with other ingredients on a pizza. Maybe not the best analogy but I'm hungry – hopefully you get the idea.
After conducting lots of research to see how various brands apply visual treatments across touch points, Spotify became a big influence for us. In their mobile app, images are treated with an abstract color mask that frames subject matter in a very playful yet elegant way. We especially loved how the subjects occasionally overlapped the mask to create depth in the composition.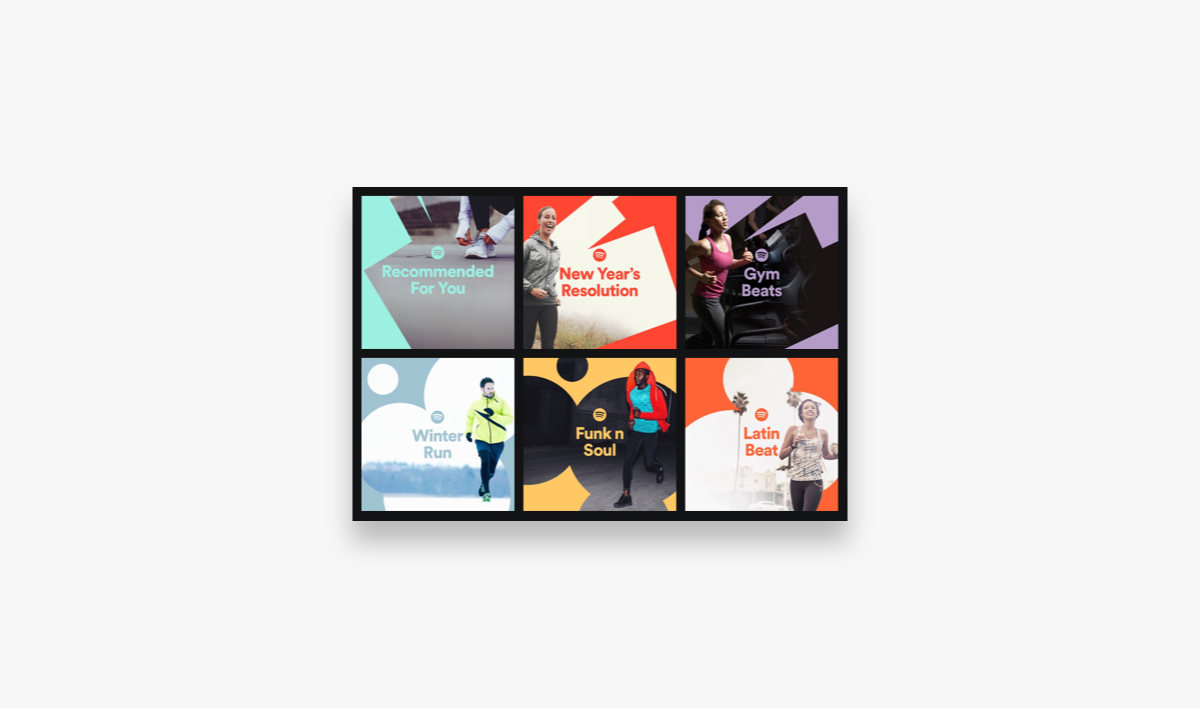 Various image treatments in Spotify's mobile app
Keeping all of this in mind, we sought to establish a visual identity for NewsCred that was flexible and spoke to our brand pillars. The primary brand element that would help us achieve this is the transparent angle. Derived from the mark element of the logo, the angle allows us to introduce dimensionality to an image, which generates additional visual interest and ties our brand system together. The treatment is flexible since the angles can change color and move around a layout to best fit the composition.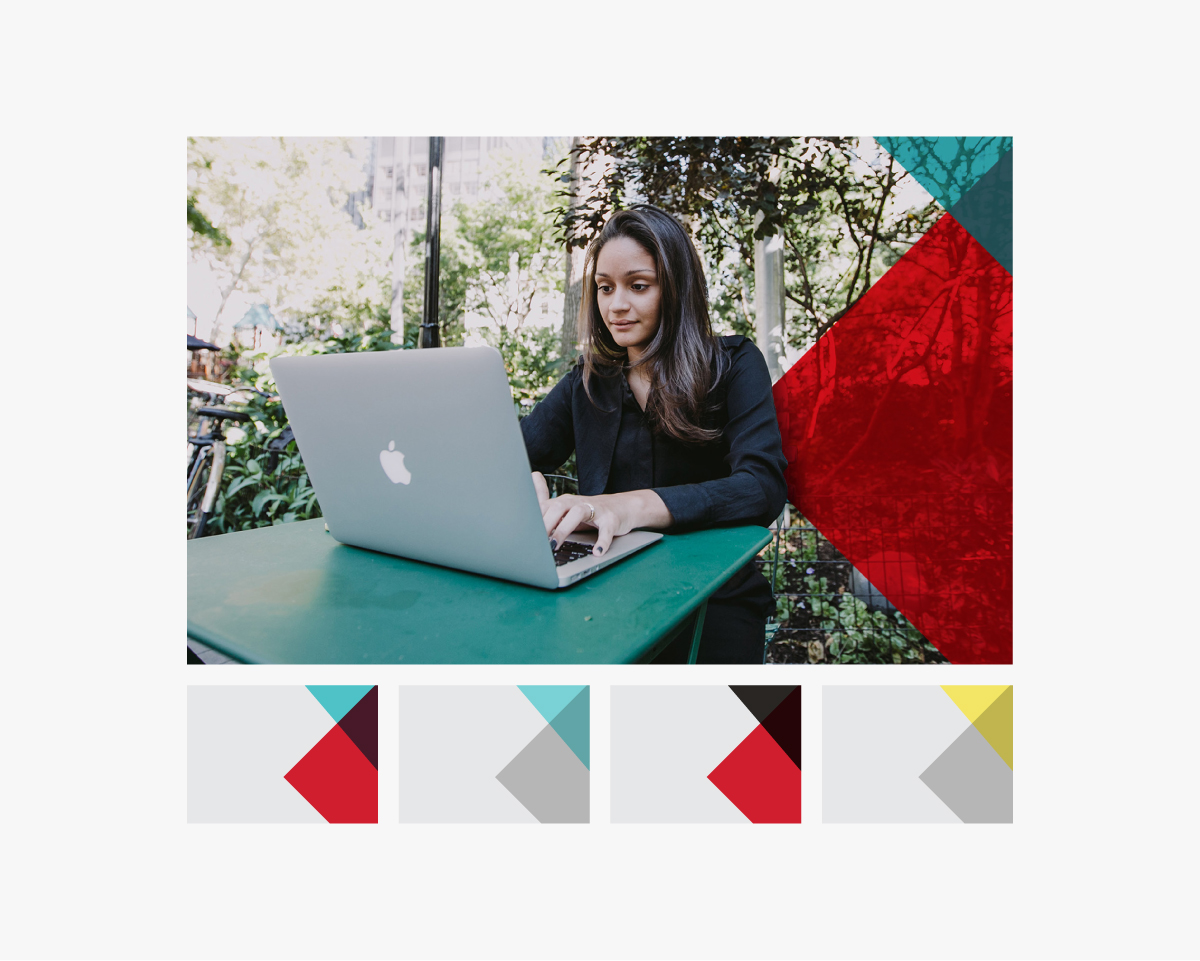 Choosing type
Though Cera was perfect for the word "NewsCred," we felt it was too expressive for headlines. The search began for a headline typeface that was similar but a bit more conservative. Trendy yet beautiful Brandon Grotesque was a favorite for a while because of its angular upper case letterforms that echoed the slopes of the mark. However, its x-height is short and resulted in a very quirky vibe that didn't feel like us. It was important to have a headline font we could use in both upper and sentence case, so Brandon was out. We discovered Hurme Geometric Sans No.3 on MyFonts and were very pleased – it has a lot of the same geometric letterforms and characteristics of Cera but is more legible. For smaller sizes we decided on Adelle Sans due to it's versatility and the fact that it was engineered with editorial use in mind. We would be using it in lots of long-form Insights articles, so legibility was a huge factor. Many of the characters are subtly squared-off, which we thought was a nice juxtaposition when paired with the circular contours of Hurme.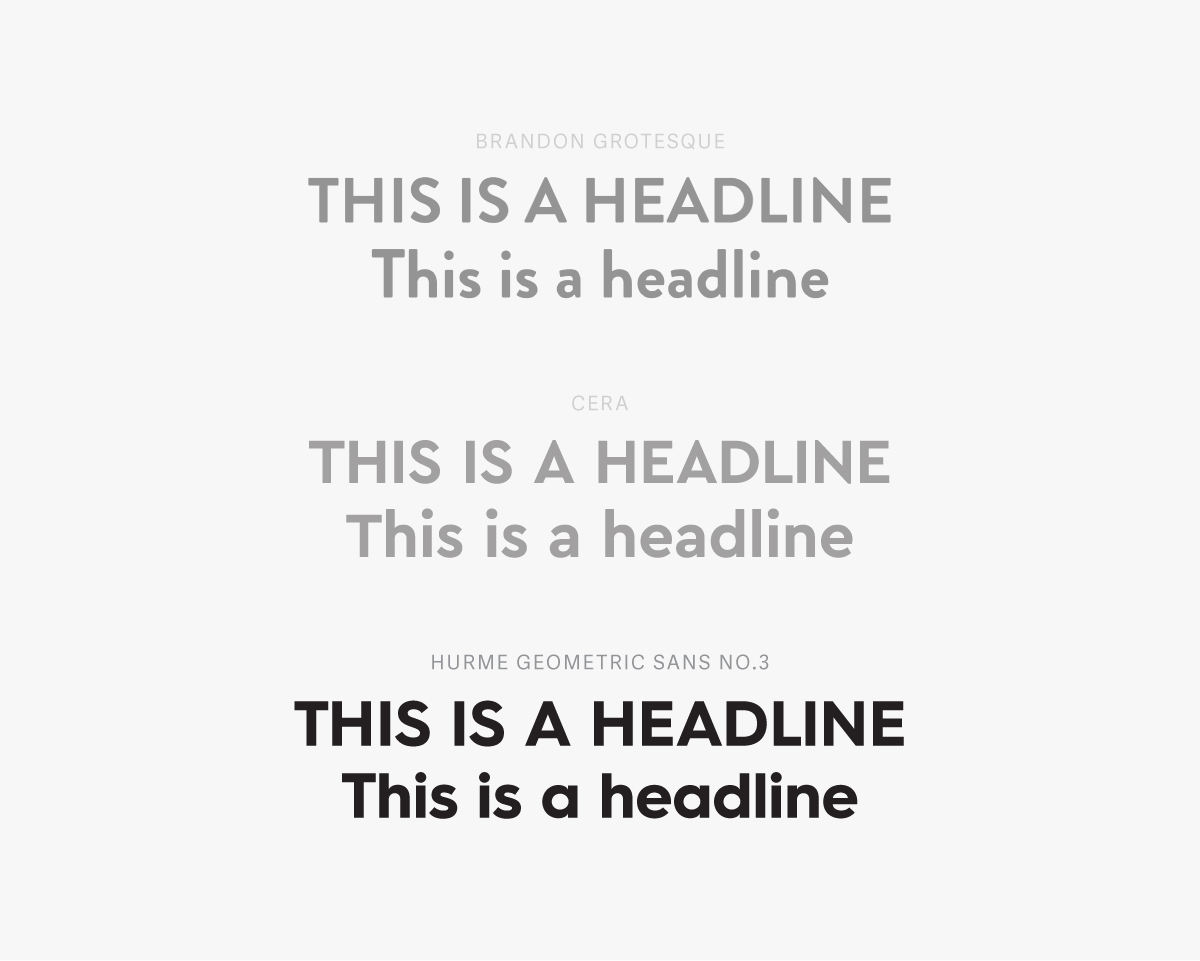 Comparing our headline font finalists
Conclusion
When embarking on a rebrand, it is absolutely crucial to remember where that brand came from. Companies' personalities and goals are shaped by their past experiences, just like people. Although the current designers weren't with NewsCred in those early days, the stories we've heard played a big role in our rebranding process. These stories, combined with our newly established position, pillars, and mission allowed us to make strategic decisions around what elements to hold on to and what to let go of. Armed with a firm understanding of who we are and a flexible visual system, we are now in a much better position to generate high-quality, consistent graphics that actually represent us.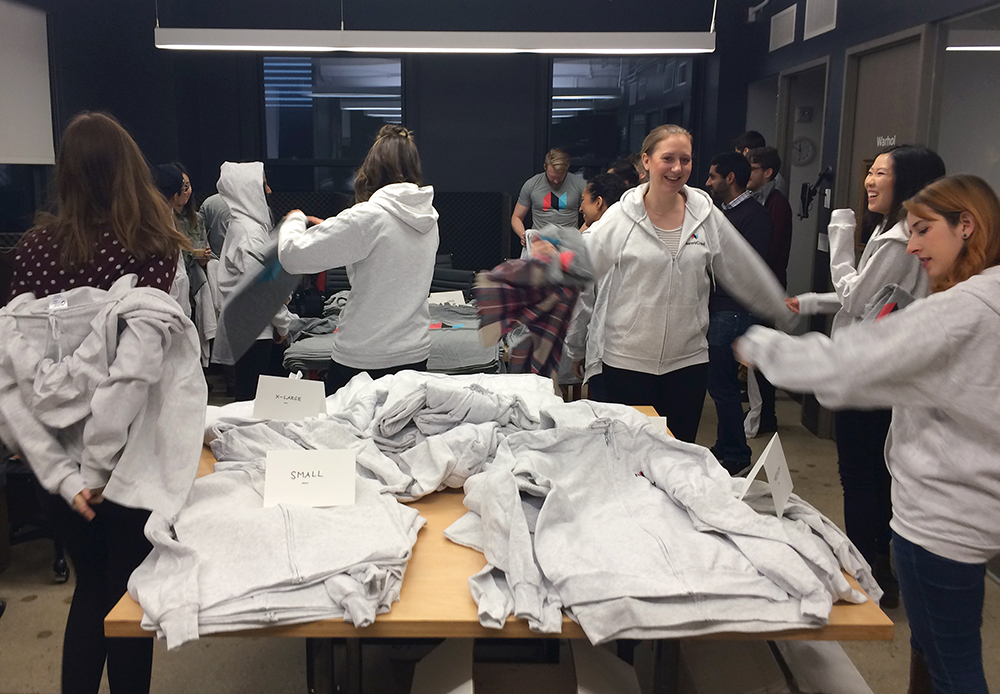 Swag day
was a humbling experience – the energy and enthusiasm reminded me of a J.Crew sample sale
Jeremy Ford is a Senior Designer for NewsCred.
Originally published on Mar 7, 2016 2:27 PM, updated Nov 8, 2016