Liz Bedor and Michael Brenner spend their career talking to marketers about their content marketing challenges and researching the latest best practices, case studies, and stats for their respective blogs. This year they put their heads together to write and publish a book called The Content Formula: Calculate the ROI of Content Marketing & Never Waste Money Again, to answer the most common struggles they see in content marketing. Their book is available now so we asked them to share their insights and inspiration behind the new book.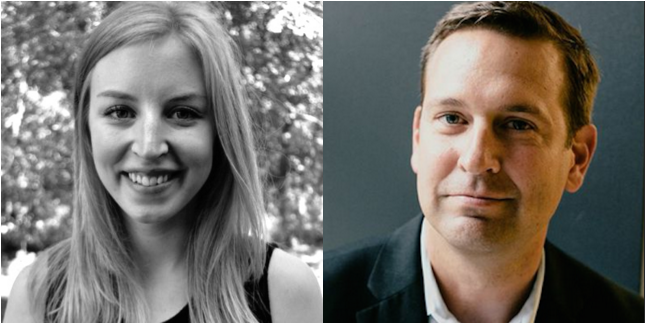 Liz Bedor + Michael Brenner, authors of "The Content Formula"
How did you decide to write and self publish The Content Formula?
Liz Bedor: This book really seeks to answer the toughest questions content marketers are asking today. Being able to measure the ROI of content marketing ultimately makes or breaks a program's success, but there was a gap in the market for explaining how to do this. We both understand the importance of a metric-driven approach and with our experience of building, executing and optimizing the content marketing programs of our customers, and we decided to fill that gap together.
Michael Brenner: We decided to self-publish this book to get our approach out to the market as quickly as possible. We hear challenges about content marketing ROI every day, and we wanted to help as many businesses as we could navigate these challenges.
What did you do before you worked at NewsCred and what you do now?
Liz: My career has always been very content and training focused. My first role was in sales enablement for Salesforce, managing customer references and documenting complex deal processes for sales trainings (how they navigated complex political landscapes, found an internal champions, etc). From there I transitioned into managing training programs for our sales teams. In that role I touched everything from developing the curriculum objectives, creating the trainings, writing quizzes to measure learning retention, localizing content for global markets and finally reporting on results.
Then wanting to get into a true marketing role, I transitioned into doing brand marketing for Salesforce University, which is the training and certification offering for customers. While I learned a ton in that role, I realized doing marketing for technical training and certification was not going to become my passion in life, so I sought out to find something that really resonated with me. That's when I found content marketing and the brand strategy team at NewsCred. Our team consults our clients on their content marketing strategies, taking everything into consideration from their competitive landscape to their budgets and business objectives to help them create, manage and measure successful content marketing programs. As a brand strategist, I'm really able to marry the experience I've had from my different roles into something I love to do.
Michael: I started in sales as well, for the Nielsen Company. I was selling and training some of the best marketers in the world on how to use consumer insights to drive their marketing programs. I moved into Marketing after that and helped them develop their first cloud-based software solution. I was then head of Marketing for two startups before becoming SAP's first Head of Digital Marketing. In the process of developing that capability, I found that customer-focused content drove more and better quality leads for sales. So I became their Global VP of Content Marketing and built a program focused on publishing customer-driven content to drive reach, engagement and conversion for the business.
I then became Head of Strategy for NewsCred after picking our solution over the competition, and now as CEO of Marketing Insider Group, my goal is to help companies of all sizes with content marketing.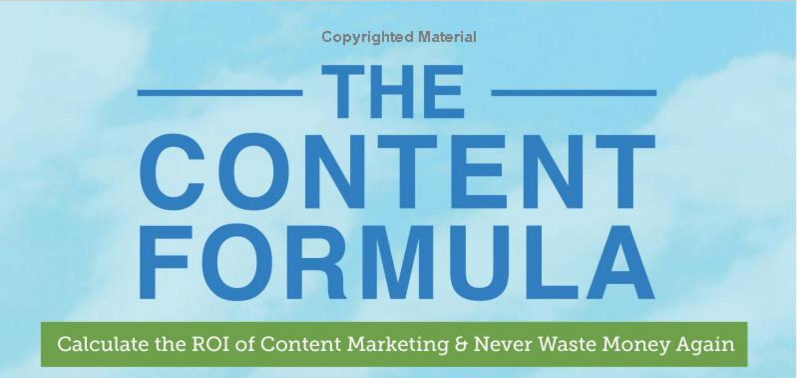 People say they're going to write a book, or should write a book and never do. How did you tackle this project?
Liz: This book stemmed from a true "big rock" content marketing project. "How do I measure the ROI of content?" was the number one question we heard time and time again from our customers, so we set out to answer it as thoroughly as possible with a step-by-step guide. We knew the guide would be overwhelming for most people to tackle all at once, so we broke it down into a series of blog posts, which ultimately became the framework for The Content Formula.
What are the main themes covered in The Content Formula and why should marketers read it?
Michael: The Content Formula is divided into three main themes: building the business case, finding the budget, and measuring calculating the ROI for each business case. For marketers who are about to embark on their content marketing journeys, reading this will set you up for success. This book covers a lot of mistakes we see content marketers make over, and over, and over again, so by reading this you'll be able to lay a proper ROI-driven foundation for your content marketing that will allow you to prove success for your program. For content marketers who are currently struggling, this book will help you get back on track and help you identify what you may have missed.
Michael, this also comes alongside the relaunch of your site and the launch of your own personal project. Can you tell us about that process and how that will integrate with your work at NewsCred? 
Michael: We take a best practice approach to our content marketing strategy work for NewsCred customers and prospects. But not everyone is ready for a technology decision. So my goal is to share the framework and approach to effective content marketing that converts new customers, with any business. And I'm thrilled to stay on as Head of Strategy for the the best content marketing platform any brand could chose.
Liz, regular blog readers may know this but you also have a fantastic blog! How do you carve out time to write and come up with new topics?
Liz: Honestly at this point my blog is literally a brain dump of discussions that come up in workshops. I figure if these challenges and discussions are happening with our customers, they're happening with other marketers and brands as well. In terms of finding time, I really try to be disciplined about writing it all down while it is still fresh in my mind. If I'm doing a ton of research on a particular topic for a customer, I turn the notes from that research into a blog post as quickly as possible. Since my roles requires me to do a lot of research and problem solving, there's really no shortage of material for me to cover!
What do you think are the most difficult issues facing content marketers today?
Michael: Aside from the pressure to show immediate results with content marketing, a lot of content marketers today are being told to deliver champagne results on beer budgets. Or they're being asked to create content that promotes products vs. content people actually want to read and share. It's difficult to push back on mandates given to you by your CMO, but a lot of content marketers allow themselves to be backed into that corner because they don't do proper internal discovery.
The only way to manage proper expectations and fight for the budget you need to be successful is to find out the budgets and expected ROI of other departments and set the benchmarks and goals for your content marketing appropriately.
What are the biggest challenges you have as content marketing strategists?
Liz: I think a lot of marketers are used to being able to run a quick report to instantly measure the success of their efforts. For example, event marketers can look at attendees, opportunities created and deals closed, and email marketers can look at open rates, unsubscribe rates and subscriptions. Because of this, many content marketers default to measure their program with engagement metrics, such as time on site, bounce rates, and social shares. For us, it's difficult to break the news that effective content marketing just doesn't work that way. Because content marketing is a matrix of many efforts working together, you have to pull metrics from different places, be willing to crunch numbers and work through ugly formulas. Getting marketers to commit the time, and resources, and to have patience to build trust with their audience, is always a challenge.
You talk to so many marketers – what industry do you think has the farthest way to go when it comes to moving away from traditional marketing toward a content focused business? 
Michael: You'd probably think I'd say any highly regulated industry, such as insurance, energy or banking, but those are actually our favorite industries to work on for content marketing. Their products are so complex and their audiences are craving information to help them understand. IDC said it best with, "the buyer journey is nothing more than a series of questions that must be answered" and if brands in these industries do this, they will be successful content marketers.
Liz: The industries that are having the biggest challenge are the ones that are very brand-focused and just want to talk about themselves. Pharma is really struggling with content marketing because they are so focused on the brands they have patents for. A lot of fashion retailers only want to talk about their clothing and accessories, but in reality, if they just became fashion publishers, such as WhoWhatWear, they'd be amazing! MR. PORTER's The Journal is actually my favorite gold-star fashion content marketing example.
What is your best content marketing pro tip?
Liz: Defining your content marketing mission statement is the biggest gap between effective and ineffective content marketers. We recommend you document your business goals and metric objectives upfront before you publish a single piece of content. Ideally, identify your goals by 90, 180 and 270 day benchmarks and receive executive approval. By doing this, you'll have a definitive way to measure if your program is successful.
Liz and Michael's book is available for purchase on Amazon.
Amber van Moessner is Managing Editor at NewsCred. 
Originally published on Dec 2, 2015 11:00 AM