A Note From Shafqat, NewsCred CEO
Many companies are already engaged in content marketing, so how can technology brands set themselves apart from the competition? According to our own research at NewsCred, 33% of consumers want more information on future products. Whether it's your newest smartphone or laptop, or something more ambitious, consumers want to know what's coming next. If you can occupy this space, you can establish yourself as an expert in that field.
I've already mentioned the driverless car; which brand springs to mind when you think of that product? How about the smartwatch? Google and Apple clearly own these spaces. The reason they've become synonymous with these products is the level of content coverage they've given them. Be it the Oculus Rift or the "things" in the Internet of Things, there are many areas still under-served in the content landscape. The key is getting in early with thoughtful, high-quality instructional content to align your brand with these new products.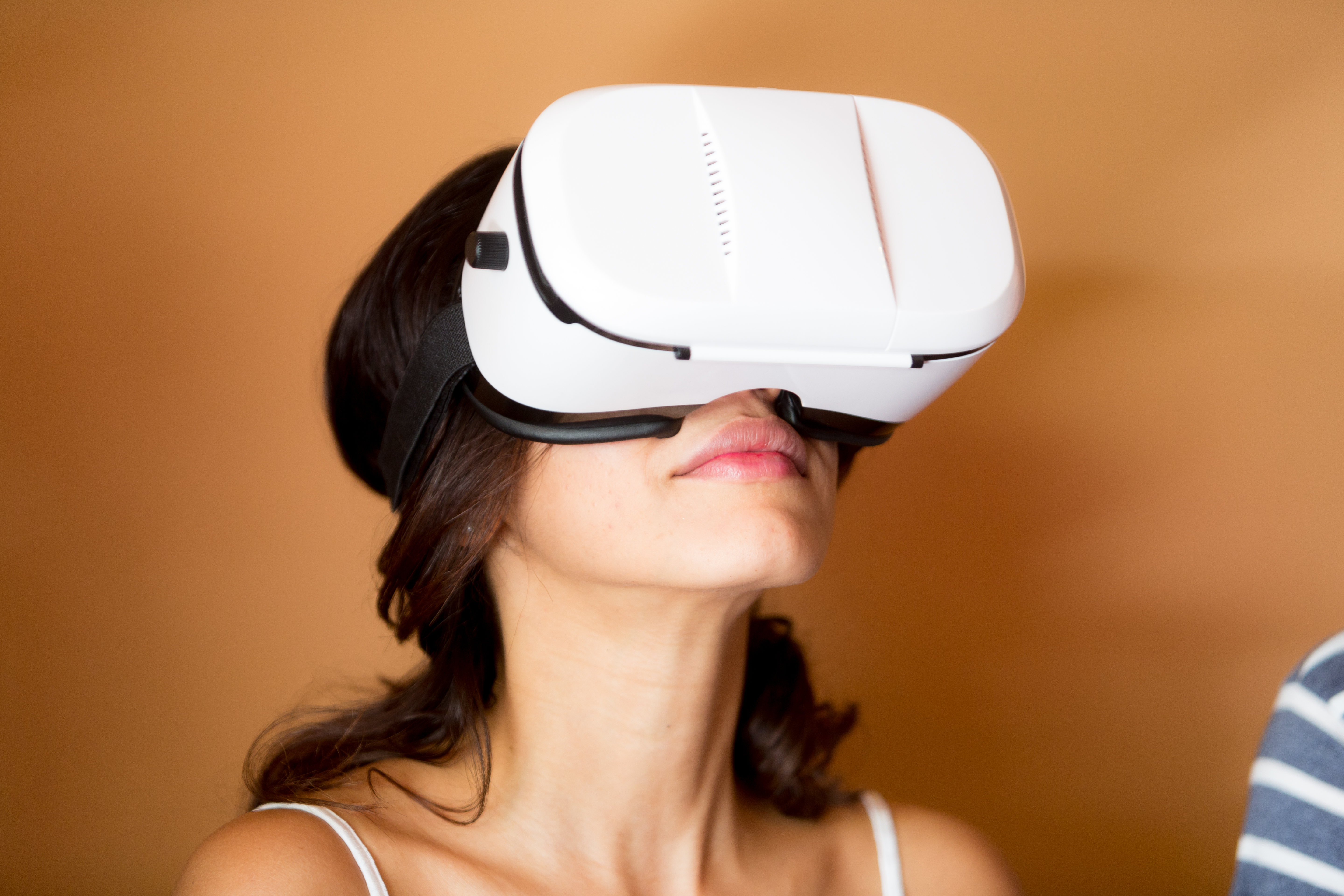 Once you've found your niche, fill it with high quality information — that's the best way to ensure strong customer loyalty. In our survey, over half (53%) of consumers said they are more likely to remain loyal to technology brands if they enjoy the brand's content.
This is backed by a wide array of research. For example, according to Havas Worldwide, 60% of millennials believe that brands are a valued source of sharable content. Content can span the generation gap too, with a quarter (25%) of baby boomers consuming more content than any other age group. In fact, they spend 15-20 hours per week consuming content.
Currently, for technology shoppers, review websites are still the most visited destination for consumers researching a future purchase. However that could change, according to our findings public awareness of paid-for reviews and "fake" user reviews is growing and confidence in review sites is dropping. Our research shows that less than one in ten people actually believe the reviews they are reading. For content marketers, this clearly demonstrates a large gap between supply of readily available (and reliable) technology information and public demand for it.
Technology brands can capitalise on this with their own honest and practical content offering, influencing a shift in consumer habits away from the current over-reliance on potentially misleading review websites.
A word of warning however — any content strategy must be wholehearted. Half-measures will not do, and can in fact cause lasting damage to your brand. We asked what a lack regular content, or worse still, publishing low-quality content, would have on brand perception and only one-third (37%) of respondents indicated that it would have no impact whatsoever. As for everyone else, 25% say they'd grow suspicious of the brand and a third (34%) of those surveyed say they would possibly purchase from another brand instead in the future. Finally, almost 10% said they'd lose trust in the brand entirely.
For me, this is proof positive that to stay in the game, all technology brands need to embrace the new normal: that is regular, high-quality content that arms the consumer with the right information on the right topics. This report illustrates how a high-quality content strategy can reduce customer churn, improve brand perception, and build trust — keeping your technology brand marketing as forward-thinking as your products.
Shafqat Islam
Methodology
The survey of 2,000 adults (aged 18 and over) was carried out by third party research company, OnePoll, between 14th May 2015 and 18th May 2015. The sample was balanced across regional, age, and gender demographics, and is a nationally representative sample of the UK population edited to ESOMAR standards.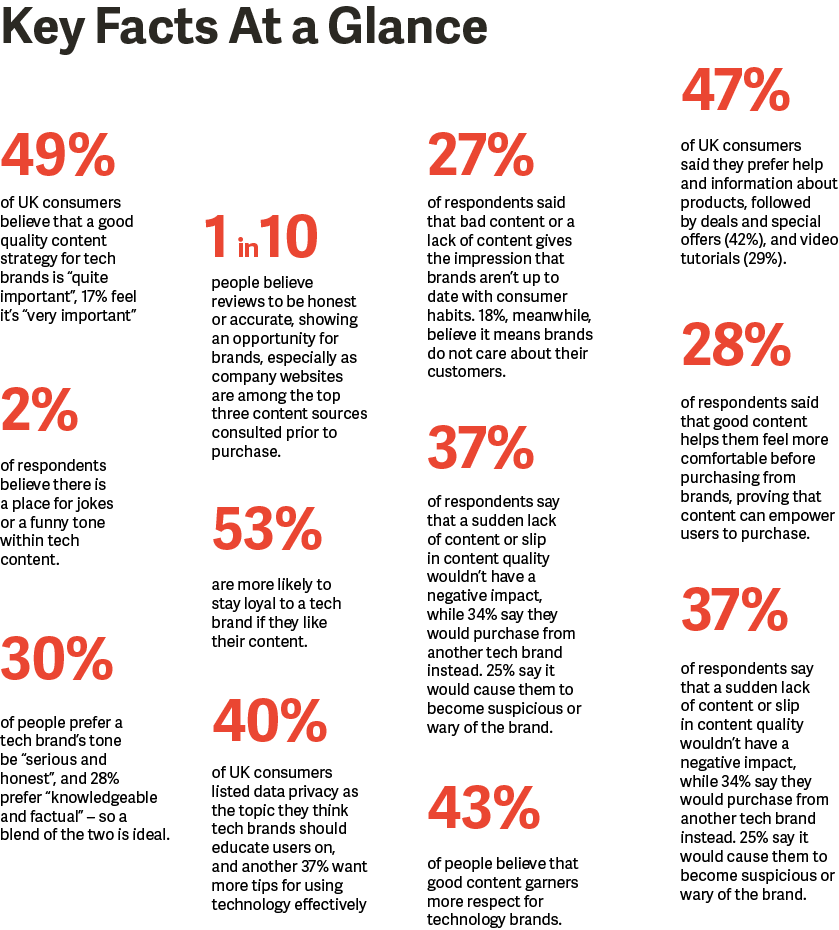 Tech Content – Not Just Information, But Inspiration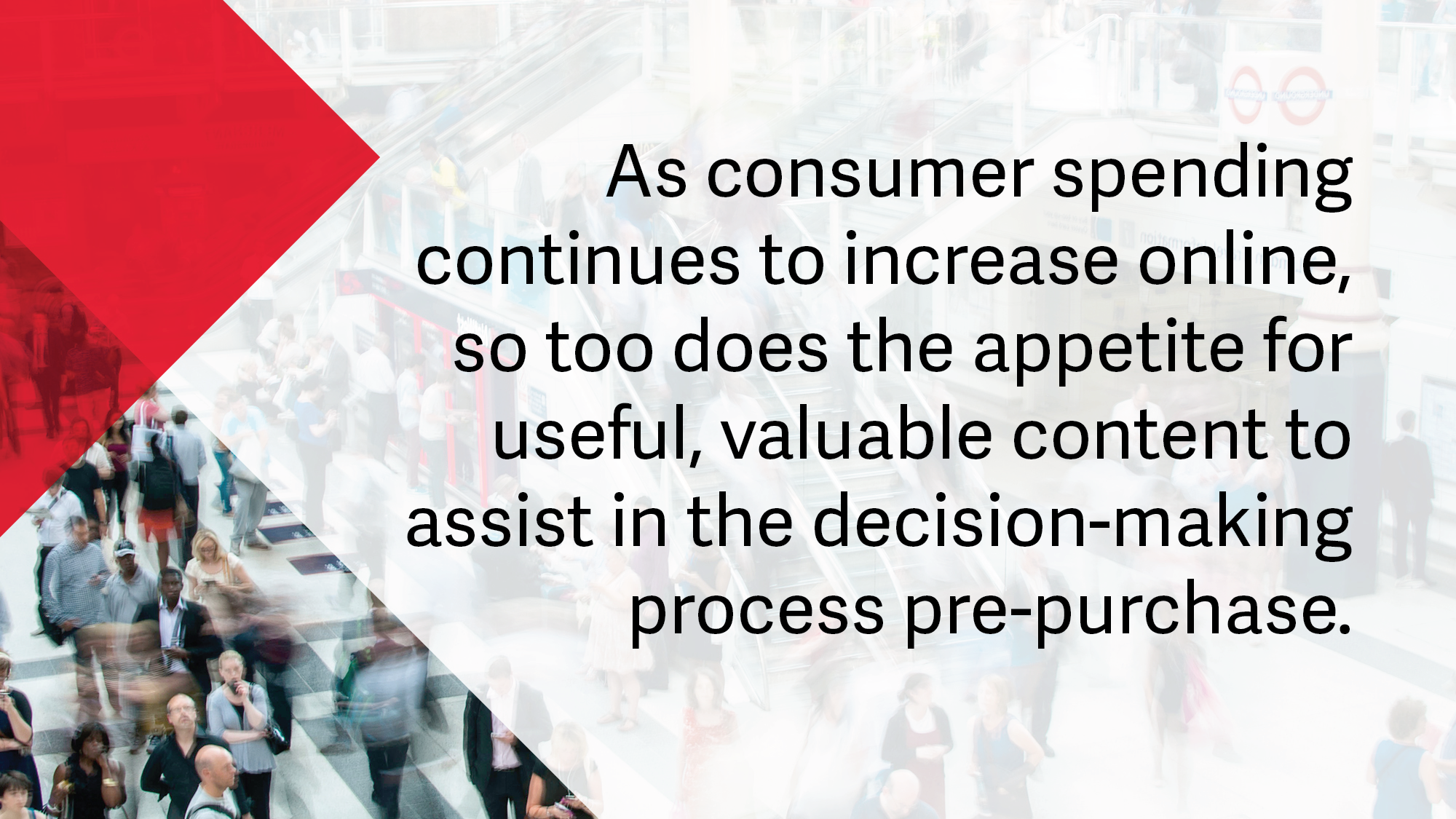 Historically, good reviews from reputable publications coupled with traditional advertising were enough to move units. Today, with information available at the simple swipe of a screen, the journey has become a lot more complex, even beginning several months before product launch. The dedicated technology fans among us will already be scouring the internet for early information — pictures, details on features and specifications from all manner of sources, including blogs, social media posts, forum discussions and more.
The volume of conflicting information can often be a hindrance rather than help towards the final decision but this means it's imperative for tech brands to execute their own content strategies to ensure that honest, accurate and reputable information is published for consumers to rely on. The rise of content marketing means they are able to harness their own voice and resources to tell their story.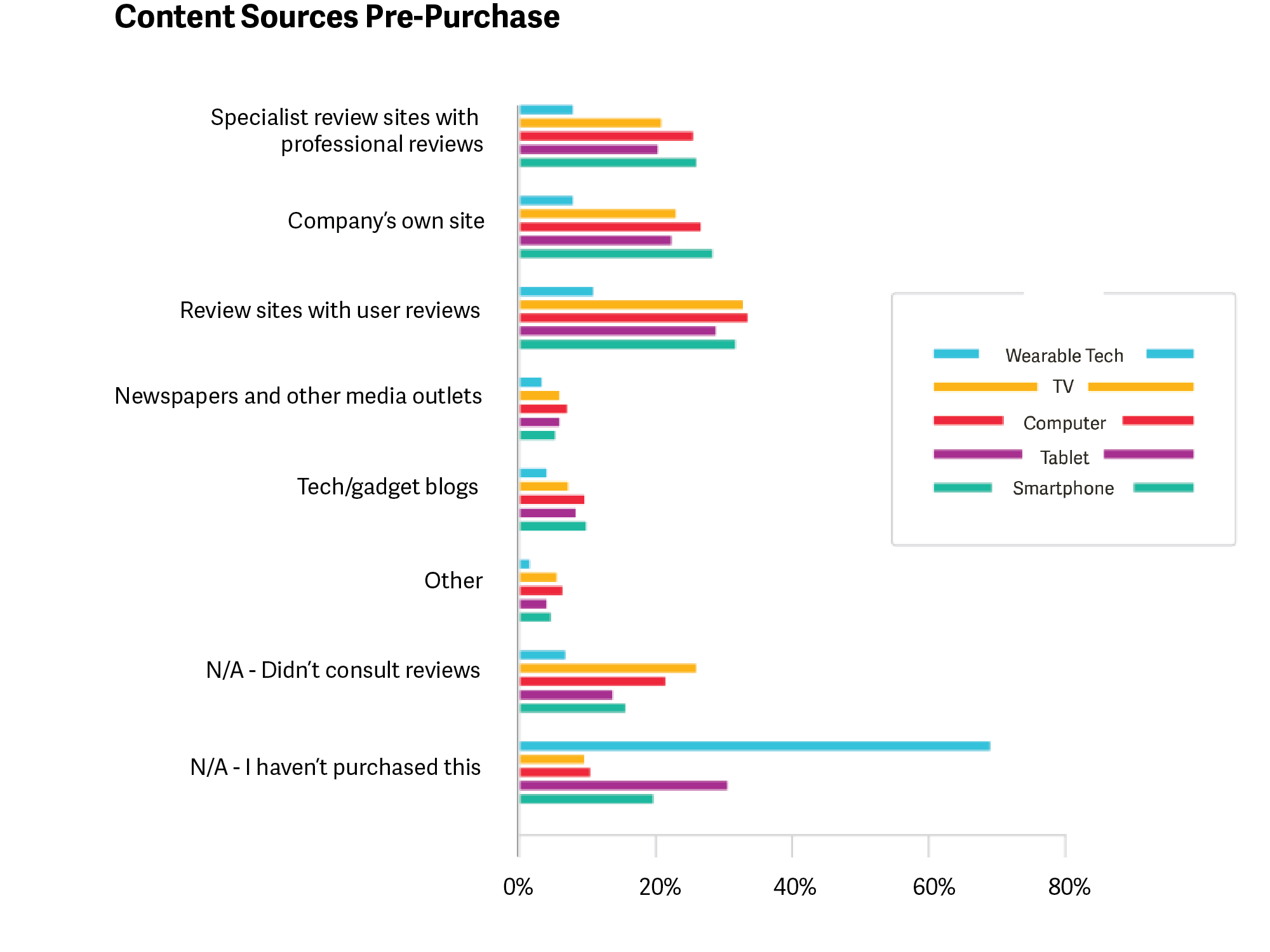 This certainly shows in our results. When asked about the top three digital outlets customers consulted prior to purchase, review websites are still consulted most often, whether consumers were shopping for wearables, TVs, computers, tablets, or smartphones. But that's not the full picture: brand websites are in the top three content sources consulted in every product category, and are more often than not the second destination that users visit.
But while review sites remain popular, awareness is growing around a media storm of fake reviews, which is denting consumer confidence in this content source. In our survey, 53% of users confirm that the trustworthiness of online reviews is a concern for them. In fact, only 9% of Brits say they believe the reviews they read. It's important to understand then, that while user reviews are currently the most consulted information source prior to purchase, there is obviously a trust issue and a need for consumers to be able to access reliable information.
This demonstrates a clear opportunity for tech brands, as there is certainly scope to meet this need. As concerns over the validity and trustworthiness of user reviews continues to grow, brands can step in to allay customer concerns by providing balanced, reliable and engaging information of their own.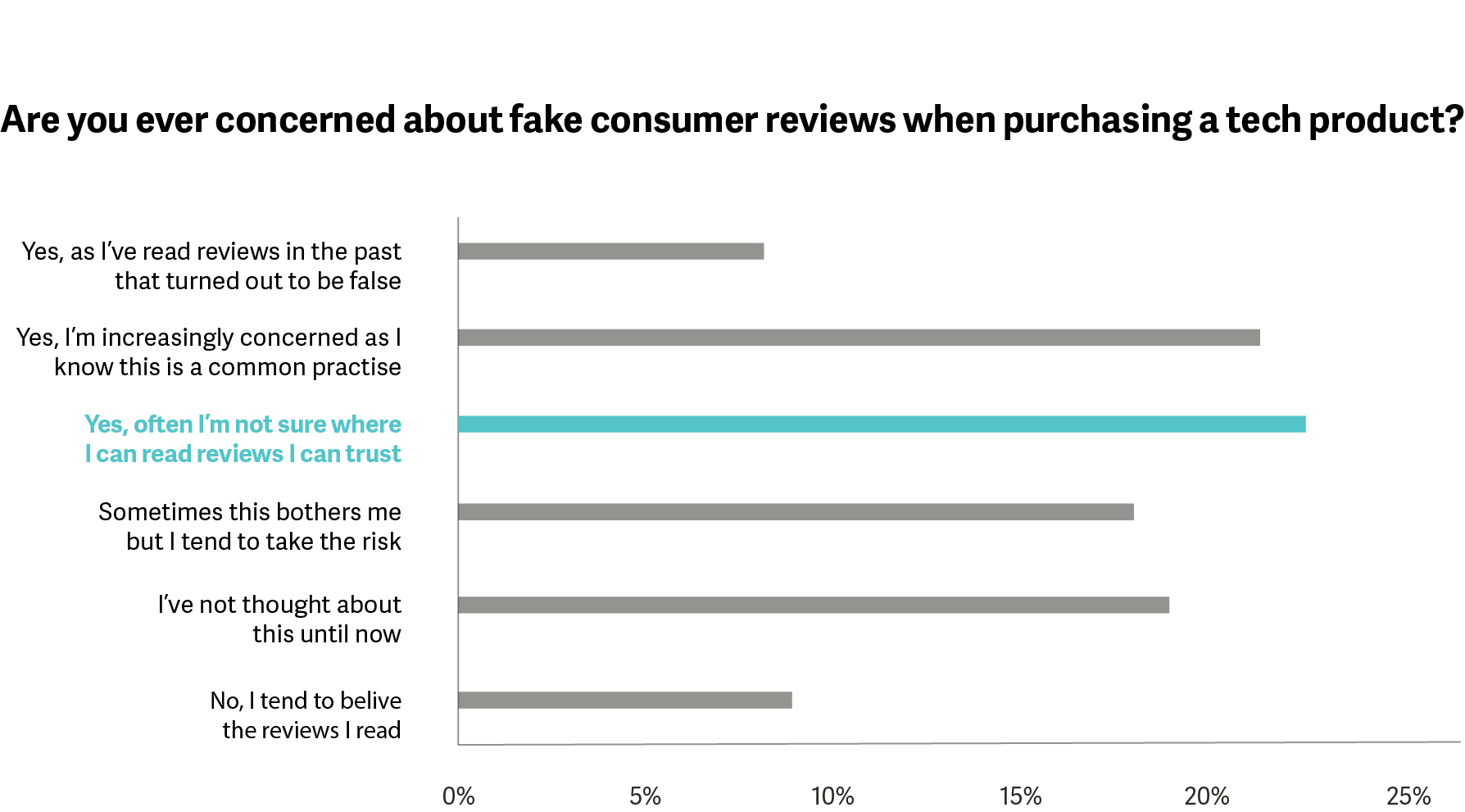 When asked how important good quality content is when it comes to purchasing from technology brands, our respondents were perfectly clear: a majority (49%) feel that a good online content strategy is at least "quite important," while in addition almost one in five (17%) feel it is very important. This clearly illustrates that not only do customers perceive a need for this information, but also there is an expectation that tech brands should be providing it.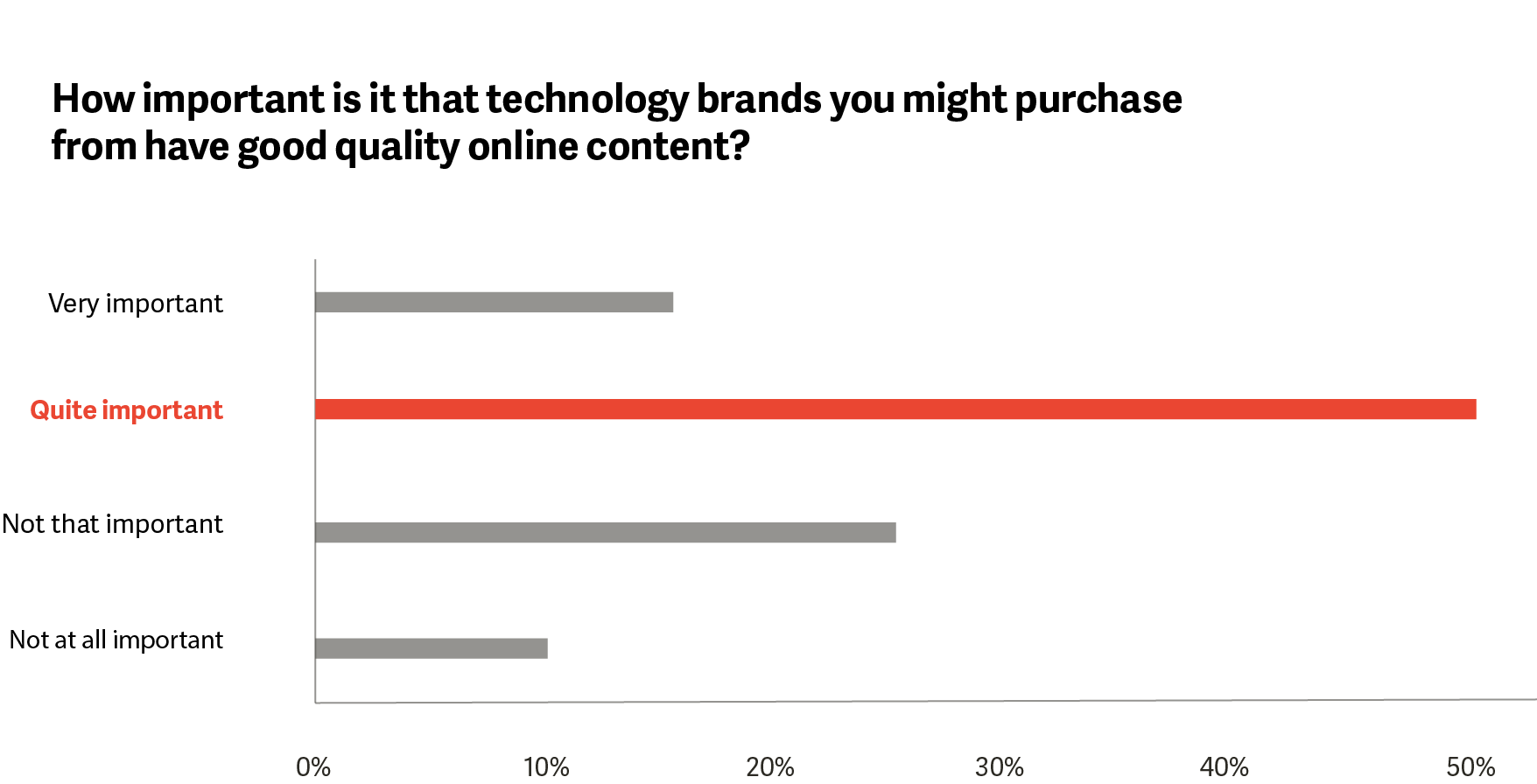 Case Study
Google + Apple, Using Video To Tell Human Stories
Google and Apple are present in our lives more than ever and are increasingly making the case for their role and relevance through the art of the video, and putting people at the centre of it. They have created experiences that pull audiences into the story and piques their interest in the product on more than one level. In the case of tech brands, showcasing where new technology fits into everyday life is essential in public acceptance of the product and in the creation of a new market — Apple and Google have both succeeded in this.
Meet Steve and Saroo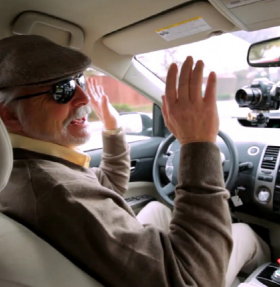 Pictured: Steve Mahan
Source: blog.seattletimes.nwsource.com
Google introduced the self-driving car in 2012 by following an elderly man, Steve Mahan, through an afternoon drive as we watch him casually chat with the other passengers while the car takes him to various locations. Slowly it is revealed that Steve is blind and the impact of the technology on his life hits home for the audience. The way the car stops, parks and even goes through a drive-through makes the futuristic vessel seem incredibly normal. Say "self-driving car" to most people and they will likely think of something more like KITT, the car made famous in Knight Rider, but show them the natural integration of the product in a familiar setting and people immediately feel more comfortable.
Google Maps changes a man's life in another video by reuniting a family who has been parted for 26 years. Saroo Brierley fell asleep on a train in India at age 4, lost his parents and was adopted out to a family in Australia. Google's video, posted in October 2013, highlights Saroo's use of photographic memories and Google Maps to track down the village he came from and ultimately find his birth mother and two siblings. Depicting the emotional journey, Google uses a narrative build-up to reveal how its technology drastically changes lives for the better.
Apple, on the other hand, does not want to tell us we need the Apple Watch, they want us to know ourselves, taking the "don't tell me, show me" approach in their video content. The videos, released in April 2015, are peppered with words like "us" and "rise" that are then interpreted many ways as we follow multiple nonverbal stories, immersing us in a world where the Apple Watch accommodates every occasion and where feeling, doing and seeing are enhanced by the convenience of the device.
Apple also takes us behind the scenes with videos focusing on the production of the watch. With chic videos of the gold or stainless steel used in the creation of the watches, it feels like an art form in itself. The lack of any shots of the screen takes us from seeing it as a smartwatch, to a luxury watch crafted down to the smallest detail. Watching these videos makes it clear that Apple Watch is not just competing with other smartwatches and devices, but with the entire watch market in terms of style and elegance.
Recipe for Success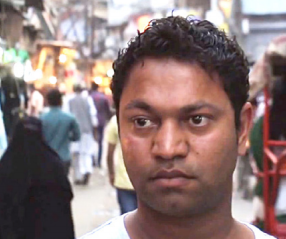 Pictured: Saroo Brierley
Source: fastcocreate.com
Google and Apple's story-led video content has garnered them a following of 3,534,327 and 2,694,426 YouTube subscribers respectively. Google's success is part of a broader engagement strategy that has also resulted in its 12.5 million Twitter followers and 18,986,768 Facebook likes. Apple, on the other hand, does not have official accounts on Twitter or Facebook, so their presence on YouTube is unique and demonstrates how important they deem video content marketing.
Video content is not only popular among users, but can generate media attention. Google's story of Saroo Brierley and Google Earth received extensive press coverage from the likes of Time magazine, Conde Nast, Huffington Post and The National. Several large news outlets, such as CNET, Wired, IT Web, and Fortune, have also covered the Apple Watch, often discussing how the marketing of the device will benefit the smartwatch market as a whole by making them visible and appealing to more people. The video strategies developed by these two large tech players illustrate how video content can effectively add dimension to marketing.
Building a Brand Through Content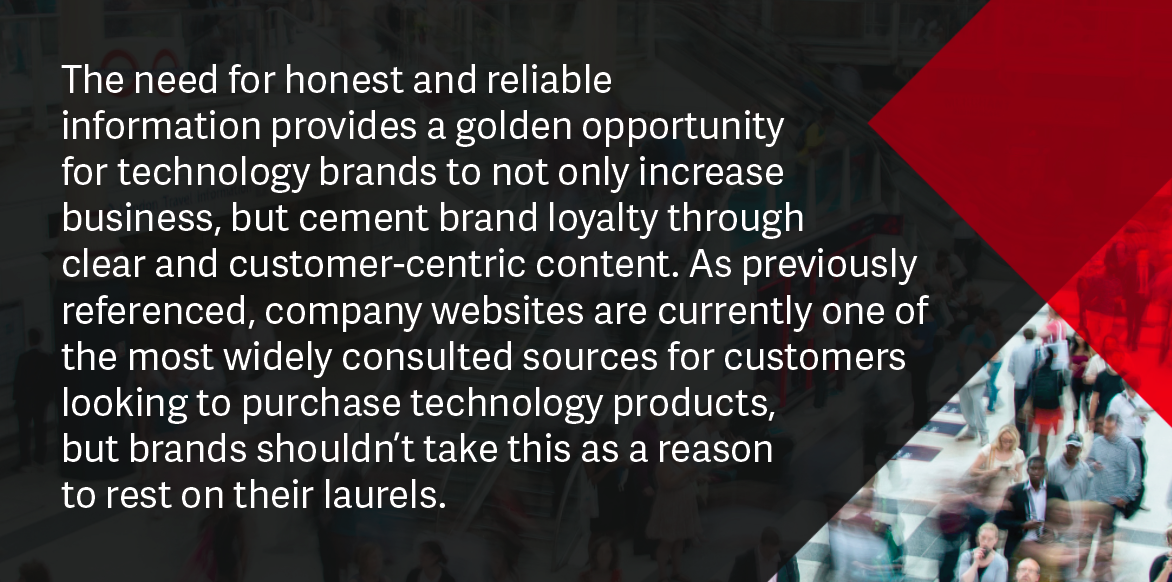 The simple presence of content is not enough: the types of information and the way you deliver it will have an impact on the success or failure of your content strategy.
UK consumers indicate that help and information about products is by far the most sought after type of technology content, according to 47%. 29% state that video tutorials are an important type of content for technology brands to include on their website, while 27% indicate they want more news about technology. These results show that customers want to be better informed through constructive, comprehensive information from technology brands — in a variety of easily digestible formats.
The inclusion of video also alludes to content that is also mobile friendly — no surprise given that mobile internet usage overtook desktop PC usage for the first time last year. And according to recent research from Zenith Optimedia, people now spend two hours a day consuming online media — much of it consumed on the go.
Another popular content type is deals and special offers, according to 42%, and rather than seeing this as purely promotional, this can factor into an intelligent content strategy. It is an opportunity for brands to commission content around specific offers they want to highlight, so sales and marketing aren't conducted in isolation. Less interesting to consumers are pictures of staff and offices, as well as jokes and funny updates.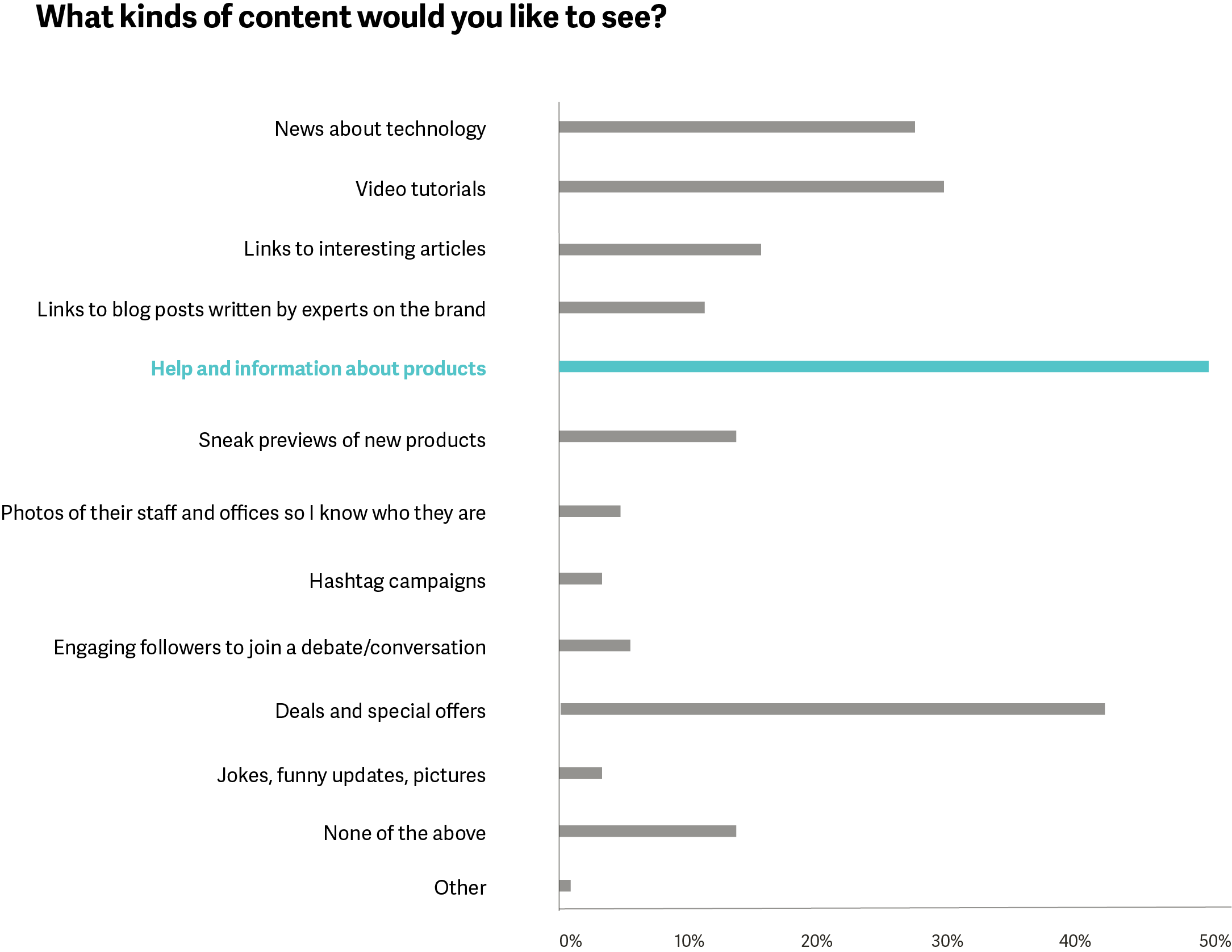 Tone of voice should not be underestimated, and while a brand's own corporate guidelines in such matters is important, there is a clear expectation from consumers that cannot be overlooked. We asked about the preferred tone of voice for the content of technology brands, and the top two responses are "serious and honest" and "knowledgeable and factual" at 30% and 28% respectively.
However, only 3% of respondents indicate that the tone should be "academic and intelligent." It's an important reminder that one of the core principles behind a sound content strategy is to provide a relatable human voice for brands — something audiences clearly appreciate when searching for information.
Also important to note though is that with too much humanising, the tone can quickly devolve into silly. Given that the internet often seems to be populated by more cat videos and memes than anything else, it's easy to fall in the trap of going this route. But only 2% of respondents said that jokes and funny updates or pictures were of any importance to them.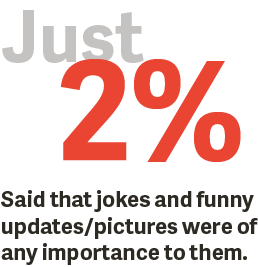 While it's true that entertainment is a good way for brands to bond with customers, it's important to add context to this and make the distinction between different industries and how they're viewed. As a technology brand, consumers want to turn to you for constructive information for big ticket and highly technical items. So while cats and fist-pumping babies have their place, it isn't on the website of a respected technology brand.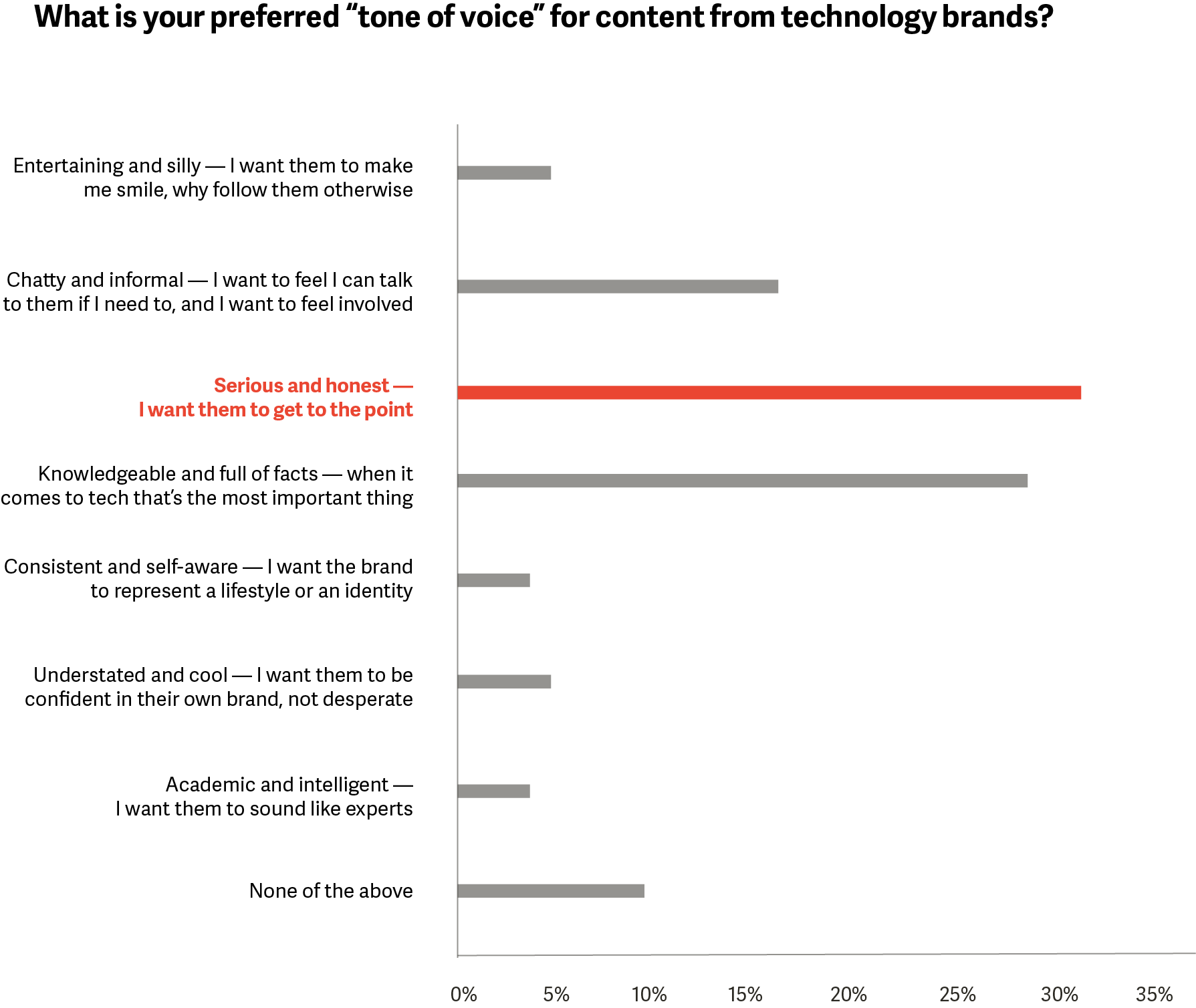 According to the results then, tech brands should be using their own content to educate their users, but what topics should they focus on? For insight, a good place to start would be consulting your customers themselves. We asked them the top five topics they feel tech brands should be educating their audience on: perhaps surprisingly, the top answer is "privacy/ security and data protection," according to 40% of consumers. With the exponential rise of data-tracking devices and personal information being leveraged from devices for marketing purposes, tech brands have a role to play at helping consumers negotiate what's acceptable and what's not, and help steer them through the pros and cons of parting with their personal data.
Another priority for respondents is "tips for using technology," which 37% feel is important. This may go beyond simply explaining what functions and apps are at their disposal but helping them develop an understanding of how technology can enhance lives on a day-to-day level.
Echoing this sentiment, another high-demand topic from brands is more information on "future/current products," (33%). Being the first or most transparent when it comes to shining a light on technology that has yet to become mainstream, such as Oculus Rift or driverless cars as we mentioned in the intro, can go a long way towards making you stand out from your competitors.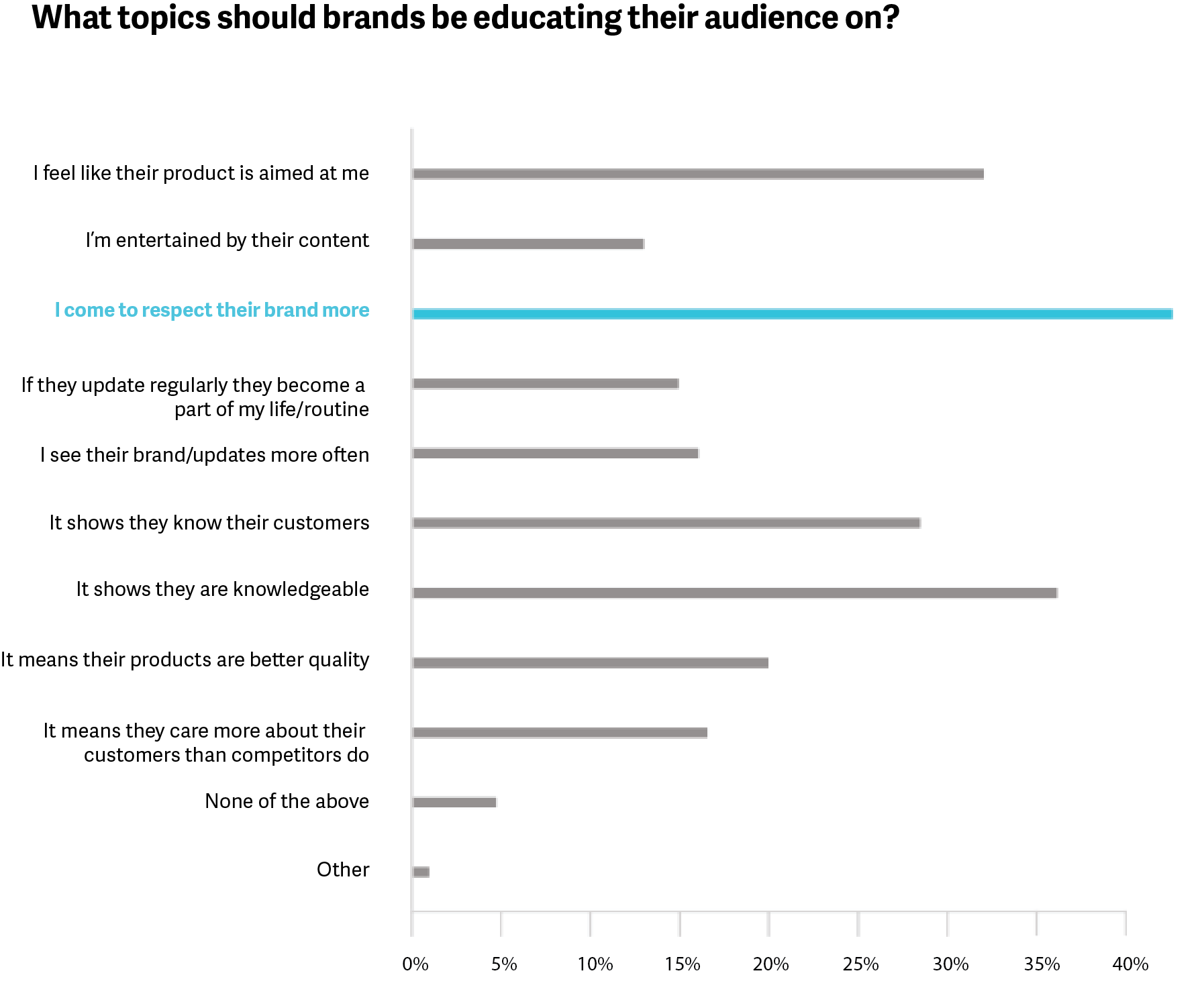 Case Study
Android + Microsoft: Big Brand Bloggers
Brands are reaching us in more ways than ever, with the blog being the common vehicle of choice. But many corporate blogs run the risk of falling flat, being too company and product focussed without putting themselves in the shoes of the reader and what they want to hear. Not Android and Microsoft though. These big brand blogs are successful at aligning company messages with the principles of blogging: post for the reader, not the brand.
Being reader-centric
The Android Official Blog is hosted on Blogspot, the blogging platform owned by Google. While it's common practice for Google to host their blogs on this popular platform, it also serves a purpose — Blogspot is still one of the most popular blogging platforms on the internet, and is used by hundreds of thousands of people worldwide. Appearing on a platform that is so closely associated with blogging and citizen journalism, it makes the brand seem down to earth and approachable. It emphasises the user-friendly nature of blogging and reinforces the feeling of community. Content is produced by various employees of Android and periodically Google, offering insights on new products and features available to users.
The Microsoft blog hosts company updates regularly, but also produces many comment pieces on the industry and technology. Content ranges from product launch announcements to reflections on tech culture and beyond. Microsoft also stands out by including guest contributors from the field alongside the company's own professionals. This adds an element of authority to the blog that connects with readers on a level that is often a challenge for large corporations.
Lessons in blogging success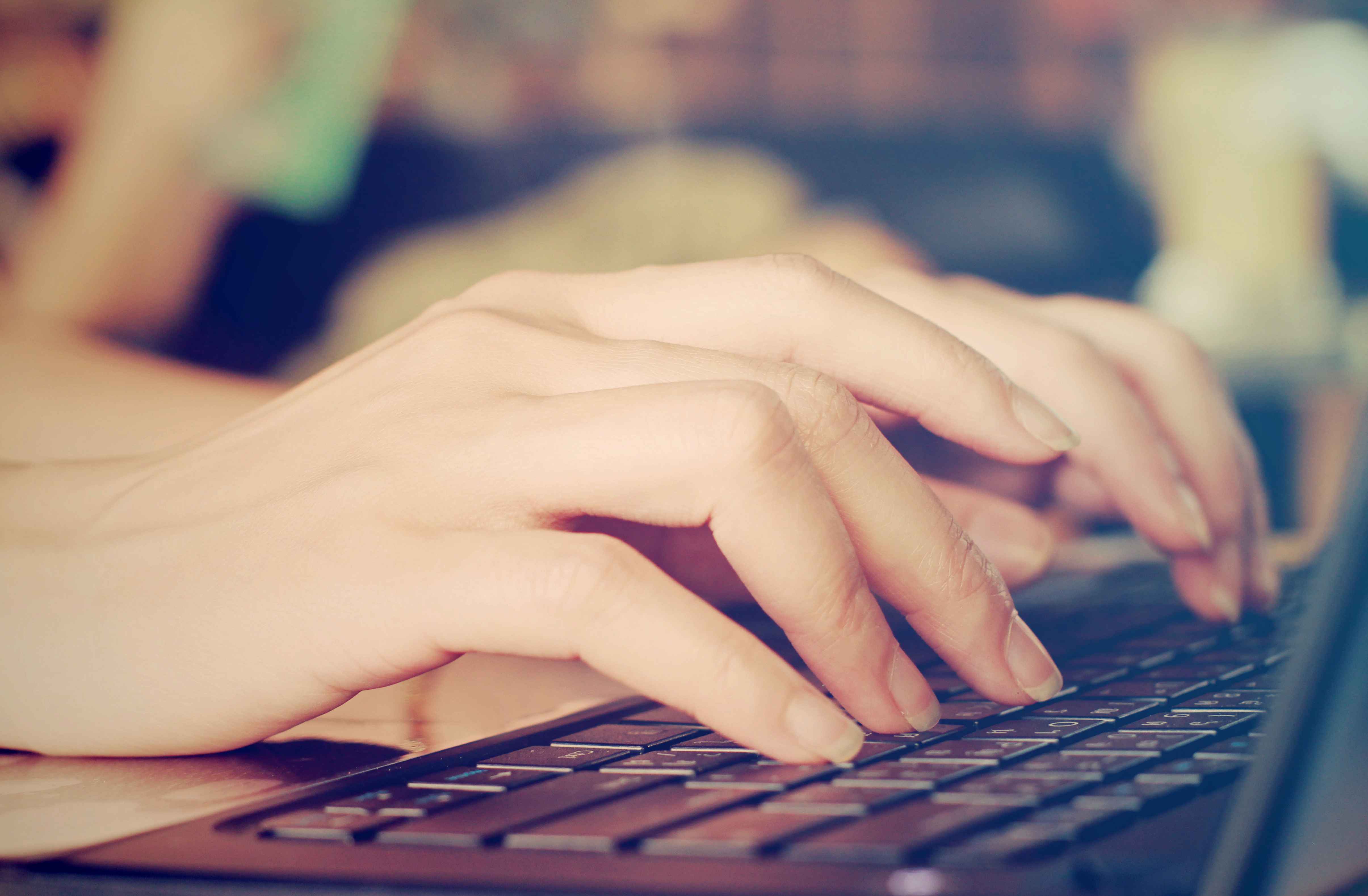 By blogging, Android and Microsoft let us into their worlds, but they aren't so engrossed in their own corporate messaging that they forget to take the reader on a journey. The Microsoft blog has gained recognition as a top tech blog from Pace Co, meanwhile, the Android Official Blog regularly achieves thousands of shares on social media. Android proves to be engaging across the web, as is apparent with its 10,896,218 Google Plus followers, 1,728,248 Facebook likes and 8.19 million Twitter followers. Meanwhile, Microsoft has 139,657 Google Plus followers, 6,888,912 Facebook likes and 7.11 million Twitter followers. The Microsoft blog has even been referenced on tech media outlet The Register — releasing news first on the company's blog and linking up social media channels are key ways brands can gain traction for their content. Evolving with the continuously changing dialogue of the audience is a winning way for these companies to stay relevant and reach users effectively.
Driving Loyalty to Tech Brands With Content

The phrase "content is king" is so often used it's become cliché, however it still holds true — the importance content can have on a brand's sales and loyalty cannot be overstated.
Over the past ten years, we've seen big brands adopting content strategies as a way to communicate directly with their customers, imparting core values, helpful information and putting a face on an otherwise faceless corporation. Brands like Intel, Samsung, Google, and IBM have all been hugely successful in their strategies, producing articles and videos to create engagement and build brand loyalty.
Our survey proves that a sound content strategy truly works for tech brands: 53% of respondents confirm they are more likely to stay loyal provided they enjoyed the brand's content.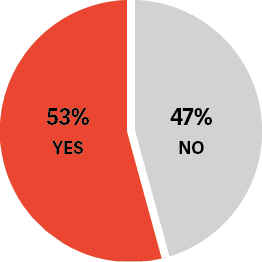 Content is moving beyond providing an interesting read for users — it is becoming inextricably linked to brand reputation.
When asked why content was so important to brand loyalty, 43% of UK consumers feel that good content garners more respect, followed by 36% who feel that good content demonstrates that a tech brand is knowledgeable. This indicates that content is moving beyond providing an interesting read for users — it is becoming inextricably linked to brand reputation. By positioning your brand as being concerned with the user experience and being approachable enough to share tips and information, you're likely to earn a great deal more respect from your audience, and in turn greater customer loyalty.
The third-most popular reason lends further weight to this — personalisation. 32% of respondents state that good content helps them feel like a product is aimed at them. By building up a strong content narrative, your brand transcends the boring corporate image of most big businesses, and becomes something else entirely, with its own personality and qualities that allows customers to relate on a much more personal level. The more you can cater to your audience, the more you can cement this reputation, and the more invested your customers will be in your products and your success.
But can content really change behaviour? It can certainly change how a person feels about themselves in relation to the brand — not just their perception of the brand itself. When we asked respondents what effect content had on them, for 31%, it helps them to feel more knowledgeable about the products of certain tech brands. Consumers who feel knowledgeable about a product feel comfortable about that product, and in turn are more likely to be empowered to purchase. Underlining the point previously made about loyalty, 28% of respondents say they feel more comfortable purchasing from brands that publish content prolifically.
This reinforces the belief that content elevates a brand, in the eyes of their customers. If a user identifies with the content a tech brand is producing, it has a personalising effect on that consumer, allowing a very real bond to develop between the tech provider and the end user.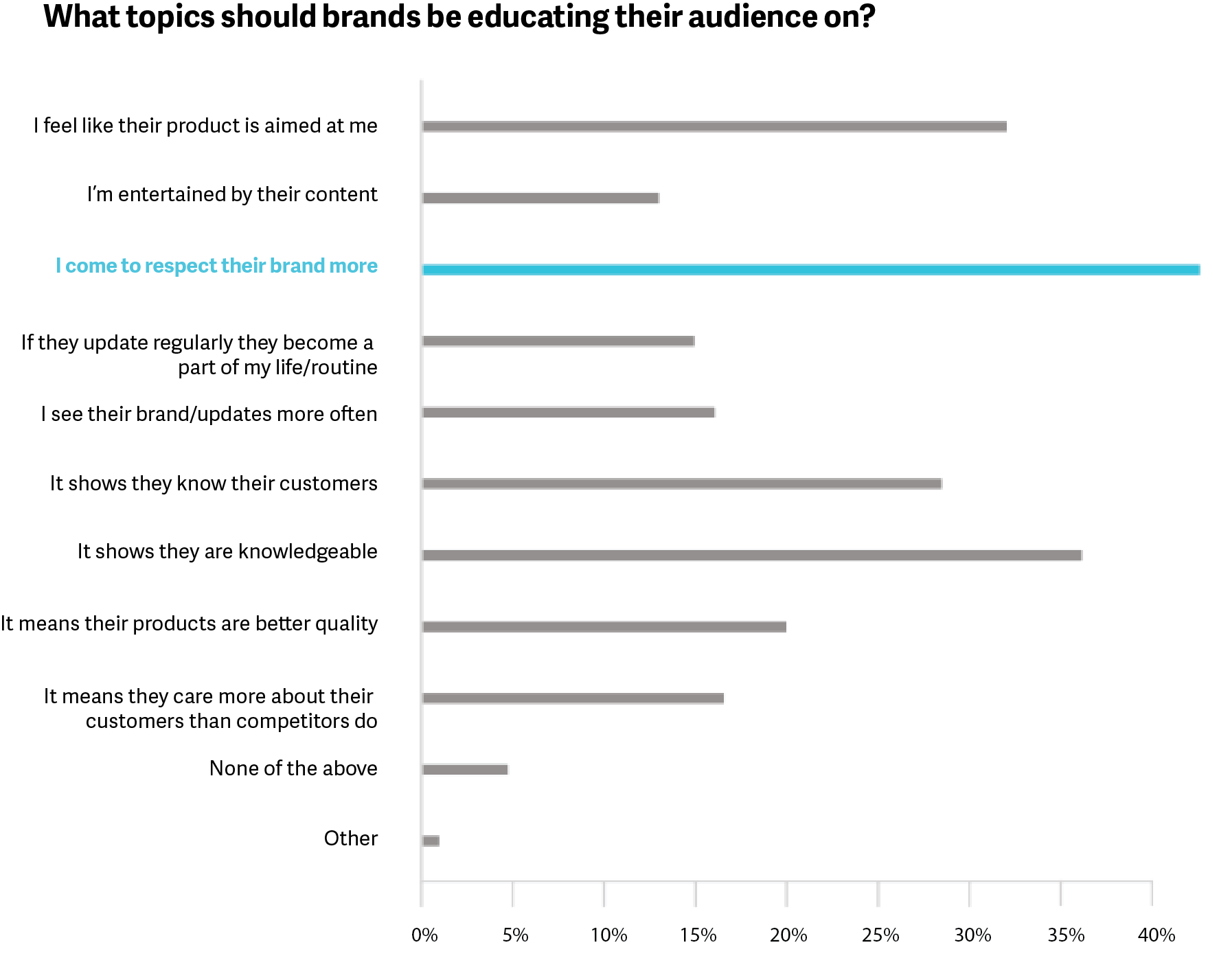 The Impact of Bad Content
The positive effects of a content strategy are clear; however, technology brands should be cautious because a poorly-implemented content strategy can have a negative impact on brand image and loyalty. We've all seen the (sometimes very public) implications of bad content, be it a rogue tweet or an ill-thought-out Facebook post, but to what extent can these mistakes impact a technology brand?
When it comes to bad content, customers can be very unforgiving, as revealed in our results. We asked respondents what they would think of a technology brand that didn't have very impressive content, or posted too infrequently. 27% state that bad content, or a lack of it, causes them to think that brands aren't up-to-date with consumer habits. Furthermore, bad content can lead to any hard-won goodwill being lost in an instant — as another 18% would feel that these brands do not even care about reaching their customers.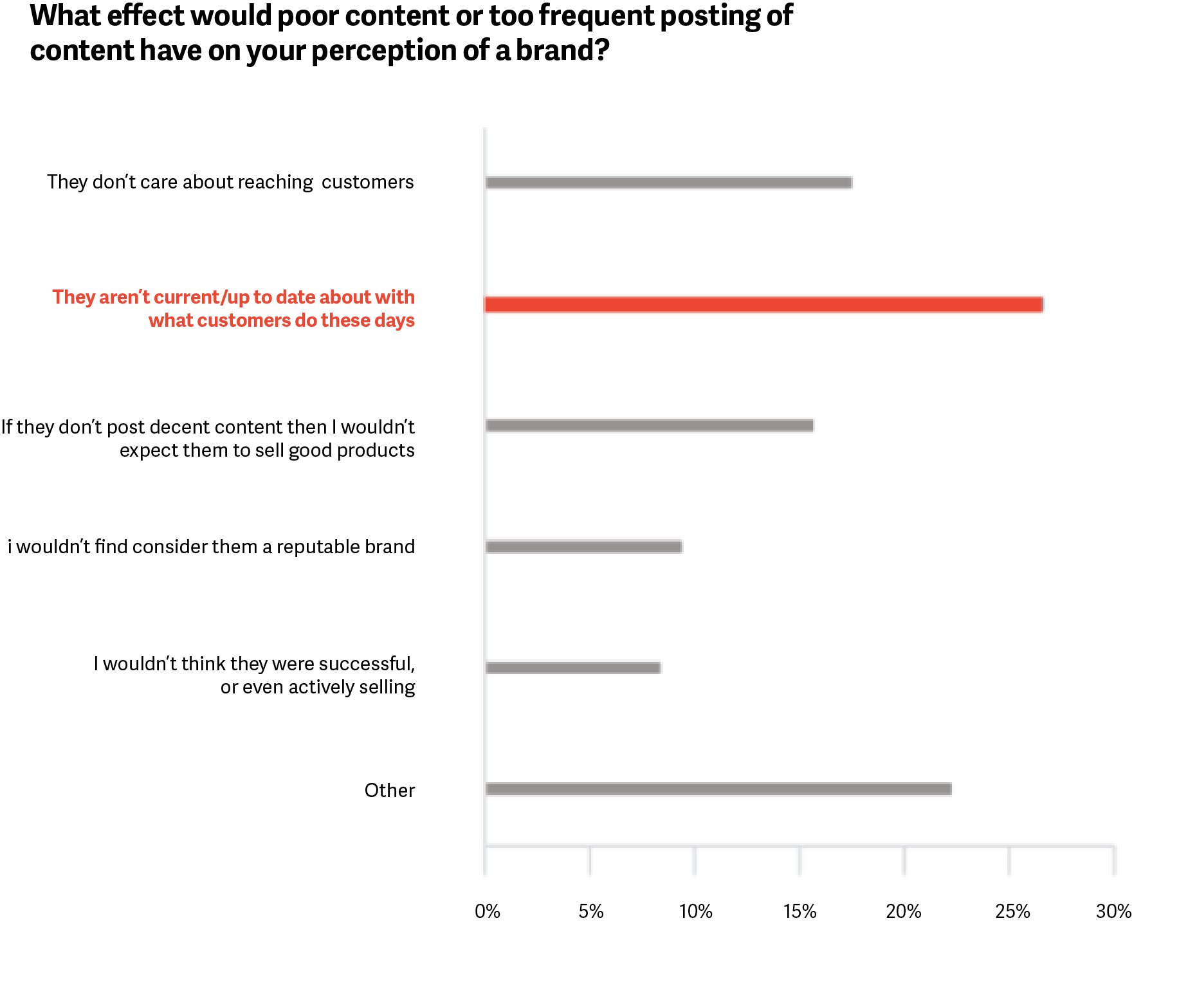 Perhaps most telling, 16% of respondents correlate content quality with product quality — saying that they would expect the tech brand to sell "not very good products." The message is clear: the traditional buyer/seller relationship is now gone, and customers expect tech brands to communicate with them regularly as part of the relationship.
When asked what could turn a customer off of a certain tech brand in terms of content, respondents indicated yet again that content must be seen to be genuine. The top "turn off" for 48% of Brits is spam posting of offers and deals, followed by content copied from other websites or social media channels, and inconsistency of message — both considered key concerns for 28% of respondents. These results show that quality content needs to be properly considered, nuanced, original and strategically planned to avoid losing customers and brand loyalty.
Once tech brands begin a content marketing strategy, posting frequently and with consistent quality is equally important. Regarding what they would think of a technology brand that they've bought from previously whose quality or consistency in content had slipped, 37% of survey respondents say that this would not have any effect on them at all. But around a third say they would consider purchasing from another tech brand in the future instead, while 25% claimed that a lack of content or bad quality content would cause them to become suspicious or wary of using the brand in the future.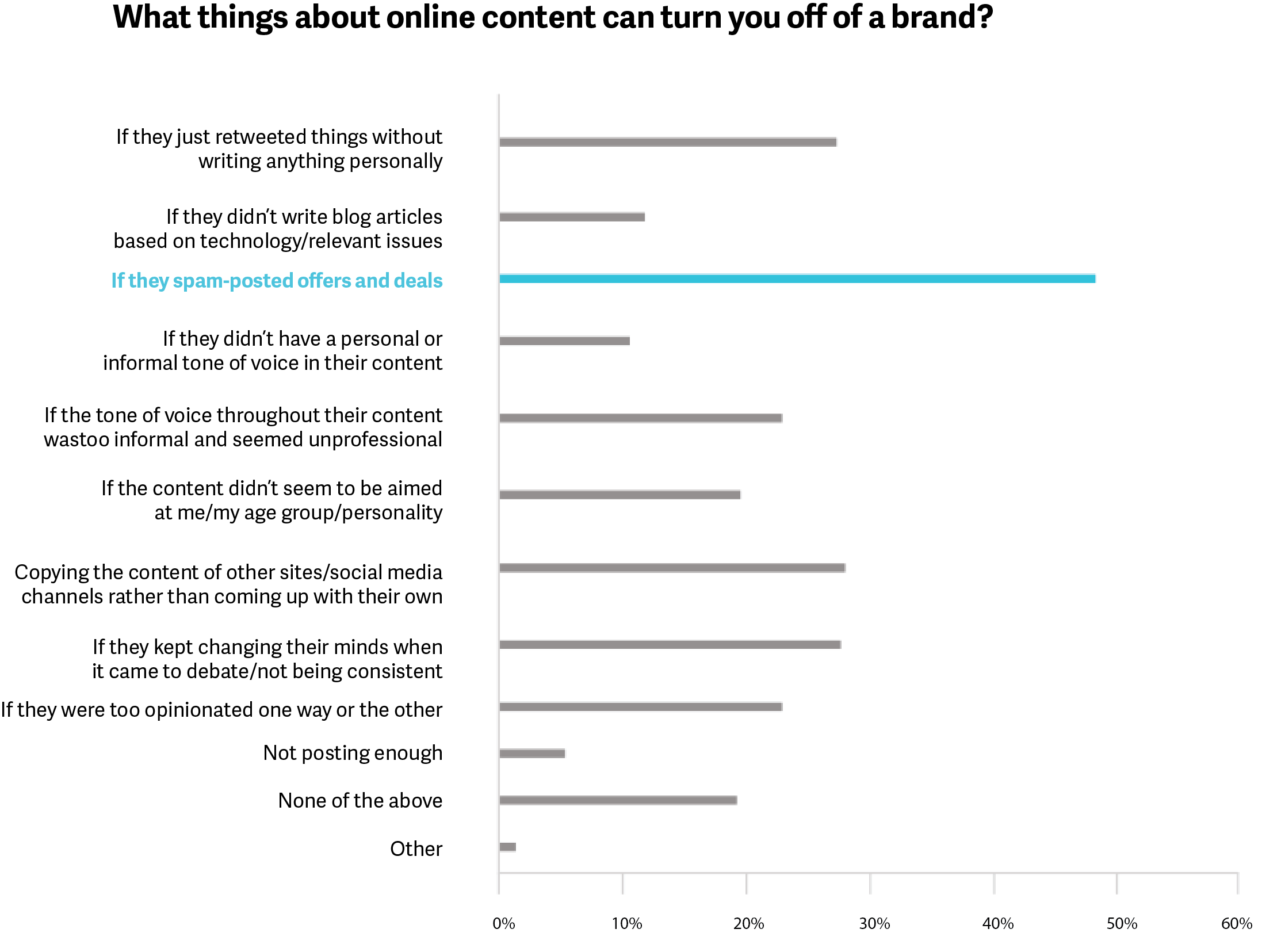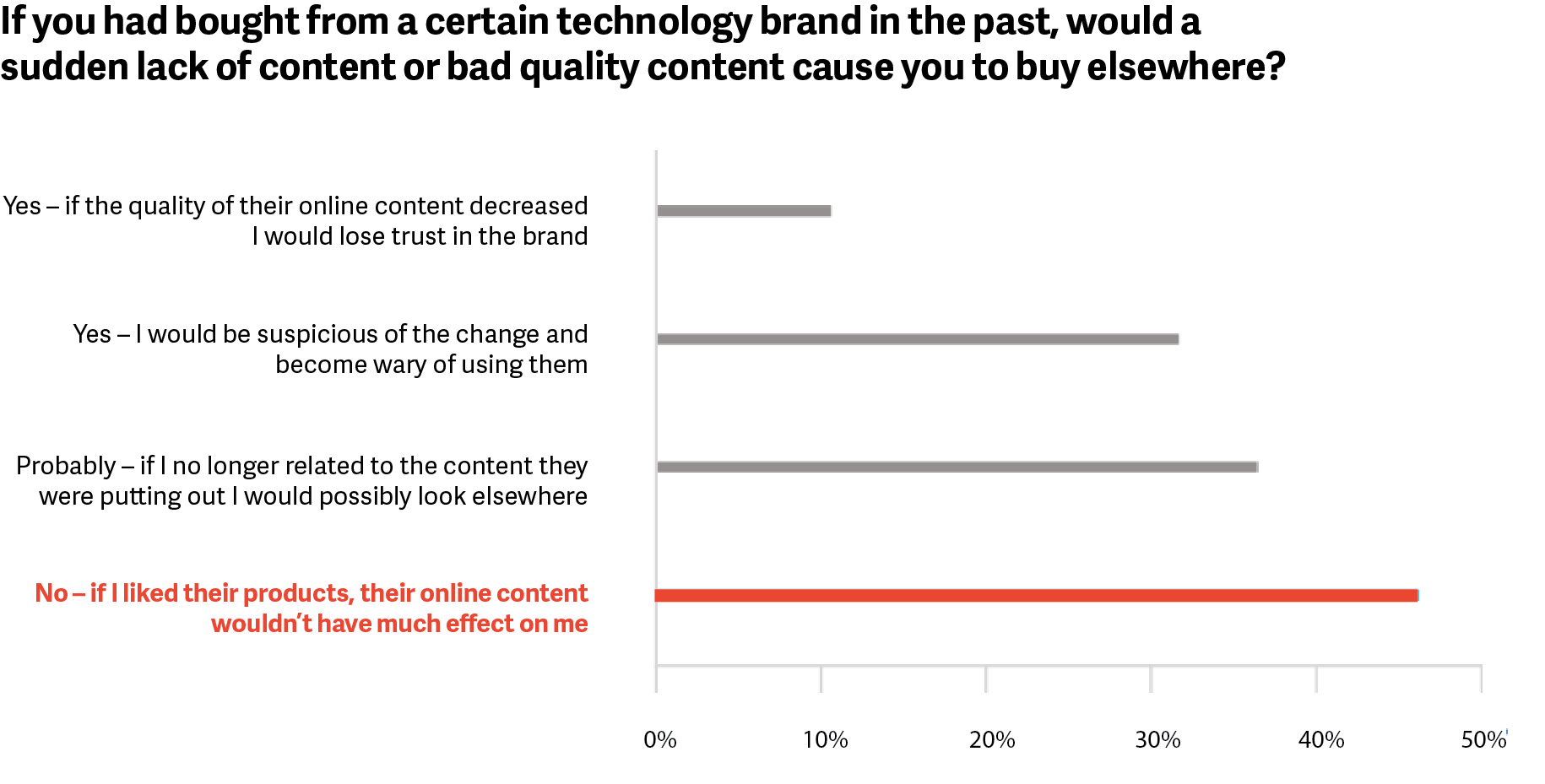 Where to next?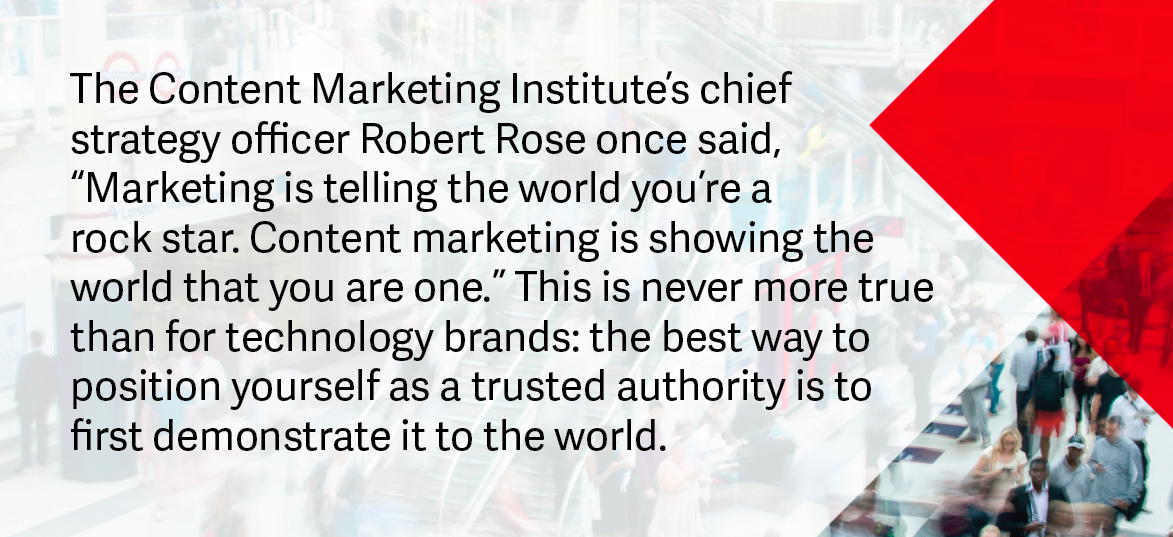 Besides a few obvious market leaders, content is a gap that can be filled much more effectively in the technology space than it is today. We know that while user review websites are still the most consulted resource, a spate of bad practices (including paid-for reviews) has eroded public trust in them. The fact that less than one in ten of our respondents trust these websites indicates that while they're still regularly visited, it is perhaps because no one has yet showed consumers a better way — and tech brands have an opportunity to do this.
Technology companies can fill this void not only by providing their own information, but also acting as forums for users to share and engage with one another, while properly policing such a portal for any potentially misleading entries.
What's more, many tech companies are already starting from a place of trust, and audiences seem primed and ready to receive branded content from them. We know that a majority of UK consumers feel it's very important for technology brands to provide high-quality content — 66% of our respondents told us as much.
We also know that 28% of consumers feel more comfortable making a purchase with your brand if you provide online content — it's a window into your company and its values. Finally, well over a third (36%) believe that the content you provide positions you as more knowledgeable in the technology sector — a key distinction for such a competitive and fast-moving industry.
The need is present, and audiences are waiting — all that's left is for you to show them what you can do.