Throughout 2018, we've championed the importance of integrated marketing and focused on expanding the capabilities of our Content Marketing Platform (CMP) to help elevate the performance of marketing teams.
That's why we're excited to close out the year with the launch of the Integrated Marketing Edition of our CMP, a platform designed to facilitate cross-functional planning and streamline the execution of all campaigns, tasks, and content. Here's a sneak peek:
Campaigns: Plan and Execute Integrated, Multichannel Marketing Strategies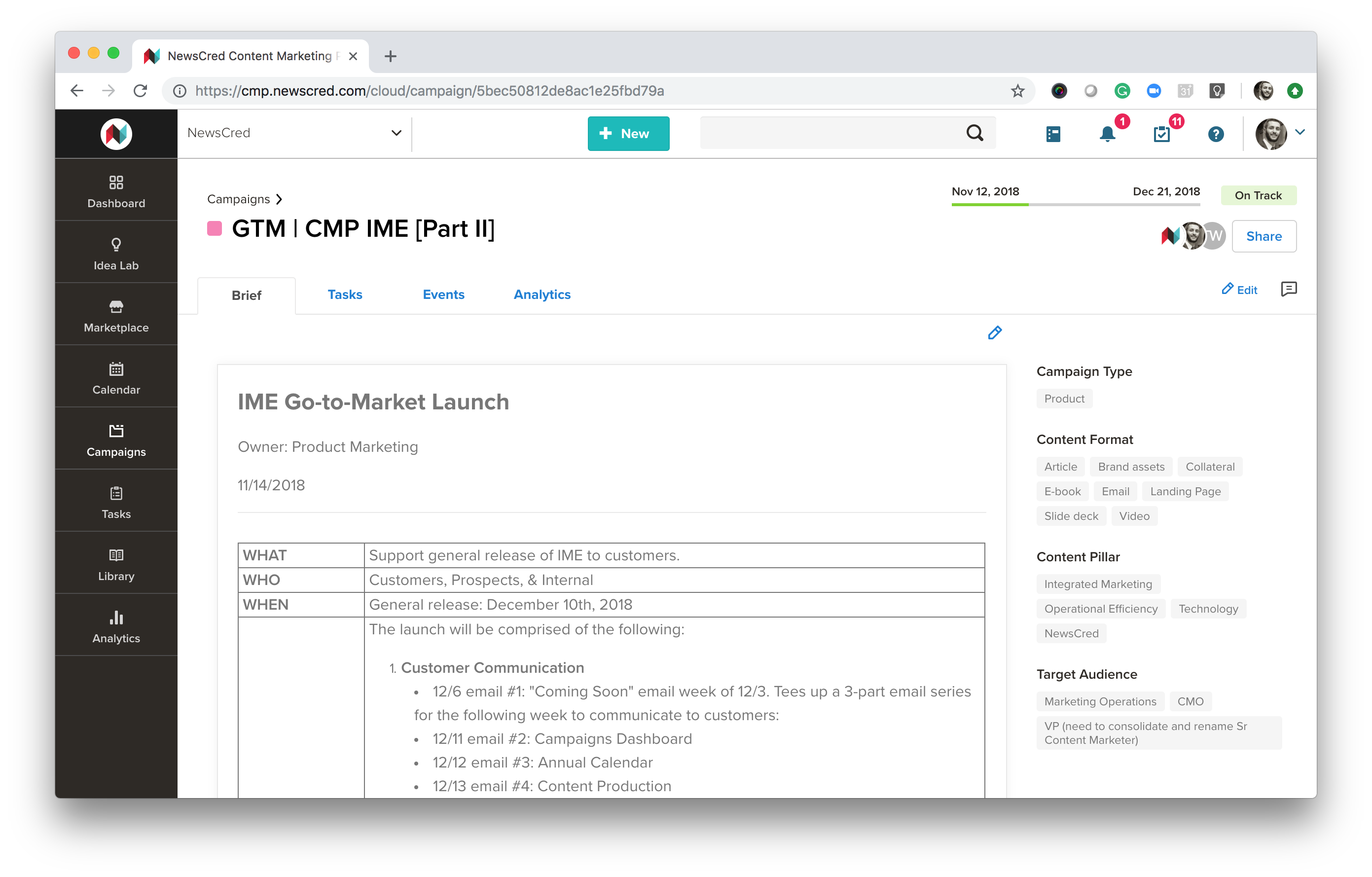 The Campaigns module provides full campaign management, empowering entire teams to plan and execute integrated marketing initiatives within a single workspace, maximizing visibility by providing a clear line of sight into the progress of each supporting workstream. Using Campaigns, you can:
Collaboratively develop your strategy brief, aligning all team members on the objective, target audience, key messaging, content plan, and marketing mix.
Share campaigns to individuals or teams within an organization or across multiple organizations, and assign different levels of permissions to Edit, Comment, or View-Only.
Oversee the status of all supporting campaign tasks — across key pieces of content, events or milestones — to ensure every team member understands their responsibilities and campaigns are executed on time.
Monitor overall campaign progress using the campaign health status bar, as well as granular operational, production, and content performance metrics.
Annual Calendar: Visualize Planned & In-Progress Campaigns, Globally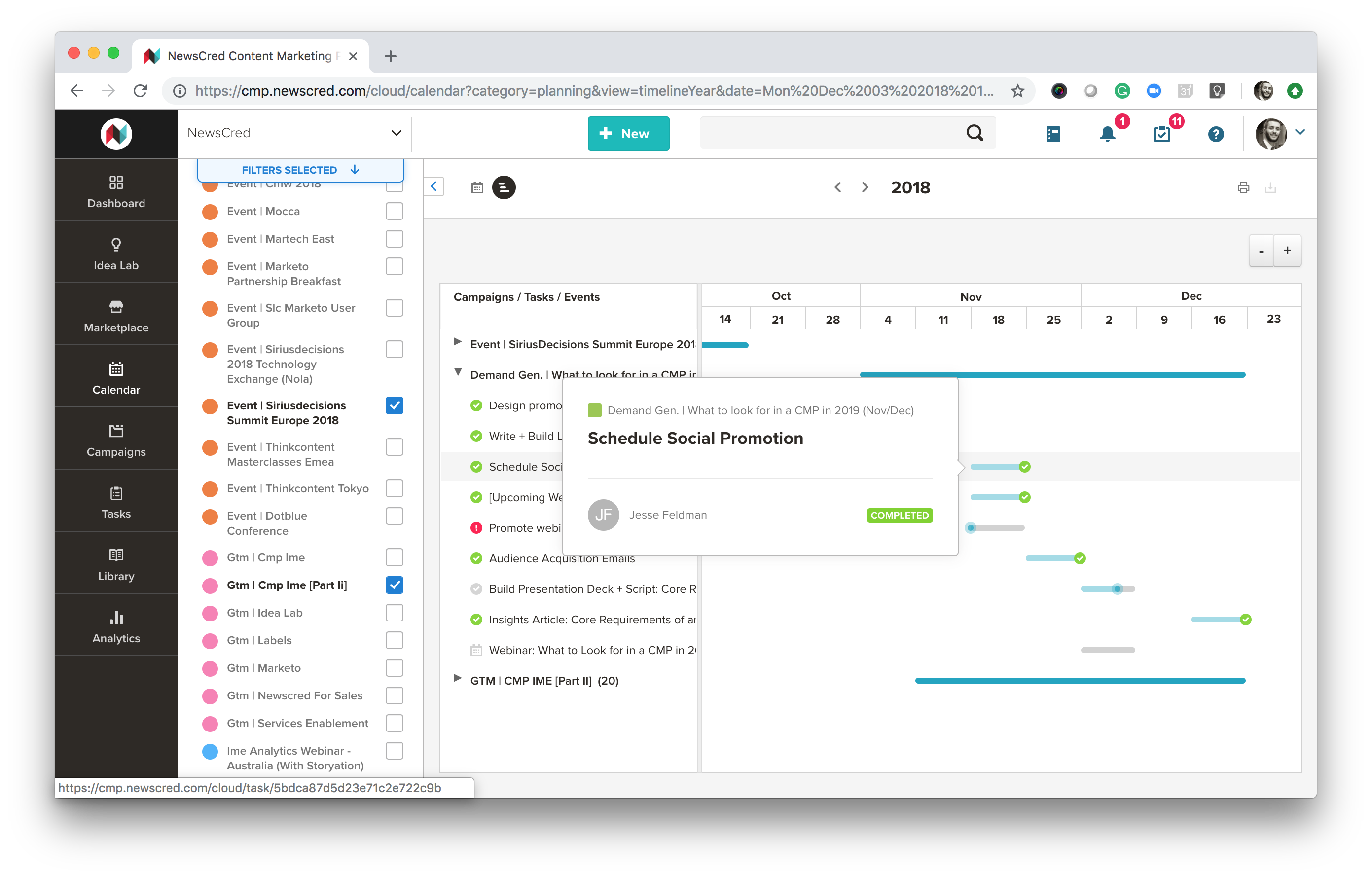 Located next to the monthly editorial calendar, the Annual Calendar serves to help your team visualize long-term activity with a new timeline-style view. The Annual Calendar allows you to:
Visualize the full scope of work — across all planned and active campaigns — with updates in real-time.
Expand each campaign to see all of the supporting tasks that ladder up, and hover over individual line items for additional details such as status, current step, and step owner.
Select specific campaigns and appropriate labels (within the filter modal) to surface relevant activity across regions, lines of business, or teams.
All-Content Workflows: Govern Production of Multi-Format Content & Streamline Execution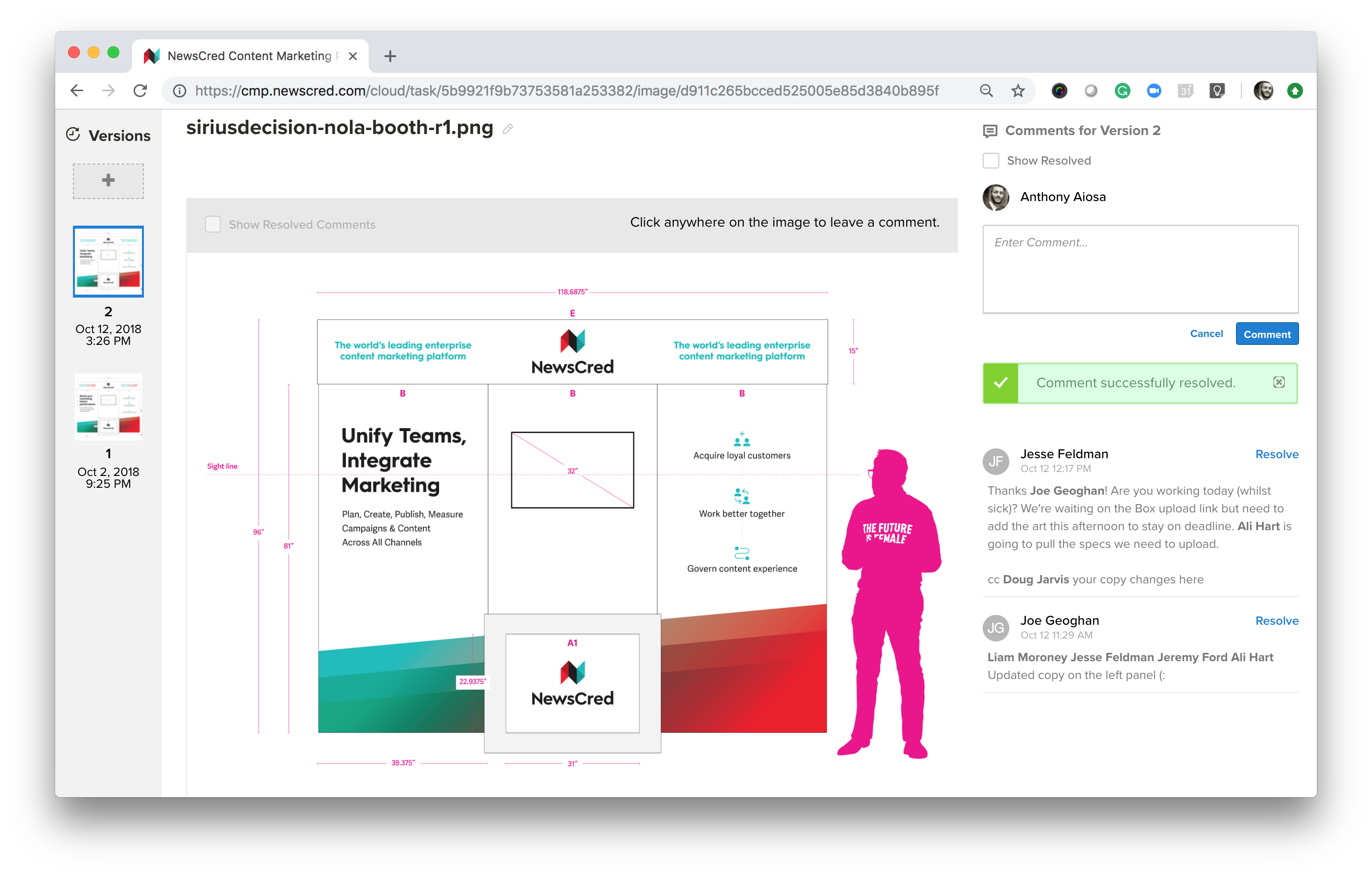 Producing the variety of content assets that campaigns depend on requires flexible workflows and powerful editors capable of handling all types of marketing content. Within each task, you are able to to:
Upload any file type (such as images, videos, presentations, PDFs) that support task completion, and use image annotations to provide feedback with precision.
Compile all relevant files within a task using content bundles, improving organization in the Library by automatically grouping related assets for cross-team consumption.
Preview, comment, and track versioning of non-article content — without downloading locally — to accelerate feedback cycles and approvals for assets that require multiple iterations.
Tasks: Monitor the Status of All Campaign Deliverables & Accelerate Time-to-Market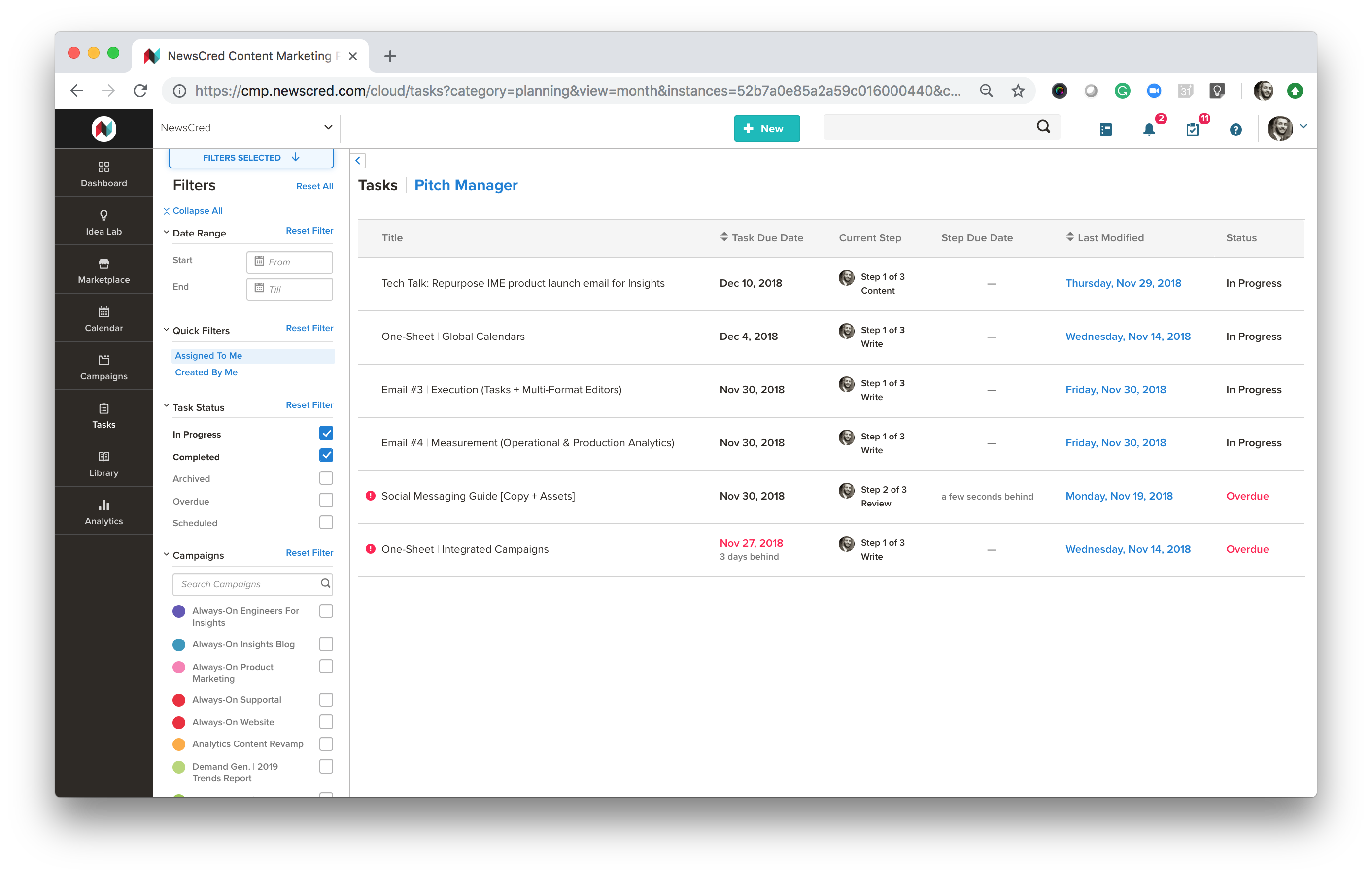 Tasks provides complete visibility across all content activity — as well as supporting, non-content tasks — within the CMP. Using this module, you are able to:
View all of your tasks in one location — complete with due dates, current step, and status — on a single, sortable table.
Leverage quick filters ('Assigned By Me' and 'Created By Me') to locate specific tasks that you have either created and/or are actively working on.
Surface relevant activity from across your entire organization using new task status filters or existing labels.
Operational & Production Analytics: Measure Team Efficiency & Effectiveness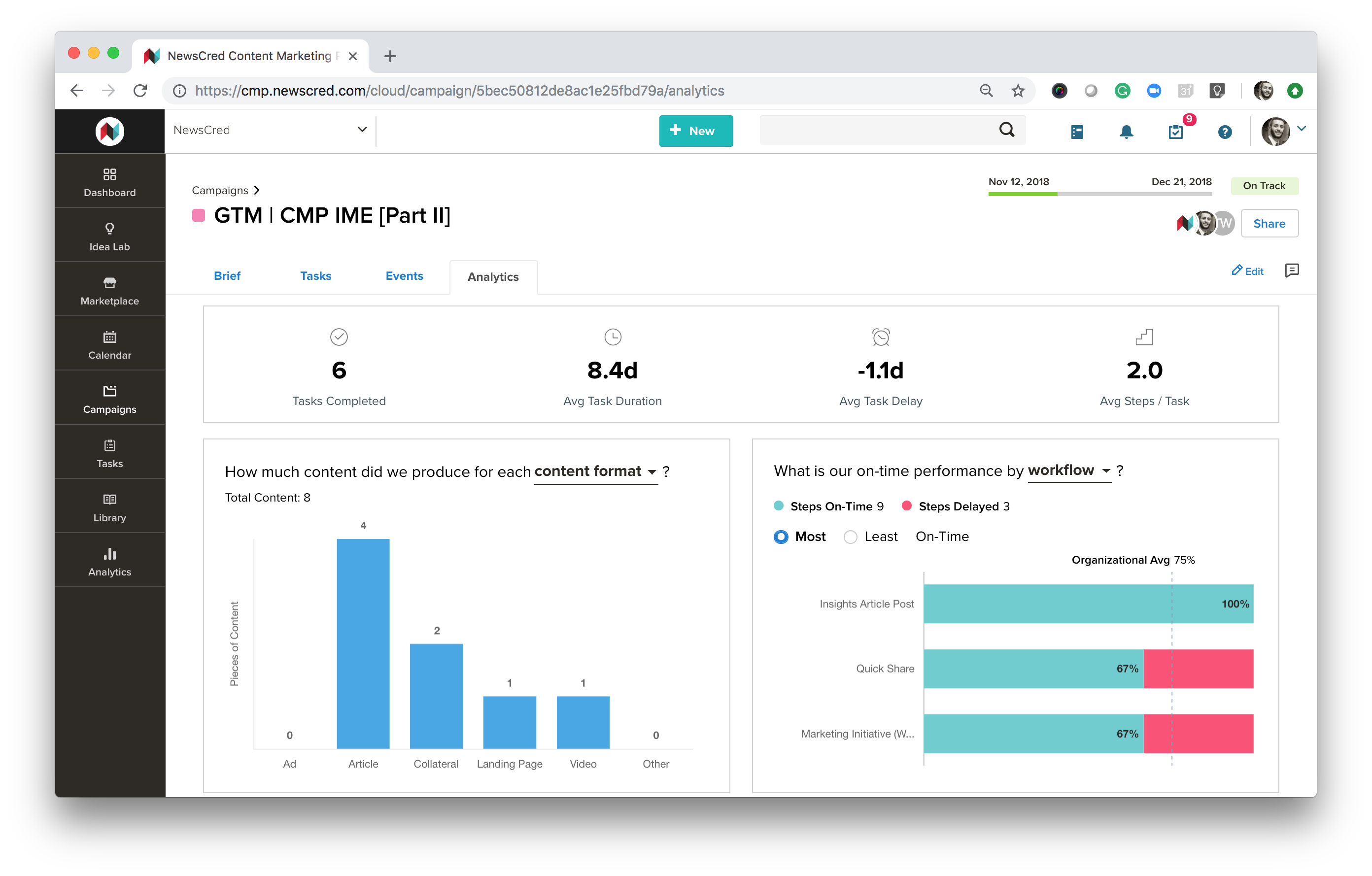 Within the Analytics section of each campaign, the CMP now provides granular operational and content production reporting that enable you to answer questions such as: "are we producing the right mix of content" and " where are we experiencing the most delay in our process"? Under the 'Operations' tab you can see:
Summary Metrics: View a high-level summary of your team's efficiency, including the number of tasks completed, the average duration of each task, average task delay, and more.
Operational Analytics: Identify opportunities to improve marketing organization execution and hold teams accountable to on-time completion of tasks.
Production Analytics: Track how much content is being produced vs. planned by themes, audiences, geographies, and other attributes.
Performance Analytics: Analyze Campaigns Holistically & Optimize Future Plans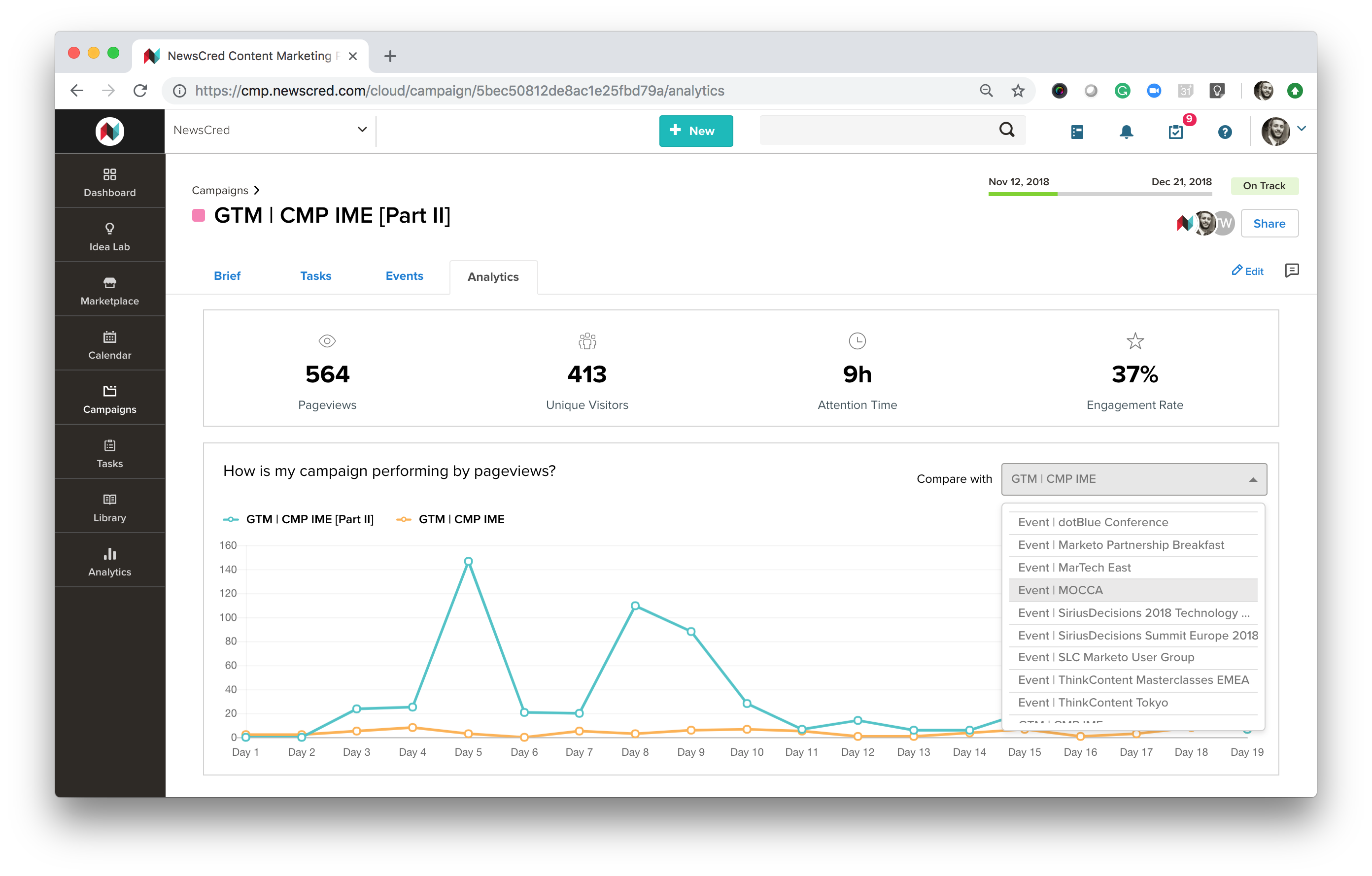 In addition to Operational and Production Analytics, each campaign offers Performance Analytics to provide an understanding of what content is resonating across different regions, target audiences, and themes in the context of a campaign. Under the 'Performance' tab, you can see:
Summary Metrics: View a high-level summary of content performance within a campaign, including total page views, total unique visitors, total attention time, and more.
Timeline Comparison: Aggregate the results of your campaign by total page views, and measure overall performance versus your other campaigns.
Content Carousel: Identify the highest performing content within the campaign, in order to optimize current execution as well as inform future campaign development and content creation.
Interested in learning more?
If you'd like to see the NewsCred platform in action, please let us know.
Anthony Aiosa is a Senior Product Marketer at NewsCred.
Originally published on Dec 18, 2018 8:09 PM