Another 3 months have come and gone, and as usual here at NewsCred, our Product & Engineering teams have been hard at work delivering exciting updates to our category-leading Content Marketing Platform (CMP).
This quarter, the team doubled down on our mission to ship innovative functionality while optimizing the user experience across the platform.
In that pursuit, we're excited to spotlight significant enhancements to our Task page, as well as a number of powerful features enabling teams to architect, visualize, and govern their global marketing campaigns.
Scroll onward to read up on all our newest functionality, and as always, let us know if you have any feedback!
---
[Beta Spotlight] Introducing the New Task Page: A Modern Interface to Maximize Collaboration & Accelerate Work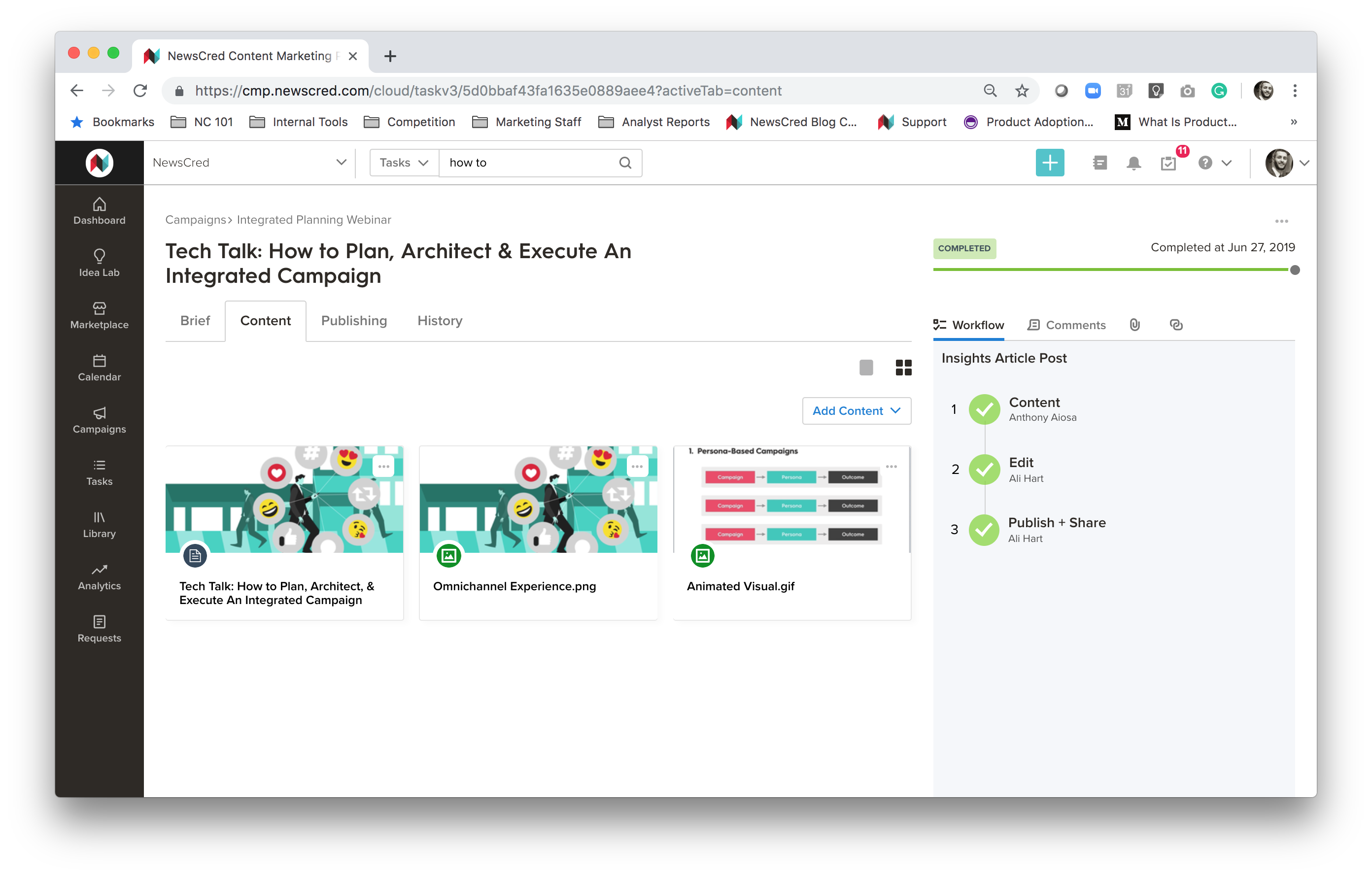 Within the CMP, the Task page is where planning meets execution. Staying true to our mission to transform how marketing teams work, we set out to reinvent the task experience, and help marketers collaborate on the work that supports their strategic objectives. Specifically, the new Task page features:
An updated architecture, improving the speed and performance of individual task pages as well as workflow responsiveness

An intuitive and redesigned UI, streamlining task creation and increasing collaboration when planning, creating, and publishing multi-format content assets

Flexible workflows, allowing you to maintain strict content processes or relax workflow rules for ad hoc adjustments (e.g. adding or removing steps, completing steps out of order, and more)

A dedicated tab for creative briefs, encouraging collaborative brainstorming and ensuring contributors have all the information needed to create exceptional content
If you're a customer interested in testing the beta, notify us here! We'd love to hear your feedback — good or bad — so we can optimize the user experience.
Sub-Campaigns: Flexible Architecture to Plan & Execute Integrated Strategies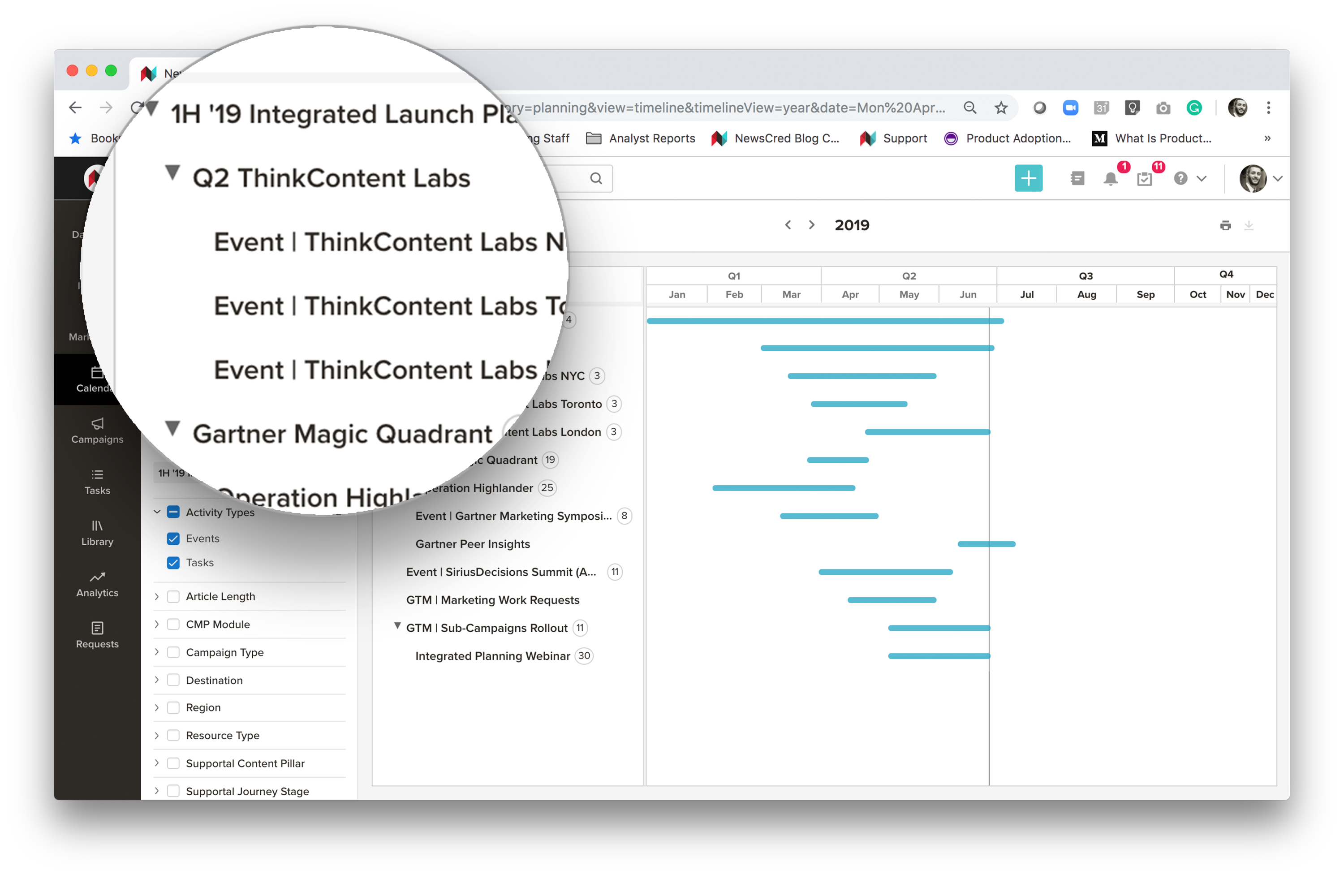 With the introduction of Sub-Campaigns, the CMP now enables teams to establish a campaign hierarchy, providing more flexibility to strategically architect and plan integrated initiatives. And, by providing a way to visualize the overall marketing strategy — both on the timeline calendar, as well as within each campaign workspace — teams have clear visibility into how each initiative ladders up to support wider organizational objectives.
Campaign Sharing: Complete Control to Establish & Maintain Campaign Governance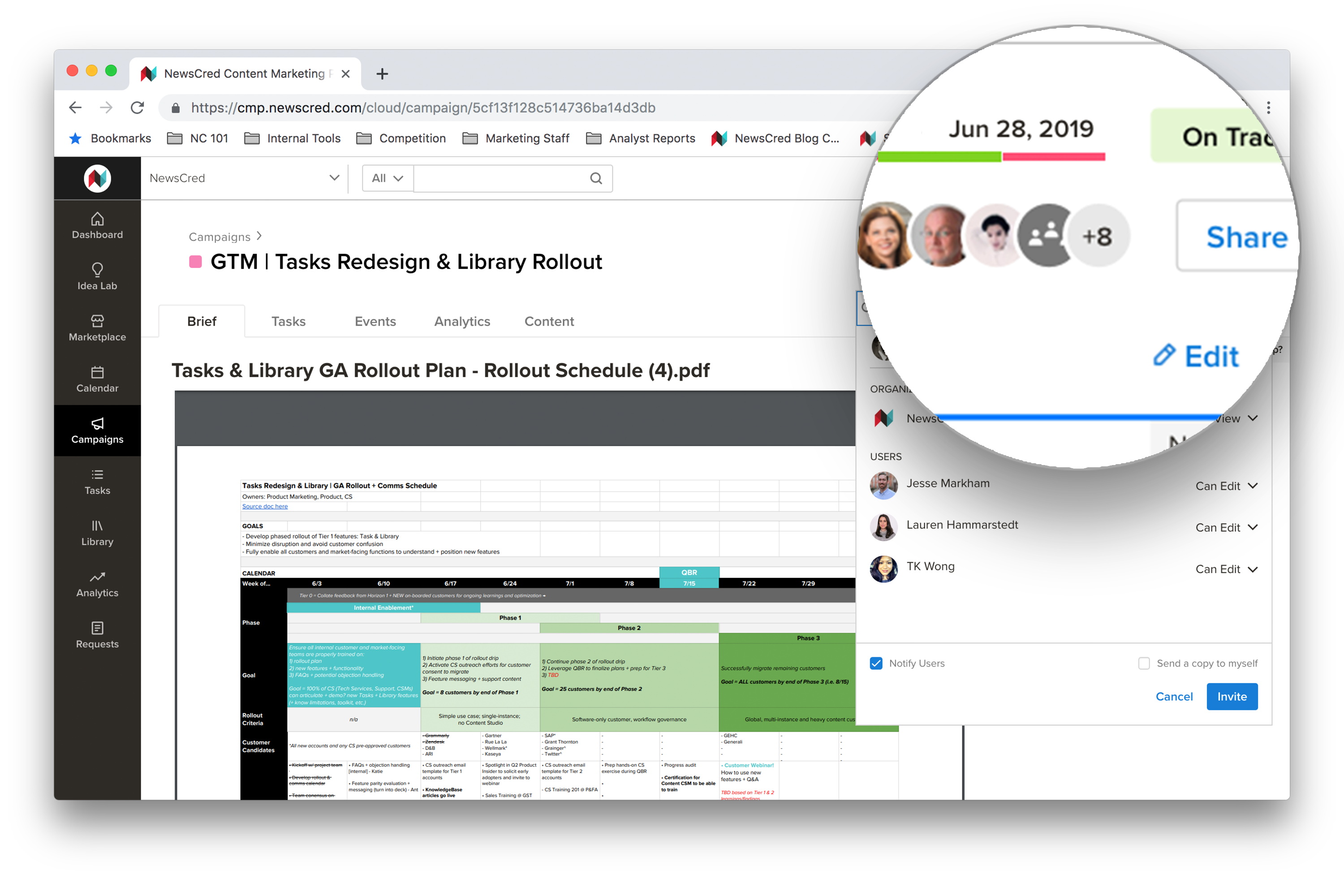 Within each campaign, the Share modal gives your team complete control to govern who contributes, and how. Share campaigns to specific individuals, teams, or organizational groups, and assign flexible permission levels that help local teams streamline execution while, ensuring global teams maintain consistency and brand compliance.
Global Search: Dynamic Search Enhancements to Surface Campaigns, Tasks, & Assets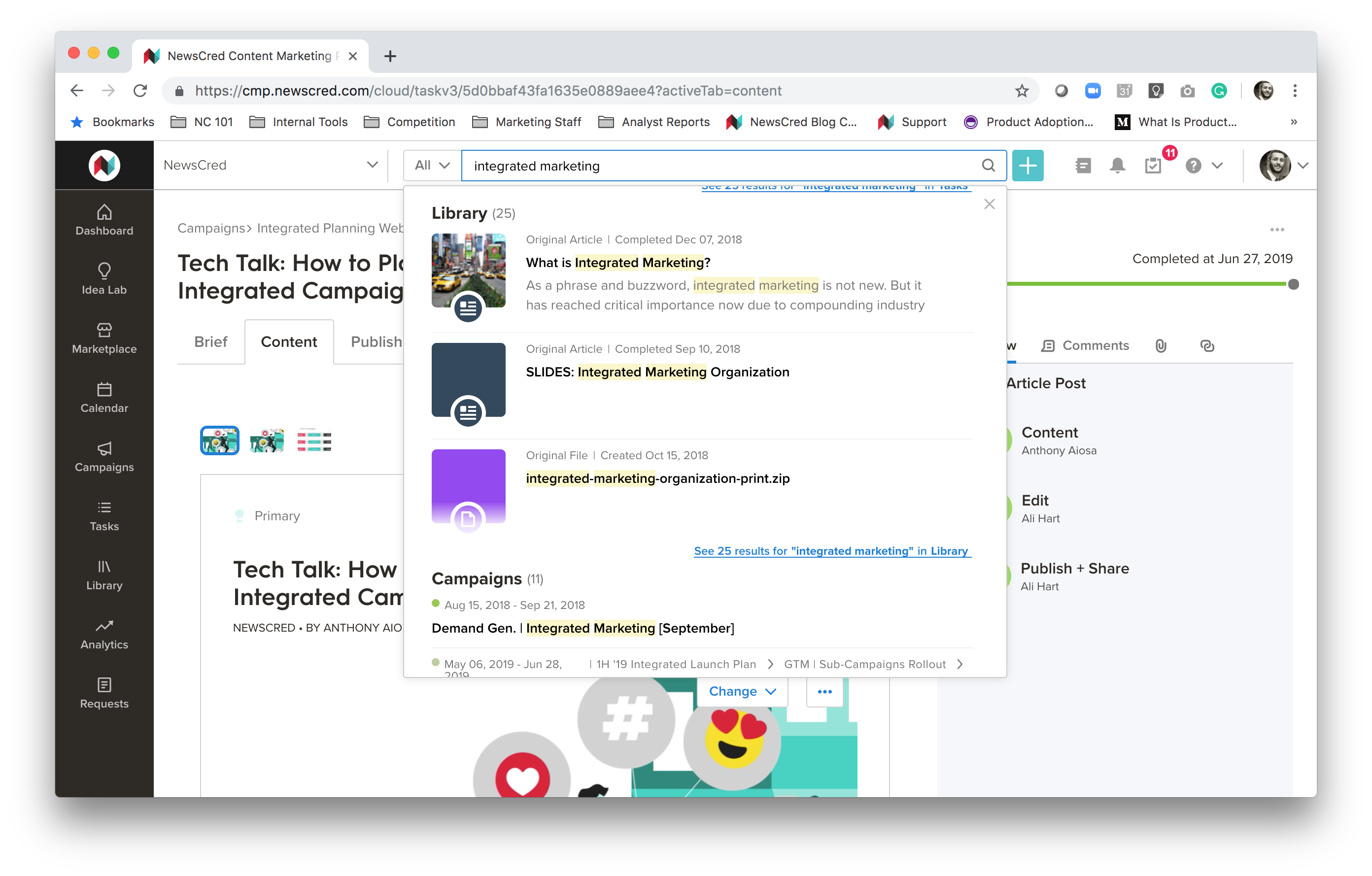 The redesigned and enhanced structure of the CMP's Global Search makes it easier to browse across — and within — Campaigns, Tasks, Library, Pitch Requests, and Events, so you can quickly locate and navigate to what you're looking for. Specifically, the new Global Search offers:
An improved search algorithm to ensure that the most relevant results appear first while highlighting direct keyword matches, so you can see why that result was returned

A redesigned interface, including key metadata (such as campaign name and color, task title, due date, and more), so you can quickly distinguish between results with similar names

Category search, providing a dropdown to search within Tasks, Pitch Requests, Events, Campaigns or Library, and yield results from a specific category

Cross-instance accessibility to surface campaigns and content shared among global/local organizations, along with origin indication and details

Thumbnail & file previews, allowing you to quickly reference content housed in Library — including both article and non-article assets — to repurpose or download
Img.ly PhotoEditor: Powerful Editing Capabilities to Design Images for Every Channel
In order to extend NewsCred's in-app image editing functionality and streamline the user experience, the CMP Image Editor has been migrated to Img.ly PhotoEditor. As part of this upgrade, the new, enhanced image editor supports:
Lock resolution, which by default, allows you to enter a new resolution in the width and height input fields and will automatically update the crop area to match the new resolution while maintaining the image aspect ratio

Flexible cropping, which allows you to disable the 'Lock Resolution' before modifying your dimensions, and customize the crop area to your image needs

Pre-set channel dimensions, which allows you to select from a number of standard or custom channels — including Facebook, LinkedIn, Instagram, Twitter, and more — to easily re-size and prepare your image with the correct dimensions for each destination
---
Interested in learning more?
If you'd like to see the platform in action, or if you have any questions, don't hesitate to let us know.
Anthony Aiosa is NewsCred's Director of Product Marketing.
Originally published on Jul 12, 2019 11:00 AM, updated Jul 19, 2019