Think of the classic American dream. Owning a house and retiring at 65 most likely comes to mind.
But for many millennials, those ideals are as antiquated as rotary phones and mainframe computers. That white picket fence is not only unappealing – it's out of reach. Millennials are struggling with more student debt than previous generations. This is partially why typical adult milestones are on a whole new timescale. Many millennials (often defined as those born between 1981 and 1997) don't expect to be married or own a home by a certain age.
Those major mindset shifts are the driving forces behind Society of Grownups.
The Boston-based financial advisory organization strives to help millennials "find their inner adult." The Society aims to remove the stigma around talking about money, and get young adults on track to meet their financial goals. They do this through interactive online classes, content, and tools, all tailored to that generation.
And everything is free.
There's No Catch – It's Just Content Marketing
You may be wondering what the catch is. In fact, the Society even addresses that question in its website FAQs.
But the truth is, there is no catch. The Society is simply an example of well-executed content marketing.
Though the Society operates independently, MassMutual Financial Group owns and funds it. With the global design firm IDEO, MassMutual created the Society in 2014, specifically targeting millennials – a demographic it hoped to learn more about.
"We share our successes and insights to help MassMutual better understand that age group, providing clarity on how those adults want to be engaged and what they find welcoming and approachable," says Xiomara Lorenzo, Director at Society of Grownups.
However, the Society doesn't try to convert users to become MassMutual customers. It's forthcoming about its relationship, but the Society doesn't promote MassMutual's products and services.
Rather, Lorenzo and her team strive to build trust among millennials and nurture the Society's community, first and foremost. (With the long-term goal that some may eventually become MassMutual customers, when they reach that point in their lives.)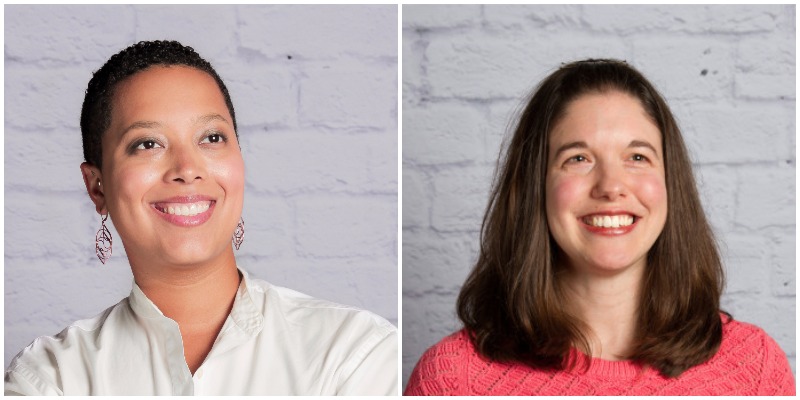 Society of Grownups' Xiomara Lorenzo, Director, and Sarah Pascarella, Head of Digital Content
Meeting Millennials Where They Are
When the Society launched in 2014, it was a physical business. It offered local "Grownups" – the Society's term for "millennials" – small, in-person classes several times a week at its headquarters in Brookline, Massachusetts.
But last year, MassMutual saw an opportunity to reach millennials nationwide by making the Society 100% digital.
"Millennials are always learning and we realized that our goal of bringing financial education to Grownups and meeting them in just one physical space wasn't the best way to reach everyone," says Sarah Pascarella, The Society of Grownups' Head of Digital Content. "We decided to meet millennials where they are, which is online and on their phones. Now we're not limited by geography or schedules. Grownups can access our content whenever or wherever suits them."
The Society's content team, which consists of in-house certified financial planners and a network of freelancers, set to work translating the Society's in-person classes into online experiences.
Through insights from the Society's internal research team, plus a study on Grownups and financial independence it commissioned from Wakefield Research, the Society had a strong sense of where millennials needed help. Pascarella and her team also knew that in order for the content to resonate, it had to feel relatable, authentic, and customizable.
"When most people think about financial planners, they picture an older gentleman whom you'd speak with once or twice a year just to check in on your investments and plans, says Pascarella. "That's not necessarily what a millennial is going to be thinking about. They want information relevant to their own particular goals, so more frequent and customizable advice.
"We realized that 'financial services' was going to mean something very different to this particular demographic."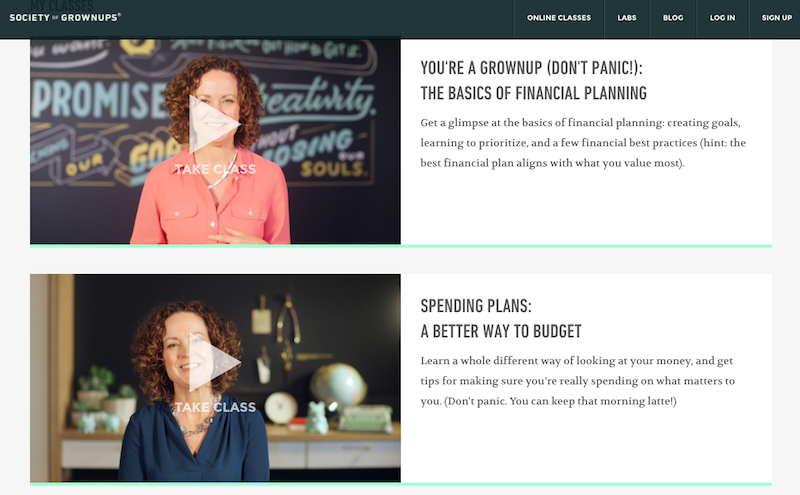 The Society's new online classes teach users about financial planning, budgeting, and understanding credit and debt. Each class features a 25-minute video and a downloadable workbook so users can adapt the lesson to their own financial situations.
"Our hope is that when someone watches a class, they walk away with a few action steps they can take immediately to start working toward their financial goals," Pascarella says. "Maybe it's setting up a bank account for your emergency fund or talking to your HR representative about your tax deductions or 401K investments."
The Society also has a blog that covers a variety of financial topics, from preparing taxes to planning for a baby.
In addition, the Society's "Labs" section features financial tools, like a Home Affordability calculator.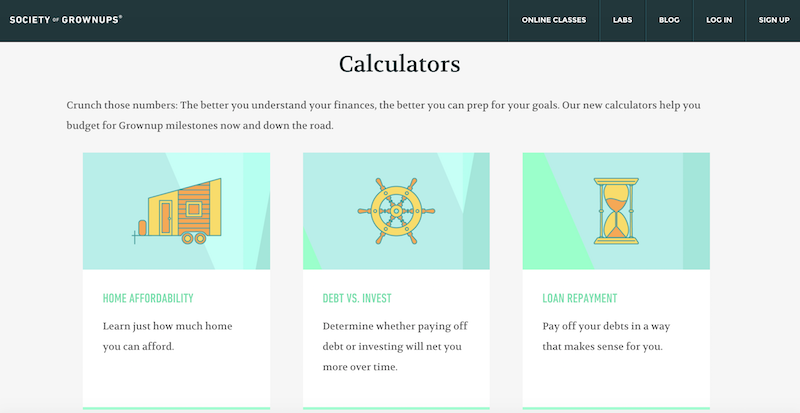 Facilitating Important Conversations – Online and Off
To keep users engaged, the Society sends out a monthly email newsletter, and posts regularly on Facebook and Twitter. Pascarella's team also creates shorter videos specifically for social, and shares news from other outlets.
In addition, the Society offers curriculum and leadership guides on SlideShare. They're geared to help people form and facilitate discussion groups around money.
"That's another way we've adapted our content to transition from a physical to a digital space while still encouraging those really important in-person conversations to get Grownups talking about and planning for their goals," Pascarella says. "All of our promotional channels work in the service of our blog, online classes, and curriculum materials. These are the hub and center of everything we do."
Measuring Success + Planning for the Future
Since Society of Grownups is focused on growing brand affinity, its key KPIs for measuring success are audience engagement and whether the content is resonating.
"We're looking at whether Grownups find the content relevant and then if they feel empowered to take action toward their goals," says Pascarella. "It's not going to be one-size-fits-all, so we know if people are engaged with the content and coming back to the site. For engagement metrics specifically, I'm looking at topics and authors that resonate with our readers, as well as the time people spend on the site, repeat visits, and social shares."
Top blog posts from 2017 so far include 6 Genius Financial Moves from TED Talks, For Newly Engaged Grownups: A CFP® Plans Her Wedding Budget, What 2017 Housing Trends Mean for Homebuyers, and 5 Things Successful Investors Do.
Beyond that, the Society actively solicits feedback from users on its site.

"One of our core values at Society of Grownups is 'Teaching as well as learning,' and we really mean it," Pascarella says. "The reason there are so many opportunities to give feedback is because we want to know how Grownups are interacting with our offerings and what has been the most meaningful for them."
In addition to optimizing existing content based on metrics and feedback, the Society plans to create more online classes and increase seasonal and timely blog content.
"A lot of these topics are really tough and complex, and they're not always what you'd look at as the most interesting, so we're trying to strike the right balance between being informative and engaging," Pascarella says. "If I've done my job, the reader will say this is actually really interesting and I'm learning something. That's ultimately the goal of what we're trying to do with everything we produce."
Key Takeaways for Marketers:
Research your audience and have a clear idea of what they want. This will ensure that you're creating effective content that will resonate with your target audience and build your brand.
Meet your audience where they are. Distribution is key. Identify channels where your target audience is active, then create and promote content in formats appropriate for each.
Focus on creating quality content, rather than hard selling. One key tenet of content marketing is consistently providing users with value to build customer loyalty and brand affinity. Over time, they'll convert to customers – without requiring a hard sell.
Solicit feedback from users. Curious about what users really think about your content? Ask them. User feedback can often provide more in-depth and actionable insights than what you can glean from analytics programs.
Celia Shatzman is a NewsCred contributor.
Originally published on Mar 29, 2017 10:00 AM, updated Mar 30, 2017