Ben Lerer, CEO of Group Nine Media, knows a thing or two about publishing video on social media.
Group Nine is one of the biggest digital media companies in the world. Its properties include Thrillist (men's lifestyle), The Dodo (animals), and NowThisNews (current events). Group Nine can claim 4.5 billion social video views on more than 25 million hours of content – each month.
While much of that success comes from Group Nine's ability to understand millennials and Gen Z and give them the content they crave, its practices are applicable to content marketers in nearly every industry.
At NewsCred's #ThinkContent Summit in NYC, Lerer chatted with Shafqat Islam, NewsCred's CEO and Co-founder, on the "New Media Landscape" and how marketers can thrive.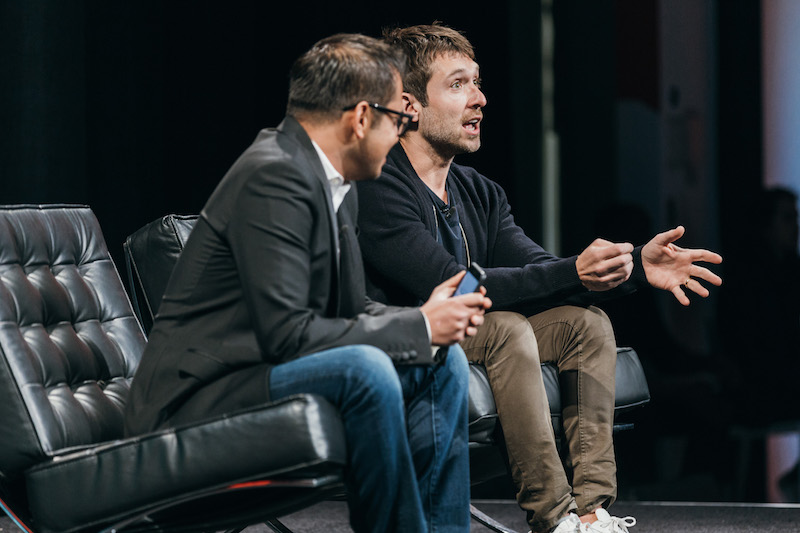 Shafqat Islam, NewsCred's CEO and Co-founder, and Ben Lerer, CEO of Group Nine Media, at #ThinkContent 2017
Here are Lerer's key takeaways:
Social Is the New TV
It might be hard for the television generation to fathom, but video content has reached a major milestone: More than 50 percent of video is happening on mobile now, says Lerer. "We've called mobile the second screen, but now, fundamentally, it's the first screen. Social truly is the new TV."
Most people – especially younger generations – are on a few platforms: Facebook, Twitter, YouTube, Instagram, and Snapchat, according to Lerer.
That means that brands have the chance to corner their markets by winning hearts and minds on those networks.
"Sort of how in the 80s, you had the growth of MTV and CNN, now there is the opportunity to build your brand on social channels," says Lerer.
Just as companies like Scripps and Viacom created a collection of cable networks in their time, social media is fast becoming the most important "pipes" for delivering content to the next generation. They're what marketers need to program for, according to Lerer.
"We unapologetically publish to Facebook," Lerer says. "The experience we're trying to create lives within Facebook, within Snapchat, within YouTube. We're not thinking of them as promotional engines."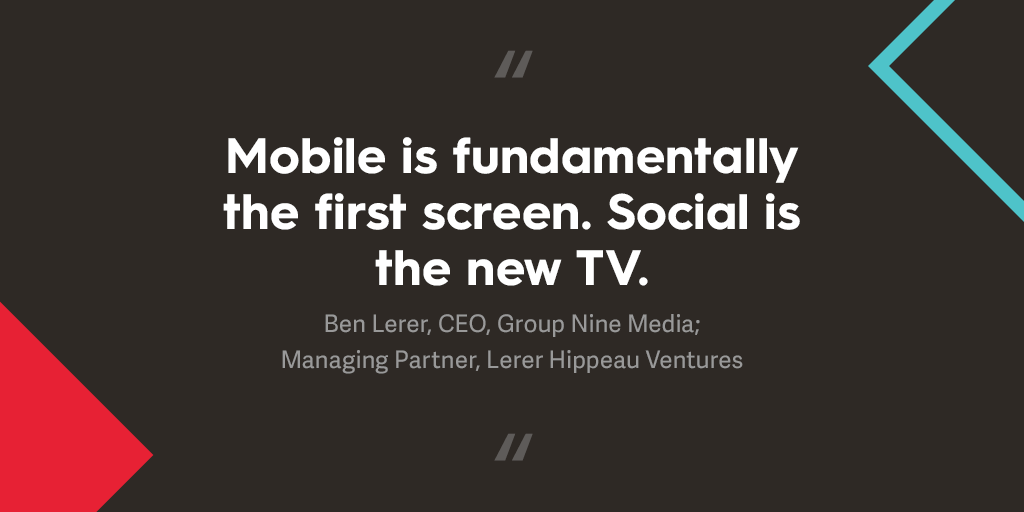 Marketers Must Earn Their Audience
With so many content options on digital and social, people are no longer beholden to just a few big publishers or channels. That's why Lerer says you have to follow the audience's lead by delving into issues and culturally relevant topics they care about; you can't simply broadcast what you want them to think.
"There is real truth behind the idea that you have to earn the right to be part of a conversation with your audience," he says.
With more than 13 million Facebook fans, alone, The Dodo is the top digital destination for animals. One major reason for its success? People love pets. There are more pets in the U.S. than children, and many people will self-identify as pet owners, according to Lerer. Until The Dodo came around, there was really no one creating content for this group.
In a similar vein, NowThisNews recently launched NowThisHer, a vertical focused on women's empowerment.
By filling niches and creating content people want, marketers can avoid buying impressions, which Lerer equates to "forcing your content on people."
Create Platform-Specific Content
Another way marketers can improve audience engagement: Focus on platform-specific content so that you're keeping consumption preferences in mind.
"The Snapchat audience is a decade younger than Facebook's. You have to take that into account as you think about programming," says Lerer,
You can't just post the same piece of content across each social channel. You have to customize each one.
"Don't think of just a doing recut, but a reimagination," he says.
Learn from Your Mistakes, and Adapt to Change
It's not fun to dwell on your content duds, but there's a real benefit to reflecting on your work.
"Study your failures and start to draw lines between those so you can raise the floor and miss less frequently," Lerer says.
Another big lesson is to accept that how your audience consumes content might be different than how you do it. While you may have grown up in front of the TV, millennials and Gen Z came of age with smartphones, tablets, and YouTube.
"We all want TV to work. It's easy to buy, there's consistent measurement," says Lerer. "The reality is digital has disparate platforms with inconsistent measurement and different data you can and can't access. The ecosystem is still developing."
That doesn't mean you should wait around until it's perfected, however. Sticking with traditional media as a safe choice and not adapting to digital could make you irrelevant.
"Facebook is making moves with its recommended video product, and starting to deliver," says Lerer. "Platforms will go with publishers making the best content."
So you've got to be ready!
Think Like Your Audience
Consider this: "70 percent of the audience on social is made up of millennials," says Lerer.
But the good news is that you can reach people of all generations via social.
To succeed on social platforms, it's all about creating content that people engage with, share, and care about, says Lerer. "The issues we lean into tend to be more participatory, more active categories, which speak to a younger audience."
What value can your brand message add to the conversation already taking place on social platforms? Once you figure that out, you can earn a captive audience – millennials or otherwise – in the new media landscape.
For more about how the digital content landscape is changing, check out Lerer's full #ThinkContent panel.
Dawn Papandrea is a NewsCred Contributor.
Originally published on Jul 5, 2017 1:53 PM, updated Jul 6, 2017