Social media must be a key part of every content marketer's distribution strategy.
Whether you're a global B2B company targeting C-suite executives or a B2C fashion brand going after millennials, your audience is on social media. There are 2.6 billion mobile social media users globally, with 1 million new active mobile users added every day.

However, just maintaining a social media presence won't do much for your brand. As a content marketer, you need to ensure that you're using social media to achieve larger goals, like attracting your target audience, engaging them regularly, or getting them to sign up for your newsletter.
As NewsCred's social media intern, I'm tasked with those objectives. During the course of my internship, I quickly learned why ongoing testing and optimizing is so important. I've also seen that social media success requires consistency, curiosity, and some practice.
What follows are my top takeaways for any brand looking to drive stronger content marketing results from their social media channels. Most of my work is with Twitter and Facebook, so they're the focus of this post. But many tactics are worth testing on other social networks.
Figure Out the Optimal Number of Times to Post Each Day, Per Network
Social media is a big time investment – and not every content marketer has a dedicated social media team or resource. That's why it's important to figure out the optimal number of times to post on each network, each day.
On Twitter, the average lifespan of a tweet is 18 minutes. This means that the more you post, the more of an opportunity you have to get seen. If you post content once a day, it's unlikely that people will notice. But if you post closer to 10-15 times a day, like we do on NewsCred's Twitter, your chances of appearing in peoples' news feeds are much higher.
This isn't the case for all networks, though.
Take Facebook. Unlike Twitter, which people generally use as a chronological newsfeed, Facebook's algorithm makes it pay-to-play for most brands. Since NewsCred isn't a publisher that has dozens of new stories a day, we've found that we just need to post once a day – and then boost that post with a small spend. (We also experimented with paid Twitter, but found that we see substantially higher click-through rates on Facebook.)
Don't Underestimate the Power of Images
You've surely heard this before, but it's worth reiterating: Images matter, especially on social media. A captivating image is key for a high-performing social media post.
It's been proven, time and again, that images – and infographics and GIFs – lead to better performance on social. Visual content is more than 40 times more likely to get shared on social media than other types of content.
The types of images matter, as well. For several weeks, I tested different kinds of images on paid Twitter ads: designed quotes, photos, photos with text. Every week yielded the same results: Regardless of copy or subject matter, posts with the most beautiful, eye-catching images yielded the highest click-through rates.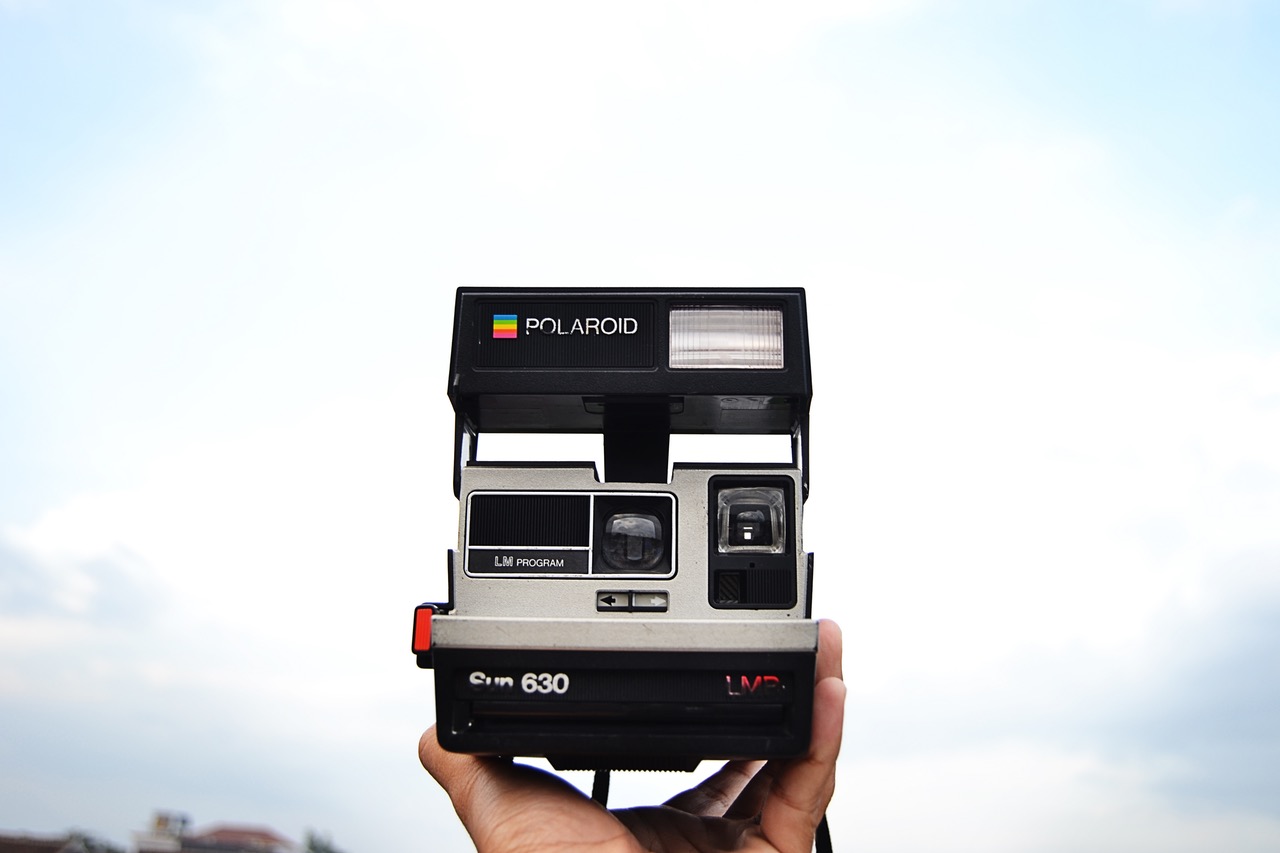 This photo was a high performer on Twitter for driving people to the story "3 Brands Making Comebacks through Content Marketing."
Narrowly Target to Reach the Right People
As content marketers, you're not trying to reach everyone. You're trying to reach your target audience.
And since social networks collect incredible amounts of data, it's in your best interest to take advantage of their audience knowledge to get your content in front of the people you want to reach.
Facebook, Twitter, Instagram, and LinkedIn all have targeting capabilities. With the Facebook Ads Manager, for example, you can target people based on basic demographics like age, location, and gender. You can further drill down to people interested in your industry. You can even target people who've previously engaged with your content – or your competitor's content. That way, you're engaging and re-engaging people who may eventually become customers, or return customers.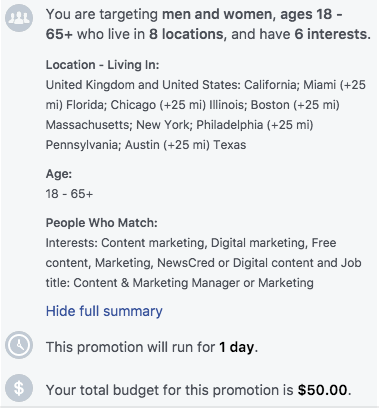 An example of how someone can target people interested in content marketing with Facebook Ads Manager.
Engage Your Followers
Once you have targeted your audience, it is equally as important to engage with them. Dedicate a bit of time each day to like their Facebook pages or posts, and favorite and retweet tweets.
Content marketing is all about building relationships with your audience, and these small acts go a long way. I've found that once I engage with someone on Twitter, he or she is much more likely to follow us, read the content that we publish, and continue to engage.
Use Video to Drive Conversions
It's no secret that video is huge, at the moment. You may have heard statistic upon statistic about how you need video to engage your audience on social. But have you considered how to take that one step further?
Video can be a hugely effective conversion driver. At NewsCred, we've found explainer videos to be strong performers for driving people to download a whitepaper or visit a landing page. And we're not the only ones. Recently, I had a conversation with the global social media lead at one of the world's largest tech companies. She said that YouTube videos drive more conversions than any other social network.
Which leads to another point: Don't forget about YouTube. While marketers tend to think of it as a video platform, it's also home to countless thriving communities that are social networks in their own right. Those users are on YouTube to find inspiration and information. Make sure you're there to provide what your audience is seeking out.
Get Advice from Other Social Media Practitioners
Asking other people for advice is simple, and often generates the latest insights into best practices that you haven't thought of.
During this internship, I've been fortunate to connect with other current and former social media managers, both inside and outside of NewsCred. Each conversation gave me tips and ideas for new tactics to try for improving my work.
I'd encourage other social media managers to do the same: Ask your colleagues for introductions and have 30-minute calls or coffees to pick their brains about what they've recently tried or learned. I bet they have a lot of good advice to share.
All of these suggestions are small, but they can go a long way in ensuring that your social media strategy is working to help you meet your content marketing goals.
Caroline Cranley is NewsCred's Social Media Intern.
Originally published on Aug 22, 2017 10:00 AM, updated Jan 12, 2018