Matt Bruhn is a forward-thinking kind of guy. That's why he's Smirnoff's Global Brand Director and was a keynote speaker at our #ThinkContent Summit. Originally from Australia, Bruhn's been at the helm of the world's most popular vodka brand right here in New York since 2013. And with 24.7 million cases sold last year, over $178 million more in sales than its closest competitor in the U.S. alone, and a whopping 16.56% market share in its category, when we say Smirnoff's #1, you can be sure we're not exaggerating. Read on to learn what keeps them up top.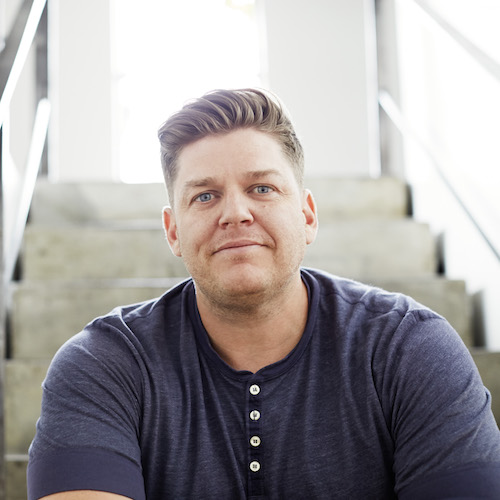 How have you seen storytelling change during your 15+ years in the marketing industry, and what does it need to be successful today?
CPG – consumer packaged goods companies – were kind of the godfather of the marketing model, and now they're the grandfather. They're so archaic. If you look at the millennial brands that are winning – the Nikes, the Apples, the Googles – they're born modern, and so they understand how to communicate in a modern context and they have a belief in what their brand is.
They believe in what they're trying to do for the world and they tell stories within the culture they want to work with. They don't make arbitrary communication about product benefits that no one actually cares about. They tell stories that are appropriate for particular groups, and they tell them inside out, not outside in.
Would you say that applies to Smirnoff?
What we're trying to do is to move from a CPG model to a much more lifestyle brand model and that's hard when you've got a very CPG driven organization like Diageo. Diageo sees itself as a CPG business but is becoming increasingly open to try new ways of building brands.
Smirnoff just announced a major partnership with Live Nation Entertainment, through which you'll be sponsoring 26 music festivals around the world. That definitely sounds like a step toward your desired direction!
We see a great natural fit for the brand within music, especially EDM [electronic dance music], which is the most inclusive music in the world right now and very strongly millennial. It's a community that promotes acceptance of everyone and that really for us is a powerful vehicle to tell our story and is a truth point in today's culture. We believe Smirnoff is about inclusivity and the very millennial belief that everyone is created equal. You can see it through the movements in society right now, and we think the brand is a natural connector.
We're trying to work within that culture to build stories about ourselves and about artists, rather than just going and buying DJ Tiësto and putting him in a 30-second ad on TV. Instead, we're working on building content and programming from the inside of that culture, out. We're also starting to employ people who get that culture, not necessarily just brand marketers, but people who are cultural marketers as well.
What kind of content initiatives are driving this transition?
We're starting to build relationships with artists like Steve Aoki and Hayden James while helping them stay connected with fans. We've worked with VICE to create some music videos. We held an open house party to shoot Zeds Dead's video at the Tomorrowland music festival in Belgium [below]. Generally, we're creating more cinematic content around music, which we're also helping syndicate and broadcast while also building up other content streams to boost exposure even further.
Video is such a huge opportunity – and obstacle – for so many brands. What has been your biggest challenge in light of the rapid transformation we've witnessed in recent years regarding technology, marketing, and customer behavior?

The biggest danger for a company like Diageo is its languid sense of entitled existence – the concept that an impenetrable marketing position makes us not vulnerable. When the reality of the modern marketplace is actually that your level of vulnerability has never been greater, by virtue of the ability of people to use the kind of speed and technology that exists today. People's appetites have also changed, which in turn disrupts marketplaces.
We have an organization that believes that things move at a snail's pace, when, in reality, things can move at a breathtaking pace. The biggest challenge is convincing those that have been in the industry for too long to accept that the market is disruptable – within months, not decades.
Can you give an example?
I see this in so many categories. We've got these amazing charts of soft drink changes within the last ten years and it's extraordinary to watch that industry transform. We've seen things like Bud Light's Lime-A-Rita, which went from zero to 22 million cases, becoming the third largest RTD [Ready to Drink] in the world in one market in three years.
What are some other brands you respect in terms of the content marketing efforts they're producing?
I respect Red Bull from a content level, though they've been quite slow around product development and their latest moves to flavorize themselves are fraught with danger. The reinvention of Converse has been extraordinary. I think Under Armour is also one to watch.
Nike is doing a killer job, generally speaking. They have a very clear delineation among their six businesses, and they're very consolidated with how they structure themselves behind those. Their ability to continue to make the brand feel whole, despite them being in different sports and target markets is remarkable. You can have three or four different campaigns running for Nike in one single city around four different products, and still feel like the brand is singular.
They also have a relentless pursuit for what's next in terms of product. They never advertise the same shoe twice. They're in a constant search for ensuring they're bringing out new stuff that's better than it was last year. And that's extremely impressive.
Anastasia Dyakovskaya is a writer, editor and creative consultant from New York City. When she's not writing for NewsCred, she's developing copy and editorial for brands and tech startups. When she's not working, she's likely behind the camera or planning her next adventure. Follow her @worldinquestion and at www.worldinquestion.com.
Originally published on May 4, 2015 10:15 AM