In order to succeed in the performance era of content marketing, marketers need to create high-quality content and be able to measure its effectiveness. SAP Hybris is a brand that manages to do both, thanks to its customer-first, editorial-led approach on both its main website and content hub, The Future of Customer Engagement and Commerce (FCEC).
With their ThinkContent London appearance approaching, we chatted with Michael Mischker, Global Vice President of Digital Marketing, and Jack Dyson, Global Head of Digital Content Strategy, to share the top content marketing "conception to performance" lessons they've learned. Here are some highlights.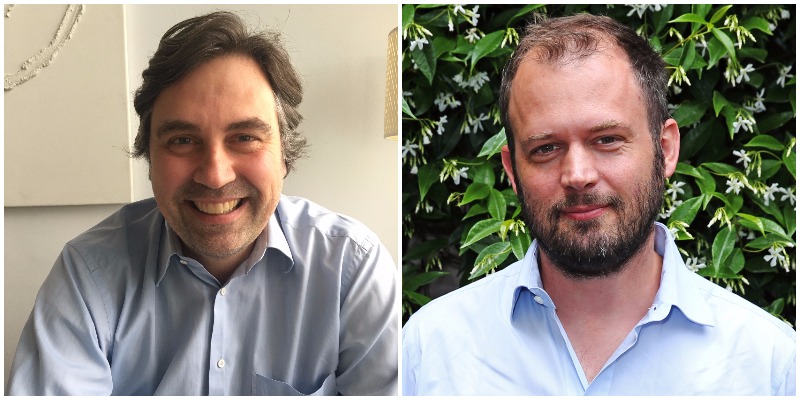 Michael Mischker, Global Vice President of Digital Marketing, and Jack Dyson, Global Head of Digital Content Strategy, SAP Hybris
They developed a team of strong communicators.
"People on our team have a really broad and complementary range of skills. Fundamentally, we are creative marketing strategists, but there's a crossover between content marketing, content strategy, and editorial strategy. We each have a foot in those camps," says Dyson.
This combination of skills can typically be found among journalists, says Dyson. "For a journalist, a lot of [content marketing] is quite intuitive, but it's not always a natural leap for companies," he explains. Dyson has found that those who are experts at communicating ideas are often better at engaging audiences than product experts. "A software company might be experts in how to use the products, but they can't talk about it in short, engaging ways," says Dyson.
So together with Mischker and Amy Hatch, Global Head of Editorial and Content Marketing for FCEC and SAP Hybris, the team developed the "Sensemakers," an in-house, on-demand pool of freelancers who are affiliated with credible, tier-one publications. But they aren't just guns for hire to create volume, says Dyson. "They are carefully selected experts who we know will be able to get to the heart of what we're trying to communicate via an audience-driven narrative. That's the key."
They made connections between content and corporate success.
There's no one program where you can see a straight correlation between content and ROI, says Mischker. However, what they rely on is a combination of metrics that have to do with engagement, and whether or not visitors take action after touching a piece of content (or several pieces).
"We try to see, 'Did this content contribute to making someone trust us, or engage with us, even possibly a year later?' We're not looking at if something went viral," says Mischker. One KPI that he says is especially telling is social sharing. "If you like that content and you share it with your peers on LinkedIn, that's a big amount of trust," he says.
As for moving people from consuming to engaging (i.e. filling out a form, or requesting to be contacted), numbers are rising, which means their formula is working. "More and more people are wanting to engage with us," says Mischker.
They balance creativity with performance measurement.
Beyond metrics, Dyson says the real goal is to create content about the topics people want to learn more about, and that will enrich their jobs. "At the same time, we're guiding a portion of people to an activation point. When it works, it's really elegant and powerful," he says.
Building trust is more than just having a massive content library, however. "It's not enough to bang out 10 articles on a topic that you've discovered that your audience is interested in. You need to have 10 different things to say about it. Otherwise, you end up with 10 articles that don't say anything," says Dyson.
That's where the journalist mindset comes in, says Mischker. "They can look at it from different angles and make that bridge in a much better way," he says. In fact, he attributes the unique perspectives of the content creators to helping drive SAP's high newsletter open rate, which he says is miles ahead of the industry standard.
They play the long game.
The most important thing to remember when you talk about performance metrics of content marketing is that measurement is cumulative. "It takes between five and 10 pieces of content to build trust," says Mischker. That journey is divided into three parts:
Discovery: People are finding you because you're listening to them, and engaging with them on topics in which they're interested.
Gaining trust: You have an ecosystem of content that delivers multiple pieces of content at multiple touch points.
Conversion: This is when your call-to-action strategy is trusted. You're now considered an expert.
The challenge is you've got to get it right the whole way, says Dyson. "If you make a mistake, people are fickle. They will go elsewhere if you get the terms wrong, or relax, or forget your authenticity. You'll lose your credibility," he says.
Thinking long-term and making content evergreen has been effective for SAP, says Dyson. "Content from 2014 is still able to drive conversions in 2017," he says. "Over time, it's like a good wine. Content, if done right, will increase in value and it will become more desirable."
They have evangelists who support them.
Attaining corporate buy-in takes work, but once you can make a difference to people, they will become believers, says Dyson. "You can have any number of PowerPoints showing a strategy, but until you materially help someone look good, they won't be an evangelist for you," he says.
The other way to win hearts and minds is to invite different members of the organizations into your content creation process. "By making someone a stakeholder, they'll actively work to amplify what you're doing," says Dyson.
Learn more about SAP Hybris' approach to content marketing.
ThinkContent London is sold out, but for a chance to attend and see the SAP team speak, add your name to the waitlist. Otherwise, subscribe to NewsCred Insights to receive full event recaps, videos, and presentations.
Dawn Papandrea is a NewsCred Contributor.

Originally published on Nov 8, 2017 11:00 AM