This article comes to you from NewsCred's London-based European team.
Having travelled most of his life, Giuseppe Caltabiano thought that starting a global content marketing programme at his former company, Schneider Electric, would be easy.
He soon found out that was not the case. Creating a global content marketing strategy from scratch required many months of coordination with numerous teams around the world.
At #ThinkContent London 2016, Caltabiano, now Head of NewsCred's Content Marketing Advisory Services in EMEA and Asia, gave an in-depth and engaging overview of the steps that any international business must take to launch a global content marketing strategy. The following are crucial questions that all stakeholders must agree upon to ensure the strategy has a good chance of success.
It's tough but doable. As Caltabiano notes, be ready for some inevitable bumps in the road!
1. What business pain point will content marketing solve?
The first step to is to build a business case for content marketing: Why should your organisation change its strategy?
Caltabiano notes that this is important not only for the marketing team, but also for getting management buy-in. Start by identifying an existing business pain point and articulating how content marketing can solve it. For Caltabiano, the existing pain was a lack of lead generation.
2. What will be the relationship between global and local teams?
The next step is determining the optimal balance between local and global teams. This is different for every company and depends on the organisational setup. As Caltabiano explains, a very centralised organisation will create most of the content at the global level to cascade down to other countries. Conversely, a highly decentralised organisation will have strong, localised country cultures, and they are more likely to own content creation with the central team helping here and there.
Caltabiano believes that the most effective setup is a balance: centralisation to a point, with the global team being well aware that the countries know best what is relevant to their local markets. He quotes global content marketer Pam Didner in explaining that the global/local relationship in this situation is that of a "servant leader." This means that the global team offers advice, is flexible, and doesn't force local markets to do anything, but it is still in a leadership role, deciding critical parts of the strategy, such as the buyer journey.
3. Where will you establish local editorial boards?
Establishing local editorial boards in key markets will give those regions autonomy to decide the individual needs of their markets. The local boards will determine what kind of content they need and then feed this back to the central team.
4. But, is localisation necessary in every market?
Caltabiano notes that localisation isn't always necessary for each market. This depends on the customer type and the nature and size of the organisation. For some global corporations, for example, much of the decision-making happens in English, so they may not need to translate content for every market. Small and medium businesses, on the other hand, are more likely to need to localise content for individual markets, in an effort to win over local buyers. Caltabiano notes that you need to use 83 languages to reach 86 percent of people around the world. A small or medium business truly wanting to go local successfully should consider localisation.
5. What are your key personas and what does the buyer journey look like?
This is a particular area in which the practice of the global team leading while being flexible is extremely important. Although the global team handles top-level strategy such as defining the buyer journey, the local teams will have invaluable knowledge of their own markets necessary for adapting these top-level strategy areas, such as identifying local personas that aren't considered at the global level.
6. How will you communicate the content marketing strategy to your company?
Caltabiano recognises the difficulty that rolling out a global local strategy might present to a large organisation. It involves sharing resources, calendars, and scheduling amongst teams that could range up to thousands of people – as was the case with Schneider Electric. To ensure that all stakeholders are up-to-date with programme details, he suggests regularly sending newsletters outlining the strategy and publishing calendar, as well establishing a page on the company's intranet with the most important information on the strategy.
7. How will you continue to educate teams about content marketing?
With the content marketing strategy defined and local teams kept in the loop, the next stage is educating the rest of the company on this vital initiative. Caltabiano took advantage of an annual event, called Learning Week, at Scheider Electric, in which employees learnt new skills in areas of the company they might not know about otherwise. He saw this as a key opportunity to teach them about content marketing and the model the company adopted.
8. Where can you launch pilot programmes to test your strategy before taking it global?
Giuseppe recommends that every global local content marketing initiative should have two or three pilot markets before fully rolling it out. This way, there is room to experiment and less impact if you fail. Pilots offer the perfect opportunity to try out all aspects of localisation, including how global and local teams work together.
When the pilots are over, the global team should get all of the feedback from the local countries and hear their perspectives. Once those learnings have been addressed, it's time to go global!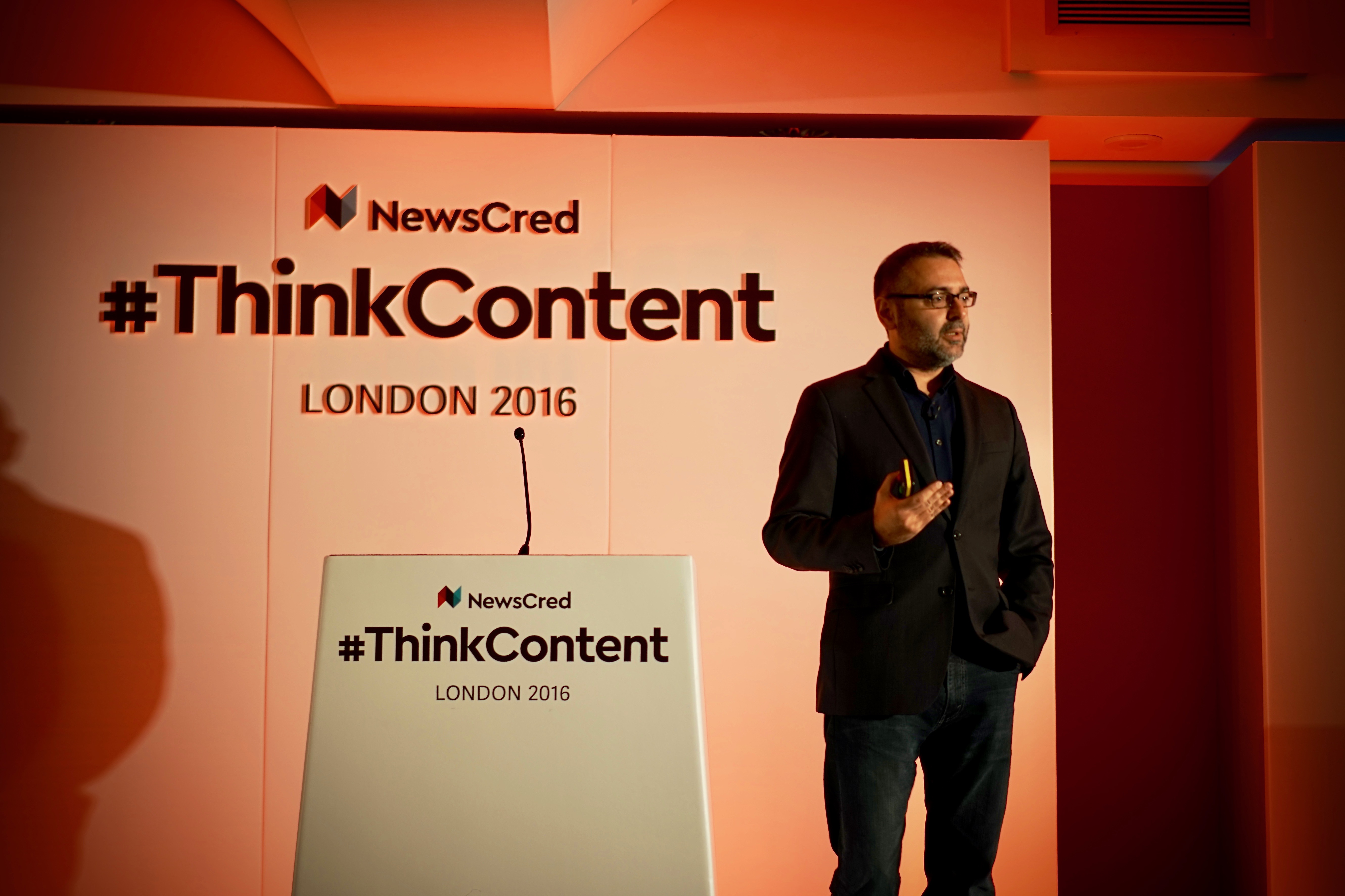 To learn more about Caltabiano's experience launching a global content marketing strategy, watch his #ThinkContent talk and read his blog post, "How to Launch a B2B, Cross-Regional, Global Content Marketing Strategy."
Cloe Fernandez Barnes is an Editorial Strategist in NewsCred's London office.
Originally published on Aug 1, 2017 10:00 AM, updated Aug 3, 2017