Many marketers may be familiar with this scenario: You attend trade shows and collect leads – but you don't have a process for what happens next. The leads may or may not be qualified to hand off to sales. Yet, you lack a system for scoring and nurturing them.
That was a situation Susan Campbell, Marketing Group Manager for Panasonic Toughbook, faced a few years ago.
"We wanted to refine the quality and amount of leads we gave to the sales center," she says.
To solve that, the Panasonic Toughbook team invested in Marketo, the marketing automation platform, and launched a nurture program in 2014. But the team soon found that they lacked a key ingredient.
"We needed content," Campbell says. "That's when we looked to partner with NewsCred so we'd have content in our nurture programs to engage people and get them through the funnel."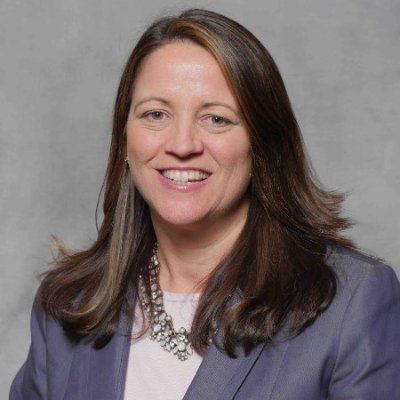 Susan Campbell, Marketing Group Manager, Panasonic Toughbook
Launching and Refining a Content Program
Campbell and her team launched their content marketing program in fall 2015. During the first year, they focused on establishing a regular publishing cadence for the Solutions for Business Blog. They started with one article a week, then ramped up to two using a mix of original and licensed content from sources including ReadWrite, CIO, and Huffington Post.

Once the program was up and running, Campbell and her team started refining the strategy to ensure they were producing content that resonated with prospects.
Take their approach for Toughbook, one of Panasonic's key B2B products. They're rugged tablet, handheld, and laptop computers designed for mobile computing in industrial or field-based operations.
"Toughbook computers can run for 12-hour shifts in a vehicle in hot and cold. People who work in Toughbook territory are exposed to harsh and extreme conditions: law enforcement, military, and transportation," says Campbell.
Toughbook targets IT decision-makers in those fields. Traditionally, the team has taken a vertical approach, but Campbell has seen success with content that speaks across industries.
"One thing we learned was sometimes we get tunnel vision and only tell law enforcement stories to law enforcement," she continues. "But on occasion, when we have a really fascinating story, we'll run it across verticals and it gets good readership."
Last year, they published a blog post about paratroopers who use Panasonic tablets while parachuting.
"You'd think that might just perform well for military and federal agencies. But people in the tech industry also found it interesting," says Campbell.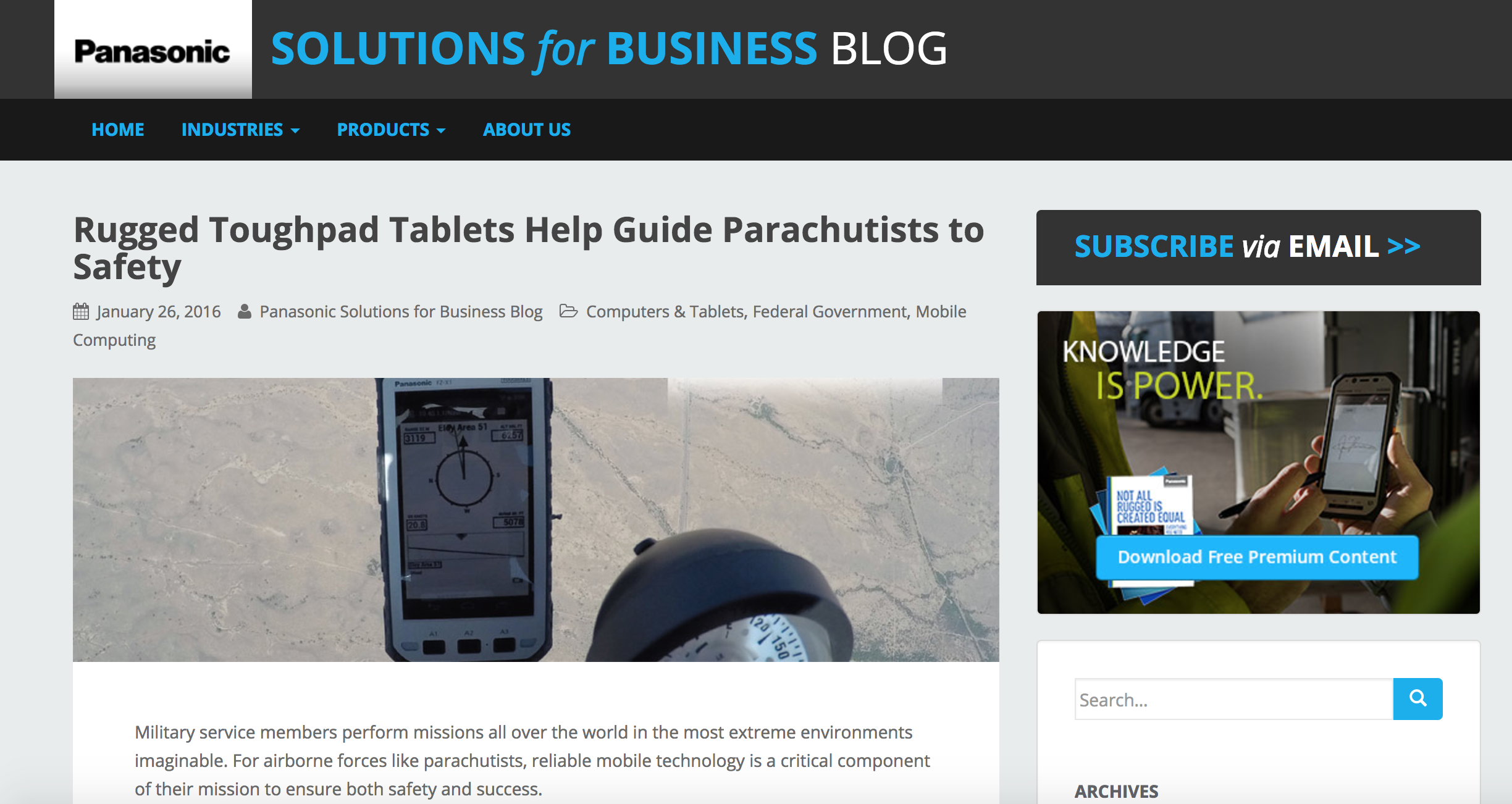 Campbell has since realigned her approach. She may produce content that's focused on a specific product, instead of content geared toward vertical lines of business. But she'll evaluate whether there's a thread that makes the content relevant across verticals.
"We've also tried to change the types of content so we're not always producing straightforward articles. Now, we're creating videos and infographics, as well," she says.
Refining a Distribution Strategy
Next, Campbell turned her focus to distribution.
"That was a big part of our evolution for the latter part of 2016 and early 2017," she says.
With NewsCred, she started looking at how to maximize channels to increase traffic. Campbell secured dedicated, internal social media resources and started experimenting with paid LinkedIn and Facebook. In addition, she ran an email newsletter trial through Marketo and is currently evaluating another. In the meantime, she has several tracks running in Marketo: nurture, warming, and re-engagement.
The Panasonic Toughbook sales team has started using content in its outreach. They're also responding to inbound requests.
"We've had customers reach out to sales and say, 'We've seen you everywhere on this topic,'" she says. "That's encouraging when a customer says that content is why they called."
Measuring and Optimizing for Success
Campbell is a marketer who's always willing to experiment and optimize based on results.
"I come at it from the perspective of, 'Let's try something and see how it works,'" she says.
In addition to measuring content pageviews, readers, return visits, engagement rates, and time, Campbell has a system in place to track marketing-influenced pipeline. Since 2016, she'd been able to measure qualified leads, opportunities, and revenue attributed to marketing programs.
"We can see first and last touch attribution and the won/lost reporting in our CRM system. There's a lot of room for improvement," she adds.
Evolving the Program
Now, Campbell is looking to fuel more marketing activity with content. Through NewsCred's platform, Campbell says she has a more holistic view of how content, social, and other channels work together.
"It's all about integration – developing, distributing, engaging, and maximizing content: an article today, a social post tomorrow, a video chat," she says.
In addition, Campbell plans to integrate all marketing systems to make reporting easier and more accurate.
"We have so many operational challenges in terms of analytics and systems. It's all somewhat manual," she says. "My long-term horizon is infrastructure-based."
For as much progress as she's made, Campbell notes that content marketing is a never-ending learning process. There's always more to improve.
"Content marketing first seemed so insurmountable," Campbell says. "To see how far we've come with content marketing is one of the most rewarding things to look back on. It wasn't so easy, but not that hard, either. And we're better off having made that investment."
Heather Eng is NewsCred's Executive Editor.
Thank you for subscribing!
Our best content will now come straight to your inbox.