Confession: I find job searching to be daunting, exhausting, and often far too time-consuming.
Friends and family members mistakenly assume that my profession makes me immune to the stresses of this process; however, their assumption fails to capture the neuroses and perfectionism that cause me to agonize over every application submitted, and over every carefully-crafted "thank you" email sent.
While chatting with my friend, Rachel, over Passover Seder, I asked the routine "How's work been going?" I did not expect that her answer would alter the course of my professional career. She shared anecdotes of her brilliant and passionate NewsCred coworkers; she showed me an article from Shafqat Islam, NewsCred's CEO, on gender equality. She also happened to mention that the team was looking to hire a new Talent Acquisition Manager, and I decided that I would make it my mission to fill this role.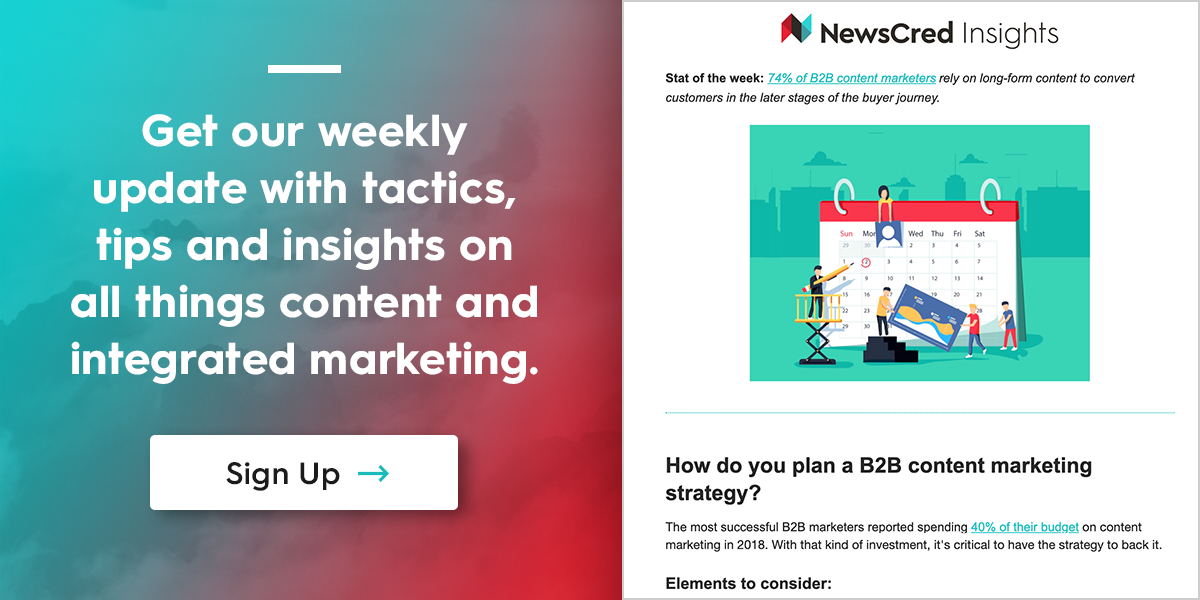 The hiring process
The first step in the process was to connect with the Senior Director of People Operations (my would-be boss). Our call started out typical enough, and I expected it to be a routine box-checking conversation. However, when my interviewer stated "Here are the red flags I have, based off your resume. I'd like to give you a chance to respond to each of them," I became immediately fired up and excited by the transparency. Our conversation only became more refreshing and atypical from there: we talked about the importance of diversity in hiring, yet the challenges accompanied by diversifying a pipeline; we talked about what my learning curve would look like, given the trajectory of my past experience; we talked about where NewsCred had been, and where it was going. By the end of our call, I was hooked, and I knew that working under this manager would push me in all of the best possible ways.
A few days later, I came into the office for my first onsite. I met with a mix of NewsCred leaders, including the Dhaka-based HR Head, the SVP of Sales, and the VP of Engineering. This was perhaps the most challenging roster of interviewers I'd ever encountered as a candidate: they each asked me intentionally provocative questions, and they each dug deep into the anecdotes I provided. By the end of my 90-minute visit, I felt the most pleasantly surprising hybrid of exhaustion and inspiration. During this visit, I also had the chance to sit in on NewsCred's weekly Demo Day – essentially an all-hands meeting in which wins, challenges, and everything in between were discussed. My biggest takeaway from this visit: these leaders really care about NewsCred, and about hiring someone into this role who will effectively grow the company.
I came onsite once more and met with the VP of Global Customer Success and with the COO; each interviewer was thoughtful, passionate, and genuine. These conversations served to further convince me that NewsCred's values were so perfectly aligned with my own.
When I received the offer call later that day, I accepted on the spot (though this is a practice I encourage candidates never to partake in!). Though I was in the process elsewhere and had actually received another offer earlier that morning, it took all of 30 seconds to realize that NewsCred was where I wanted to spend the next significant chunk of my career. I wanted to join NewsCred's Diversity Council (it's also worth mentioning that the Exec team with whom I'd interviewed was the most diverse set of leaders I'd ever encountered – in all possible ways). I wanted to work in an established, yet constantly-evolving company. I wanted to come to work every day hungry and eager.
Though this is the most arduous process I'd ever been through from a candidate perspective, it shows the quality of people who get hired at NewsCred — and I wouldn't have changed a single thing about it.
What we look for when we hire at NewsCred
Now that I've been here for ~3 months, I'd like to offer some insight into what the team is looking for from a hiring perspective:
The embodiment of our values: this may sound trite, but it couldn't be truer. Our values have each been selected because they represent who we are, how we operate, and what we believe in. We want folks who are collaborative, who care about others, and who aren't afraid of a challenge.

Authenticity: We want to get to know you for who you are; we want to know what gets you out of bed in the morning, what you've done, and what you're looking to do. Please don't tell our interviewers only what you think they want to hear (they're experts in BS detection!).

Passion for our mission: We don't necessarily care if you've worked in the martech space before (I certainly hadn't!), but we do care whether you truly understand what we do (or are willing to learn) and whether you're motivated by that mission.
If any of the above resonates with you, check out our open roles here!
Originally published on Aug 20, 2019 11:00 AM, updated Nov 4, 2019