Last week, we announced NewsCred's participation in the Marketo Accelerate Program, the MarTech industry's first partner accelerator, as well as integration enhancements between the NewsCred Content Marketing Platform (CMP) and the Marketo Engagement Platform. We're slightly biased, but this partnership means very good things for NewsCred customers — and more importantly, for your customers.
By integrating Marketo with NewsCred, marketing teams are able to scale and streamline content distribution for multi-stage nurture programs and measure the impact of that content on new and existing leads. The partnership enables our co-customers to empower your marketing organizations to deliver a better, more consistent, and relevant experience for prospects and customers.
Here are three trends that NewsCred and Marketo customers can now tap into to transform the way teams work together and fuel a stronger, ROI-focused content marketing program:
1. In A Content-Driven World, Experience Is Paramount
In order to drive newsletter sign-ups, maximize engagement, and minimize unsubscribes, brands need to offer a consistent, relevant, and high-quality experience through its content. But sourcing that content has long been the Achilles' heel for demand generation and marketing operations teams.
At NewsCred, our team leverages the Marketplace and Library features within the CMP to easily source high-quality, pre-approved content — created and curated by our entire marketing organization. Pulling a mix of original and licensed content from a centralized location allows teams to deliver a consistent, unified, and personalized experience across all email newsletter and multi-stream nurture programs.
Gone are the days of sending mass messages that ignore the valuable information you have on your leads. NewsCred and Marketo enable you to optimize the experience for different audience segments at every step of the journey with exceptional, readily-available content.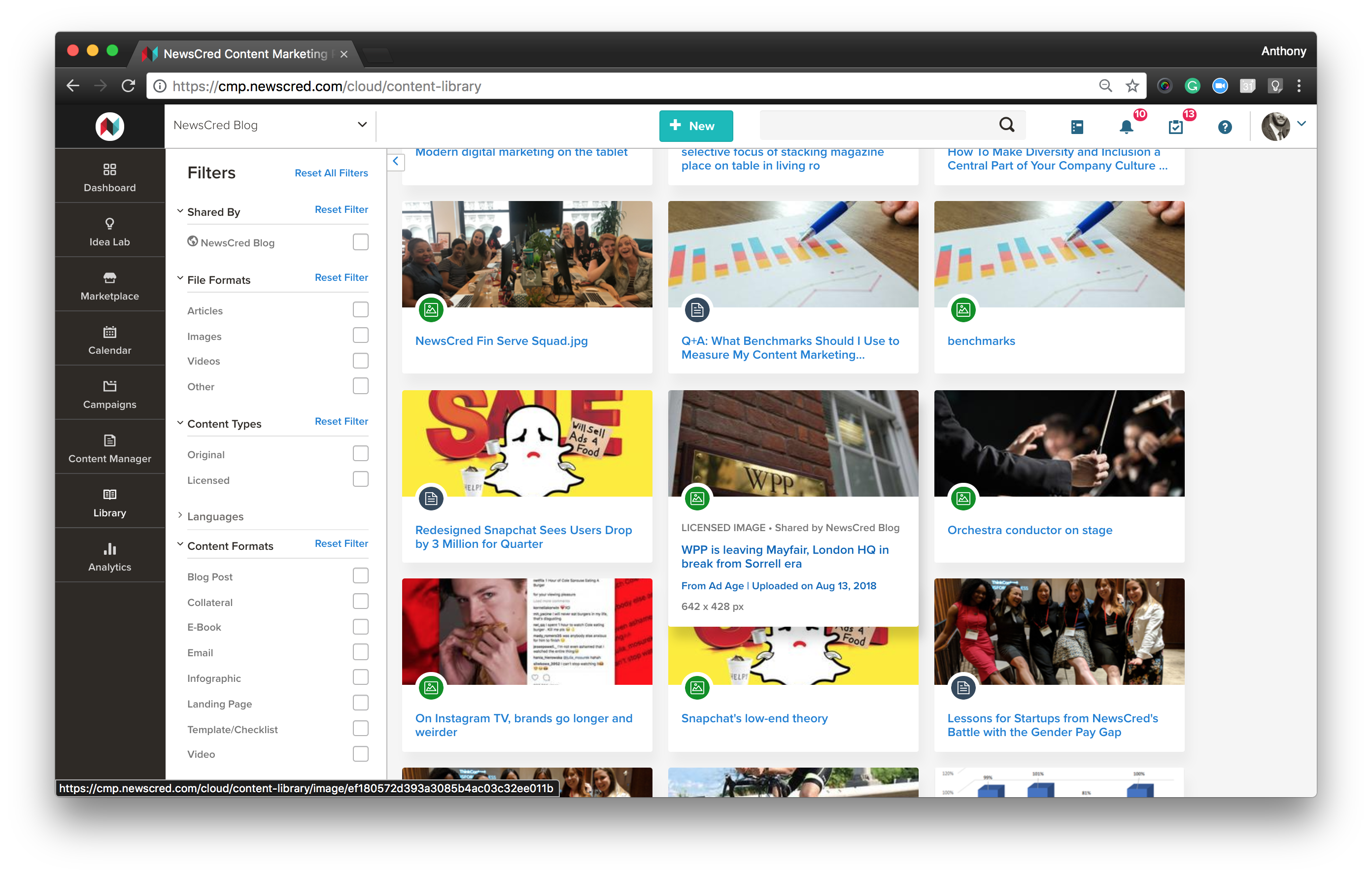 2. Content Production Only Matters If You Can Scale Distribution
Delivering that new, personalized content experience is great in theory. Putting it into practice, however, is another story. As many marketers can attest, deploying emails at a continuously high cadence can very quickly become a logistical nightmare where teams spend so much time building emails there's little time for testing and optimization.
At NewsCred, we've felt that pain firsthand. But despite having the lean marketing team of a startup, our newsletter cadence now mirrors that of a much larger organization. We run a 3X a week, segmented newsletter with one content marketer and one marketing ops freelancer. This simply wouldn't be possible without the combination of the NewsCred CMP and our integration with Marketo.
We use the CMP to coordinate workflows between our demand generation and content teams. Using the Marketo Snippet and CMP integration, our team seamlessly adds content into the Marketo asset library as part of the regular content publishing process.
By sending a pre-formatted article snippet from the NewsCred CMP directly to Marketo, we're able to streamline the process and quickly build emails. This means we're able to quickly distribute multi-stage, personalized newsletter streams in a fraction of the time — without having to go into the code.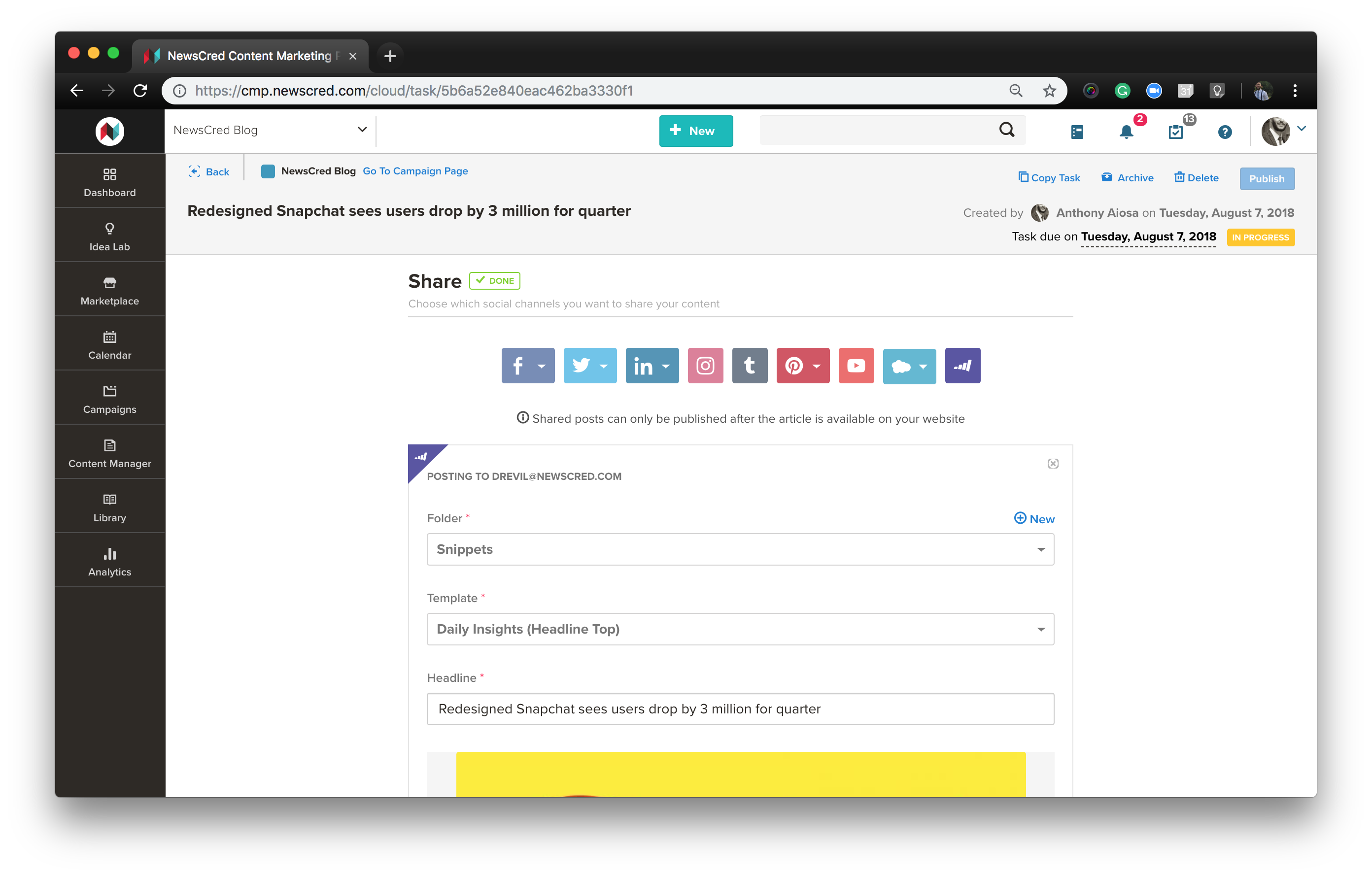 3. It All Comes Down to Measurable Results
Creating great content and distributing it through integrated, coordinated marketing campaigns are important parts of a sophisticated content marketing program. Ultimately though, marketers are working while blindfolded if they don't have the ability to pinpoint the impact that content or a campaign had on influencing leads and sales.
Fortunately, by combining the Marketo Munchkin cookie and analytics within the CMP, NewsCred customers gain the ability to measure the effectiveness of demand generation programs and surface exactly which content is performing best and why. Without this tech stack, marketers will find blindspots in their content marketing analytics.
As an example, in our own NewsCred CMP analytics we have the ability to track leads reached and leads generated at both a program and individual piece of content level. We'll know exactly how this very article helped move the needle for the business. All this data is used to surface insights that help us to identify high-performing content and further optimize campaigns.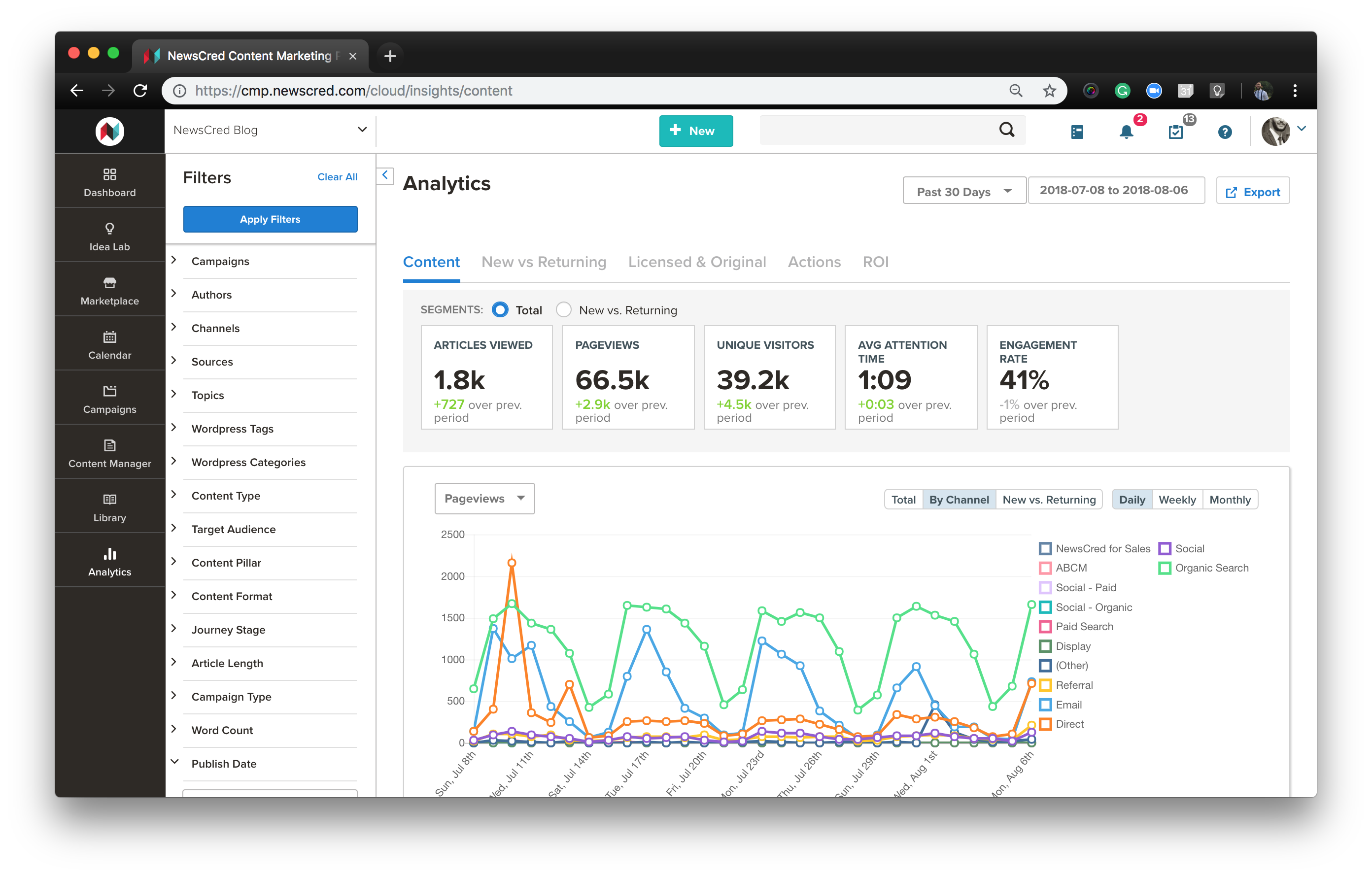 So if you're looking to bring your content marketers, demand gen, and marketing ops teams closer together — while scaling a sophisticated newsletter program and reporting content's lead generation up the ladder — NewsCred can help. Our Marketo partnership was really designed to improve your customers' content experience and increase your teams' marketing-driven revenue.
To learn more about the benefits of NewsCred + Marketo, visit https://get.newscred.com/marketo.
Anthony Aiosa is NewsCred's Senior Product Marketing Manager.
Originally published on Aug 24, 2018 1:48 AM, updated Aug 28, 2018