At NewsCred, we know the power of applying a consistent methodology to our client programs in order to drive measurable business results.
The NewsCred Methodology is comprised of several steps that, when executed, will result in achieving the content marketing goals you've established.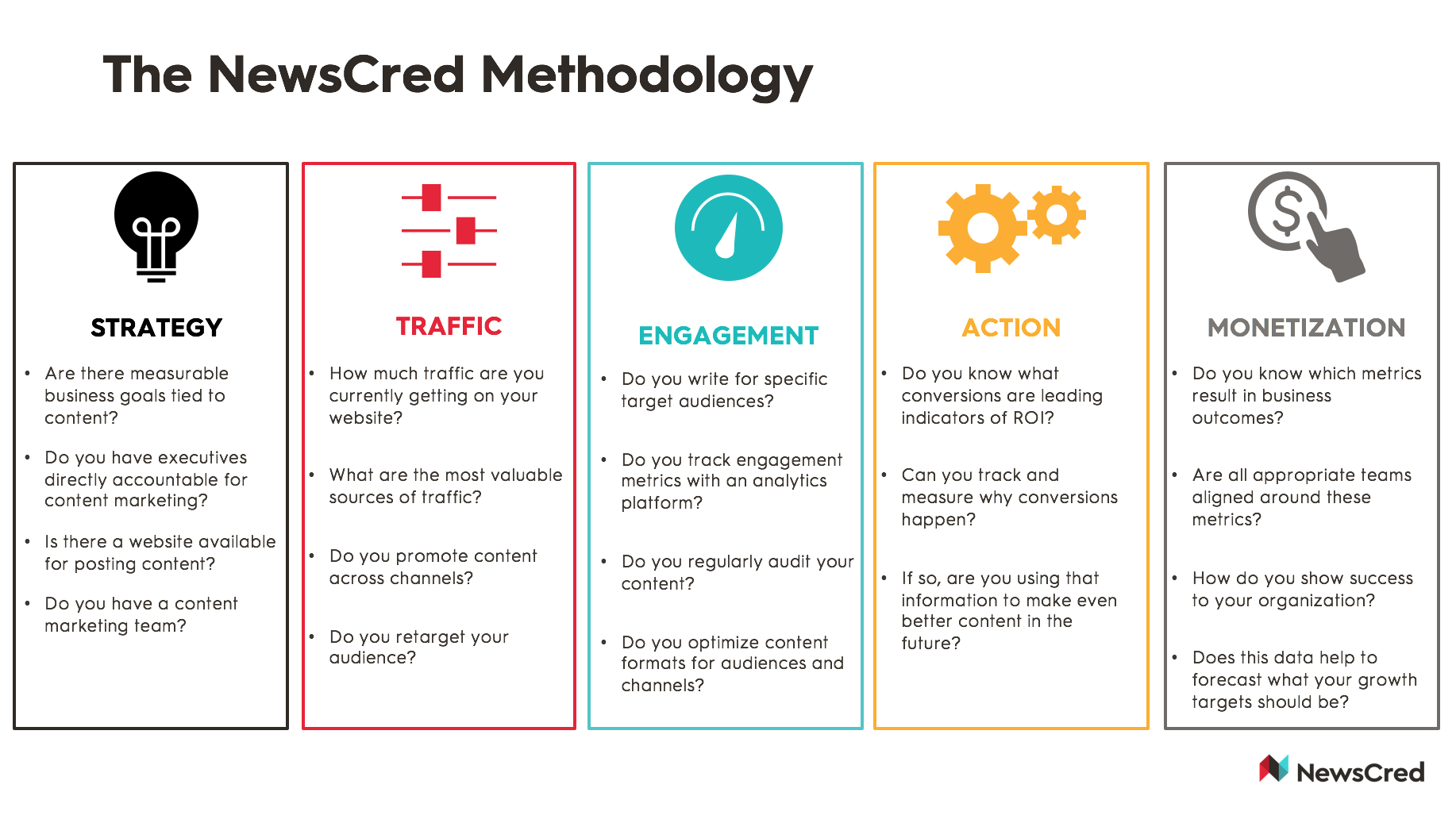 However, this methodology is equally as powerful when used as an internal communications tool and applied to the way that we onboard, train, communicate with, and enable our teams. Let's take a look.
Strategy
The first step that we stress in our client programs is developing a clear, documented content marketing strategy that maps back to your overall goals. But when it comes to internal communications and training, we often forget to even consider creating an overarching strategy. The lack of one results in duplicative, inefficient, and ineffective forms of communication.
How We Do It: Our strategy for training and development at NewsCred is multi-faceted and based on data around how people learn and communicate. We started by developing the overall goals for the program, and then broke those into smaller goals and success metrics for each quarter. Our strategy focuses on driving employee engagement and retention, instilling best practices, and challenging our employees to get out of their comfort zone. In addition, it strives to enable managers and subject matter experts to act as trainers. I'll go into more detail in the sections that follow.
Ask yourself:
Do you have a documented strategy for your employee communications, training, and onboarding?
What are your overall goals as a company and how are you creating clear feedback and communication channels to support them?
Do you have a central repository of information? What systems are you currently utilizing and how do they integrate? How is the information organized?
Have you provided employees guidelines as to how to best communicate and store critical company information?
Are these strategies backed by data, feedback, and analytics?
Who is responsible for managing and creating messages and materials?
What KPIs have you identified to define success? How often do you analyze the performance of your current strategies and identify gaps or weaknesses in the current process?
Traffic
The second step in the NewsCred Methodology is to leverage every channel at your disposal (social media, email, in-person events, and the like) to promote and drive traffic to your content. Without a distribution strategy to get your content in front of your audience, it will go unseen and forgotten.
The same is true for internal communications. Ensure that you place your resources in forums that employees access frequently, where they can easily find the information that they need in a diverse range of formats. It also helps to send reminders about these materials through email, meeting announcements, and internal chats.
How We Do It: For training and onboarding at NewsCred, we have the same training decks available in a variety of places to ensure that they are easily accessible – meaning that employees will actually view them. Our "Content Marketing 101" deck is hosted in Google Slides, but also lives within our learning management system, on a "Welcome to NewsCred and Content Marketing Page" on our internal wiki, and is shared via Slack with the most recent new hires after they receive the associated in-person training.
Ask yourself:
What tools and forums do your employees use most frequently?
What communication channels can you leverage to remind users about your training materials?
Engagement
We know that visual content is appealing. Learning statistics reveal that 65 percent of the population is visual learners, meaning that they learn and retain the most information from visual resources. But often, we simply send a long email with a link to an even longer document outlining a new process and then expect immediate adoption.
Engagement, the third step in the NewsCred Methodology, is critical not only for content marketing success, but also for employees. We need to rethink the way that we create and share internal documents. We must focus on creating materials that employees can more easily digest and retain, and reinforce these teachings with compelling in-person training or discussions.
Adding a bit of fun through gamification or competition doesn't hurt, either. (Our employees love kahoot.it!)
How We Do It: We take a crawl/walk/run approach to training at NewsCred to drive engagement and appeal to our employees' diverse learning styles. When becoming acquainted with NewsCred's solutions, our employees first watch a video as pre-work, then attend an in-person training that outlines our solution at a high-level. They then participate in deep-dive sessions for each part of our solution that facilitate interaction, Q&A, discussion, and high levels of engagement to increase understanding.
Ask yourself:
How can you adapt your training materials to suit different learnings styles: visual, aural, verbal, physical?
How can you make your sessions more interactive or gamified?
Action
The fourth part of the NewsCred Methodology is "Action" – as in, once our audience is engaged, how can we encourage them to take the next step and opt to engage with us further? (In content marketing, that often comes in the form of signing up for a newsletter, filling out a form, or contacting us to receive more information.)
For internal communications, we take a slightly different approach to Action: How can we ensure that our new employees are fully ramped up and able to perform their jobs at the highest level?
Here, we can again cite learning statistics: We know that interactive training and certifications are much more effective than classroom-style lectures. You can't learn to ride a bike at a seminar. By incorporating exercises, active discussions, role plays, certifications, or feedback into internal communications, we can better ensure retention of the information as well as actively gauge the effectiveness of these messages.
How We Do It: After being fully trained on our solution, our employees attend an interactive workshop at the end of Onboarding Day, about a month after starting at NewsCred. This session focuses on leveraging their knowledge of the solution to outline the customer value, common before scenarios of our clients, what is required for the success of content marketing programs, and more. This challenges employees to utilize the information they've learned, and also helps our leadership and training teams to identify gaps in knowledge.
Ask yourself:
What interactive sessions can you create to allow employees to demonstrate the fruits of their training? And allow you to see where they still have room to grow?
Measurement
It's impossible to declare success unless you've quantified it. In your strategy, you've identified what KPIs you'll measure to determine success. In content marketing, those metrics can range from traffic goals to revenue targets. For internal communications, they're likely quantifiable metrics on retention of company information and the effectiveness of available resources.
These can include:
Certifications: Create certifications with clear and consistent scoring that serve to identify knowledge or skill gaps.
Quizzes: Planned quizzes can add a layer of accountability for learning and development.
Feedback Forms and NPS Scores: Sending feedback forms with quantitative and qualitative measures can both provide a tangible measure of success as well as additional context to optimize.
Analytics: Leverage Salesforce, NPS, certification scoring, and other tools to create a rich view of the success of training programs and overall employee experience.
How We Do It: Over the last two years at NewsCred, we dramatically changed the way that we create, share, train, and measure the effectiveness of internal resources. We added a wiki system, a conversation analysis tool, onboarding plans, a learning management system, an internal training specialist (that's me), an automated OKR tracking system, a deal qualification plug-in within our CRM, and more. Pulling together data from these multiple sources to create a comprehensive measurement of employee engagement and success is my biggest priority.
Ask yourself:
What does internal communications success look like at your company?
How will you measure it? What systems do you need in place to do so?
At NewsCred, we deeply care about increasing the efficiency and effectiveness of our employees. Implementing the NewsCred Methodology into our internal communications and onboarding was a big step in setting up every employee for success. We can't wait to see what we can do over the next two years to become even more streamlined as a team.
Meghann Misiak is NewsCred's Manager of Training and Enablement.
Originally published on Jul 9, 2018 12:30 PM