As a content marketer at a content marketing company, it shouldn't be shocking to know that I spend most of my time and energy strategizing how to improve our content marketing practices at NewsCred. We are laser focused on optimizing our efforts in order to meet our ultimate goal; to help educate, inspire, and empower all of you – the greatest marketers we know.  For years, NewsCred has created content and shared it on our blog and Academy with great success. The number of marketers that we have reached and impacted in such a short period of time is nothing less than inspiring. But we believe that we can always improve and that is exactly what we are doing.
Today, we are thrilled to announce the launch of NewsCred Insights, our new site designed specifically for marketers to help guide them along the journey of navigating and mastering content marketing.  Merging the incredible content previously available on our blog and Academy into one comprehensive site, NewsCred Insights also introduces new content, guides, tools, and templates from industry experts. With Insights, marketers will have access to a premier online educational platform for learning about content management, strategy, distribution, and measurement. By following recommended learning paths, marketers will discover information, inspiration, and templates from industry leaders and visionaries as they redefine their own marketing strategy.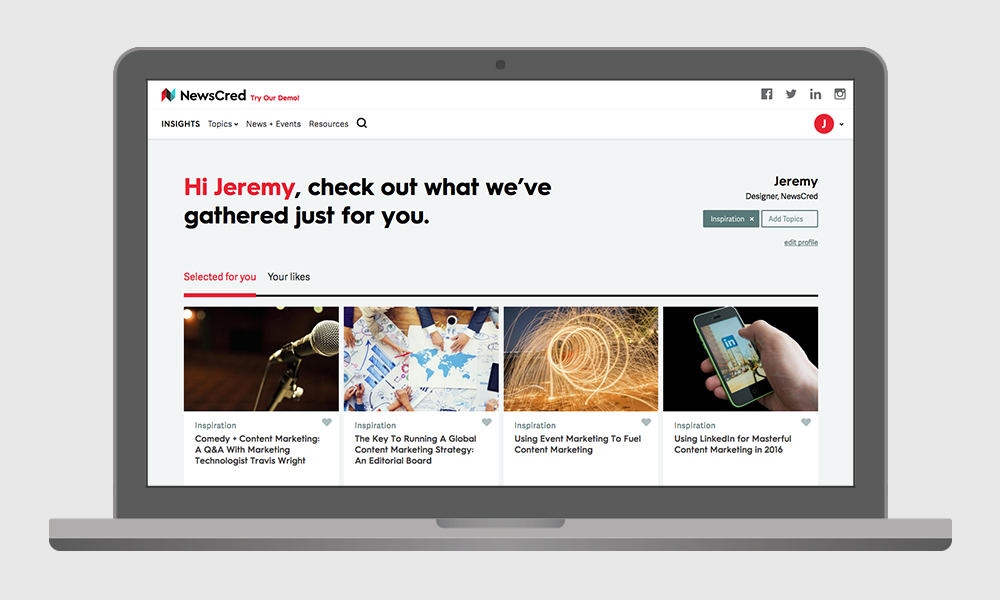 Based off of user data and research determining what our audience truly wants and needs, NewsCred Insights was designed to optimize the experience of our readers and make sure that our one-of-a-kind site serves everyone's unique and individual preferences. Specifically, we are particularly excited about the following features:
– Personalized exploration of the latest news + trending topics to stay on top of industry buzz – all based on readers' designated topics of interest.
– Access to expertly curated learnings from NewsCred experts and marketing leaders.
– Downloadable tools + templates, including editorial calendars, ROI calculators, and more.
– Seamless registration for industry events from our annual #ThinkContent Summit to monthly webinars.
– Ability to connect with a community of experts, influencers, and marketers just like you.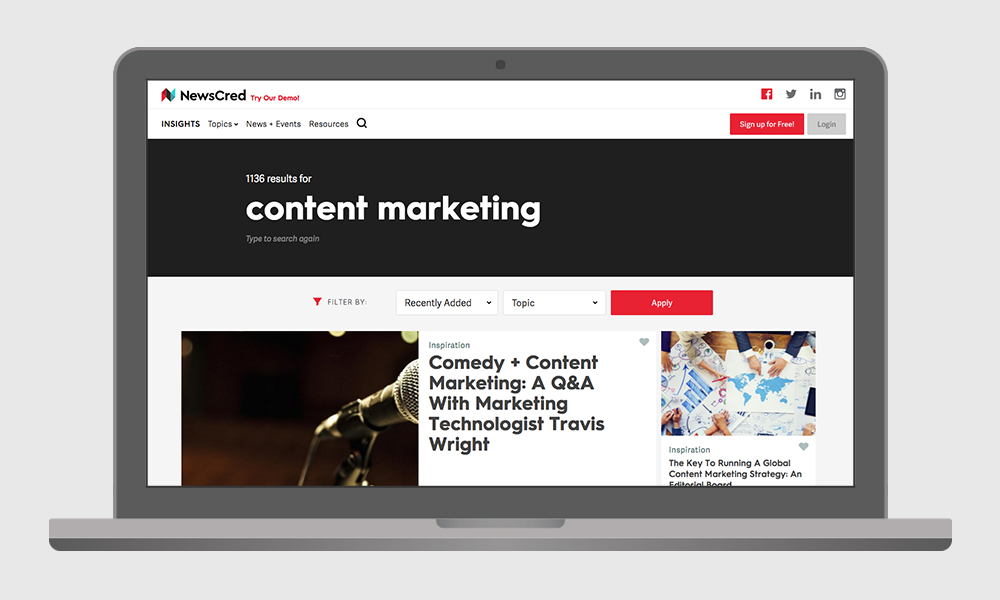 We hope you are as impressed with the new Insights as we are – and we aren't done yet! Stay tuned in the coming weeks as we'll be unveiling another element of Insights, #ThinkContent University. This premium training course taught by industry and NewsCred experts will truly revolutionize the way you think about professional development and education. Be on the lookout for more information soon!
Lastly, and quite possibly one of the announcements we are most excited to share, is that you may have noticed a new look to the NewsCred brand. We have redesigned our logo and brand elements to better represent the NewsCred brand visually.  Grounded in the foundation of our brand and what NewsCred stands for, we believe that our new brand identity better highlights and features our four brand pillars:
– Irrational Optimism: Seeing opportunities where others don't.
– Rule Breaker: Constantly pushing the boundaries towards excellence.
– Compassionate: Always putting our people first.
– Against Mediocrity: Looking to reinvent the status quo.

Our new identity, including logo, mark, fonts, and visual treatments, truly brings to life everything that NewsCred embodies as a brand. Our team worked incredibly hard on each piece of our brand system, and we are really proud and excited to be premiering it alongside the launch of NewsCred Insights. We'll be sharing a behind-the-scenes look at how we developed our new brand in the coming days, but hope you are as impressed with it as we are!
Enjoy the new Insights and we look forward to navigating this content marketing journey together with you!
Dayna Sargen is the Brand Marketing Director for NewsCred.
Originally published on Mar 3, 2016 11:00 AM