A content marketer's work is never done.
We're constantly updating and optimizing our strategies based on our latest learnings, observations, insights, and technology.
At NewsCred, this is one of the reasons we find our work so exciting. We've been in business for nearly a decade and it's been gratifying and fascinating to evolve with the space.
In keeping with our annual tradition, we've taken a look at the state of the content marketing industry, plus our strategy and learnings, and put together a case study on ourselves. Here, our best practices for using content to drive business results.
The Content Imperative
Our industry has matured to a point where content marketing is no longer a nice-to-have. It's a must-have.
And at NewsCred, we believe that content marketing is the single most effective way to deliver more engaged, better qualified buyers to your brand – thus driving brand awareness, conversion rates, and sales with greater ROI over typical advertising methods.
Content powers the customer experience, and it's integral for any brand looking to build a meaningful relationship with consumers.
84% of people expect brands to produce content, according to Havas Group's 2017 Meaningful Brands study.
However, the same study found that 60% of all content brands create is poor, irrelevant, or fails to deliver.
How Content Drives Value
Given those statistics, plus the fact that there's so much noise out there, brands need to be laser-focused on creating content that resonates with audiences and entertains, engages, and informs them.
We see content marketing as an opportunity to deliver users value at every interaction.
One way to think about that is by remembering that the content you produce needs to be valuable for both your brand and your audience. While brands are often tempted to talk about themselves, users don't want to hear constant sales pitches. You'll be more effective talking about topics over which you have authority.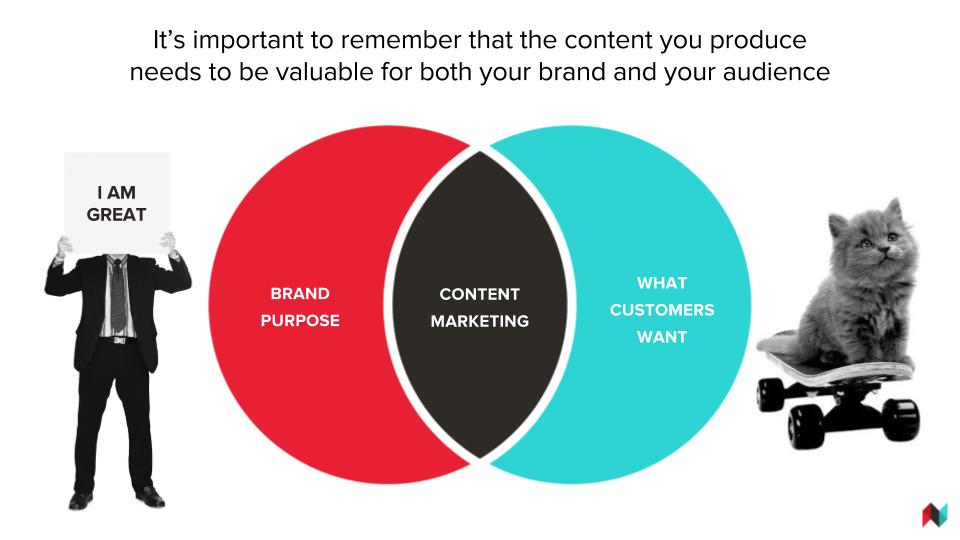 For example, as a content marketing company, NewsCred has a lot to say about content marketing. But instead of writing tons of content around our software and services, we create content that helps others be better content marketers.
And "content" doesn't just refer to blog posts and articles. It can be helpful to think about the other formats it can take, like videos and motion graphics, infographics, podcasts, social media posts, email newsletters, events, and more.
When effective, content marketing can produce indisputable business results for your brand in the form of marketing-influenced revenue and brand equity.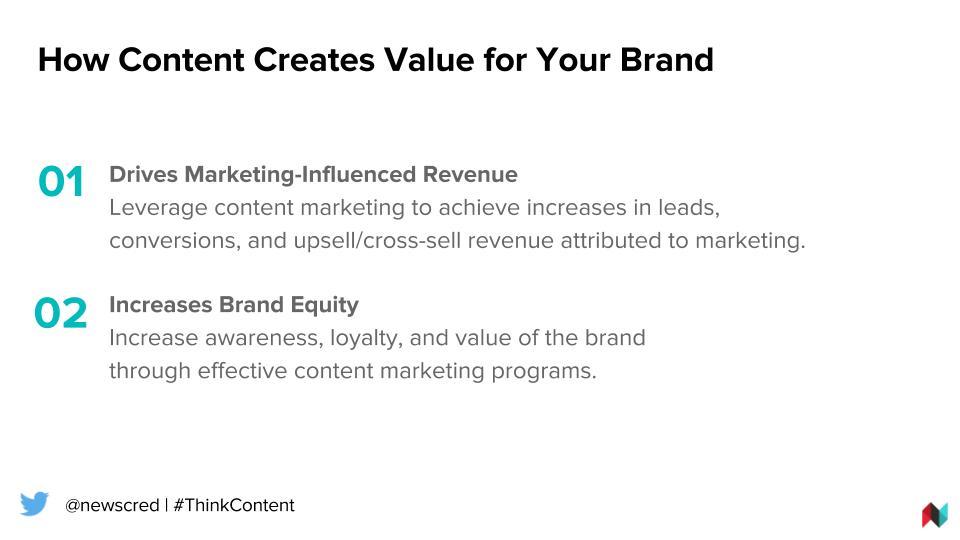 How NewsCred Does Content Marketing: Attract, Capture + Convert
At NewsCred, we can distill our content marketing goals down to two words: Generate Revenue.
And there are three key stages of the buyer journey: Attract, Capture, and Convert.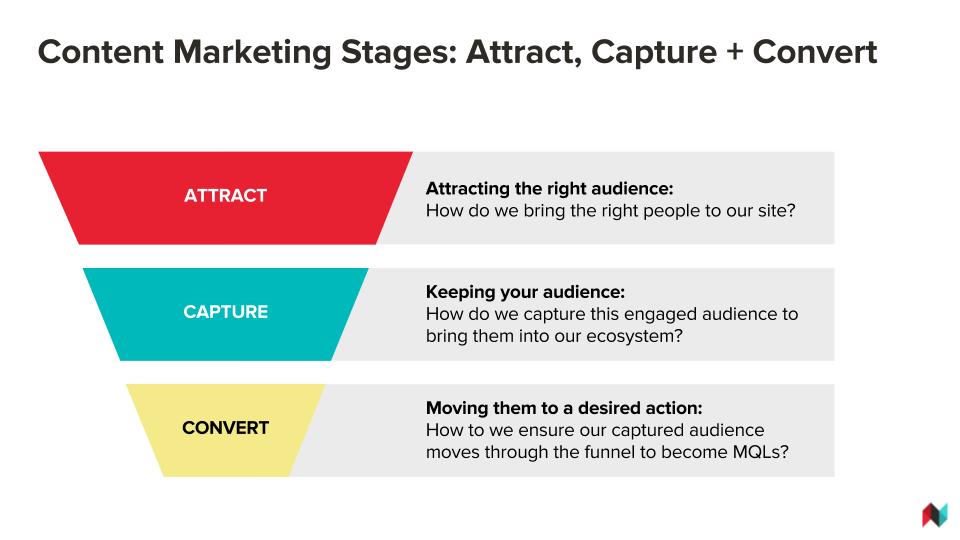 In the "Attract" stage, we seek to bring the right people to our site. In the "Capture" stage, we strive to sign them up for our newsletter so we can start engaging with them on an on-going basis and build relationships with them. Finally, we look to convert them into scorable leads when they sign up for a webinar or access a whitepaper or other piece of high-value content. This brings them one step closer to becoming a customer.
We use the following KPIs to measure our content effectiveness at each stage.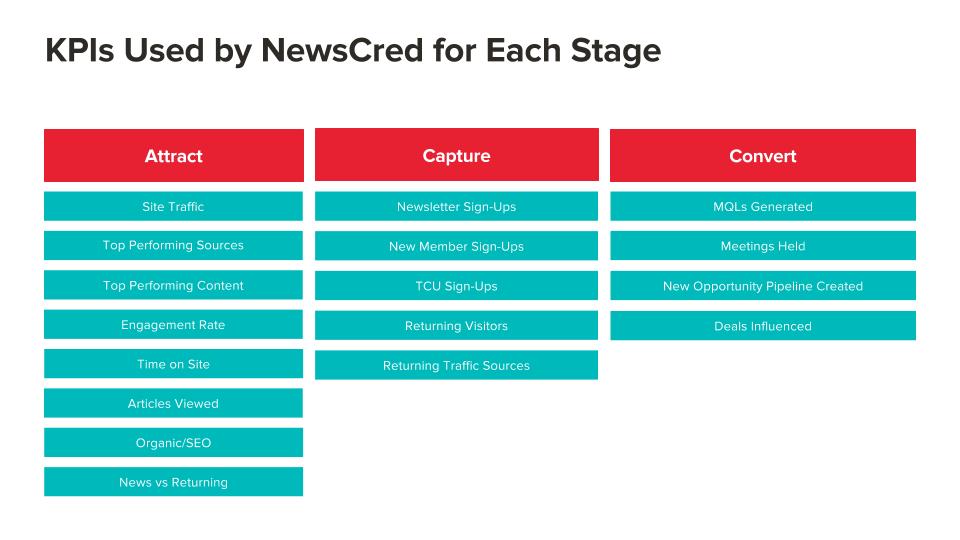 While the buyer journey is rarely linear and varies per person, we know that content marketing works and takes several engagements until we close a deal. We've found that the average NewsCred prospect engages with 20 pieces of content before becoming a customer.
How to Attract the Right Users
Attracting your target audience starts with having a documented content marketing strategy.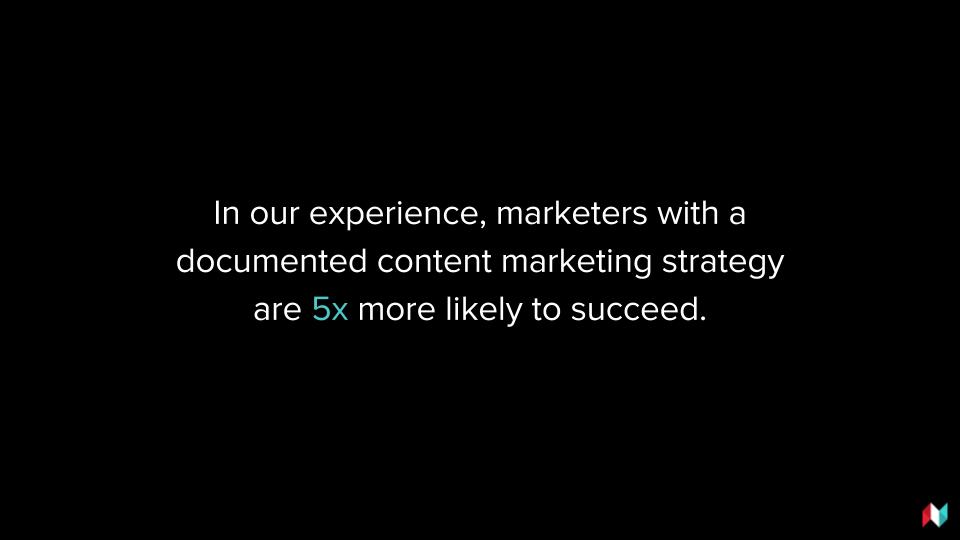 There's a reason why content marketers with a documented strategy are five times more likely to succeed.
In creating a strategy, the marketing department and entire organization align on what they're hoping to achieve with content marketing. They identify their goals and target audience, the processes they'll follow to create content, their distribution channels, and their measurement and optimization plans.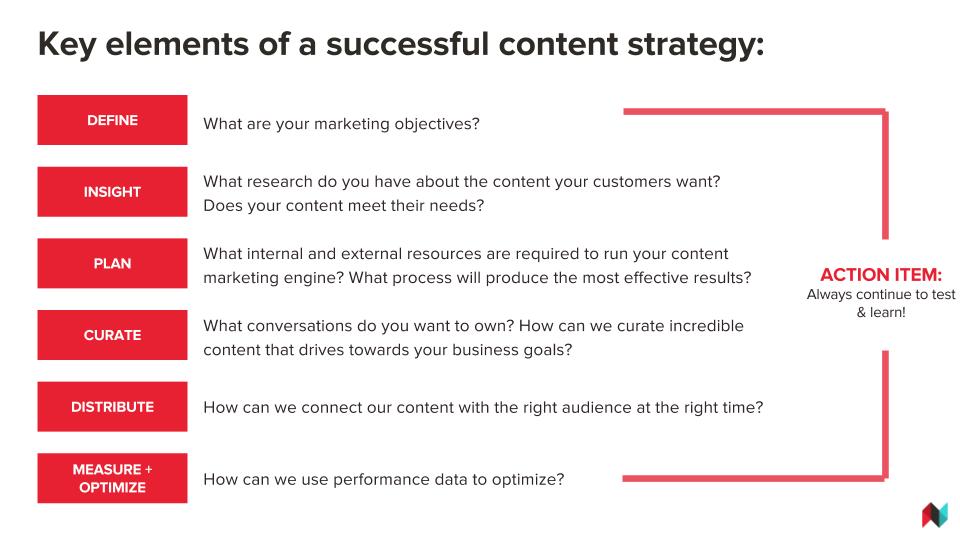 We follow these practices, ourselves. We have a documented content strategy that we treat as a living, breathing document. We update it as our strategy evolves.
We have a mission statement: "At NewsCred, our vision is to publish exceptional content that inspires content marketers to tell great stories and drive business results."
Our target audience is senior-level marketers and content marketing champions at enterprise companies.
And we're committed to quality over quantity.
Like many organizations, we have a small content team with just one editor (that would be me). This means that every piece of content we publish must work hard and drive results.
To do so, we make an effort to publish content that gives readers value. Instead of offering short, snackable content, we produce long-form, in-depth stories that are data-driven and tactical. We strive to answer our readers' questions and not leave them wanting more.
Our main content themes include brand spotlights, where we highlight content marketers who are doing interesting work in the space. We write in-depth actionable stories with clear takeaways that marketers can follow to improve their processes and insights. We produce trend stories that highlight new technology or innovations that are shaking up the industry. We write opinion and thought leadership pieces around content marketing and management. And we do a weekly news roundup that includes the top industry stories of the week.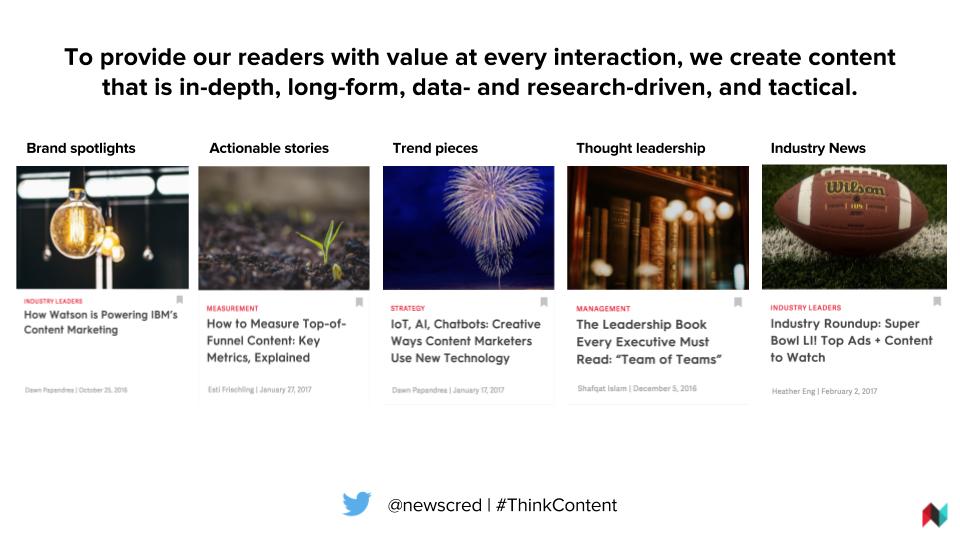 To hold ourselves accountable to creating quality content, we developed a content scorecard that's integrated into our CMS. It includes questions like: "Would I personally share this piece of content with C-suite marketers and my smartest marketing peers?" And "Does this piece of content include information that will teach a CMO or content marketing champion something new?"
If the answers to most of the questions are "No," we will not publish the piece. We would rather publish nothing than content that compromises the value we hope to deliver.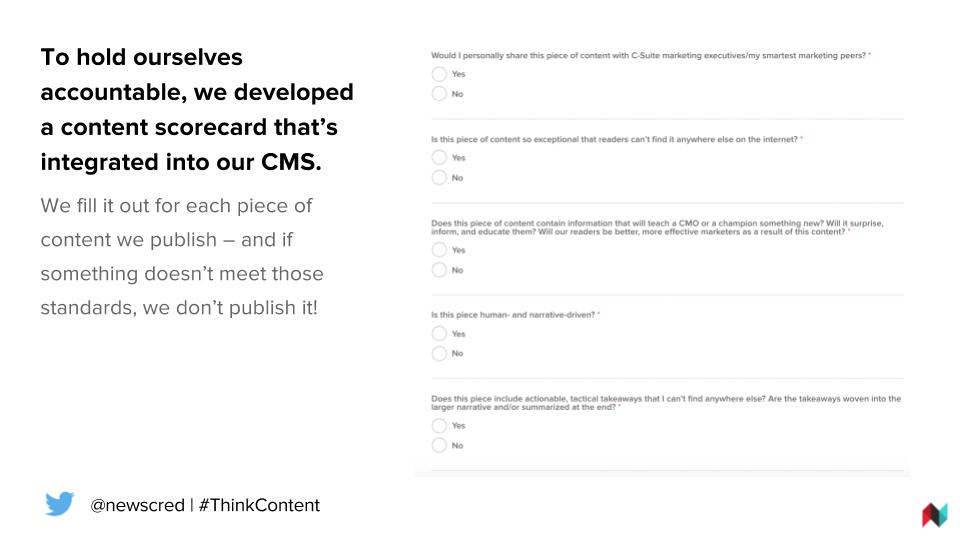 We've established a publishing cadence we can stick to. Note that we do use licensed content, which is basically third-party content that we can run on our site from publications like Ad Age and Forbes. By publishing two licensed stories a week, I have the bandwidth to write and edit three original stories that meet our quality standards.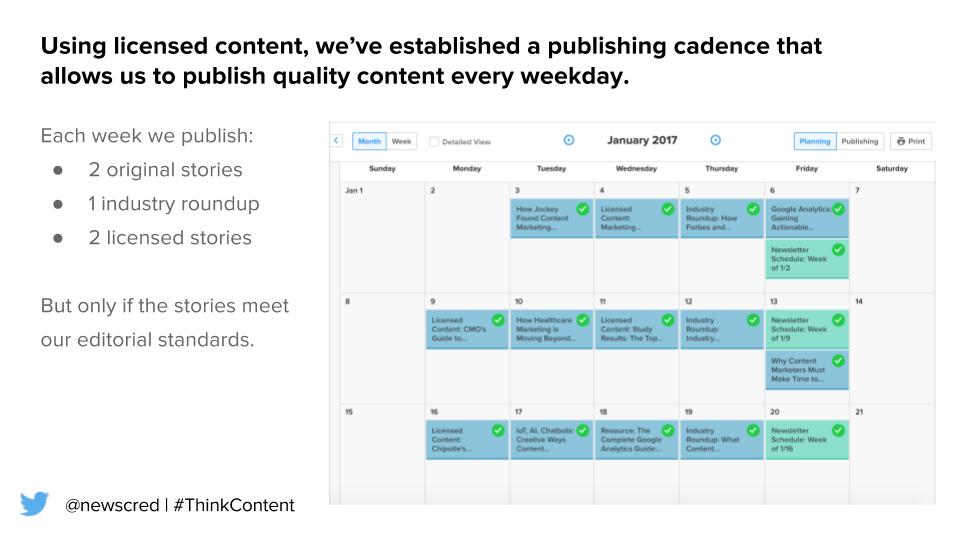 To ensure that our content reaches our audience, we distribute it across various channels, including Twitter, LinkedIn, Facebook, and email newsletters.
All these steps ensure that we're attracting our target audience.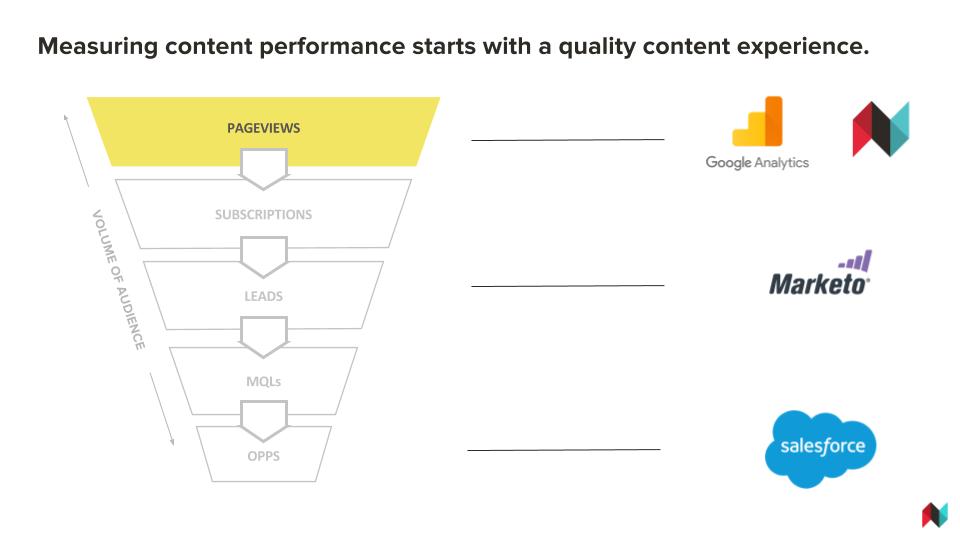 How to Capture Users
While it's important to bring the right people to our site, we know that they won't become customers after just one interaction. That's why it's crucial that we provide them enough value that they choose to engage with us on an on-going basis.
One way we do that is by asking users to subscribe to our newsletter.
We achieve this largely through a pop-up that appears at the 50% mark of a story. We've placed it there because if it were at the top of the story, users would immediately leave the page. And if it were at the bottom of the page, users may not even get to it.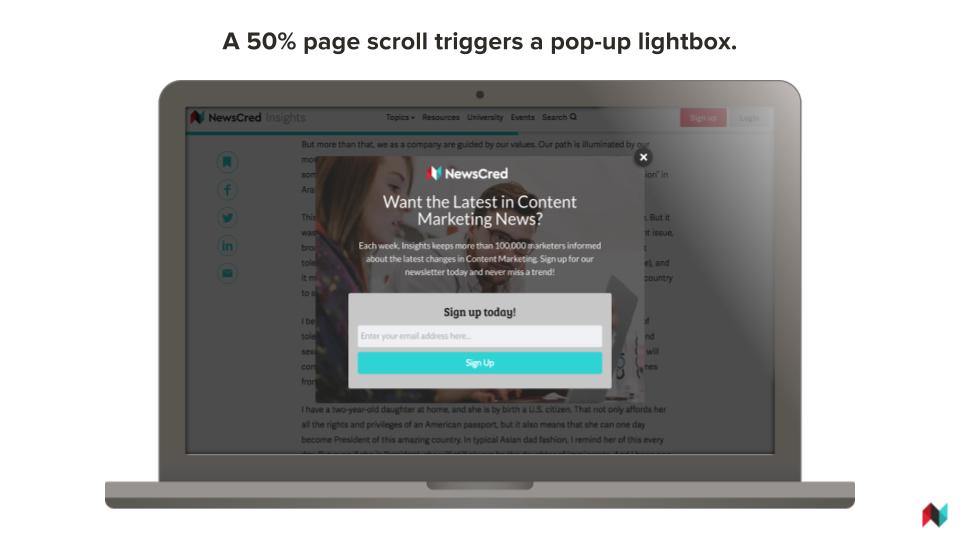 We are conscious of the user experience. We want to provide users with more value – in the form of our newsletter, which will give them free, relevant content – and the pop-up is the most effective way to do so. We keep the ask very low: We only ask users to provide us with their email address.
The pop-up is responsible for 70% of our newsletter sign-ups. To put that in context, we have more than 100K newsletter subscribers.
This also allows us to lower our content marketing program costs. Email makes up nearly 44% of NewsCred's traffic. Organic makes up nearly 25%. This means that we're not dependent on paid traffic and we have a more sustainable program.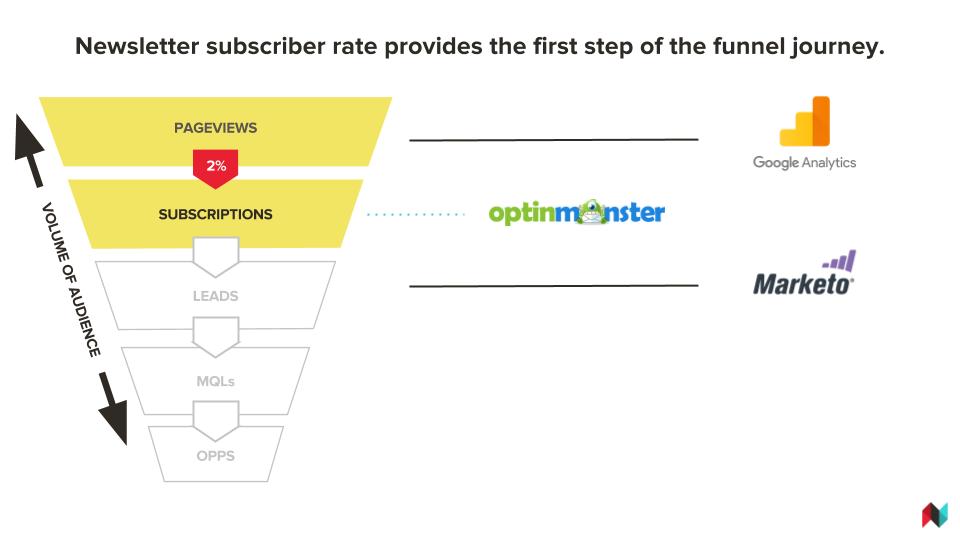 How to Convert Users
Once users have opted in to engage with us on a regular basis, we do so through email newsletters. We send four newsletters per week that feature no promotional messages, except for one footer link to high-value content, such as webinars and whitepapers. The lack of self-promotion and focus on delivering valuable information allows us to build trust with our users and incentivize them to continually engage with us.
Eventually, we do try to convert them through upsells to that high-value content.
These conversions are crucial.
When people sign up for our newsletter, they only provide their email address. To access our high-value content, they must provide their company name and title. This allows us to score them as leads and track them as eventual deals closed and revenue generated – and tie them directly to content marketing.
Most do so through the newsletter footer. In fact, we found that visitors from the newsletter convert at 3x the rate of site visitors. In addition, email is our top channel for high-value leads.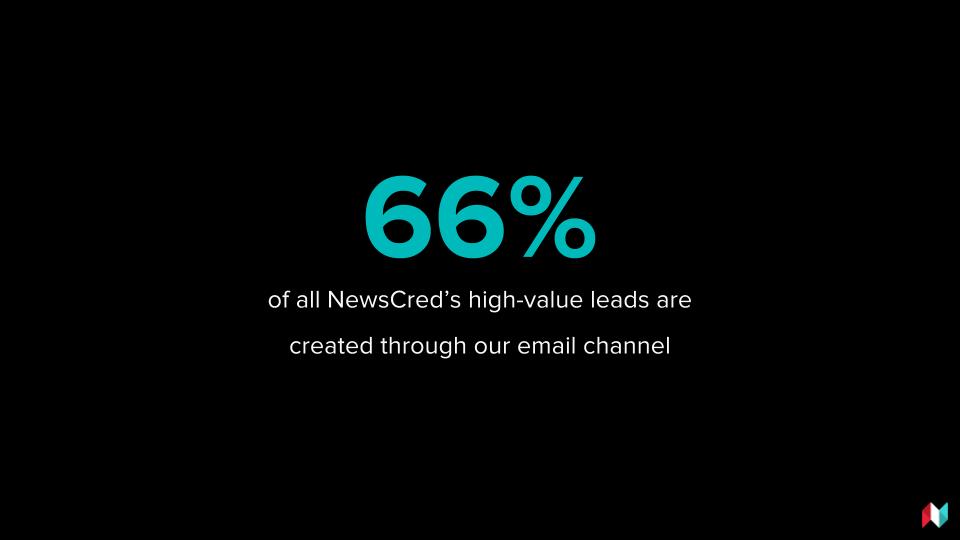 On our website, we also signpost to drive users to high-value content.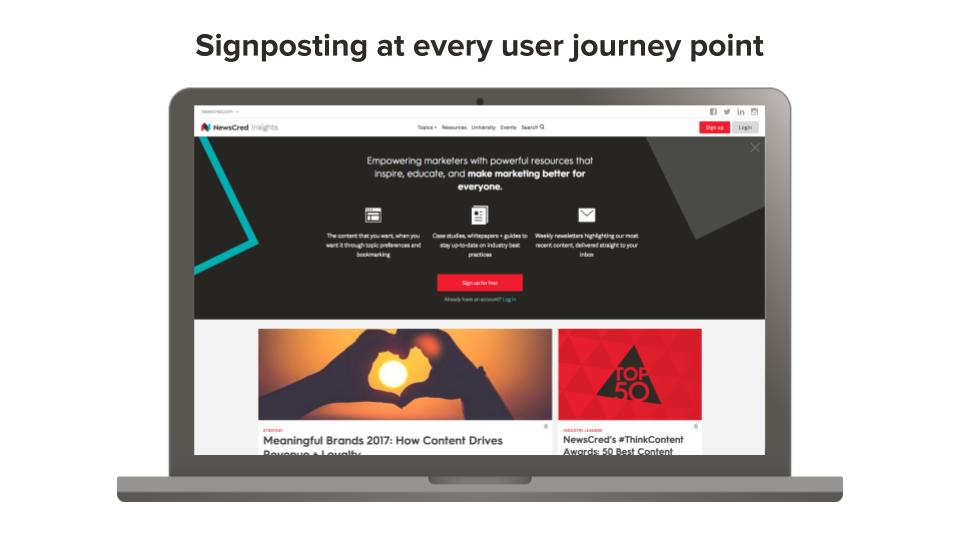 And we scale our content to meet users at every stage of the buyer journey.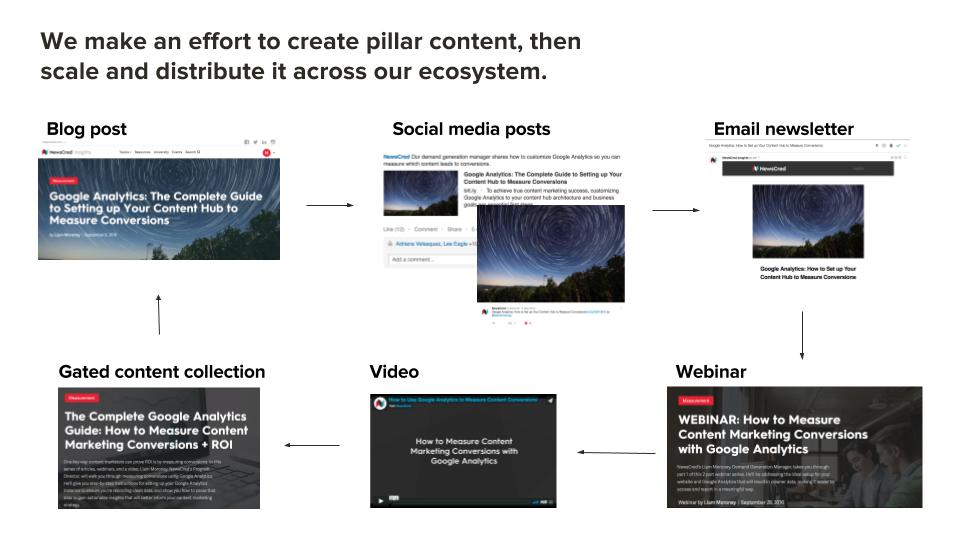 This ensures that we're creating content that will lead users farther down the buyer journey, no matter where they currently are.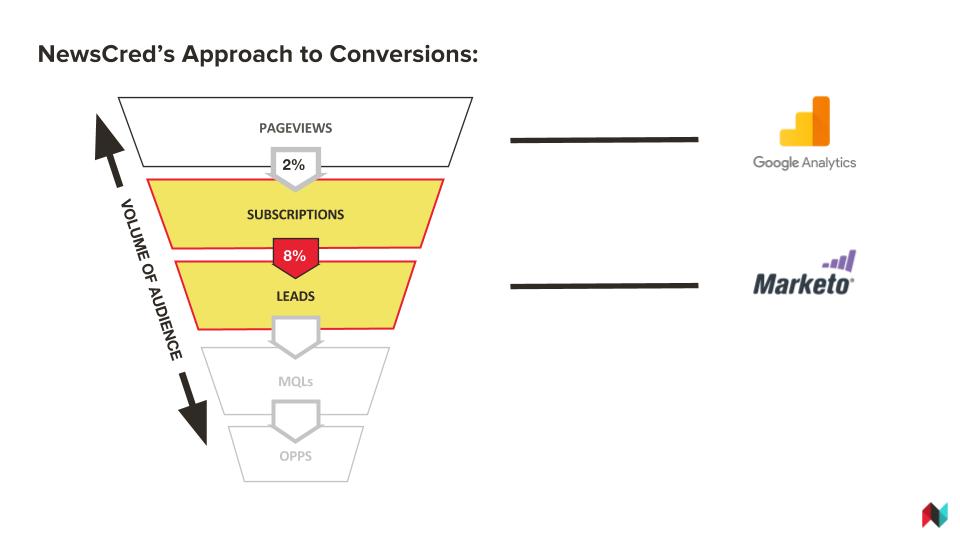 Thanks to this process, we can prove the ROI of our content marketing.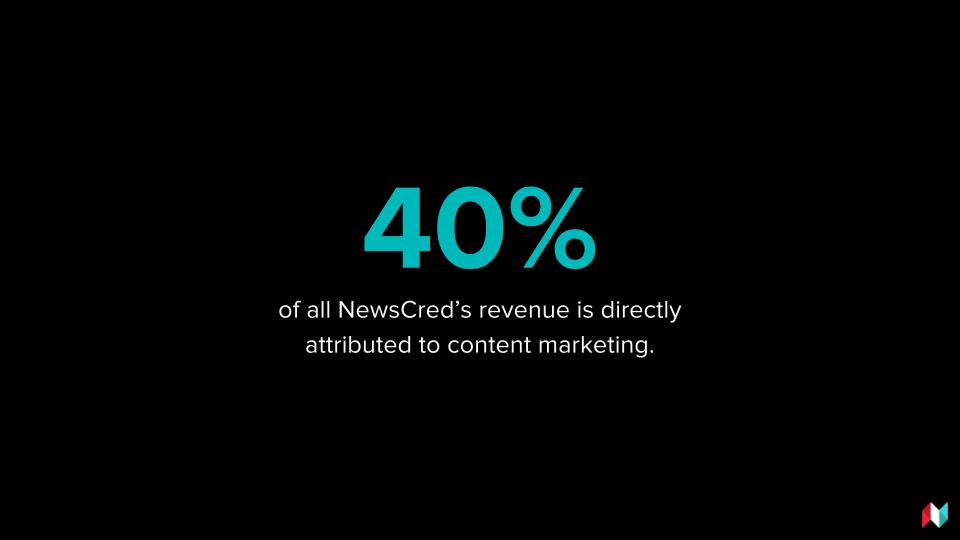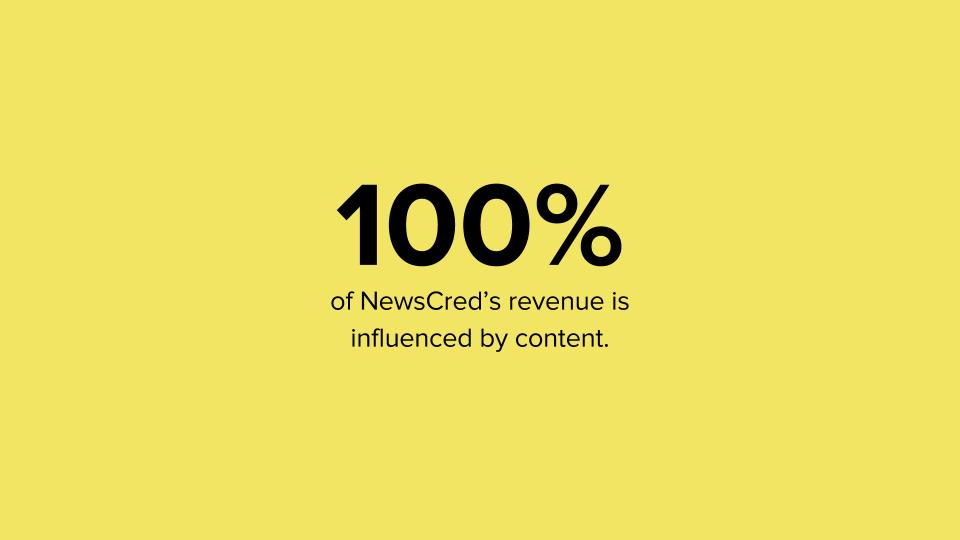 NewsCred's analytics tracks all these data points. In addition to measuring standard metrics like pageviews, readers, and engagements, our analytics also show us the number of leads reached and generated, plus the deals and revenue influenced by content.
These insights are key in helping us identify posts that are truly driving business results – even if they appear to be underperforming, on the surface.
We've covered a lot, and it takes time to build a sustainable, ROI-driving content marketing program. But with the right strategy, team, and process in place, it's achievable. Here are some key takeaways you can use to adapt our best practices to your content marketing program.
Attract: Build a quality audience that is truly engaging with your content.
Capture: Get your audience to opt-in to more content so you can control the conversation and drive them towards conversion.
Convert: Drive your captured audience towards intentional high-value conversions that can be connected to a business value.
Attribute: Work with your tech stack and acquisition teams to follow attribution best practices to get reportable credit at the bottom of the funnel.
Influence: Look at the the full value of content marketing across all lead sources and touchpoints.
Heather Eng is NewsCred's Managing Editor.
Thank you for subscribing!
Our best content will now come straight to your inbox.