I joined NewsCred over three and a half years ago and amongst the crazy growth from 8 people to 230, one thing has always stayed true: coming into work every day never feels like "a job." Rather, it feels like we are building something big and amazing. Something that is transforming an industry and paving the path for an entirely new way. Something that is making a real difference — not just in dollars, but in people's lives. That kind of insane energy, vision, and ambition is really rare to find in other companies. But it's what I love about NewsCred, and it's what makes our company so special.
When I take a step back and think about it, our culture is rooted in the values of the 230 people who show up and stand out every day. Collectively, we've been building NewsCred for over seven years! Things are not easy — it's a grueling ride and stuff goes wrong all the time. But, perseverance, humility and the sheer willpower to succeed keeps us all pushing forward.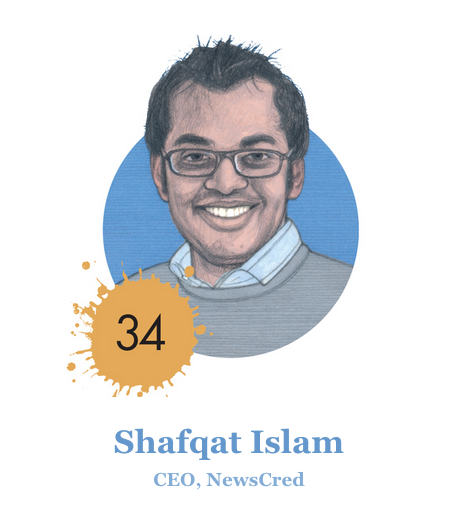 Our CEO, Shafqat, is the driving force behind all of this – and that's why I'm so proud to see him named to Ad Age's "40 Under 40" list for 2015. The award is well deserved: In 2014, Shafqat led us through a massive year, kicking it off with $25M in Series C funding, growing our company to over 230 people across 5 global offices, doubling revenue, growing our publisher network to over 5,000 leading media companies as well as announcing major partnerships and product innovations. Even more importantly, he's always kept our social mission strong: last year we funneled millions of dollars back into the publishing and journalism industry to help inspire and employ the next generation of great journalists, artists and creators.
While these are all huge achievements, there's a lot more to it. Ask anyone in our company: Shafqat is one of the most inspiring CEOs they've ever met. He's genuinely curious about the world and everything going on in our company, he has a great sense of humor and is grateful for the small things, he makes time for everyone no matter what their role is, he is irrationally optimistic about our future, and he loves loves to win.
Ad Age's "40 under 40" list is a cool accomplishment, but I think what I'm most proud of is the kind of company that Shafqat has inspired all of us to build.
Everyone's gotta start somewhere…
So, what makes NewsCred so special?  It's all about our people. It comes down to the fact that we share the same values, and come to work everyday on a joint mission. Here's what we believe:
1. Never settle for the status quo.
Every day is about innovating in a big, game-changing way. We're not making small changes, we're fundamentally disrupting the marketing industry from the ground up. We're building technology to completely rethink how people create, consume, and share their stories with the world.
2. Own huge ideas.
Everyone on our team has the power and responsibility to see their vision through. Job title, age, experience… those things don't define success. Working at NewsCred is about leadership and accountability, and everyone is empowered to make a transformative impact.
3. There are no problems, only solutions.
We recognize that there will always be obstacles, but success is about demonstrating persistence and resourcefulness. We approach challenges creatively and collectively so that nothing stands in our way.
4. Be ambitious, but stay focused.
We're tackling industry-wide problems. Focusing on quality, cutting-edge features and staying true to our vision is crucial to our success as a company.
5. Family first.
It's simple: we put our employees first, then our customers, then investors. In that order.
Thanks, Shafqat, for inspiring us to build something awesome. And congratulations on AdAge's "40 under 40."
Alicianne Rand is VP of Marketing at NewsCred

Originally published on Mar 2, 2015 4:01 PM