Play, post, re-tweet, share, and re-blog!
Social media is the most effective channel for brands to engage and grow their audience in the spaces they play, increasing brand awareness, affinity and sales. To be successful, brands need to keep up the pace and volume – proactively planning ahead and demonstrating the agility to react in real-time. On social, timing is everything.
NewsCred already integrates with Facebook, Twitter, and LinkedIn. Today, we are excited to announce that we just added three new social integrations to our platform: Instagram, Tumblr, and YouTube. This will allow our customers to act with more agility and control, with the ability to do more within a single, comprehensive platform.
As marketers, we understand the opportunities and the challenges around social media. With so many conversations happening everyday, your brand not only needs to be able to act quickly, but also carefully. Global brands need to manage their social conversations with confidence and security – without sacrificing agility and responsiveness. NewsCred's Social Engagement and Governance tools were built to help brands maintain consistency and control across all their social channels.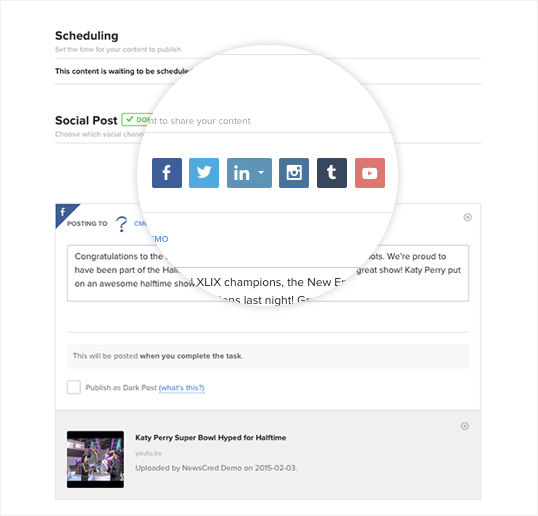 Instagram
Instagram is the fastest growing social site globally. While users are important, engagement is far more valuable. According to a recent study by Social Bakers, the top 25 brands using Twitter and Instagram garner nearly 50x more engagement on Instagram. Now, from directly within our platform, you can find, crop, brand, and share photos to your Instagram feeds. You likely have amazing Instagram images already; now you can repurpose and share those pictures across all your channels. Our software pulls in the last 30 days of Instagram posts, making these photos readily available for reuse.
Tumblr
Over the past couple years, there has been a significant rise in short-form content. With countless distractions on every digital device, consumers interest and attentions spans are shrinking. It's no wonder that 45% of viewers will stop watching a video after one minute and 60% by two minutes. In the world of insta-enterntainment, Tumblr is one of the perfect platforms for highly engaging short-form content. like photos, GIFs, memes, and any other eye-catching visuals. Easily publish images and videos directly from our platform to share your latest product teases, sneak peeks, and micro-stories.
YouTube
The rise of video is undeniable! By 2016, Cisco predicts that online video traffic will account for 55% of total consumer traffic on the internet. Now, you can share your videos across every channel. Connect your brand's YouTube account and we'll pull your videos into our platform so you can embed them in articles, post to Facebook, or share a link on Twitter.
Manage social conversations with consistency and control
Compliant Workflows:
NewsCred's Custom Workflows were built to enable brands to build processes specific to their content collaboration, production, approval, and distribution needs. Whether your goal is to spark a conversation with the first post, or keep an existing conversation going with a reply, you can easily create the right custom workflow to build a secure process to accomplish any task.
Brand identity governance:
You can still monitor and enforce brand guidelines around logos, colors, fonts and layouts to ensure that all social assets are on-brand. NewsCred's Image Editor also makes it easy for you to add pre-approved brand logos, colors, custom fonts and custom design elements to any social asset.
If you ever need an image to accompany a social post, NewsCred provides access to the largest library of fully-legal, compliant images – stock, editorial and UGC – from Getty, Shutterstock, AP, Reuters, BANG ShowBiz, Twenty20, and more.
The value of social media is indisputable. However, being an active social marketer should not mean risking your brand image. Connect with your customers and protect your brand with NewsCred's Social Engagement and Governance tools.
Need help managing your social media platforms? Learn why Digiday named NewsCred the #1 Content Marketing platform.
Amara Nwaigwe is a Product Marketer at NewsCred
Originally published on Feb 23, 2015 12:15 PM, updated Feb 24, 2016