We live in the age of content marketing.
At some point every day, we open our laptops or tap on our phones to read another enticing piece of content that we just can't ignore. According to Forrester estimates, U.S. marketers, alone, spent nearly $10 billion on content creation in 2016. With so much money and time being invested, marketers have an imperative to prove that the content they're creating is getting people to take actions that produce business results.
At NewsCred, we're constantly working to help content marketers measure the effectiveness of their programs. We're focused on developing processes and frameworks to do so – and implementing them into our platform so content marketers can easily see what's driving results, what's not, and where they should focus their energy. Here's a look at a few of our latest developments:
Establishing a Baseline on Your Content Marketing Performance
Six months ago, we set out to document the learnings and patterns that we've seen while working with hundreds of brands on their content marketing programs over the last few years. What emerged from that exercise was a framework, the NewsCred Methodology, that articulates the elements of content marketing success:
Strategy: Documenting content marketing goals and strategy and establishing executive sponsorship
Traffic: Producing, promoting, and distributing content across channels and driving people to a content hub
Engagement: Understanding the optimal formats, channels, and topics for each type of content and focusing on those areas
Actions: Converting visitors to leads, then to customers
Monetization: Connecting metrics to real business outcomes
These components help companies lay the foundation for content marketing success and make improvements over time.
But while the methodology is a great start, we kept hearing from our customers: "How do I know that what I'm doing is working?"
Enter the Content Marketing Performance Index.
This is a proprietary algorithm for measuring the overall performance of a content marketing program. At its foundation, it independently assesses the four quantifiable components of the NewsCred Methodology: traffic, engagement, action, and monetization. The index helps marketers quickly identify areas of strength and improvement paired with actionable insights for their program to produce better business results over time.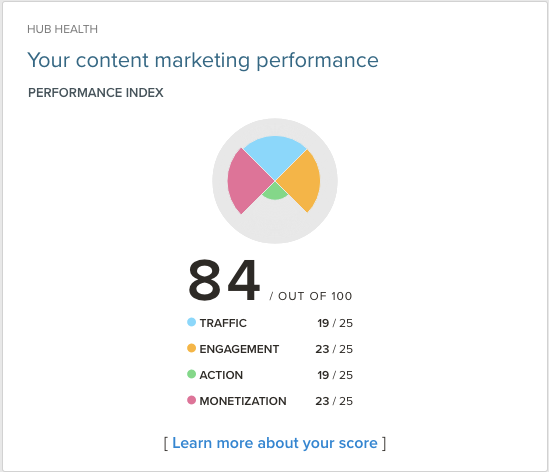 If you don't have NewsCred's platform: Evaluate your performance at each stage: traffic, engagement, action, and monetization. Within each stage, identify specific KPIs that you can improve and create strategies for boosting them.
Tracking Conversions
While we already had methods for measuring traffic and engagement in the NewsCred Content Marketing Platform, we didn't have a way to track the actions that our audience took after finishing a piece of content. For instance, if marketers could pinpoint the different pieces of content that get a reader to say, "This is valuable; I want to learn more – send me a newsletter," clearly, that content has value and optimizing it is a no-brainer.
That was exactly what we were thinking when we created Action Analytics. Our customers simply define the high-value behaviors on their site that are moving people further down the funnel (e.g. signing up for a newsletter). After a simple JavaScript implementation, they can easily track and measure the content responsible for generating those actions.
Some commonly defined actions include:
Cart checkouts
Newsletter sign-ups
Site logins
PDF downloads
Account creations
Clicks to an e-commerce site
At NewsCred, we track and measure a number of distinct actions that are valuable for our business and use the data we gather to create more effective content – while also proving the value of what we've already created.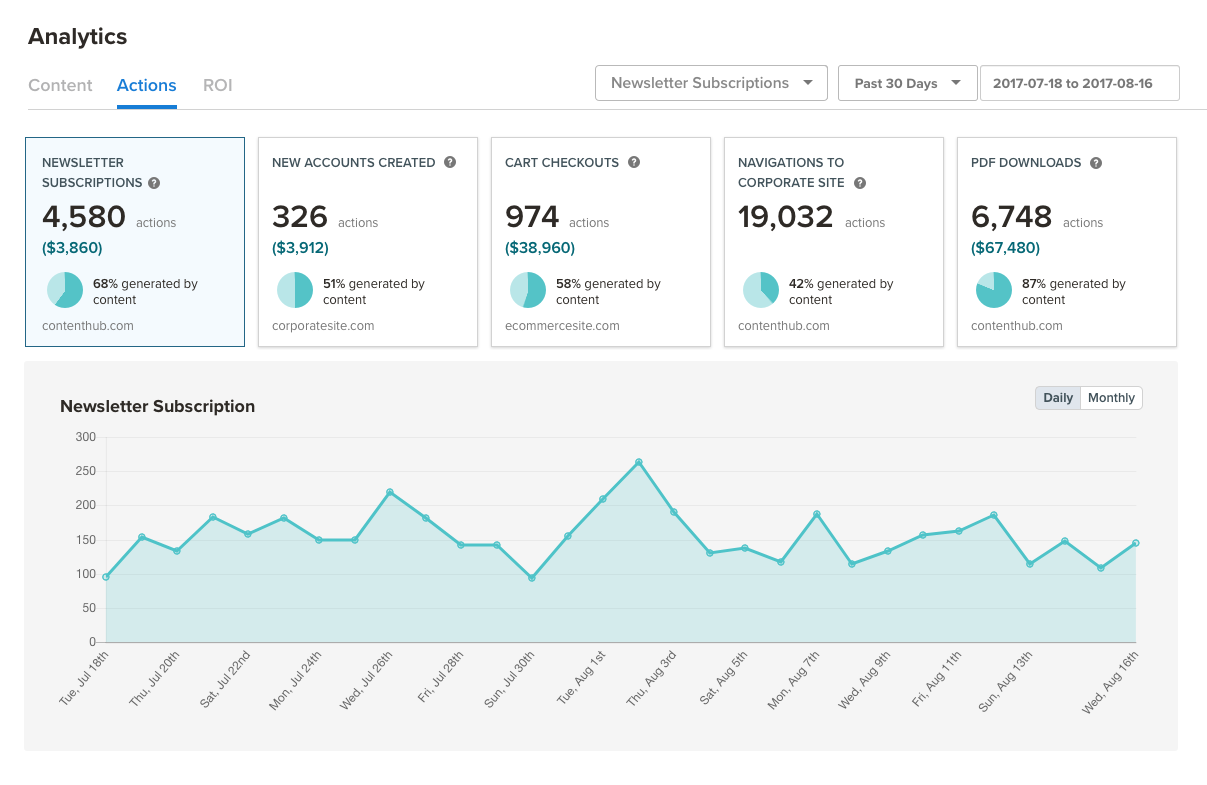 Our customers have found this to be an exceptionally helpful tool for helping them achieve higher conversion rates. Plus, since many can ascribe a dollar amount to high-value conversions, they can use these analytics to prove that content marketing is driving business value, even if they can't yet completely measure ROI.
If you don't have NewsCred's platform: You can customize your analytics program by setting up goals that track high-value conversions. For a detailed guide on how to do so, read "The Complete Guide to Setting up Your Content Hub to Measure Conversions."
Simplifying the Measurement of Marketing-Attributed Revenue
The buyer journey doesn't just happen on one platform or channel. To measure content marketing ROI all the way through the buyer journey, we developed integrations with leading marketing automation platforms Marketo and Eloqua, as well as Salesforce. By linking the NewsCred Content Marketing Platform to these platforms, we can link content to leads and content-influenced revenue. We surface this data in our ROI Analytics.
Marketers can see the articles that leads consumed as they moved down the funnel; this gives them a better understanding of lead development and content journeys that result in a purchase. Having these insights can help marketers create more effective content for generating leads and accelerating the buyer journey. In addition, marketers can show the monetary value of their content marketing program.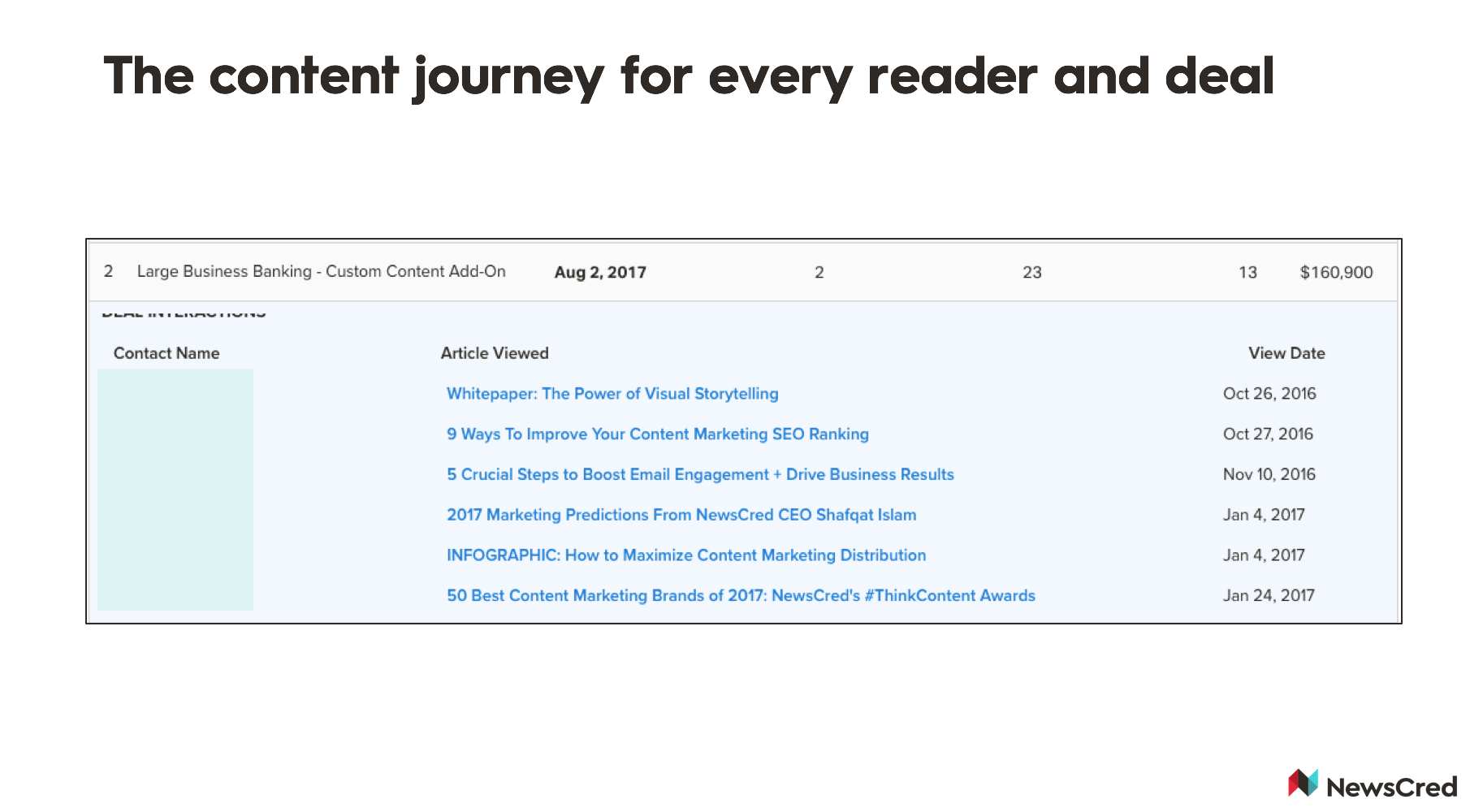 If you don't have NewsCred's platform: You should be able to find details of individual lead journeys in your marketing automation and CRM platforms. To ensure that you're aware of every piece of technology that's involved in your buyers' journeys, start by creating a measurement framework.
At NewsCred, we believe that this isn't just the age of content marketing. It's the era of performance content marketing. The need to measure and demonstrate content marketing ROI is here to stay. The combination of the Content Marketing Performance Index as a high-level indicator of overall program success coupled with the detailed insights from Action and ROI Analytics not only provides marketers with the answer to the question of "How am I doing?" but also gives them actionable steps to optimize and improve future performance – no matter where they are today.
Asif Rahman is NewsCred's Chief Technology Officer.
Originally published on Sep 22, 2017 2:40 PM