The New York Times T Brand Studios launched the most recent in a series of firsts this week: the first in-print "Paid Post," a brand journalism piece from Shell on urbanization that is complimented by a lively animated online version. It's hard to believe the Times has only been doing this since January 2014, when Dell became the first brand to sponsor a "paid post" on their website. Now nearly 12 months later it's shocking that native ads in the NYT are still a relatively new concept. The first Paid Post Dell ran "paid for the entire three-month engagement in 48 hours" according to Dell Managing Editor Stephanie Losee. So when the brand needed to promote a new study in time for their Dell World conference, they again turned to the NYT for a repeat performance.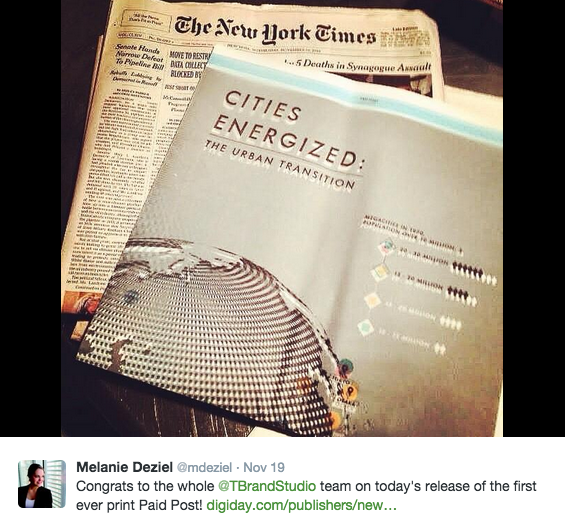 "When I saw the New York Times' Netflix piece I knew we were going to work with them again," Losee told NewsCred, adding that the payment structure of native ads is a crucial component to her personally.
"I want to restore the flow of money between brands and publications, who continue to need each other. I consider it partly my responsibility to find new pay models for journalism, and I think this is one of them. People who think native is a threat to journalism completely misunderstand what we're trying to do."
Although Losee laments the amount of time they had to complete the project, lauding her T Brand Studio partners for working late nights and weekends to meet the deadline of Dell World, the final product is truly stunning. The "Global Technology Adoption Index" is an interesting piece of data for tech industry innovators and small business owners alike, outlining the barriers of entry when it comes to medium-size businesses adopting cloud technology. While this entire topic may sound out of reach for non-techies, theTimes' beautiful interactive infographic (the first of its kind in a Paid Post) breaks down the data in a lovely and accessible way, and is designed seamlessly as an original Times product while still bearing Dell's definitive fingerprint. 
Sebastian Tomich, VP of Advertising at the NYT has been staffing up T Brand Studios since their launch in January in anticipation of doing bigger and bolder projects like this. Looking back on their first foray with Dell in January and their most recent offering, he quipped: "This is the first time we've been able to showcase what native ads look like when you don't have a real studio, and when you do."
"When you look at the Dell program it's like a website in its own," Tomich says. "It's the same work a creative agency would have to do to launch a brand site…I think you'll start to see how we can be a programmer versus just creating marketing content or branded content. The talent we're bringing in – editorial talent, journalists, designers, creative leads – what we're chasing isn't necessarily ad metrics, it's reader interest."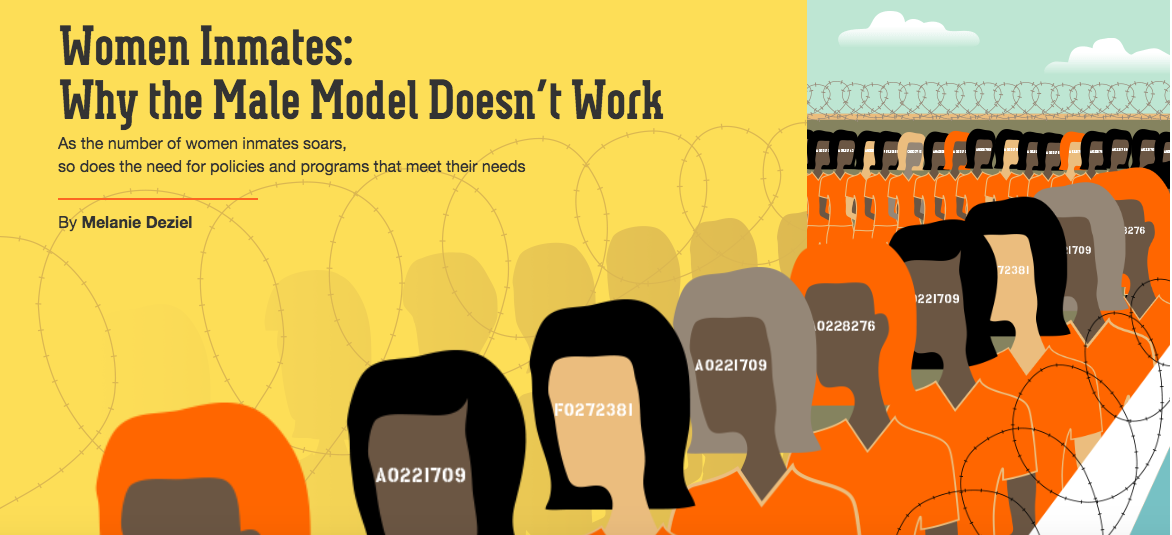 Losee is thrilled with the results: "It's amazing what professionals they were as we drove toward this deadline of Dell World…to work with people who are innovating in a space who take it as seriously as you do. We have this history together and we have each other's backs as organizations." Losee says that while she doesn't expect the quick ROI turnaround of their first paid post, they are excited at the potential of this "big bang" type of campaign: "Everything we do in native is an experiment because the space is so new. We are making this up as we go along." Losee added that this is most likely not the last you will see of Dell in the NYT, but the next project would be something entirely different.
Luckily, Tomich and his team are planning for exactly that. "We are always trying to push the boundaries of interactivity and this was the first time we brought that live," he says, explaining that what previously would have been a dry white paper for Dell is now, "a fully interactive experience that lets you explore the index in a way I don't think you could have in the past. Raw data can be very dry but if you lend the creative focus of a development and design team, a reader who isn't an expert can still play around and get information from it."
He feels part of the stigma against native ads is that other publishers create a template that each brand has to squeeze into. "The success metrics and the products we employ are very close to how newsrooms operate," he says. "So we should get out of this pigeon hole of 'Hey, native ads have to look like this.' There's certain standards we uphold and really stick to so we can deliver something of value instead of translating banner ads into content." 

For brands considering a native ad strategy, Tomich says, "Don't do content just for content's sake. Content is not better than ads because it's content. It can be better but it has to be really good.
Bad branded content is worse than bad advertising because you're asking them to share it, read it, and if it doesn't deliver value it's possibly worse."
Losee's advice to brands thinking of moving toward a native ad strategy? "Think of what sort of content you can give the publishing partner that they can present in a way that you can't," she says. "I think what's so smart about the evolution of the T Brand Studio is they found a way to give us something we can't do for ourselves. Even if you have a robust owned content capability like we do, I can't get two dozen people, many of whom are programmers, to design this kind of interactive data visualization. I don't even know how easy it would be for an agency to pull off."
Losee feels it's crucial for native ads and brand journalism to carve out a niche in the industry. "The whole thing about 'information wants to be free' – that's really charming," she says. "But people continue to make enormous amounts of money in the information industry and we need to make sure the creators continue to get paid – it's not like money isn't being made."
When it comes to proving ROI with native, Losee has four tips for brands: "Give yourself time, think about the capabilities these publications have, think about what information only you can come up with because of who you are, and then think about your audience and where they will be. Bring that all together in one very well-thought-out project, and THAT is worth your budget!"
Amber van Natten is the Managing Editor at NewsCred
Originally published on Jul 5, 2014 10:11 AM, updated Sep 2, 2016