When you think of Microsoft, words like innovation, technology, and cutting-edge probably come to mind. To keep that brand perception alive, the giant tech corporation is slowly adopting a culture of content to fuel its $340 billion business.
As a large enterprise with over 118,000 employees, aligning content goals across the organization can be more challenging than you might think. A recent Content Marketing Institute report entitled B2B Enterprise Content Marketing 2015: Benchmarks, Budgets, and Trends found that only 28 percent of enterprise marketers consider themselves to be effective at content marketing (compared with 40% of small-business marketers). In addition, approximately two-thirds of enterprise marketers are either stuck in a silo or do not have a dedicated content team at all.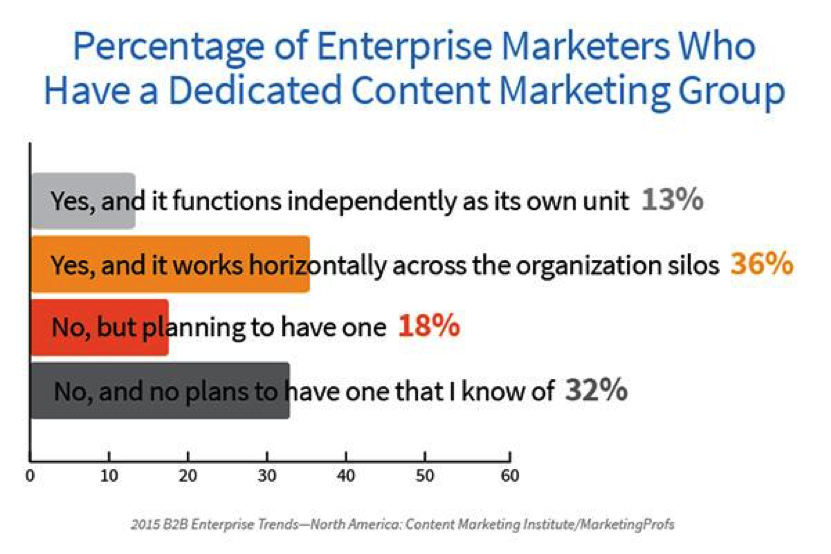 NewsCred recently had the opportunity to recently speak to Simon J. Hughes, Business Planning Manager and Marketing Technologist at Microsoft, to learn more about how Microsoft UK is shifting focus towards content marketing and integrating their content strategy throughout the entire organization.  Hughes shared incredible insights and learnings from his experience at Microsoft that are applicable to all marketers, no matter the size of your organization or marketing team. Below we highlight what marketers can learn from Hughes' experiences, successes, and observations.
The Content Pendulum is Swinging
Microsoft has been in the content marketing space for much longer than most people realize. In fact, the company was one of the first major enterprises to launch a corporate blog back in the digital stone ages of 2004. According to FiftyFiveandFive.com; Bill Gates is even credited as being the first to use the phrase: "Content is king."
Fast forward to today's complex digital world where having a cohesive content marketing culture with so many moving pieces is not without its challenges. "Cross team/division coordination is a challenge but a strong editorial rhythm and outcome-focused governance helps various teams producing content work in unison," says Hughes.
A culture of content is certainly evident within the marketing teams at Microsoft, but Hughes notes that there's also a more a subtle shift happening around the intent of content and creation throughout the organization. As brands like Salesforce, RedBulI, IBM, GE, Hubspot, American Express, and Adobe have proven, a cultural revolution around enterprise content can be very profitable.
Take for instance the company's global integrated campaign around Microsoft Cloud. The endeavor showcases Microsoft's impact through customer's stories, says Hughes, and has been a true team effort spanning TV, digital, and more.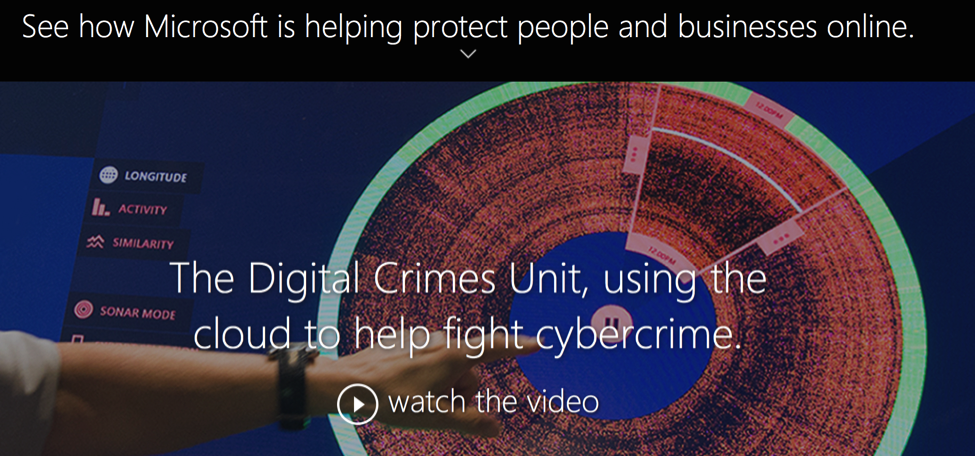 The content hub includes in-depth customer stories such as how sports franchise Real Madrid engages with its 450 million global fans using Microsoft's platform, as well as video content spotlighting how AccuWeather utilizes the Microsoft Cloud.
There is undoubtedly a strategic shift  towards more in-house content creation at Microsoft. "We're being far more strategic looking at our own properties. We're leveraging all these great digital channels working with media partnerships, traditional paid PPC, but also bringing to the floor our own platforms — Microsoft.com and our social properties as well," says Hughes.
Each successful content marketing endeavor helps propel Hughes' vision that Microsoft UK can one day create a content center of excellence in the same way it has done for digital and for social. "Increasingly, I see a shift toward centralization to achieve economies of scale, but also so our content efforts are working in concert versus across various audience marketing teams," he says.
"This collective, conscious effort will also help ensure that the budget fuelling the content marketing engine is shepherded with the right governance," adds Hughes. "The pendulum is swinging. A lot of things have been reframed in terms of content marketing and people are becoming more explicit about how they think about creating content and distribution strategies," says Hughes.
Measuring Success at Microsoft
Although Hughes says that measuring the success of individual content at the entity level is still a work in progress, Microsoft does focus on advanced metrics such as pipeline velocity. "We have engagement-type metrics by channel (views, shares, etc.), too. But more importantly, it's about conversion — opt-ins and whether a piece of content led to a trial or purchase," he explains.
Assessing the contribution of marketing to the pipeline and how much of it leads to revenue and conversion is what Hughes sums up as "revenue velocity." "It's being able to understand how marketing activity moves leads down the funnel. With different types of audience marketing, there are some slightly different objectives, but the common thing here is the funnel," he says.
Telling Stories That Engage Audiences
One example of how Microsoft is using content to amplify its customer relationships is through its recently launched Future Decoded On Demand Hub, which became the digital home for the company's annual UK business conference. The site includes clips of speaker highlights, customer success stories, bonus video content, an eBook, and a stand-alone site filled with a variety of audience resources to continue the conversation beyond the event.
As Microsoft moves forward, Hughes says field marketing is where the real innovation can take place. "I think test and learn, and rapid iteration is key to evolving our content approach and then subsequently feeding that back to corporate so that it can be 'mainstreamed' by our global product marketing teams."
Once that happens, Microsoft can continue telling more stories about how it's fulfilling its corporate mission to "empower every person and every organization on the planet to achieve more."
What You Can Learn from Microsoft's Approach to Content Marketing
Develop metrics that make sense for your brand goals. For Microsoft, it's all about funnel movement. For other brands, it might be about engagement. Decide what is important to measure, and then select the right tools to do just that.
Find the right mix of in-house and agency created content to scale as needed. Most brands today use some combination of content that's staff-driven or created by an outside agency. Along those lines, content licensing is helping brands fill in the gaps with fresh, on-point content.
Let your audience, and where they are in the funnel, drive your content strategy. Telling great stories is important, but it should always be done with the brand's purpose in mind. What problem are you trying to solve for your customers? How can they benefit from an ongoing relationship with you?
Utilize tools that will help your team collaborate, share best practices, and maximize the content that is being created. Content management platforms that can help you manage content workflows and measure performance are vital for growth.
Create a corporate culture of content and storytelling.  Without buy-in from the organization, it can be difficult to achieve content marketing success. Making sure that employees and organizations have embraced the idea of content and the power of telling your customer's stories will ensure that it remains at the center of your culture moving forward.
Originally published on May 2, 2016 10:00 AM