What good is a revolutionary product if no one knows about it?
InVision, arguably the most popular prototyping and collaboration tool for design teams, has a major foothold on the design tech space and it didn't happen by luck. Founded in 2011, the tool turns static designs into interactive prototypes and offers features for collaboration, version control, and brand boards. Despite a multitude of competitors, InVision has maintained a loyal userbase by staying true to its mission of "giving teams the freedom to design, review, and user test products — all without a single line of code." It's gained millions of users and established an exemplary content hub that designers return to on a regular basis for industry insights. For designers that are unaware of InVision and its first-class product, Clair Byrd, its Head of Marketing, works hard to make sure you know by driving some serious brand awareness.
Clair guides programs that unify creative strategy, brand impact, and demand generation. Recently, she managed the production and campaigning for the feature-length documentary "DESIGN DISRUPTORS," currently being shown in over 100 cities around the world and generating nearly 100,000 leads. Her contributions have helped over two million users become better designers, increased traffic to InVision-owned web properties by over 800%, and boosted revenue by over 130% since she joined the company in 2014. Under Clair's leadership, InVision was named No. 1 on Hubspot's 2015 list for "Exceptional B2B Content Marketing," No. 1 on Forbes list of "25 Digital Design Blogs to Follow," and No. 1 on The Next Web's list of "Promising Digital Design Blogs to Follow."
Earlier this month, I had the chance to speak with Clair about InVisions's ubiquitous product, its first film, and the strategy behind its industry-leading blog. Here's what she had to say:
Jeremy: Can you tell our Insights readers about the path that led you to your current role at InVision?
Clair: I originally intended to be a chef. My parents wanted me to go to college "just in case." I studied English and ended up writing in some capacity for every single job I ever had. By age 19, I was working professionally in kitchens at night and at a small ecommerce company between classes, doing an early form of content marketing and community work.
In 2009, I moved to the Bay Area to cook – I took a job as a private chef for an affluent family. Unfortunately, I had to take a "day" job doing operations to make ends meet. In that role, I slowly began taking on responsibilities outside of operations – things I could pull from my previous experience at the ecommerce company, like how they positioned themselves in the market using social media and writing web copy. I found that I really enjoyed this work, and decided to try and unify my love for food and bev with this newfound interest in writing for the web.
I discovered a local beverage startup that needed someone to work on content marketing and partnerships with local restaurants – two things that by this point I knew I could do. They also needed the person to work for almost free. It seemed perfect to me, so I applied and got it. That role led to Tony Hsieh and Delivering Happiness, where I led content and community, which drove my crossover into tech – ultimately leading me to InVision.
My career switch was defined by quite a bit of "fake it 'til you make it," entirely too much ambition, and pure hustle. The longer version of this story includes stacking several pro bono clients on top of my two jobs to make up vertically (project diversity) the experience that my peers had in horizontal (time) experience. I committed to things I 100% did not know how to do and then figured it out, or sought out mentors who did. I took classes, read voraciously, and tested bad ideas until I started to feel like I actually knew what I was doing. I also take a lot of inspiration from the kitchen – it was there I learned the value of developing highly repeatable processes that lead to high-quality results every time.
DESIGN DISRUPTORS is a perfect example of how I came into myself as a professional. I've never made a video myself, let alone an entire feature-length documentary, but I said "yes" to the project anyway. I believed that we could make a movie, found the right partners to do so, and then pushed aggressively on timelines to make it happen.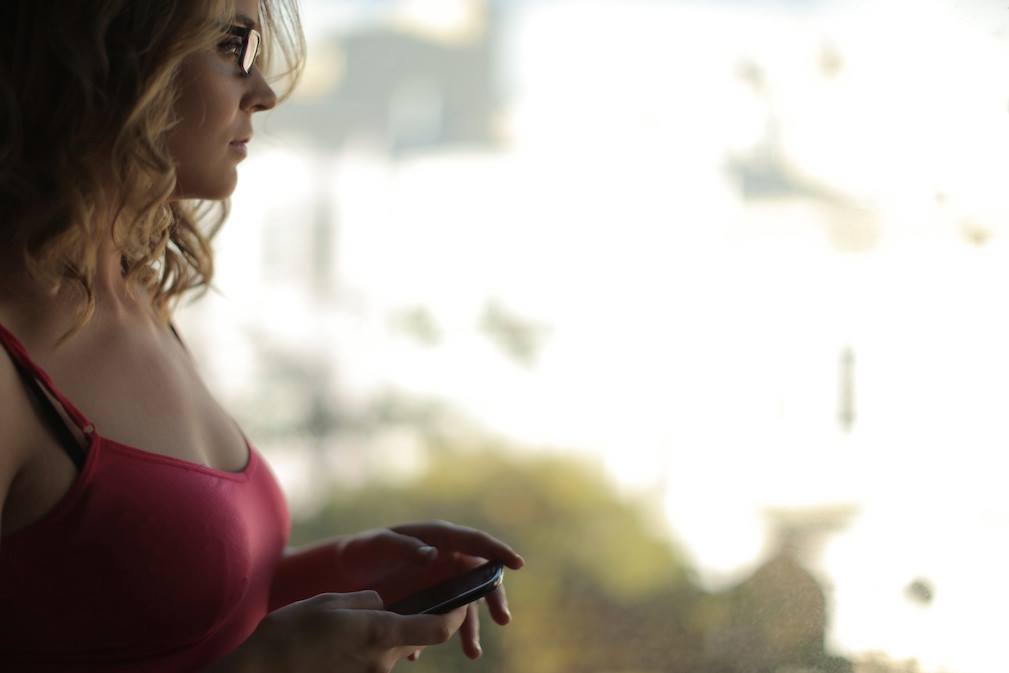 Clair Byrd / Source: InVision
J: What is the most challenging aspect of your role?
C: Handling the scale of the team while still finding time to mentor junior staff and work collaboratively with everyone. We are nearly 30 people on the greater marketing team now. Our team is also hugely diverse by skill set, being cross-functional with dedicated creative and engineering resources – and 100% remote. The team is high-functioning and ridiculously creative – but we grew from five to 25 in about 12 months. We've simply got a lot of process and system work that we need to walk back and reimplement to handle our size, organizational structure, and role diversity effectively.
J: How did the idea for the DESIGN DISRUPTORS film come about and what were the initial goals?
C: The idea originally came from our CEO, Clark Valberg. He was speaking with some really talented, influential designers, and while they were talking, he simply stated "This is so powerful – I wish we could film this and release it for the design community." From that simple statement, the idea for a film featuring the brightest design minds of our time and the impact of their contributions was born.
The initial goals were really to simply create the first and best documentary on digital design, and then get it into as many hands as we could around the world. The business goals came later, after I formally took over the whole marketing team instead of only the content team.
J: What was the process for creating the film? How many InVision employees were involved, what was the timeline from inception to screening, and how were the featured companies chosen?
C: We started with a goal to speak to as many design leaders as we could, and then see where their ideologies and methodologies overlapped. It's funny – many of the folks featured have never even spoken to one another, let alone worked together – but the way they see digital design and how they do it are shockingly similar.
The film was a labor of love. We had employees from intern to CEO involved in the production. However, there were three people on the film's core team internally: myself, Andrew Mattock, and Clark Valberg. We also had an outside director and film editor on staff. Andrew and I tag-teamed the day-to-day production on the film: handling vendors, providing editorial direction, giving art direction, selecting music. Clark provided excellent broad stroke feedback and direction, and pulled from his deep understanding of the design space. I led from a go-to-market and campaign/content strategy perspective.
DESIGN DISRUPTORS was one of my first content projects walking in the door at InVision. It took about 18 months to film, edit, strategize the release, plan the premieres, and execute on the overarching campaign. And we're still going! By incorporating a community distribution strategy in the campaign stack for the film, we've been able to extend our impact to almost 18,000 extra people in the form of about 200 community-run events. Marketing activities are yielding results of nearly 4x ROI, plus we've raised tens of thousands of dollars for charity through this program, as well.
The companies featured were chosen by namely being disruptive by nature. Companies that have redefined industries or created new ones. Beyond that, we selected design leadership that had made substantial contributions to the company's overall success.
J: What was the distribution strategy for the film? How did you determine which cities to screen it?
C: We knew we wanted to go as big as possible without completely blowing our budget, which meant going digital and outsourcing quite a bit of the release. We also wanted to be true to the original intent of the film, which was to educate and inspire the design community, so we needed the film to be broadly accessible.
The distribution strategy was driven by the question, "How can we get this film into the hands of the most relevant people?" The foundation of this was data (who we approached, when, why, and how) and communication design (what we communicated, in what cadence, in what form, and at what critical moments).
On the digital side, we leaned into the viral nature of the film. We invested deeply in creating a multitude of robust social experiences, like micro-video, disruptor profiles, competing for pre-access, allowing organization of community screenings, and lots and lots of built-in sharing functionality – the echo chamber effect was massive.
On the events side, we focused deeply on creating an exceptionally awesome event experience coupled with a deeply targeted and curated audience. We used these InVision-produced events as case studies to engage partners like HUGE, Atlassian, Designit, Wipro, and others to create their own premiere events, again amplifying the film and the brand message through the echo chamber, a "Look how sexy this is – you could be this sexy, too" experience.
We were able to get nearly 5,000 excellent designers into five theaters around the world, and almost 18,000 into community events – plus over 75,000 on a film-specific email list. We chose our markets based on density of our users and popularity of design as a career in each market. We also chose cities in or near where many of InVision's 230 remote employees are so they could join in the fun, too.
J: How else is InVision planning to push the boundaries of content marketing? Are there any upcoming initiatives you can share?
C: I think this really begs the question, "What is content marketing?" I personally feel that many things that are not traditional content marketing, can be, under the right circumstances, content marketing. For example, physical spaces with content-driven programming. An unbranded media site that produces a periodical print magazine. Interactive business intelligence tools based on industry data. The list is really endless.
J: How does InVision fend off an ever-growing list of competitors to remain the industry standard for design prototyping/collaboration tools?
C: We've always differentiated ourselves by focusing on design as a practice over our design practice. We do what we think is right for the community and the industry at large. We also try to remove ourselves from competition through constant innovation on the marketing and product fronts.
J: Hubspot, Forbes, and The Next Web have all commended InVision's blog for its overall excellence. Can you please explain the strategy and process behind creating such valuable, unique content for the blog?
C: InVision's strategy on the blog has never been to be about InVision, but instead, to represent an accurate cross-section of what the design community cares about at any given point in time. We will happily publish something one week, only to refute it the next.
We double-down on this concept by not actually "authoring" our own content. 95% of InVision content is contributed. We want to give designers a platform for their thoughts and their processes as it relates to design skills, methodology, and leadership. You'd be surprised how many people have excellent things to say when they are enabled to write about something they truly care about, rather than what a brand is currently pushing at that moment in time! Our submission guidelines are posted here.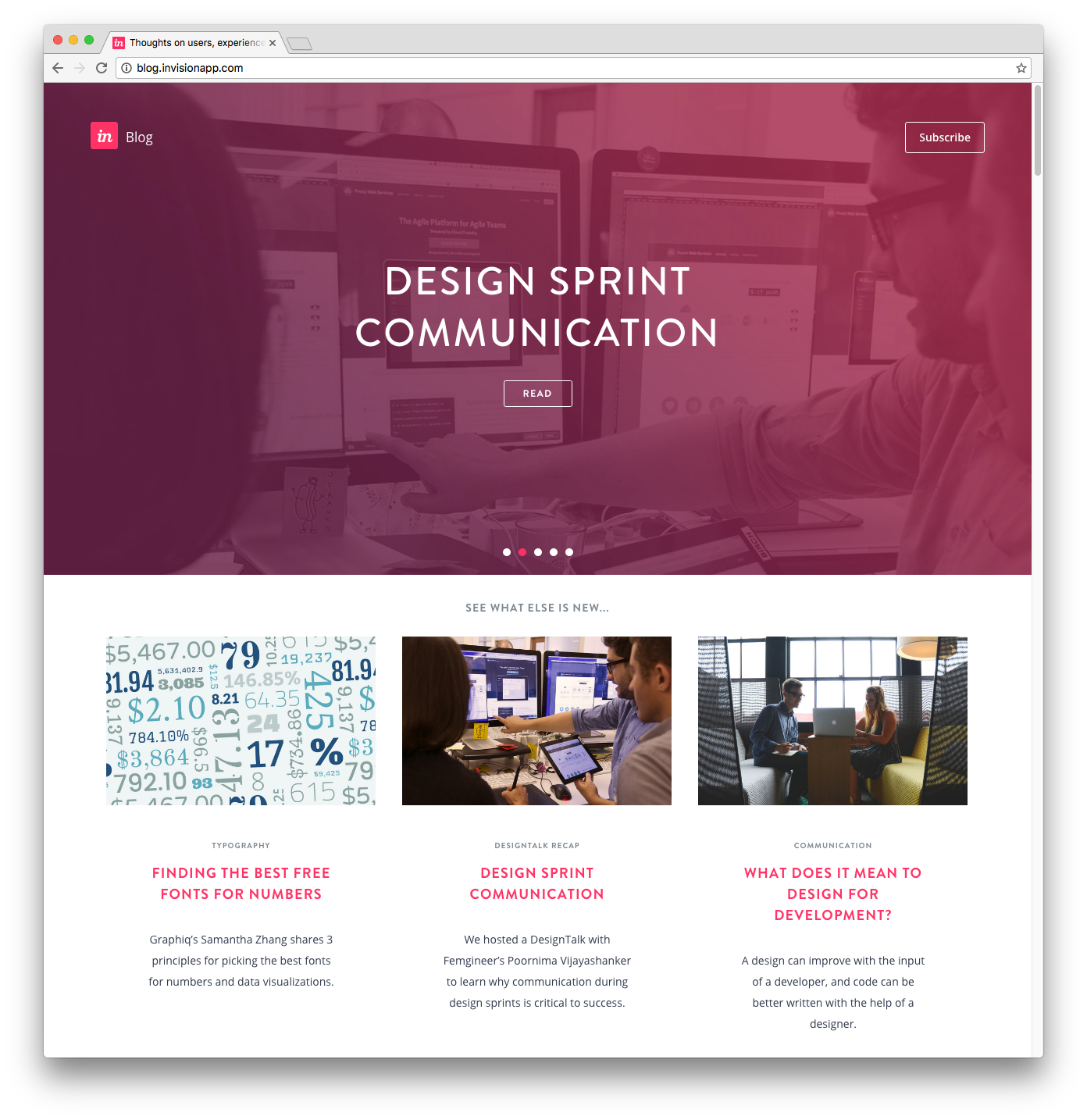 InVision's blog / Source: blog.invisionapp.com
Because we want to encourage great ideas rather than our own agenda, we try to abstract a lot of the complexity of contributing content from our authors. We try to present a very simple "engagement layer" to our authors, allowing authors to contribute content in whatever form is easiest for them (from email to mark down) and work with a real person. We've staffed to work in partnership with the author to polish and shine their work for distribution, even so far as co-writing in Google docs with them. And we automate our distribution playbook to create a lengthy tail for each piece.
J: What other brands' content strategies do you admire?
C: Intercom is totally crushing it right now.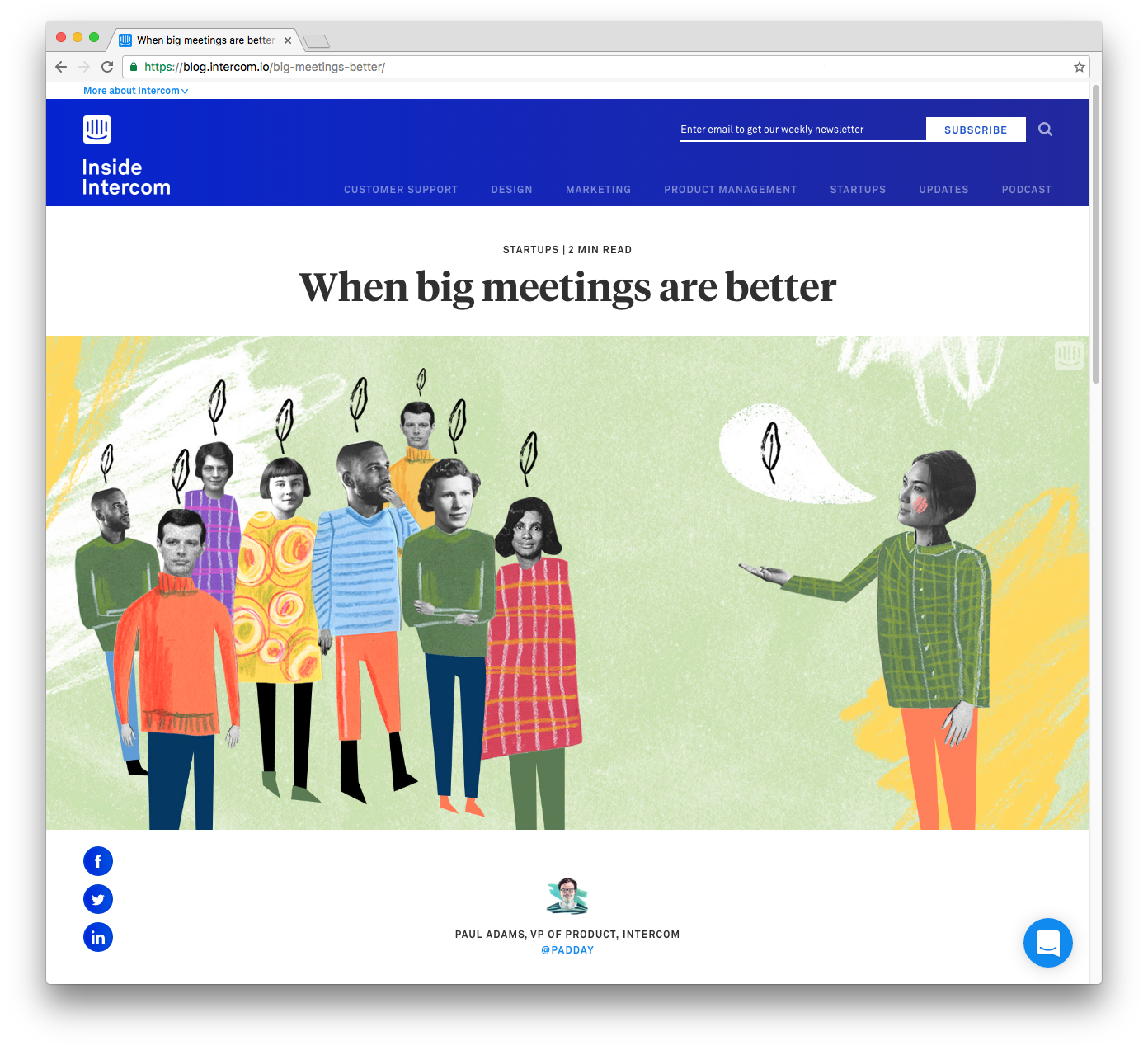 Source: blog.intercom.io
J: How are the design teams at InVision structured and connected?
C: There are two separate design teams at InVision – the product design team, who work on anything behind the login screen, and the marketing design team, who work on anything in front of the login screen. They work together on things that blur the edges of that separation, like transactional email and onboarding.
J: How does InVision bridge the gap between design and demand generation?
C: There isn't a gap, because at InVision, they are one and the same. Design is not aesthetic for us, but a way to solve real business problems. "How do I get someone to click on this Google ad?" is just as much a design problem as "What typeface should I use for best readability on mobile?" All of our demand generation programs are deeply influenced by our design team at an experience and aesthetic level. I personally think that our focus on design and design thinking at the campaign level has contributed substantially to our demand gen success.
On the flip side, people in demand generation functions (like content marketing and events) also understand the deep need for design to be involved in their projects from the perspective of experience and efficacy across channels. We won't kick off a new project without a designer at the table.
J: What is one piece of content marketing advice you would give to someone in a similar role?
C: "Have no fear." There is no one "right way" to do content marketing, and I've found that many folks are too paralyzed by "what ifs?" to just start. You don't necessarily need all the things people say you do – a blog, social media, whatever. You just need to start. Start by empathizing with your customer and creating something for them. It might not be the right thing, but who cares? Just try again. This is called "ideation." Content marketing can be as simple as making something awesome and emailing it to a prospect or community member – just start somewhere and get an idea in front of someone as soon as possible so you can course-correct on the fly.
Jeremy Ford is a Senior Visual Designer for NewsCred. 
Originally published on Sep 19, 2016 10:00 AM