A successful content marketing program requires coordination between many parties: writers, editors, designers, developers, internal marketing teams, non-marketing departments, agencies. And though it's possible to run a content marketing program off spreadsheets and disparate technology solutions, this system often becomes problematic when it comes time to scale. Content marketing platforms exist to streamline the process, allowing marketers to operate more efficient programs that drive greater ROI.
Why use a Content Marketing Platform?
As members of NewsCred's marketing team, we use NewsCred's Content Marketing Platform (CMP) to manage every step of our content marketing program, from ideating, to writing and editing, to publishing and distributing, to measuring and optimizing the results. Our Content Marketing Platform is a powerful tool – one that Gartner recently named a leader in the category Magic Quadrant – and one that we can't imagine working without.
Here's why; these are the most common problems content marketers face and how the NewsCred Content Marketing Platform solves them.
Problem: You keep track of content ideas on a sticky note and lack a tool for vetting them.
The strength of your content is a major factor in your program's success. Think about it. In order to attract and retain readers and rank well in search, you have to write articles that people want to read. And that all starts with good ideas.
Every content marketer has a place where they keep their story ideas. Maybe it's in a notebook or on a sticky note adhered to your computer. Perhaps it's in an email draft or an online document. But chances are, it's disconnected from where you're actually researching, writing, and editing.
Beyond brainstorming, how are you ensuring that your idea is solid? Are you vetting your ideas with your SEO team? Are you running searches on social listening tools to find trends and see what articles people are sharing?
So many steps go into coming up with a good idea, and the process typically involves different websites, tools, and even teams.
Solution: NewsCred's Content Marketing Platform has a dedicated module specifically for ideation: Idea Lab is your one-stop resource for efficient, data-driven content planning.
Idea Lab evaluates your target keywords, then aggregates SEO and social trend data from more than 25 countries to provide the following data to spark story ideas:
Automatic keywords with good opportunities to rank well in search
Relevant topic recommendations
Commonly searched questions
Social share performance of related content
Suggested licensed content articles
With Idea Lab, users can verify the search demand for their ideas and discover new opportunities to reach, engage, and grow the audience. This helps marketers create content on topics that will resonate with their audience and drive organic traffic.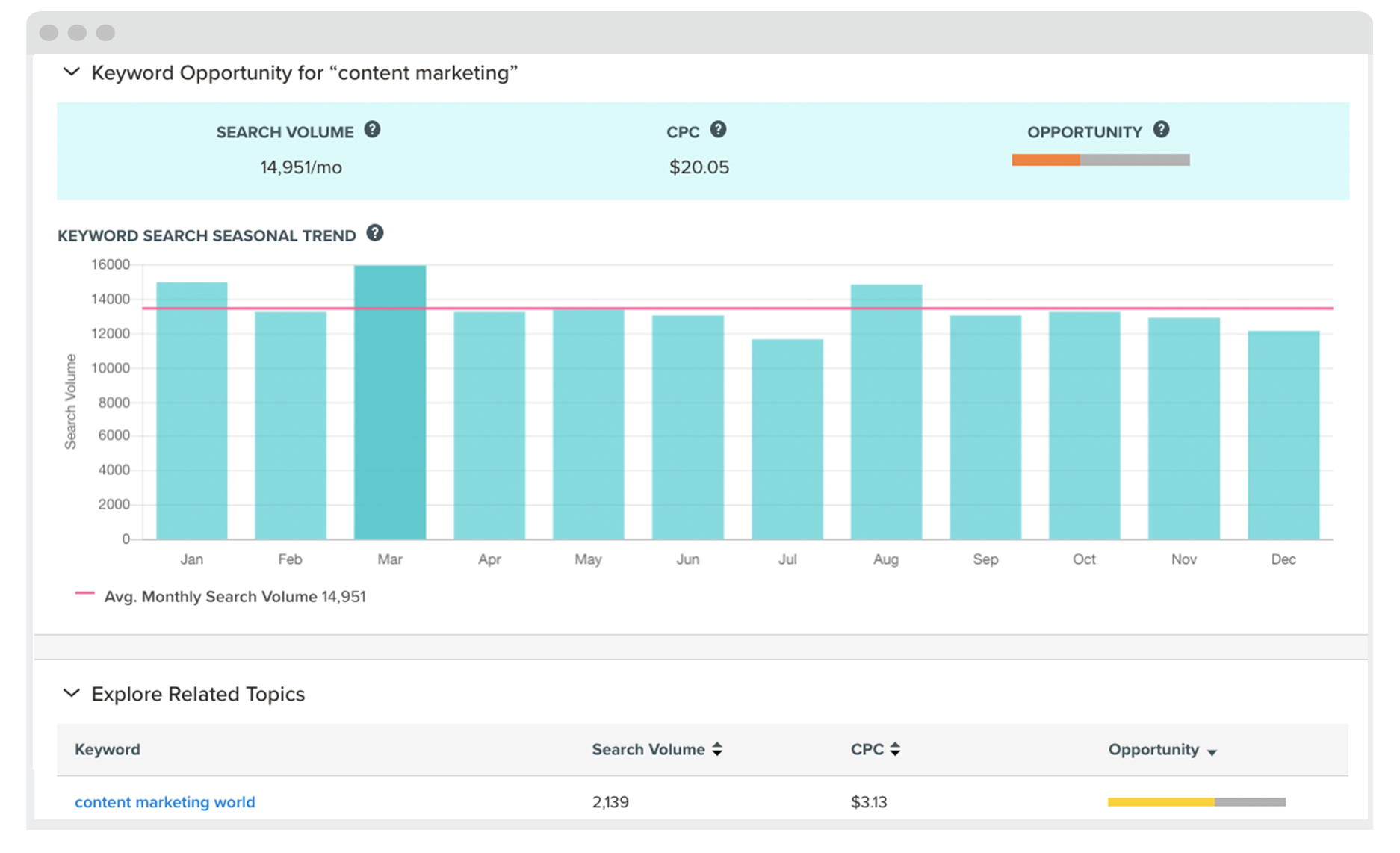 And how to keep track of those ideas? Idea Lab has a Notepad feature where you can store your ideas, Whether it was an Idea Lab recommendation or just a great thought you had while commuting to the office, you can record it here.
Problem: You manage your content marketing operations through multiple tools.
This scenario probably sounds familiar: Your content marketing operation runs on a spreadsheet. You're constantly updating your detailed, color-coded document to reflect all the stories you have in the works. In that spreadsheet, you record status updates that you receive from writers and team members via email, chats, and meetings. Your writers email their stories in Google or Word docs that you or your team members copy, paste, and reformat in your CMS. Once the story goes live, you message the URL to your social media and email teams to promote across social channels and newsletters (while hoping that they append the correct UTM parameters for accurate tracking).
Your system works. But you wonder if there's a solution that optimizes this process so you can spend less time updating your spreadsheet and more hours perfecting your strategy and executing creative work.
Solution: The NewsCred Content Marketing Platform has an editorial calendar that facilitates collaboration and streamlines the editorial process.
On the calendar, you can create a "task" for each of piece of content and place it on its publication date. Within each task, there's a workflow with multiple steps; you can assign each step to the appropriate person, along with a due date. (For example, the first step goes to the writer who will write the story in the task. The second step goes to the editor to review, and the third step goes to the social media manager to schedule the story to run across all networks.) This workflow holds all parties accountable.
Within each task, people can converse about story edits, due dates, and status updates. This allows all communication to live in context with the story.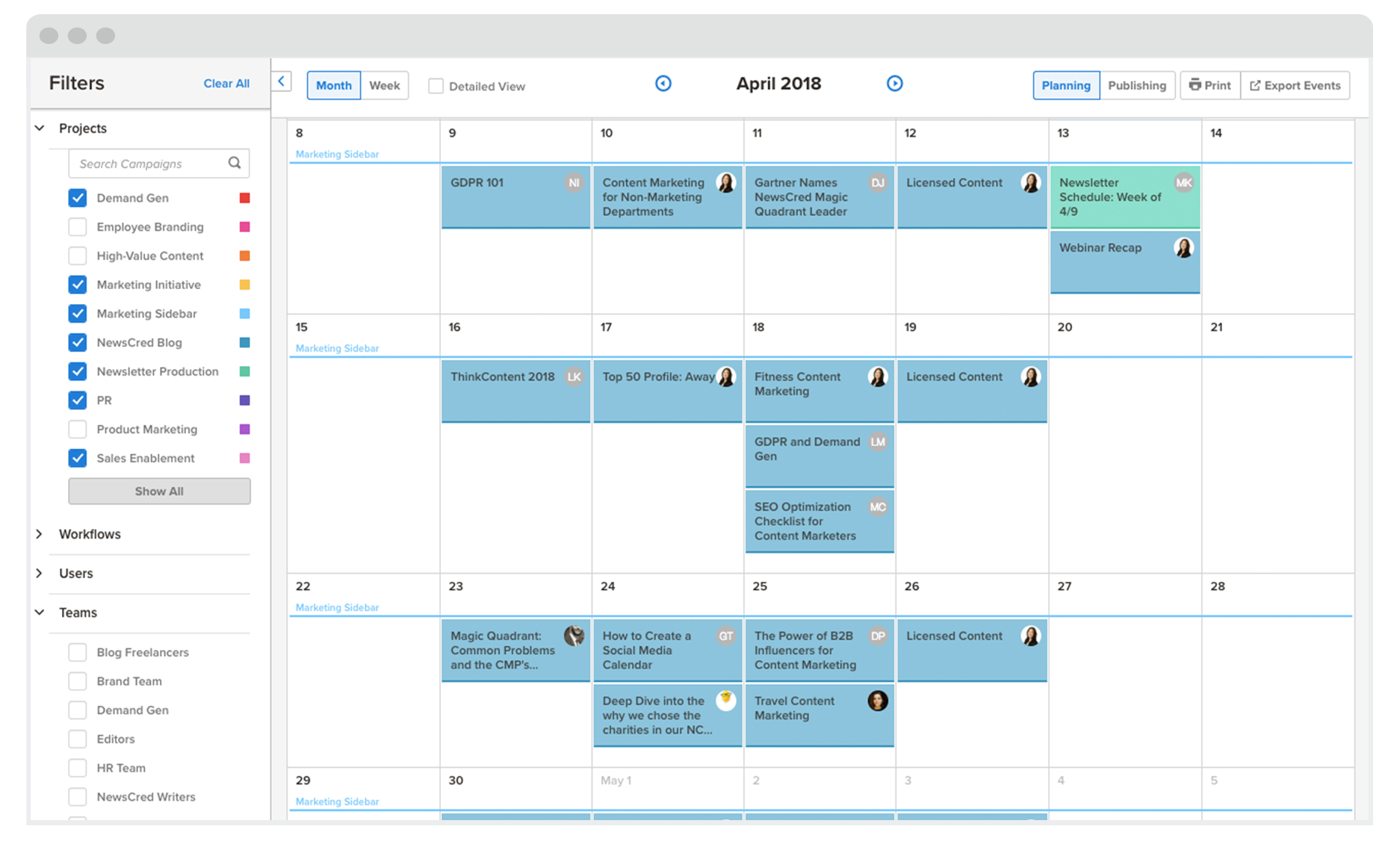 In addition, NewsCred's Content Marketing Platform integrates with numerous key marketing platforms automating and scaling distribution across all touchpoints. You can schedule stories to go live on Facebook, Twitter, and LinkedIn. In addition, you can create Marketo and Eloqua snippets to promote your stories in email newsletters. NewsCred also offers a Salesforce app that is integrated with the Content Marketing Platform where marketers can publish content to Salesforce. Sales teams can then easily select content to email to prospects and track the results.
Problem: You successfully launched a global content marketing program, but lack an easy way to manage assets across local markets.
A successful content marketing program has dozens of dependencies. And they're multiplied many times in a global content marketing program.
The central (corporate) team manages the overall strategy as well as the brand and editorial guidelines. Because it's often better-resourced than local markets, the central team also develops much of the content that local teams adapt for their markets.
Managing those assets can prove challenging. Without a centralized repository, local teams are often unaware of the assets available to them, causing them to operate more independently – which can come at the expense of brand guideline adherence and strategic alignment. Central teams, on the other hand, lack insight into what content local teams are using and how it's performing. And if local teams aren't using the content because they can't find it, then the central team is essentially losing time and money.
Solution: Library, the global digital asset management solution within the NewsCred Content Marketing Platform, facilitates operational efficiency while giving brands complete control over their marketing assets.
With Library, users can easily search for and find content to publish. A flexible interface gives them the option to discover available content in a grid or line item view, while advanced search and filtering capabilities help users locate and identify relevant content across single or more complex global/local instances. Once they've found the right content, users can initiate workflows to ready that content for publication.
By combining a single, centralized content repository with actionable workflows, Library simplifies content organization and facilitates seamless collaboration across global and local instances. Ultimately, Library brings teams together, while enhancing marketers' abilities to govern, locate, and repurpose content – at scale.

Problem: You have to report on ROI – but it's a major headache to wrangle all the data you need from various systems and teams.
Tracking the impact of content marketing requires evaluating every stage of the buyer journey. And that usually means copying and pasting data from many different platforms into one spreadsheet in order to see trends, successes, and opportunities for optimization.
You're likely looking at Google Analytics or Omniture for traffic metrics, plus individual social media platforms for social performance. Hopefully, your analytics platforms are also set up to measure conversions and high-value actions, like when people sign up for a newsletter, become a lead, fill out a contact form, or visit a product page. And when a deal closes or when sales are made, you may receive a report that shows all the content touched along the way so you – and all parties involved – are aware of the role content played.
But that's difficult. You may not work closely with the teams that own your analytics instance, your marketing automation platform, or your CRM. If you do, you likely have to rely on them to send the reports, or learn how to navigate those systems to get a true sense of your content marketing performance. And even then your numbers may still not be accurate because traditional site analytics do not effectively track content.
Solution: NewsCred's Content Marketing Analytics was built specifically for content marketers, delivering performance metrics that measure the end-to-end impact of content.
While other analytics platforms are built on web pages and URL performance – providing an inaccurate understanding of how content is actually being consumed – NewsCred Analytics is designed to be content-, action-, and ROI-centric.
NewsCred Analytics gives you insight into:
Content Performance: Quantify content reach and understand which pieces drive the most and highest quality traffic. With granular visibility across topics, authors, formats, or any other custom segment, users can drill into individual assets to identify and optimize what's working, or refine what isn't. In addition, NewsCred Analytics calculates reader interest using two proprietary behavior metrics: attention time and engagement rate. It replicates the way people consume content to ensure they're actually engaged and not leaving the page open idly.
Actions: Whether on a content page or a different subdomain, track audience actions, identify conversion points, and assess the overall impact of the content that moves people further along the buyer journey.
ROI: Measure the influence your content has on generating new leads and nurturing existing prospects by mapping individual assets back to every stage of the buying process. Using direct integrations with your marketing automation and CRM systems, you'll gain insight into real performance metrics including leads generated, deals influenced, and revenue influenced – broken down by specific pieces of content.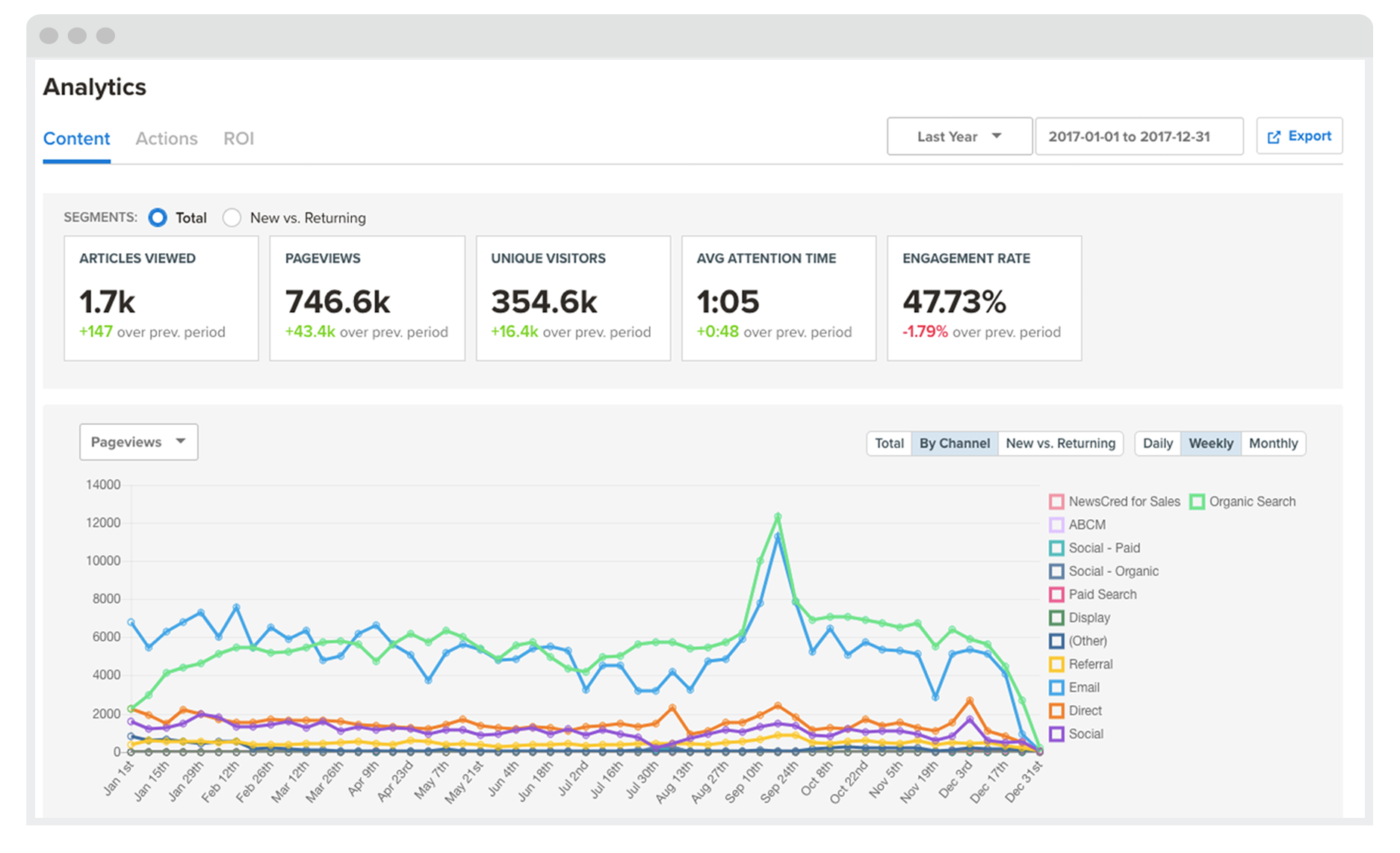 Those are the key ways the NewsCred Content Marketing Platform helps us run a more effective, efficient content marketing program where we can tie our work to bottom-line results. And it can do the same for your team.
To learn more about the NewsCred Content Marketing Platform, please contact us directly.
Anthony Aiosa is NewsCred's Senior Product Marketing Manager. Heather Eng is NewsCred's Executive Editor.
Thank you for subscribing!
Our best content will now come straight to your inbox.