Grand gestures are not daily occurrences for most people.
If you've never been on the receiving end, or done one yourself, let me explain. (Or let the podcast "This American Life" explain in this recent episode).
Originally aired 2.17.2017
This week we have stories of people going to very extreme measures to demonstrate their feelings. Elna Baker makes a questionable trip to Africa, while a man in Florida commits a series of disturbing acts in the name of love. Ira also goes to a high school to talk to kids before a dance.
A grand gesture is an "extreme measure to demonstrate one's feelings."
Whether it's a wildly intricate prom invitation or a marriage proposal written in the sky by plane, these grand gestures – often romantic in nature – are commonly met with one of three reactions: true love, secondhand embarrassment, or a call to one's lawyer.
Regardless of the reaction, however, there's no doubt they take ingenuity, commitment, and just a dash of insanity to pull off.
Grand Gestures in Account-Based Marketing (ABM)
When it comes to effective marketing, those are three ingredients we could all use a bit more of. And as many B2B marketers shift to account-based marketing (ABM), set their sights on winning a few target accounts, and explore tactics like direct mail, it's important to keep grand gestures in mind.
Sometimes the boldest gesture is the only one that can be heard.
To that end, a common marketing buzzword is "personalization." In listening to Ira Glass talk about heartstring-tugging acts of outdoing one's self, I realized grand gestures are the ultimate personalized marketing effort, guaranteed to get the recipient's attention one way or another, and potentially pay off rapidly – and significantly.
From a B2B marketer's perspective, imagine that you sell a technology that is new and unproven, relatively complex, or just plain not sexy. When you pitch your business, you seek out ways to make it accessible to your audience by understanding where their heads are at as best you can. The internet makes it easy to learn about an executive's professional background and any experiences or biases it may bring.
But just as critical are their personal preferences that are revealed across various platforms from Twitter to Facebook to Instagram. Value lives not just in the industry-related articles they share, but in the context about their lives that you can glean from their bios and posts: the movies they celebrate, the awards they win, the images they share.
Creepy? Hardly. Anyone who has met me, knows that I believe that if someone shares information online, they want someone to find it. That's literally how I met my husband who often refers to me as "a page 5 Googler."
Case in point, check out the Twitter profile of John Legere, T-Mobile's CEO. Batman background, #IamBatman in his bio.
It doesn't take a brain surgeon to realize the man likes Batman, and comics, in general.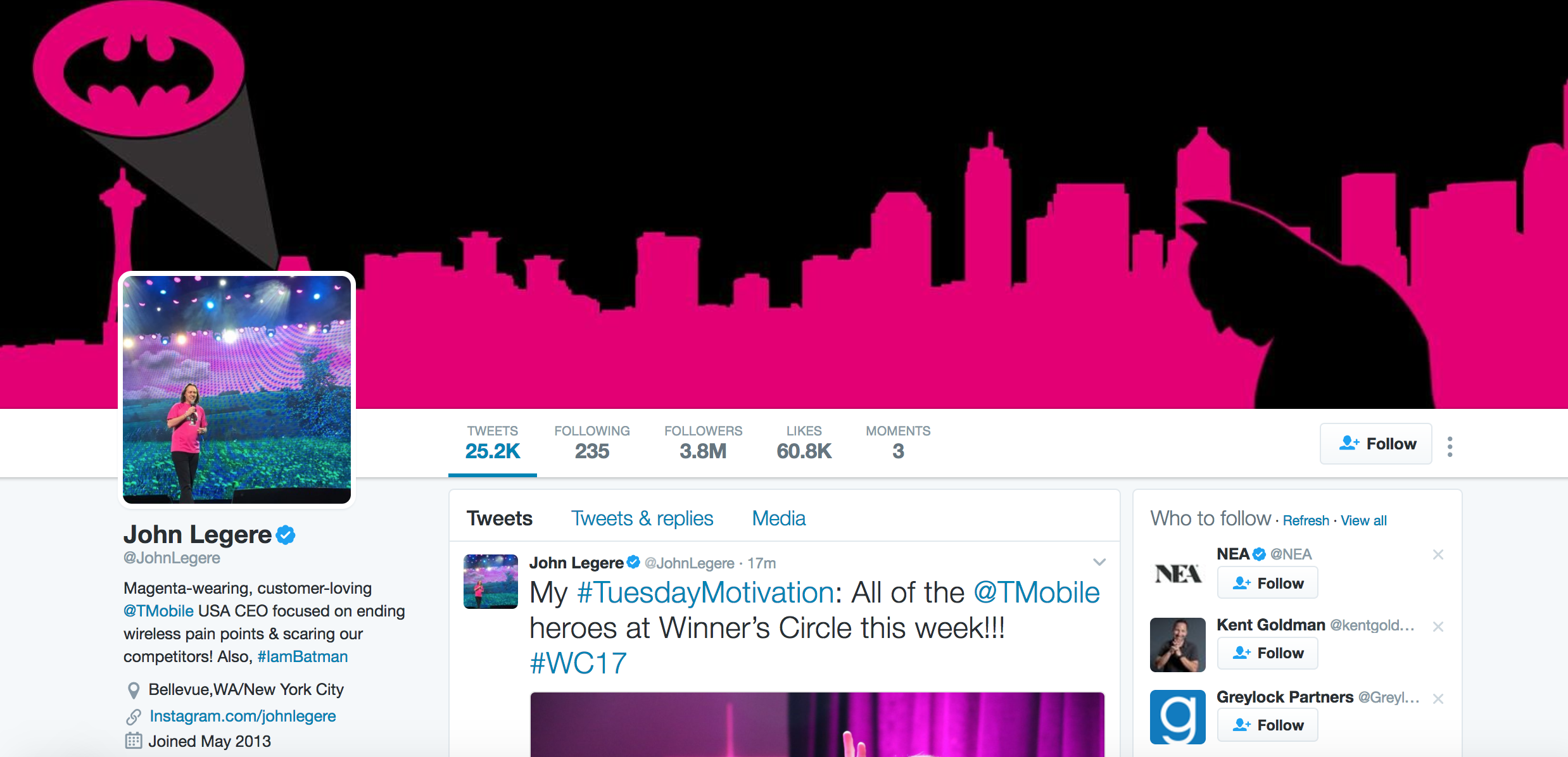 GumGum, a computer vision company based in Los Angeles, wanted to get Legere's attention – along with his colleagues and T-Mobile's agencies. The GumGum team knew that if they could capture attention at the top of the organization, everyone else below would naturally follow.
They decided to create a comic book that would engage T-Mobile's leadership, explain computer vision capabilities, and express GumGum's industry points of view.
They didn't take this endeavor lightly. GumGum invested in some of the coolest scriptwriters, artists, and letterers to bring the storyline to life.
GumGum printed the final product, "T-Man and Gums the Girl Wonder in The Data Knight," and physically shipped it to T-Mobile executives and their agencies of record. They published it online the same day. Before he even had a physical copy in hand, Legere was impressed. He personally tweeted his thanks to GumGum.
How to Time Grand Gestures
As in any relationship, a grand gesture's success can often come down to timing.
The debate I've been having with clients lately is around whether or not grand gestures are best delivered as a first touchpoint with a target company or as a Hail Mary effort before you give up and move on.
You can argue the point either way.
With many ABM efforts, there is a slow burn of relevant engagements. They may culminate in an executive eventually responding, thanks to the seller's personalization, perseverance, and commitment.
That said, what if the solution you sell is patently not in their plans for the year and no amount of touches will get them there?
A grand gesture could break those rules in a way that no amount of subtle outreach and omnipresence ever could. Similarly, it could lead to a quicker "no," and enable your organization to focus on a target more primed to receive your advances.
Why Grand Gestures Are Always Wins – Regardless of Outcome
At some point in many people's lives, they get very far down the path of executing a grand gesture. Or they're recipients of such over-the-top, thoughtful acts.
I'd challenge you to recall those personal memories from your professional career. No one forgets a grand gesture.
A decade after a colleague of mine delivered a three-foot diameter cookie to Martha Stewart with an event invitation on it, she can easily conjure up that memory – with giddy excitement.
Those memories create indelible marks and lasting affinity regardless of the outcome.
Not only are passion-driven gestures the way to open doors to the leads your business needs to grow, they're often also incredibly fun to orchestrate.
Even if the target recipient ends up declining, I can promise they've shared the tale.
Additionally, your organization has come up with something so dynamic that it can pay dividends in other areas of your business, far down the line.
You can submit that material for awards that showcase your company's spirit, energy, and innovation.
Plus, attracting talent these days is tough. Awesome examples of how your organization goes above and beyond with crazy and creative ideas might just nab you the people you need to make that next grand gesture a successful reality.
Kate Gundry is the Founder of Pluck.
Originally published on Mar 8, 2017 11:00 AM, updated Mar 9, 2017