In just two years, Margaret Magnarelli, Managing Editor and Head of Content at Monster, has helped catapult the site's viewership to 43 million unique visitors and 96 million pageviews in 2016 – an 18 percent increase over the previous year.
Her six-person team – consisting of three content managers, one video producer, an operations manager, and a writer – publish 10 to 15 content assets per week. In addition to boosting traffic, they're responsible for increasing job searches from entries initiated from a content page by 18 percent, and boosting new accounts created from content pages by 116 percent.
How do they do it?
With a little help from a formula Magnarelli developed, called "How Now Wow," which breaks down content into three categories: utility, news, and highly shareable and entertaining.
"When I came up with the strategy and it had rhyming words, I was very proud of myself," Magnarelli says.
It's widely praised as the major reason behind Monster's content marketing success, and has become Magnarelli's calling card.
Magnarelli, who was previously Executive Editor of Money.com and Money Magazine, is among the speakers of this year's #ThinkContent Summit. She'll be sharing more tactics behind her content marketing wins – but in the meantime, she divulged some details about "How Now Wow" and her content philosophy, including why empathy is more important than ever when communicating with your audience.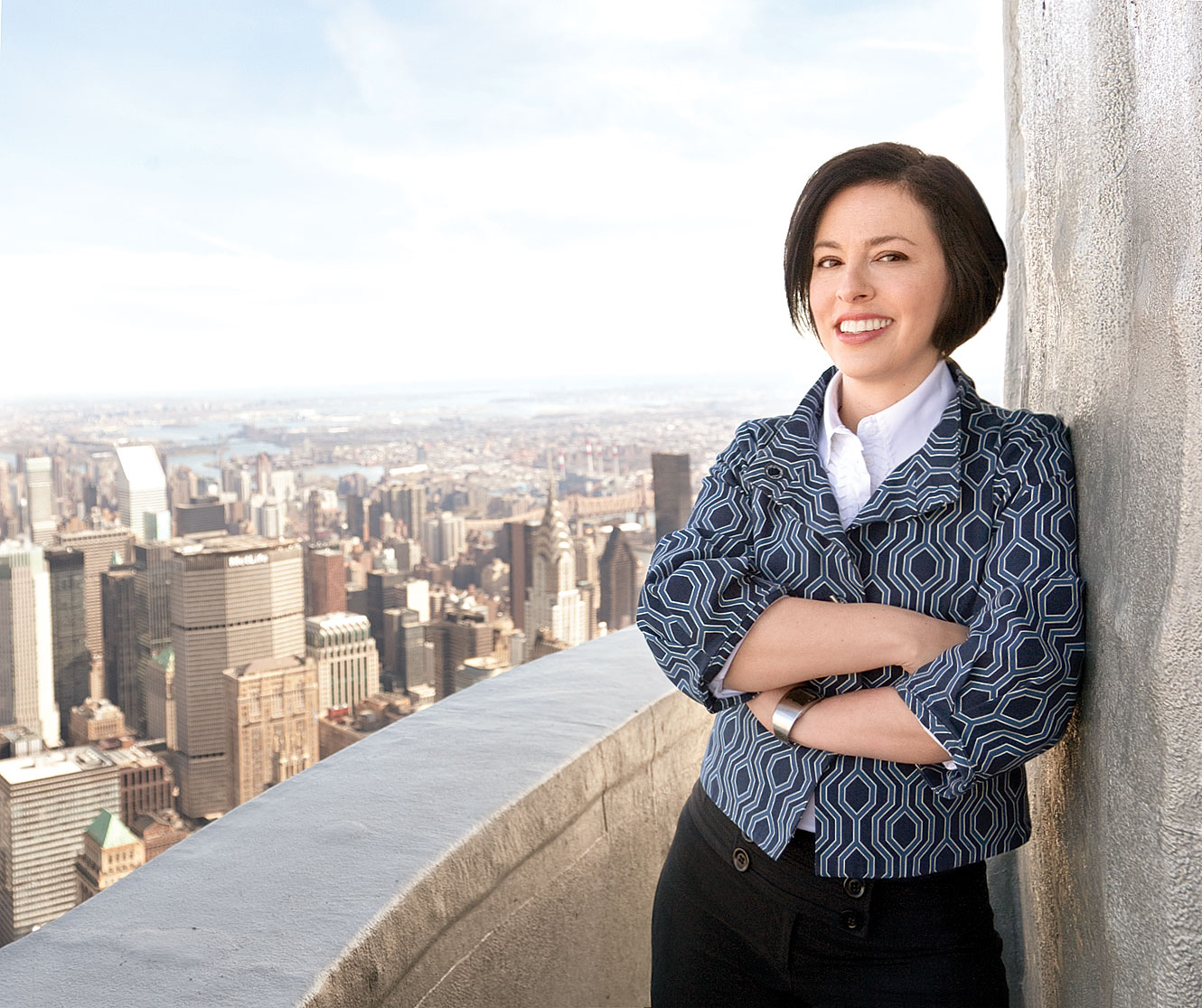 Margaret Magnarelli, Managing Editor and Head of Content at Monster.com
How do you go about spinning one basic idea – "How do I get a job?" – into what has become a full-on content hub and holistic careers site?
The mission and vision of our company – and our role as a content operation for job seekers and people who are working – is bringing humanity to the job search process. We spend 30 percent of our lives at work, and it's so tied to our happiness – both in the place we go to everyday and where we spend all this time, but also in the money we make, which contributes to our satisfaction with our lives. There's a lot you can say about that.
How is it possible to come up with so many stories on job search and career management? Part of it is creating content for every phase of what we call the "job candidate journey." That's not only the bottom of the funnel person who's actively looking for a job right now, but also the individual at the very tippy-top of the funnel, who just got a new job and is working. Being able to connect with people at all stages and have them know that Monster is there for all that information means that we're top of mind when people start looking for jobs.
What kind of content works best with your audience?
Our audience is really interested in jobs and companies hiring. We find that has the greatest ROI from conversions, but I think that we also find some of the big tent job issues really resonating, particularly in topics about job misery. Job searching is a very solitary project, and you're probably in a situation where you're unhappy that's causing you to look for a job. Either you don't have a job, or you're in one you don't like, or you're not getting the rewards, title, promotion, or pay that you feel you deserve, so you ego is already under attack in some ways.
I think our audience is looking for someone to mirror that emotion. When we publish pieces about things like dealing with a toxic boss or the co-worker who's trying to one-up you, we get a great response. It's interesting to me because it's middle-of-funnel content; the people who are not necessarily job searching, but have a certain amount of misery in their experience that could trigger a job search.
How do you drive conversions from there?
We're very careful about that kind of content and about what we're pushing toward in terms of a call to action and the way we think of the funnel.
The top of the funnel probably doesn't include a Monster call to action, but it would include Monster data or a quote from one of our Careers Experts like Vicki Salemi. Middle-of-funnel might include a call to action, buried into the story in some way. You might have six steps to dealing with a toxic boss and the seventh would be, maybe get a new job.
At the bottom of the funnel, you're actively job searching, so we could say, "Click here for jobs like this." People who are coming to our site definitely want that, so it does well for us.
In terms of bringing in new people, video is very successful, and the job misery content, too. A lot of the traffic we bring to the site is through search, so some of the core concepts are really also important to us: How do I write a resume? What are sample resumes, templates, cover letters?
What's "How Wow Now" looking like in 2017? Have any new challenges or insights arisen since you put the strategy into place?
We're still very much using the "How Now Wow" strategy, but I've definitely pivoted, like every manager needs to do. Reassess and ask, "Is this the right strategy now that we've tried it for a while?"
I came into this experience thinking that the "Now" – newsy, responsive content – was going to be a really big part of things. And what I found, looking at analytics and response on social media, was that what you want to create is not always what you audience wants to consume.
It wasn't resonating with people, so we've reduced our reliance on the category and also found out what works for us in that vein. When a Fortune 500 type of company comes out with a major hiring announcement, for instance, that's going to do very well for us. Similarly, we'll still participate in some of the social media flashpoints and major holidays, events, and calendar moments like the Oscars to show that we're current and have something to say that's of the moment.
"How" [utility content] is still our primary, and we're increasing the "Wow" content. We just introduced Monster Career Horoscopes a couple months ago, which is silly and fun and brings people to the site, suggesting perfect jobs for your sign.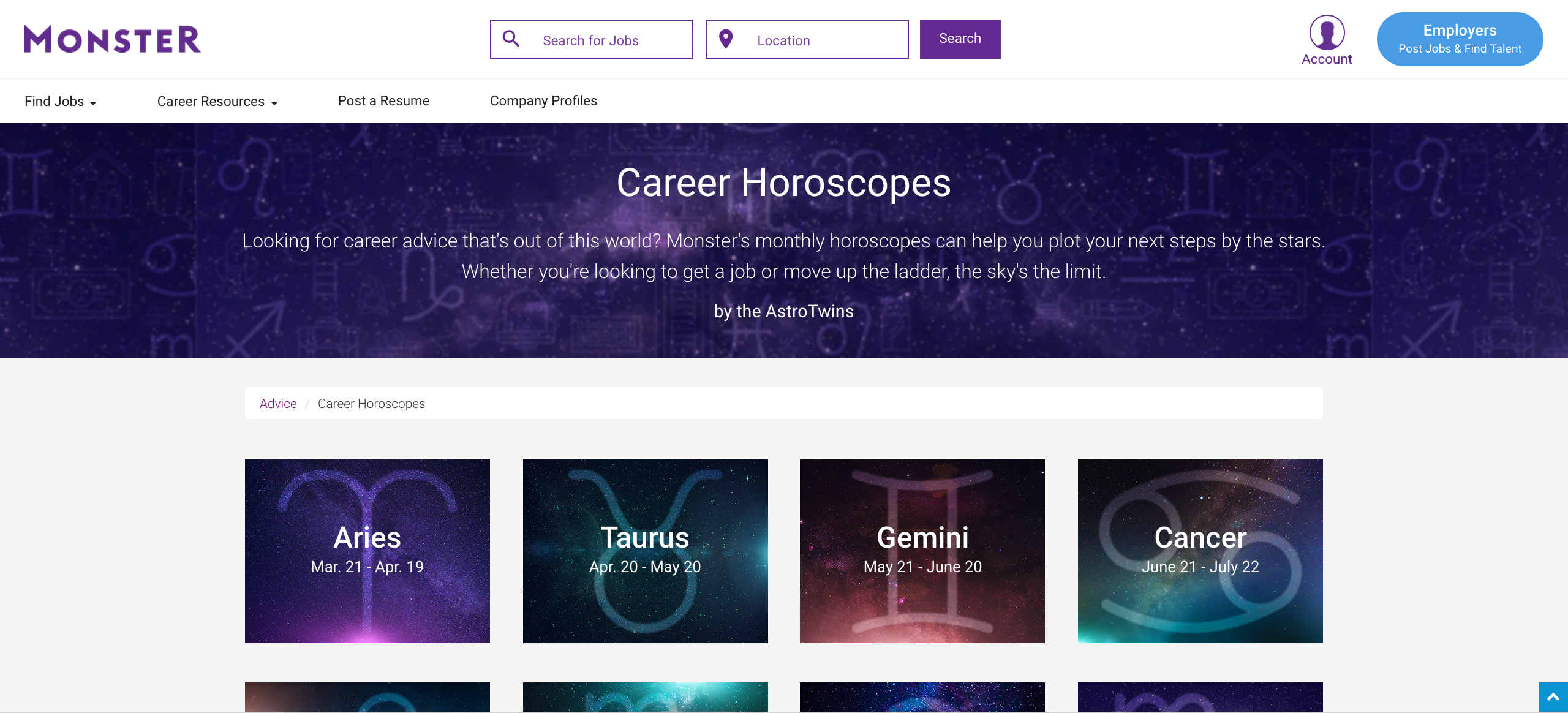 Has there been a lesson learned on the job that helps guide your efforts?
When I was hired for this role, I had a direct boss and a boss above that boss and they had two different perspectives on content.
One of them was very much brand awareness-driven, and one of them was very much ROI-driven. One wanted to do content for content's sake, which was important and valuable. The other wanted content that drove people to job searches or to become members of the site. I'm very grateful that I had the two of them – they were my MBA of content marketing, in a way – because I think it's really important to think about and produce content in both of those ways.
You have to be relentlessly customer-focused and know what your customer wants and be able to provide that without fail. At the same time, you have to be thinking about the goals of the organization and driving business results. It was good to have the balance of the two of them because it always made me think about whether we're providing really amazing content that's meaningful, and also whether we're providing content that truly drives the person who's ready to make the decision to actually do the job search.
Do you have a favorite campaign, series, or singular piece of content your team has produced?
In quantitative terms of what's done really well for us, there's a franchise we have called the Monster 100. It's basically a monthly list of the top 100 companies hiring on Monster, so from a writer or editor's perspective, its not the most beautiful prose ever created, but it's what our audience wants, and it delivered tremendous conversion results for us. It has something like a 63 percent conversion ratio from pageview to job search, and there are times when job searches have been above the pageviews, because someone will look at many different ads from the page. So it's kind of a content marketer's dream.
From a qualitative perspective of a beautiful content that I feel proud of, is a series we did called Life After Layoffs. It was a 13-week column written by a creative director in New York who'd lost her job. She was a wonderful writer and very funny, and it was beautiful to read, full of heart and transparency. The point was to create empathy, the feeling that we get where you're coming from, and this is someone who'd just been there. We got a lot of letters from people expressing similar feelings, so it really created a series of micro-engagements and, ultimately, brought people to the site who were also in that situation and created a relationship with them through her.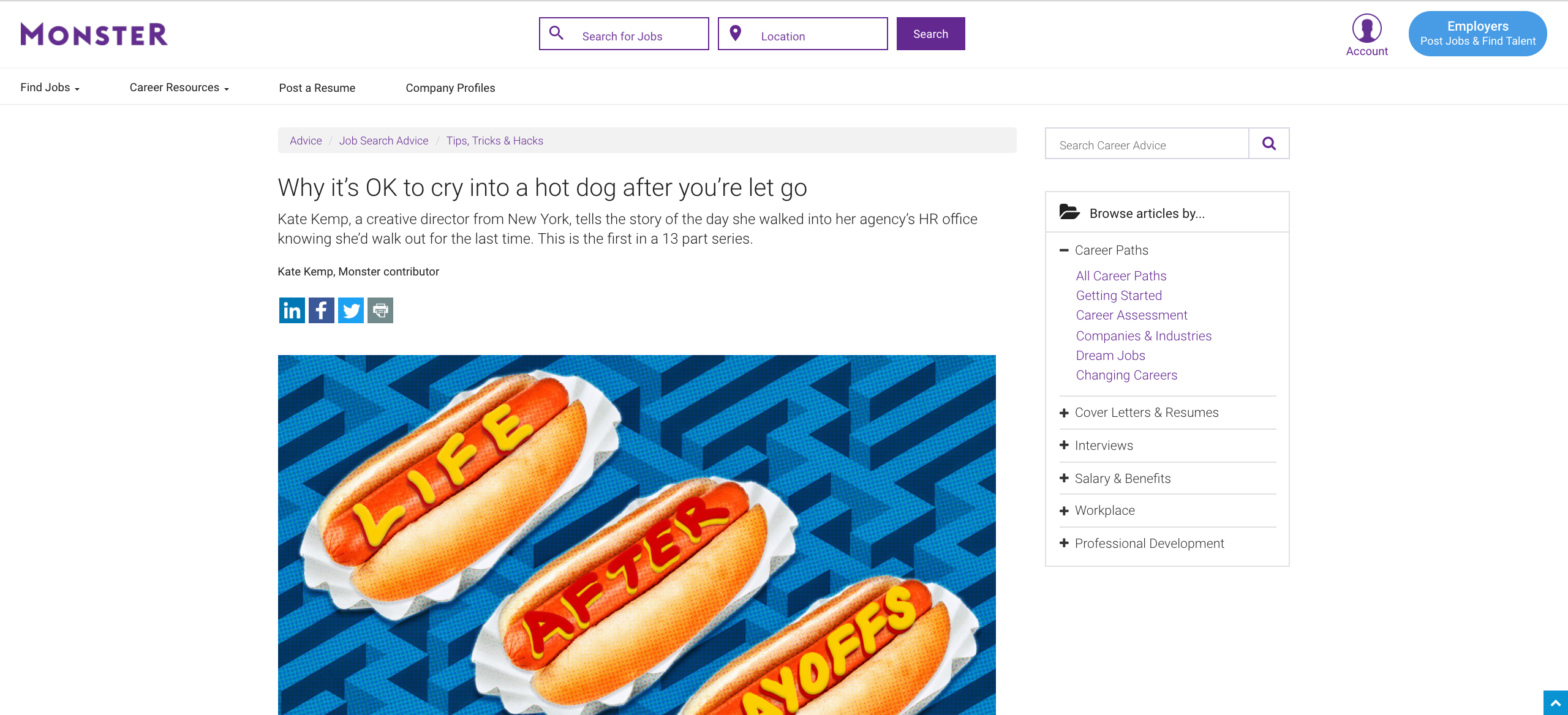 Can you share any advice to help or inspire fellow content marketers?
I think there's a problem in our industry right now, which is that content marketing positions are hired at a middle management level. And the problem with that is, it's hard to create alignments and it's hard to enact change from being the middle management. If you're the highest-level content person at your organization, you need to empower yourself. Make yourself known, make yourself aware to people. People will treat you the way you put yourself forward. More content marketers need to stand up in their organizations and make themselves heard and make it understood what the value of content is and how it can impact other aspects of business.
Is there one element that informs your decision-making more than anything else?
Empathy. It's really important, especially in my hiring of people.
I need to hear that the reason people want this job and to work here is because they care about people and them getting jobs. I think I've built a team where it's focused on a passion-driven enterprise, revolving around the question of, "How do we help people with this?" It's important that this come out in the tone of what we do, more than anything.
You can't be too trite about this kind of content because it's so hard for people. Sometimes you're reading this stuff because you're stuck between a rock and a hard place and you don't know what to do next and you're generally really frustrated, so I really like to have us approach things from an understanding of how hard it is. It's about being able to bring that kind of perspective, but also having a sense of humor about it. It's saying: "We're going to help you, we're a friend to you in this process – you've got a Monster on your side."
Hear more from Margaret at NewsCred's #ThinkContent Summit on May 10th, in NYC. Register now!

Anastasia Dyakovskaya is a NewsCred Contributor.
Originally published on Apr 25, 2017 10:00 AM, updated Apr 27, 2017