It turns out there is a sweet spot between a 30-second viral YouTube video and a full-length feature film (e.g., "The Lego Movie") that brands are getting in on.
Over the last several months, a number of brands have released high-quality, long-form videos or series (with films running 20 minutes or more) as part of their content marketing strategies.
Why the trend, and will consumers go for it?
"Today, audiences expect marketing to provide not just information and education, but value. With the lines of customer experience blurring across sales, marketing, and product, people want utility from brands at all stops of their journey," says Brent Turner, Senior Vice President of Solutions at Cramer, a global brand experience agency.
His own firm has seen an uptick in requests to help create longer video content for B2B, and he sees it as an effective strategy.
"For B2B brands with long sales cycles or B2C brands looking to drive retention, the long-form video provides deeper moments of relationship building," he says.
Here's a look at some bold branded films you can check out right now:
Chipotle's "RAD Lands"
Goal: To teach children about nutrition – and herald Chipotle's return to its core message of healthy eating.
Chipotle Mexican Grill is no stranger to unbranded video content, having created 2014's "Farmed and Dangerous," a long-form video satire about how food is grown. But that was before the company faced a host of challenges, including food safety scares, which resulted in a drop in its stock, and falling out of the good graces of many loyal customers.
As it continues its climb back up the fast food chain hierarchy, Chipotle is returning to its key messaging: "Our devotion to seeking out the very best ingredients we can – raised with respect for animals, farmers, and the environment – remains at the core of our commitment to Food With Integrity. And as we've grown, our mission has expanded to ensuring that better food is accessible to everyone."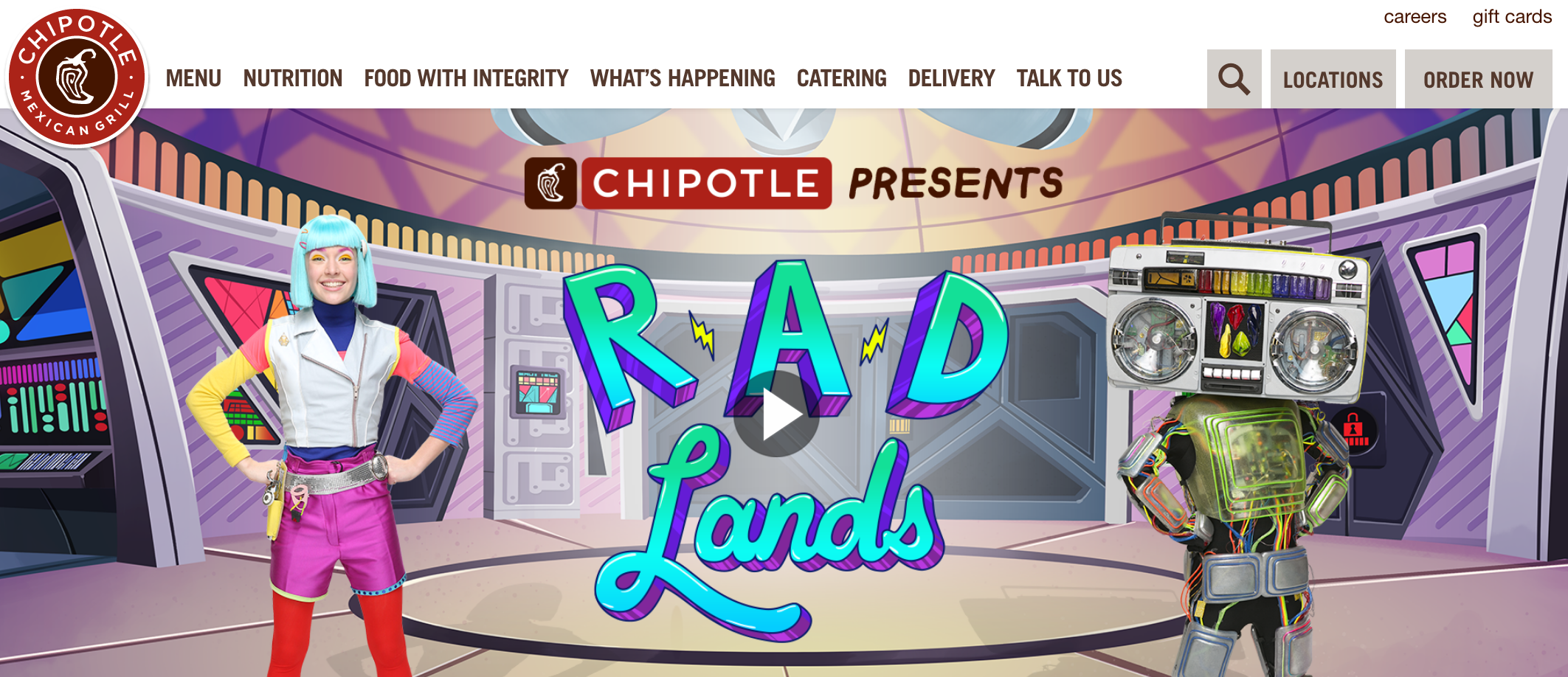 What better way to drive that home than by launching a new unbranded video series aimed at the YouTube generation – kids seven to 10 years old.
Hiring the creator of Nickelodeon's "Yo Gabba Gabba!," the series is called "RAD Lands," and chronicles the adventures of The Cultivators, an elite team of intergalactic kids protecting the galaxy's plants and animals. Musicians, like Biz Markie and Neon Trees, and celebrity chefs, including Amanda Freitag and Michael Voltaggio, make appearances, too.
The six episodes, which clock in at over 20 minutes each, are currently available on iTunes (the first episode is free), as well as in schools via a partnership with Discovery Education.
"It's really a return to sort of normalcy from a marketing perspective, a return to the kinds of things that have really helped us define the Chipotle brand after a somewhat anomalous year in our evolution," said Chipotle spokesman Chris Arnold in an interview. "'RAD Lands' and the things that you'll see from us throughout the rest of the year will be really much more of a return to the kinds of marketing programs that have really been instrumental in defining what we're all about."
Marriott's "Two Bellmen Three"
Goal: To reach a very specific demographic – young adults in the Asian market.
Another brand making a return to long-form branded video is Marriott. After the success of a 2015 video called "Two Bellman," the company released a longer 19-minute sequel in 2016 – and an even longer 35-minute film this year called "Two Bellmen Three" to complete the trilogy.
The film, set in Seoul, South Korea, and is partially shot at one of Marriott's properties, has more than nine million YouTube views so far. Marriott guests can also watch the film on in-room TVs.
"The first films were themed in and around business travel and technology in California and Dubai. So this one focused on Korea, which has a very strong wedding and family culture, and how important that culture is, and how different it is in Korea," says David Beebe, Marriott's former Vice President, Global Creative and Content Marketing, in an interview with Skift.
He also noted that since the films have "completion rates of 80 percent and above," it validates the creative strategy driving the Two Bellmen franchise.
Beyond that, there's also a business component tied to the film: Guests can book Two Bellmen packages at Marriott's Seoul property.
BMW Films' "The Escape"
Goal: To reconnect with the cult audience that it once captured through film.
Back before video was cool (in 2001 and 2002), BMW films created a video series called "The Hire." The series of short, cult films received accolades from Cannes Lions, and amassed an amazing 100 million views via the BMWFilms.com website. Remember, this was before YouTube's heyday, so that's impressive!
Fast-forward to 2016, and BMW came back with a follow-up film called "The Escape." Actor Clive Owen reprises his role, and new cast members Dakota Fanning, Jon Bernthal, and Vera Farmiga join him.
Thus far, the film has more than 5.7 million YouTube views, which BMW Vice President of Marketing Trudy Hardy is quite pleased with.
"Without paid media, it was great to see 5 million views and each one of our viewers spending more than six minutes with the film. That's a testament to the fact that if content is rich and there's good story telling, the viewers will be there," he says on BMWBlog.com.
Qualcomm's "Lifeline"
Goal: To showcase its technology and create an entertaining experience for audiences.
You might not think that a mobile technology company would have anything to do with the thriller movie genre, but Qualcomm's 30-minute film "Lifeline" pulled out all stops last year.
After all, if you're going to try your hand at long-form video content marketing, you might as well hire an Oscar-winning director (Armando Bo), cast well-known actors like Olivia Munn, Joan Chen, and Leehom Wang in the starring roles – and get Ogilvy & Mather to produce the film.
Qualcomm technology also stars in the film (specifically, the Snapdragon 820 chip set, a smartphone processor). The plot: when a man discovers his girlfriend is missing, he needs to use the data on her cellphone to solve the mystery.
As Liya Sharif, Qualcomm's Senior Director of Marketing, shared with Newscred, video is a huge part of the company's marketing strategy: "People love film – all formats of film – and visual storytelling. We've done video all along, but in the last 18 months, we've started really ramping out building our master brands and elevating the innovation story of Qualcomm."
Qualcomm's Senior Vice President of Global Marketing, Tim McDonough, told Fast Company that although the film is a big investment, it's a drop in the bucket: "If you look at the cost of building a chip, it can be in the hundreds of millions of dollars or more…The spend in marketing in comparison is quite small in terms of what it takes to try something new and test it. Innovative product companies also ought to have marketing that's as innovative as what they build."
Along with the film, which is aimed at Chinese and American markets, Qualcomm also created a documentary, called "Inside Lifeline," as an accompaniment to the film. In it, there is in-depth information about the products featured.
According to the New York Times, as of August 2016, the film garnered 20 million views.
How to Get More Mileage out of Long-form Video Content
Although it's hard to quantify the ROI of these ambitious video projects, each of the brands above share the common goal of wanting to create a buzz, or goodwill, among their core audiences.
"As much as long-form content is an investment for brands, it is also an investment for audiences – an investment in their time, focus, and emotion," says Turner. "We are entering a period of focused investment, where brands realize that everything doesn't have to scale. There is value for brands when creating better content for narrow audiences."
To stretch the investment into long-form content, Turner offers the following strategies:
1. Turn the video into a series. This may mean a second long-form follow up, or even a series of new "shorts" that keep evolving the storylines and characters.
2. Atomize the content. Look for ways to either pull out pieces of the story into their own chunks or spots to have audiences dig deeper. If your video's character is shown playing a video game, release that game. If your character is referencing a study, release that study.
3. Move characters across channels. From ads to emails, posters to signage, voicemail greetings to downloadable ringtones, take a page from TV and movie studios: Layer your characters across your marketing assets. When video is done right, your audiences have a relationship with them now – they are invested in the characters – so keep them around.
Dawn Papandrea is a NewsCred Contributor.
Originally published on May 30, 2017 10:00 AM, updated May 31, 2017