250 content marketers and influencers descended upon Vinopolis for the London stop of NewsCred's #ThinkContent Tour. Here's a short synopsis of what went down and some key takeaways from the day.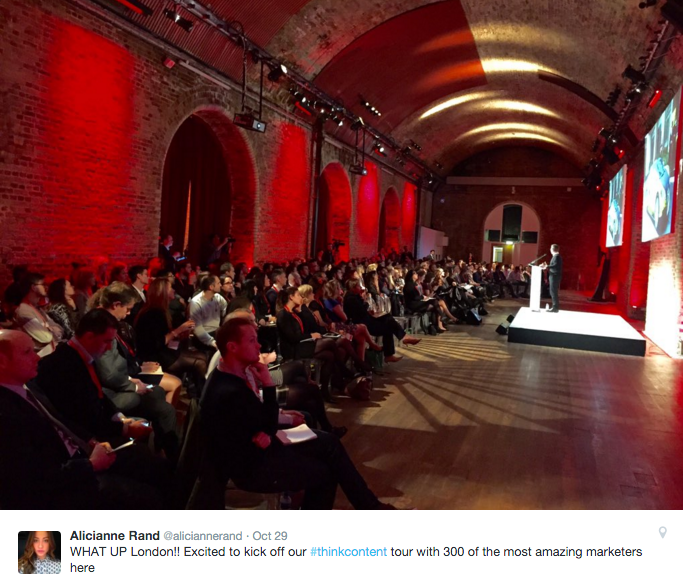 Salesforce evangelist Jeremy Waite kicked the day off with a session on "How to Build Loyal Relationships Faster" with audiences and customers. He prognosticated on the rise of 'dark social' (private messaging apps such as Snapchat & Whatsapp) and it's impact on content marketing. The main takeaway: content isn't just telling a story, it's joining up all of the potential touch points with your customers.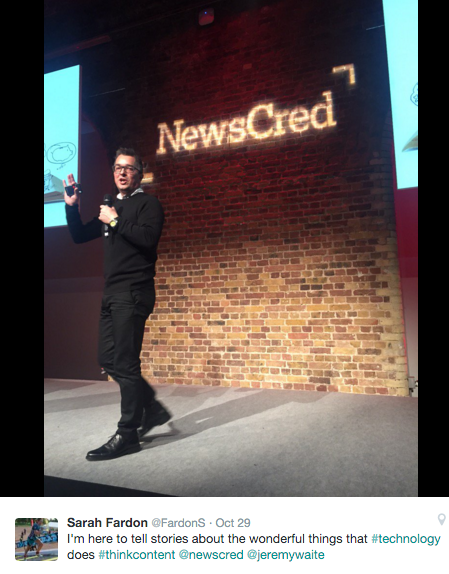 IBM's social consulting guru Andrew Grill focused on the importance and impact of employee generated content. His colleague Harriet Ruff, a self-professed social millennial, joined him on the stage to explain how they're currently implementing a "sharing is caring" attitude to social at IBM. The main takeaway: anyone in your brand can become a thought leader – even a tiger.
Think Content London from Andrew Grill on Vimeo.
Following IBM was a thought provoking panel on "The Convergence of Brands as Publishers," which was expertly moderated by Jeremy King from CSquared. Here are some snippets of the discussion: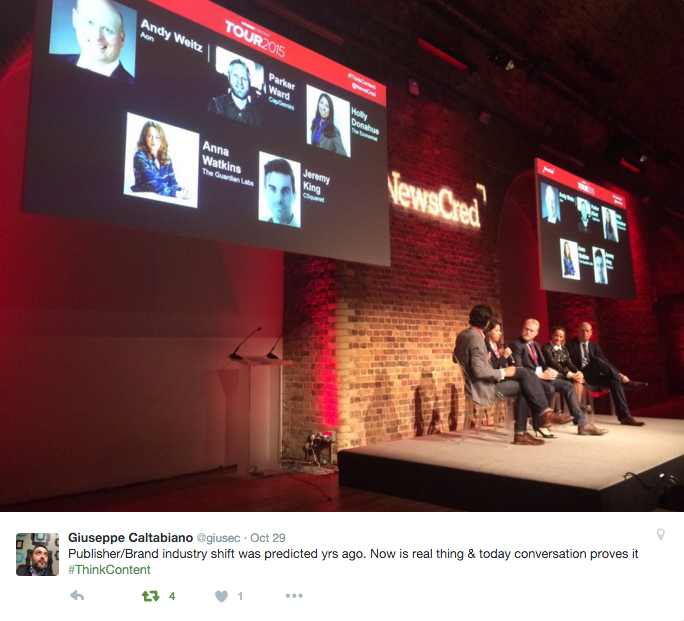 Andy Weitz from Aon asserted that it is essential for brands to tell stories that solve a business challenge.
Holly Donahue of The Economist agreed and elaborated that the challenge for publishers here is how best to tackle the distribution of a brand's content.
Parker Ward from Capgemini proposed that publishers could very well be the "agencies of the future."
Working off Parker's prediction, Anna Watkins of The Guardian Labs was keen to establish that the organisation keeps the content they produce for brands and the content they produce for journalistic purposes completely separate, like "Church and State."
The main takeaway: The brand/publisher relationship has changed drastically over the last few years, and strategic content distribution is key.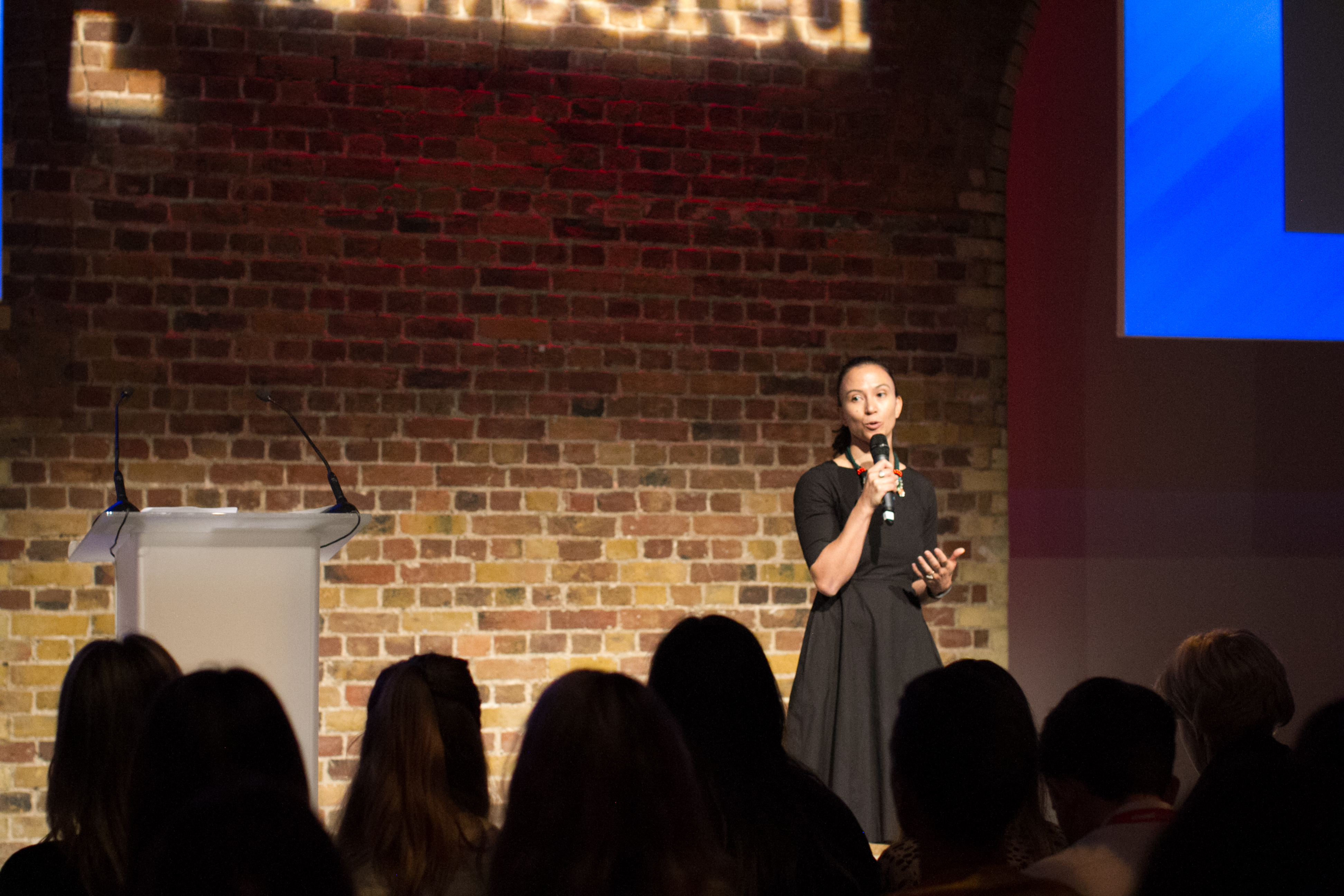 Eva Barrett, photo by Jane Qin Medeiros
Following the panel, Eva Barrett, Global Head of Brand Marketing Communications at Philips used some pretty awe-inspiring examples to demonstrate how Philips adheres to the notion that you "can't build your content house on rented land." In 2013, Philips shifted their brand positioning to focus on how they are improving the daily lives of people all over the world. They asked employees in over 160 countries to share their stories of working with Philips, and turned this into articles and videos on their newly launched content hub. This year, Philips became the official healthcare partner of the New York Times online. The content that is produced with the NYT is then distributed to Forbes and the Washington Post but also on LinkedIn.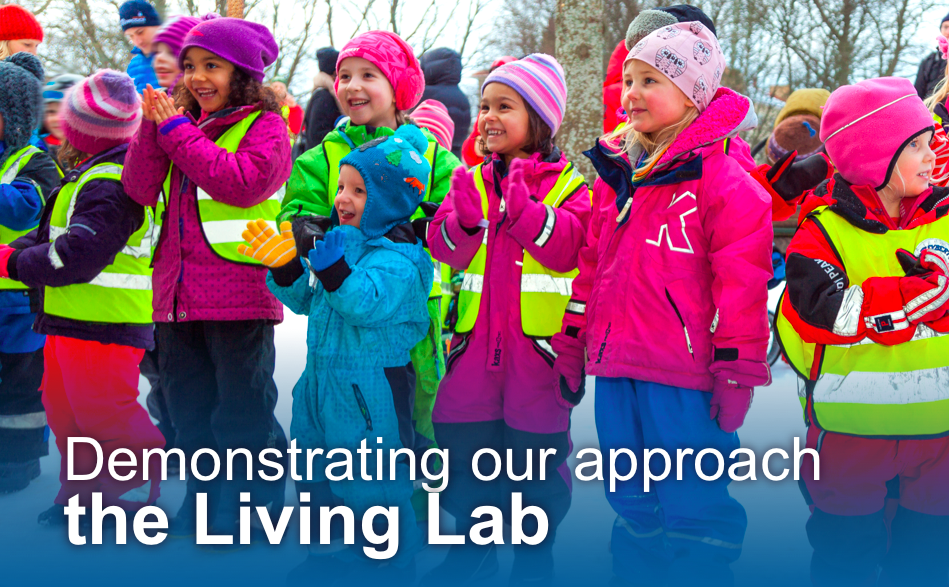 They've also continued to create content for their hub out of quality of life experiments they've built in moving "living labs."
The main takeaway: having diverse distribution options and channels is key, but ultimately brands need a content home they can drive that traffic back to.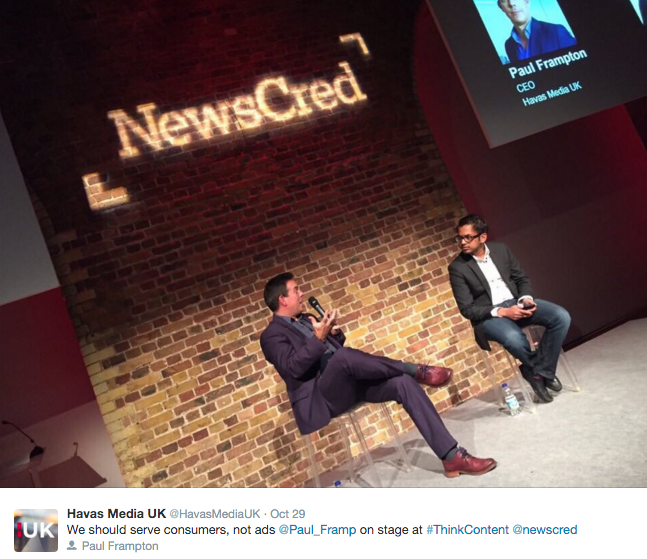 NewsCred CEO and Co-Founder Shafqat Islam and Havas Media's CEO Paul Frampton's fireside chat struck upon the importance of purpose-driven organisations. The pair agreed that brands, agencies, and publishers – through varying means – should all be in the purpose of serving people not ads.
The main takeaway: To best serve your audience, you need to have compelling, relevant content.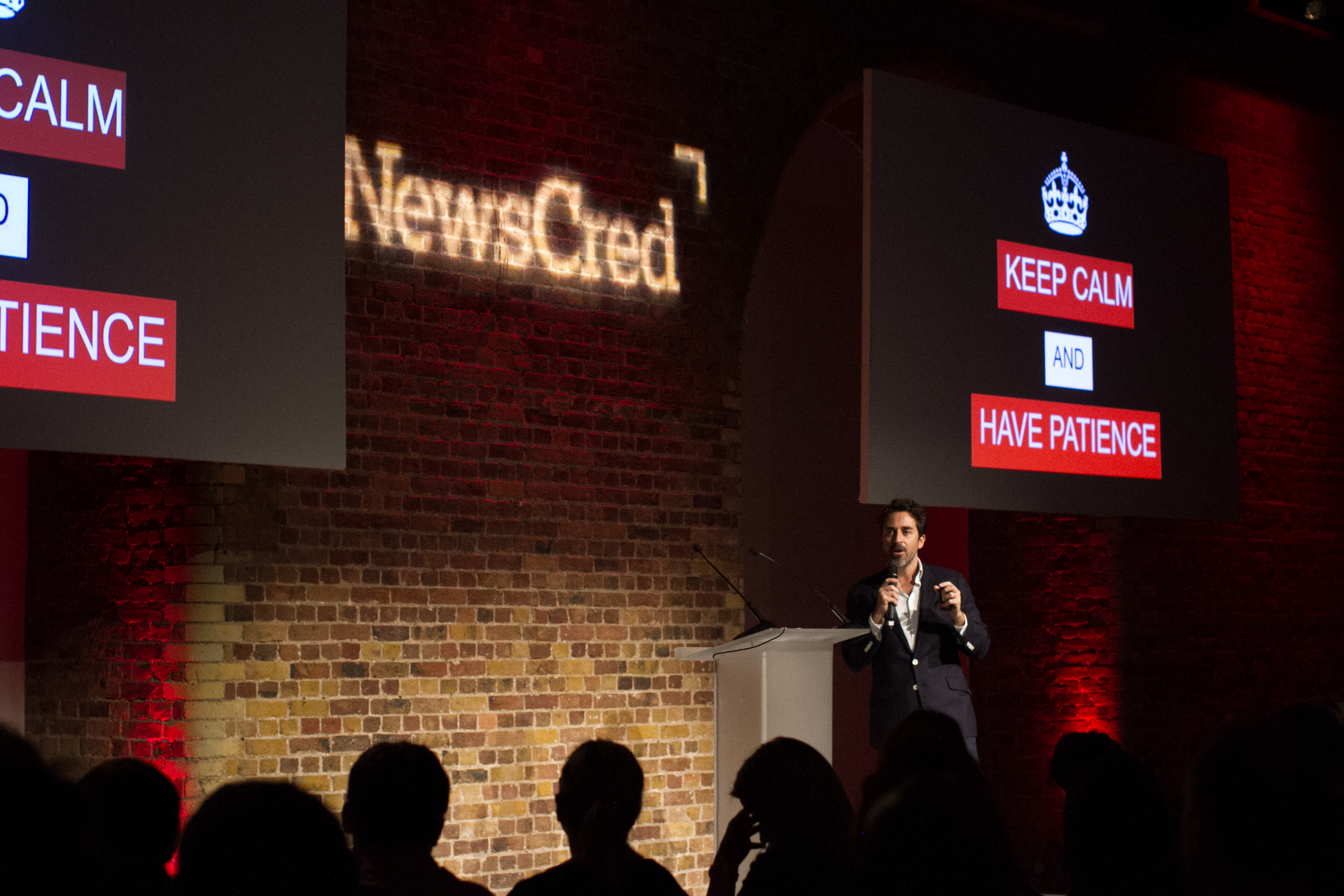 Alex Cheeseman, photo by Jane Qin Medeiros
Next to the stage was NewsCred's new Head of Strategy EMEA, Alex Cheeseman. Cheeseman's punchy presentation had one main underlying theme: Einstein's definition of madness is doing the same thing over and over again, but expecting different results. Why then are marketers so afraid of change if their results aren't getting any better?
The main takeaway: don't be afraid to be brave and innovate when it comes to content marketing.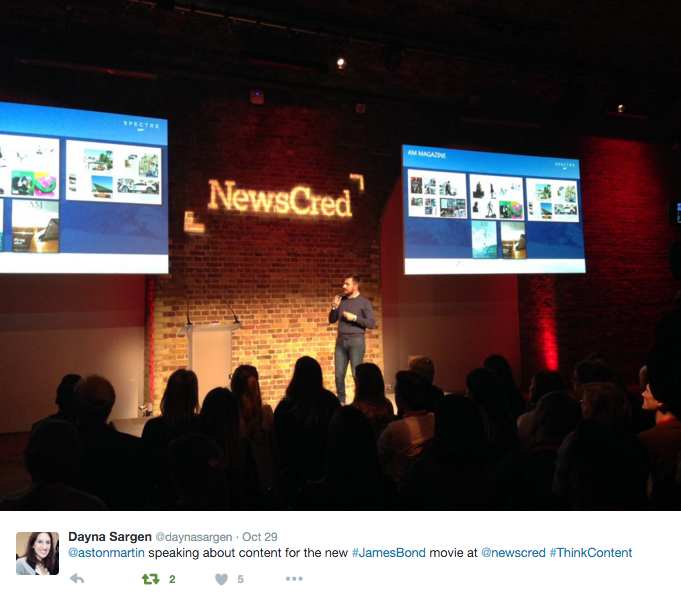 The final presenter at the London leg of NewsCred's #ThinkContent Tour was Martin Jaskolowski from Aston Martin, who shared examples of how the brand captivates their audiences through partnerships with Hollywood – most notably, the James Bond franchise. Despite the Bond movies coming out only every few years, Aston Martin takes full advantage from announcement to premiere with content for every step of the way and every facet of audience interest, from car junkies to die-hard Bond fans.
The main takeaway: building relationships can lead to long-standing partnerships that lead to massive ROI for both parties.
So what did we learn at the London stop of the NewsCred #ThinkContent Tour? 
Building brand loyalty is crucial and can only be done by creating amazing content and experiences at every touch point. As customers go "dark" on more selective messaging platforms, brands must be ready to meet that challenge.
Anyone can be a thought leader – incentivize your employees to share your brand message regularly and enthusiastically.
Content marketers should seek media partners as publishers become "the new agencies."
Owned audiences (and content properties) matter! Don't build your content castle on rented land.
Purpose drives purchase. Brands must speak about their mission, not their products.
Traditional marketing is nosediving – audiences don't want ads that just talk at them. Marketers need a new approach.
Not every brand can join forces with a juggernaut like the James Bond franchise, but think about what cultural touch points your brand aligns with and how you can remind your audience of that year round.
See full decks from our #TCT London speakers below:
Ciaran O'Callaghan is Director of Business Development at NewsCred
Originally published on Nov 3, 2015 4:55 PM, updated Sep 7, 2016