Did you know that Netflix monitors online piracy sites like BitTorrent, then acquires the shows and movies that people pirate the most?
It's a clever way to find out what people are watching, and it's part of a content strategy that has helped Netflix capture the time and attention of 93 million users worldwide.
According to WIRED, Netflix is planning to shell out $6 billion in 2017 on new productions to join its slate of stellar originals like "House of Cards," "Stranger Things," "Narcos," "Marvel's Luke Cage," "Making a Murderer," "Orange is the New Black," and "Chef's Table."
Though it seems like ages ago, Netflix only started with original programming in 2013.
That begs the question: How did Netflix build up 27 million U.S. streaming subscribers in 2012 without any original content at all?
The answer is through a practice that we preach here at NewsCred:
"Creating good original content takes time, so licensed content helps you continue the conversation with your audience before and throughout original content creation cycles."
How licensed content helped Netflix establish a loyal audience
Netflix's entire business is based on one simple concept: A good show stands the test of time, and viewers can watch it again and again.
Last year, Netflix's CFO said that Netflix is moving toward a 50/50 mix of original and licensed content. This isn't revolutionary, by any means, especially when you look at close competitor HBO. Last year, HBO spent roughly $1 billion on original content and sports productions, and another $1 billion licensing films, according to Motley Fool.
Back in 2013 though, Netflix only invested about $300 million into original content and used the majority of its $2 billion budget toward the content that had made it successful, thus far: licensed content, which it used to grow its catalogue and give users a collection of good shows across multiple genres that have stood the test of time.
A simple Google search for "best shows on Netflix" returns top results from Paste Magazine and Uproxx that rank the 75 and 50 best shows on Netflix right now. As you peer into the top 10 on both sites, you'll find licensed shows like "Breaking Bad," "Freaks and Geeks," "The Walking Dead," "Friday Night Lights," "Friends," "Mad Men," "Parks and Recreation," and "Twin Peaks."
This shows the power of Netflix's strategy. By investing in high-quality, evergreen licensed content that people love, Netflix has won and retained a loyal audience. This success allowed them to expand into original programming.
At NewsCred, we recommend that brands follow a similar trajectory to grow their own content marketing practices over time.
Licensed content complements original content. Both can be used as part of a comprehensive content strategy to improve brand awareness, increase brand affinity, and drive new member acquisition:
Licensed content from authoritative publishers helps brands establish credibility with their audiences and helps improve overall brand equity.
Licensed content helps editorial teams publish content at a higher volume and frequency without sacrificing quality.
Licensed content enables small teams to publish content around timely topics that cannot be planned in advance.
Licensed content used in email marketing and social media can drive visitors back to your site.
When brands first launch a content destination, it makes sense to use licensed content to power their programs, so they can scale quickly, show early results, and build a business case for why content marketing works.
As brands receive bigger budgets, the logical progression is to use those additional funds to create more original content. Over the course of time, the pendulum then swings to mostly original content with a smaller mix of licensed content. Because at that point, brands have developed repeatable and scalable processes for ongoing content creation that drives measurable business results.
How Netflix used data from licensed content to create successful original content
Netflix divides its 93 million users worldwide into roughly 1,300 "taste communities." It takes advantage of these clusters in order to find "taste doppelgangers," according to Todd Yellin, Netflix's Vice President of Product.
These taste communities are how Netflix understands that fans of "The Walking Dead" and "American Horror Story" will also likely be very interested in "Stranger Things." Netflix is in the business of giving consumers exactly what they want and it is no secret that they rely heavily on big data models to inform decisions on content acquisition and original content investments.
In 2013, the New York Times published a story highlighting how Netflix used big data to guarantee the success of "House of Cards" before director David Fincher even yelled, "Action!"
At the time, Netflix had around 33 million users worldwide, and knew that a vast amount voraciously streamed Fincher's movies and titles starring Kevin Spacey. Netflix also knew that the original British version of "House of Cards" performed very well.
With these three data points in mind, Netflix was certain that it made sense to greenlight "House of Cards" without even requesting a pilot episode.
Here we are years later, and the show has received critical acclaim from both consumers – with a 91% audience rating on Rotten Tomatoes –and critics, with 25 awards including Emmys and Golden Globes.
Marketers can achieve similar success with their data.
What licensed article topics resonate with your audience? And how can you take those learnings and apply them to creating inspiring, new original pieces that your audience will devour?
How licensed content helps Netflix drive ongoing engagement
A 2014 survey by investment bank SG Cowen revealed that 37 percent of Netflix users subscribe to the service for its original shows. In 2016, that number grew to 58 percent of subscribers.
This reaffirms Netflix's grandiose investment in original programming, and correlates with content marketing best practices: Licensed content can be valuable for establishing a depth of content and a loyal audience. But as you produce more original content, you'll often see higher engagement and ROI from those pieces.
Yet, licensed content still plays a key role in the overall content marketing mix, especially when it comes to engaging consumers on an ongoing basis.
Netflix can attest to this, as well. Users may be most excited for Netflix originals – but licensed shows give them lots of reasons to keep streaming after they've binge-watched all their favorite originals.
High Speed Internet recently published a survey showing the most streamed Netflix shows per state in 2016.
Twenty-seven of the 50 states favored titles that Netflix didn't originally create.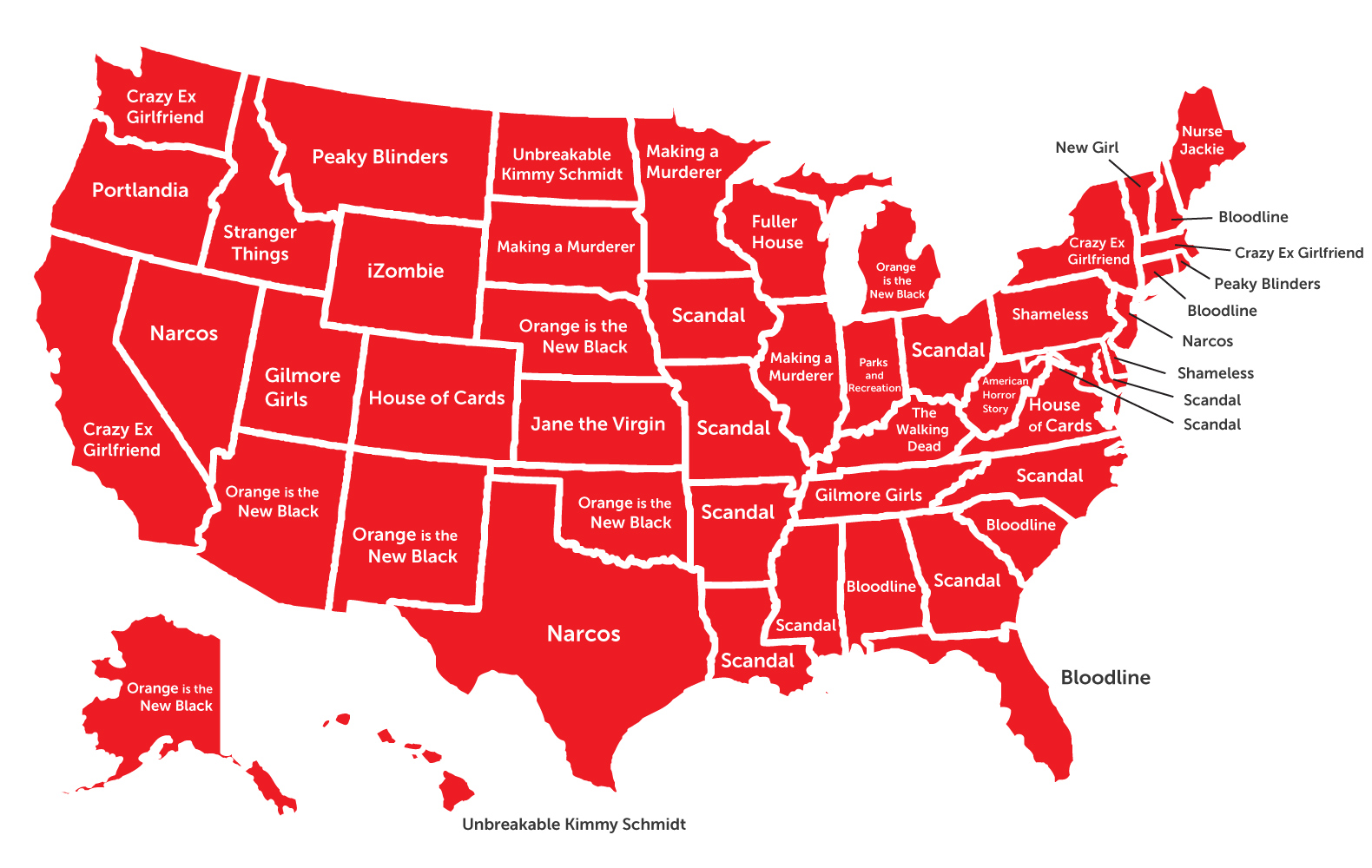 "Very few people will join Netflix for just one title," Netflix CEO Reed Hastings said on a recent earnings call.
The ongoing need for licensed content
As competition continues to grow with Amazon Prime, HBO, PlayStation Vue, YouTubeTV, and DIRECTV NOW, Netflix will have to continue to invest in original programming as a unique differentiator.
But licensed content will continue to play a prominent role in its global content strategy.
By focusing on quality, Netflix continues to build a diverse content library of original and licensed content that keeps users glued to their couches.
Neil Barlow is an Enterprise B2B Sales Director at NewsCred.
Originally published on Apr 21, 2017 10:00 AM, updated Apr 25, 2017