What's a content marketer doing keynoting an advertising conference? Believe it or not, there is more overlap than you'd think!
Held at Manhattan's Pier 36, Ad Age's Digital Conference hosted digital visionaries like General Mill's Mark Addicks,  E*Trade's Liza Landsman, and celebrity restaurateur Mario Batali, who shared their thoughts on digital advertising innovation. Closing out the first day of the conference, NewsCred CEO Shafqat Islam shared his vision on content marketing and touched on many of the messages relayed throughout the course of the day's panels and speakers — brands need to find new ways to grab their audience's attention, and more important, engage and nurture relationships with them. It's all about trust: 78 percent of consumers believe brands providing content are interested in building good relationships. Brand storytelling does just that.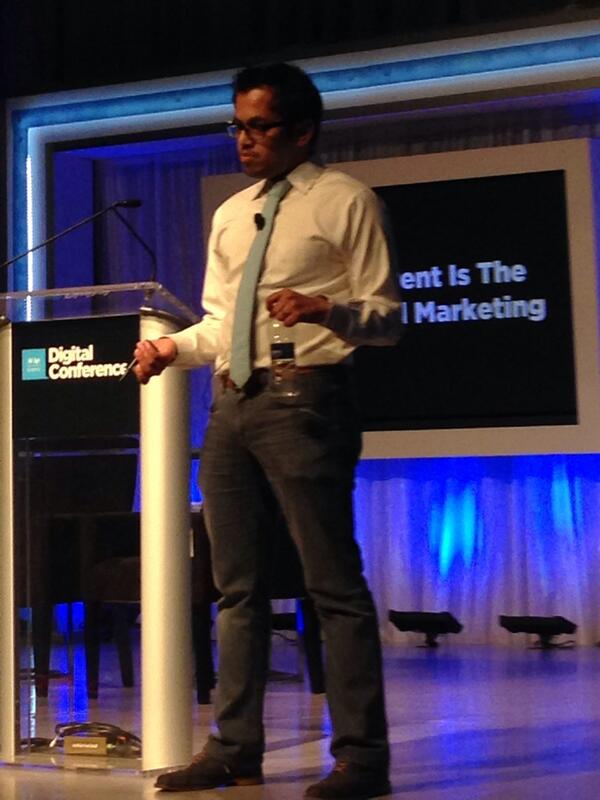 Here's a recap of NewsCred's four ways to make brand storytelling – or content marketing – work for your brand:
1. Be authentic. Authenticity is the key to great storytelling. Only by being forthright can you earn the trust of the consumer, and you need to keep repaying them for their trust every day. Today's consumers are savvy, and they can spot a sales pitch a mile away. That's why it's important to win their hearts and minds by telling the story of your brand's bigger purpose.
2. Reach audiences where they are. Forget about the notion of "if you build it, they will come." You have to seek your audience out where they live, whether it's on social media, via email, or where they get their news. Content marketing is the connective thread that weaves together all of your marketing efforts, from social, to email marketing, to blogs.
3. If you're going to try real time marketing, get it right. There have probably been more stumbles than triumphs when it comes to real time marketing efforts, and that's because it's complex. There's no time to plan, and there's no telling how the audience at large might react to something. However, brands can make a conscious effort to make real time marketing work for them by starting with quality content; implementing simple processes; and having the technology to help you manage it all.
4. Marketers have the power. More so than ever before, the marketing team is responsible for a large part of business growth. Consider this stat shared by Islam: Anywhere from 66 to 90 percent of the buyer's journey is complete before a salesperson even gets in touch. Communicating with buyers every step of the way is vital, or they'll take their attention and interest to your competitors.
The big takeaway? Content marketing generates approximately three times as many leads as traditional marketing. It all comes down to the metrics, after all, which is why brands might want to walk away from the hard sell, and see the softer, more effective side of content marketing.
By Dawn Papandrea, NewsCred Contributor
Originally published on Apr 2, 2014 2:47 PM, updated Sep 26, 2016