When NewsCred rebranded and launched Insights a little over a month ago, the goal was simple: create a premier destination to help educate, inspire, and empower marketers. Merging our previous high-value Academy content with our blog was the first step, but through user testing we realized that marketers wanted an even more personalized and guided educational experience.
That's why today we are unveiling NewsCred's #ThinkContent University, our online content marketing training course designed specifically for marketers. Taught by industry and NewsCred experts, #ThinkContent University allows marketers to develop the skills they need to succeed in content marketing, and covers topics on everything from editorial strategy to proving ROI.
How It Works
– Choose the courses you care about, and feel free to skip around to a different topic if it becomes a bigger priority.
– Learn at your own pace, and bookmark where you left off to easily get back on track.
– Take quizzes to track your progress, and compare your score to other #ThinkContent University students.
What You'll Learn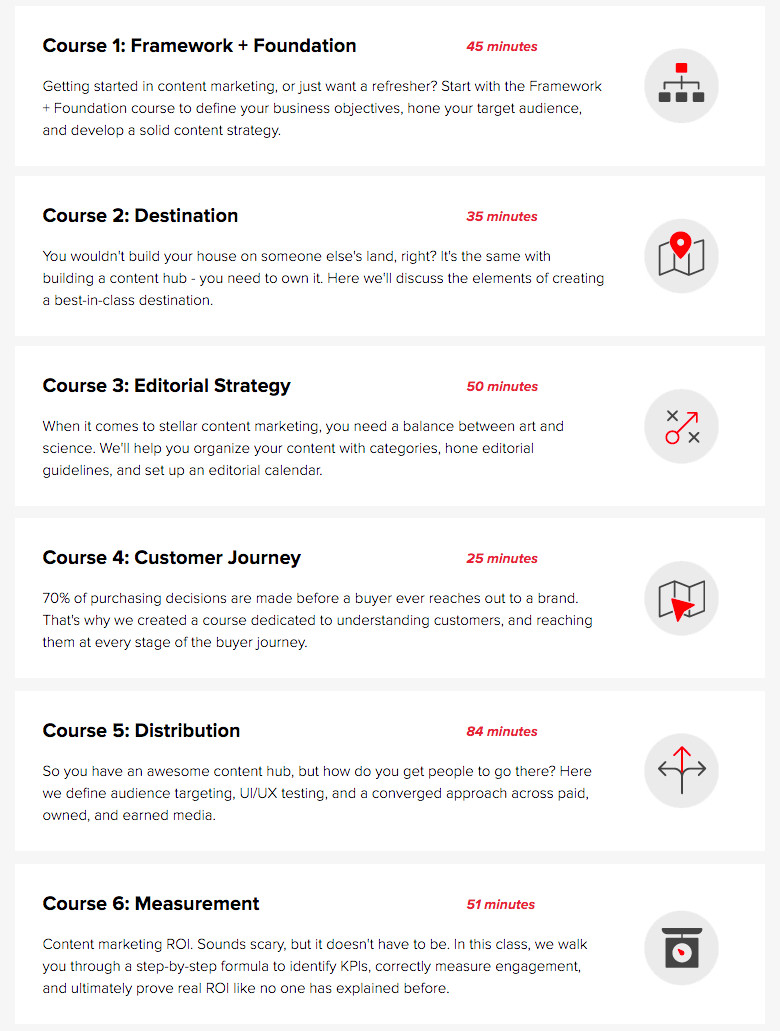 You Spoke, We Listened
As the marketing industry continues to evolve at a whiplash pace, multitasking become the norm, and the average human attention span (unsurprisingly) drops to a mere 8 seconds, microlessons are the the solution for learning in an oversaturated environment. Yet employees increasingly crave opportunities for professional development that fit their lifestyle. According to Learnkit 63% of employees said they would be more engaged if they had better training and opportunities, and 47% want the freedom and flexibility to go through training at their own pace.
At NewsCred, we speak to hundreds of customers and marketers every day and understand  the needs and wants of our audience. It is because of the amazing feedback that we received at our events, on Twitter, and via workshops that wanted to create a learning experience designed with the user in mind. With over five hours of video content broken down into snackable chapters, #ThinkContent University is a new way to master the intricacies of content marketing by learning at your own pace and covering the topics you care about the most.
Ready to Get Started?
Sign up for #ThinkContent University today and get ready to conquer the world of content marketing, one skill at a time. As always, we love to hear your feedback. Drop us a line on Twitter @NewsCred and let us know what you think!
Alexa Biale is a Brand Marketing Manager at NewsCred.
Originally published on Apr 11, 2016 10:00 AM, updated Aug 11, 2016