2018 marked a big year for women. A record of 257 women achieved nominations for Congress. More than 300 women courageously voiced their stories of sexual assault in Hollywood. $36 million were dedicated to funding black female founders. We broke rules, defied the odds — we became the change we wanted to see.
Yet still, after conquering countless milestones and essentially redefining the perception of our place in the world, there's one conversation that tends to go undiscussed: Money. Several studies released over the past year indicate that women still lack confidence when taking ownership over their finances. In March of 2018, a survey by FINRA Investor Education Foundation discovered that women score lower than men on financial- and investment-literacy tests and that women are also less confident in education around finances.
"56 percent of married women leave major financial decisions to their spouses."
While the above statistic might be shocking, this is a marginal improvement from 30 percent of women being the primary financial decision-makers of their household in 2016. We as women are increasingly taking ownership of our responsibility to our families (and ourselves) to understand the intricacies of short term vs. long term budgeting, where our assets lie, and most importantly, how to make our money work for our goals.
But how do we keep the traction going? The answer is with each other. That's why for this past International Women's Day, we teamed up with Silicon Valley Bank to educate and hear from the learnings of demonstrated female leaders on how to gain confidence on all things money.
On March 6th, a remarkable group of women came together to shed light on the topic – Money Moves: Financial Empowerment.
The impressive panel included Crystal Huang, Principal at NEA, Sutian Dong, Partner at Female Founders Fund, Saleema Moore, COO at Relational Coordination Analytics, Joan Khoury, CMO of Oppenheimer, and moderator Lindsey Guinn, VP of Silicon Valley Bank.
Here's what we learned from these female powerhouses.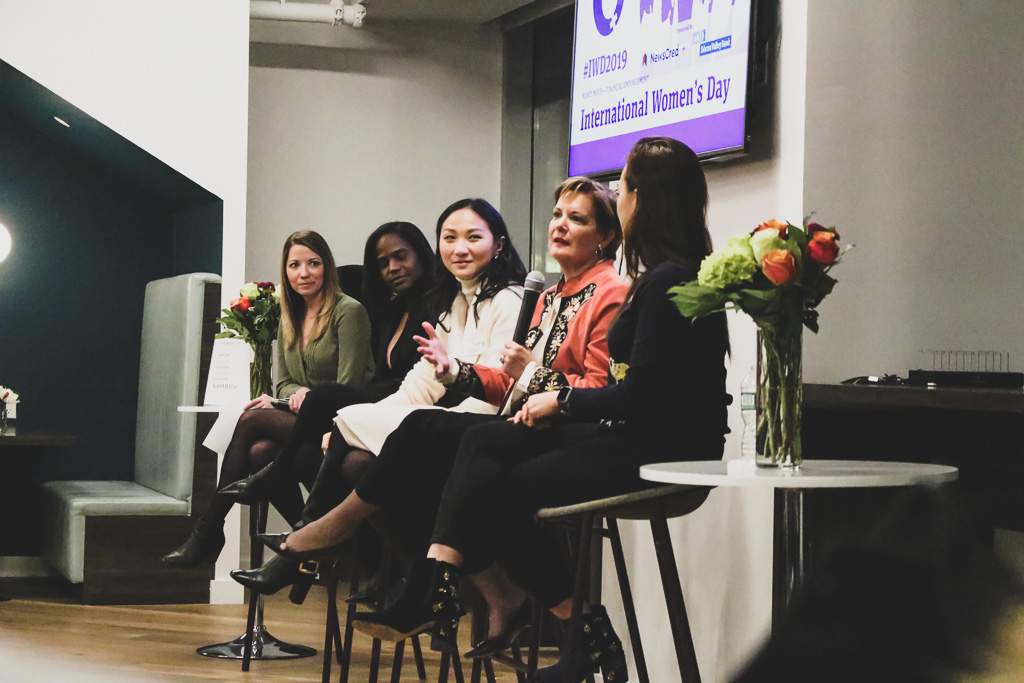 Lindsey Guinn, VP of Silicon Valley Bank, Saleema Moore, COO at Relational Coordination Analytics, Crystal Huang, Principal at NEA, Joan Khoury, CMO of Oppenheimer, and Sutian Dong, Partner at Female Founders Fund
On negotiating salaries and growing in your career
"When you get too comfortable in a role, then you don't stretch and learn new things." – Joan Khoury
"Leverage anonymous compensation surveys passed around by friends. If it doesn't currently exist, create it or try to leverage HR. Be prepared when asking for the raise to say, 'This is the industry benchmark and I think I'm worth this much because of X, Y, and Z." – Crystal Huang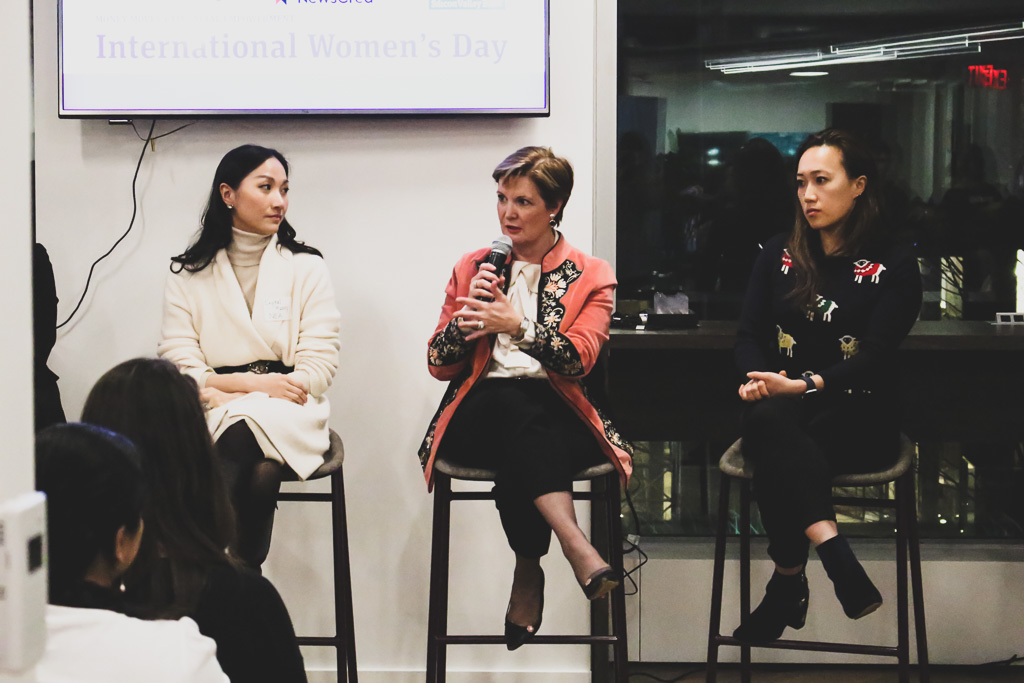 Crystal Huang, Joan Khoury, and Sutian Dong
On saving and investing
"Have conversations with people you trust and see how other people think about their money to help you achieve personal and financial goals." – Sutian Dong
"Save cash, then invest. You should try to have 6 months to 1 year in savings. The most important thing is to be at a company that matches what you put into your 401K. Start small, just start. Once you have cash and a 401K, the next step might (or might not be in NYC) be to buy a place. The next thing is to start to put 1/3 of your cash into equity, 1/3 into a bond fund, and keep 1/3. Let it grow and keep doing it." – Joan Khoury
Joan Khoury and Sutian Dong
On money and partnerships
"It's important to have an understanding and know how your partner thinks of money, spends money, saves money, and how it fits with your view." – Saleema Moore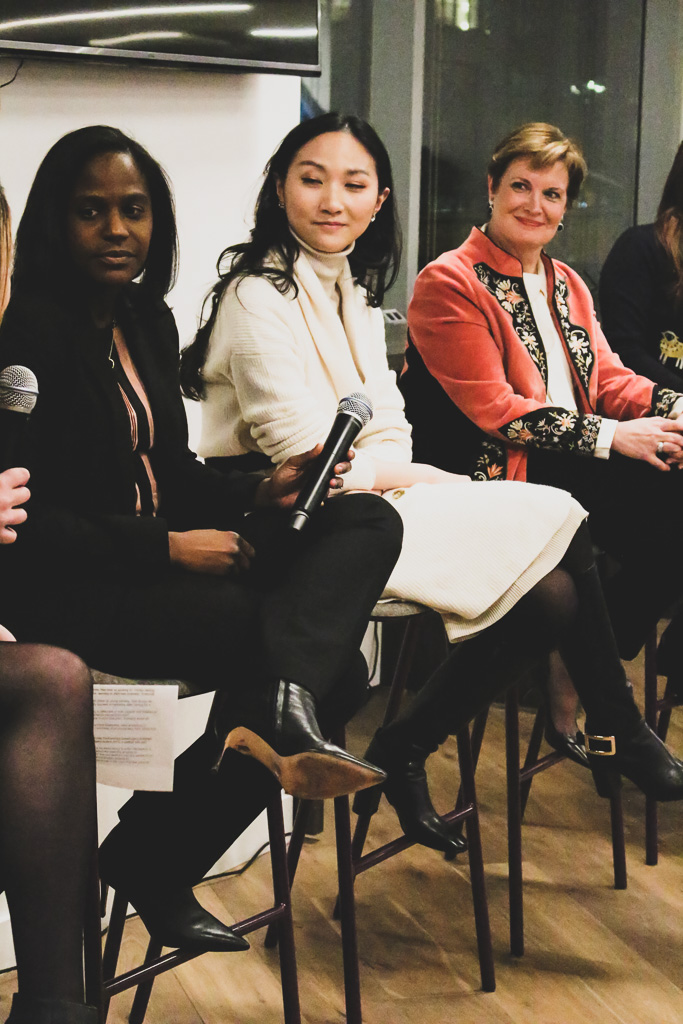 Saleema Moore, Crystal Huang, and Joan Khoury
The takeaways
Many women share concerns about being financially secure and wanting to make sure they always have a certain amount of money stored away. This is why it's important for us to have an open dialogue about where we fall short and take ownership of our own financial literacy, regardless of who oversees the money management in our household. Be mindful of financial planning when in relationships. Have honest conversations with trusted friends, family, financial advisors, and private bankers. It's our responsibility to have a holistic understanding and to take charge of our financial planning.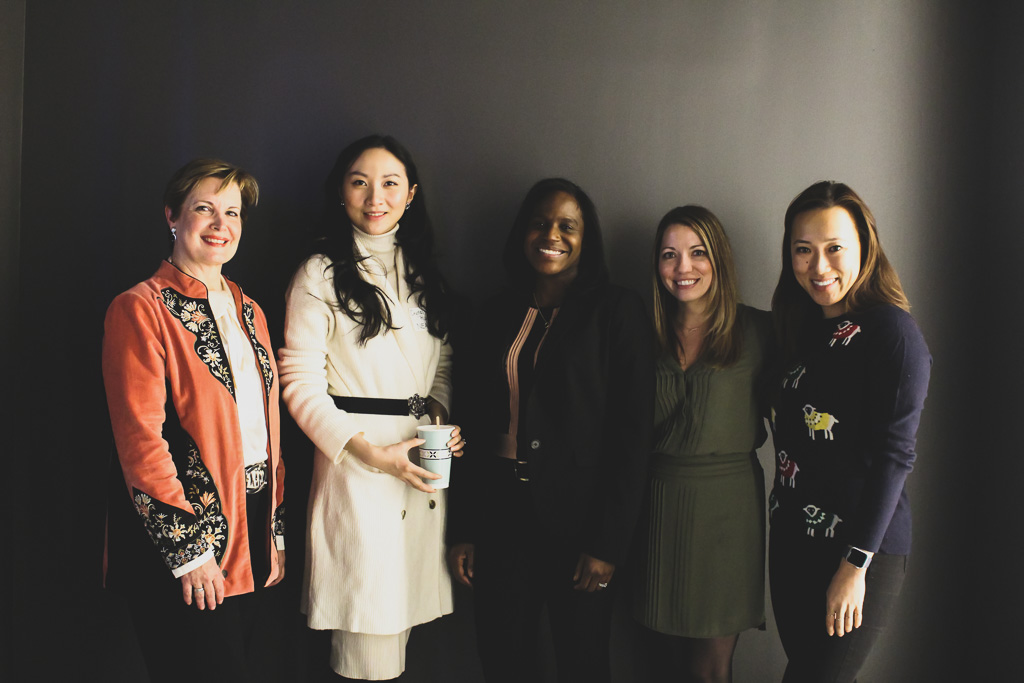 Brittani Turner is an Associate Content Strategist at NewsCred. Photos by Gaby Tama, Associate Content Strategist.
Originally published on Mar 19, 2019 11:00 AM